1.13.11
Radish Fetish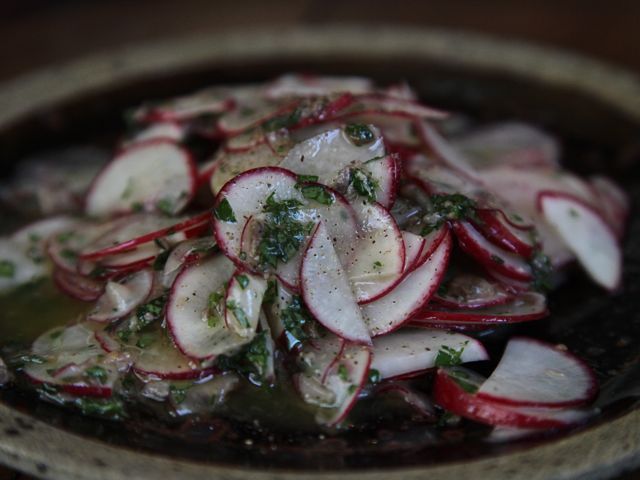 I've been quite taken of late with all the little vegetable dishes on offer at restaurants of all sorts. Starters often include numerous ingeniously composed salads that really let seasonal produce shine. Sides are no longer merely a choice between boring steamed broccoli or french fries, and I've been known to make a whole meal from the enticing options—pureed squash with hazelnuts, chile-sauteed broccoli rabe, ragù of mushrooms, polenta with gorgonzola, fennel braised in cream. I think I've mentioned to you a few lovely meals I've had recently at
A Voce
, Missy Robbins' Italian-inflected restaurant in New York City's Time Warner Center. The lunch menu includes a selection of
verdure
, small vegetable dishes like eggplant with calabrian chile; beets with pistachios and orange; cauliflower with almonds and raisins; and a delightfully simple salad of radishes with an anchovy vinaigrette. After trying this last combination, I began craving it at home. It's crisp, salty and satisfying while still being light and healthy.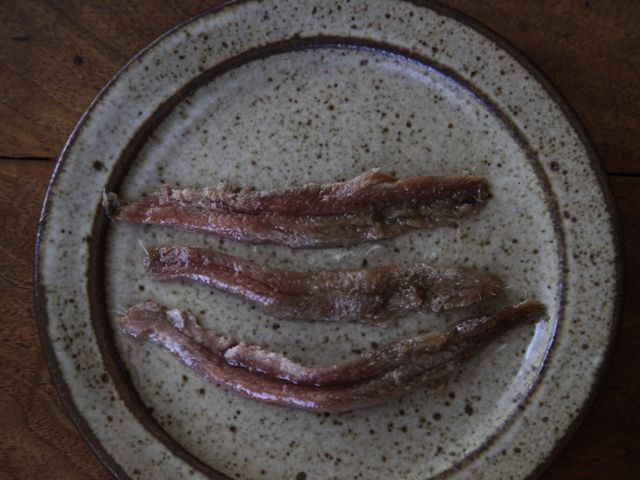 Do we need to take a moment to talk about anchovies? They seem to be quite polarizing. For those of you who claim not to abide them, I recommend you try them in this guise. I can't tell you how many people who "hate" anchovies have fallen in love with my raw kale salad that's dressed with a version of this anchovy vinaigrette. When minced into a fine paste and blended with other ingredients they become undetectable except as a wonderfully savory, salty flavor that is the essence of umami. And they're so good for you!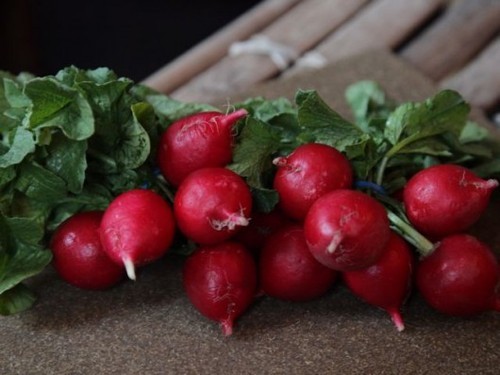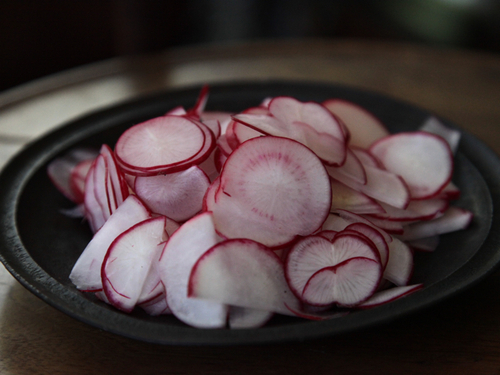 Use a very sharp knife or a mandoline to make the nearly translucent slices of radish that give this salad its silky, mouthwatering quality. Thicker slices can actually be nice, too, if you want a slightly crunchier, chunkier experience. I like radishes with a bit of bite, but you can always add more spice by using chile oil or a bit of cayenne in the dressing. Let this be the gateway to more interesting salads on your table!
Radish Salad with Anchovy Vinaigrette
inspired by Missy Robbins at A Voce
serves 4
— 3

anchovy filets, minced (about 1 tablespoon)

— 1 tablespoon

red wine vinegar

— 1/4 teaspoon

Dijon mustard

— 3 tablespoons

olive oil

— 1

large clove garlic, peeled and smashed

— 12

red radishes

— 1 tablespoon

minced parsley

—

sea salt & freshly ground pepper
Start by making the dressing so the garlic can steep while you prepare the radishes. In a small bowl or a mug, stir together the minced anchovies, vinegar and mustard; then whisk in the olive oil to emulsify. Stir the smashed garlic clove briskly into the dressing and let it sit.


Wash the radishes and trim off any greens. You want to slice the radishes as thinly as possible, so if you have a mandoline this is the perfect time to get it out and brush off the dust. Otherwise, use a very sharp knife to make paper-thin slices.


Place the sliced radishes in a medium-sized bowl along with the parsley, and toss well with the dressing. Season to taste with salt (you may not need any because of the anchovies) and pepper. If you are not going to eat the salad right away, I recommend you store the sliced radishes in a bowl in the fridge with a few ice cubes plopped right on top. Take them out, drain, and mix with the dressing and parsley about 15 minutes before serving.



Download Recipe