1.7.11
Animal Planet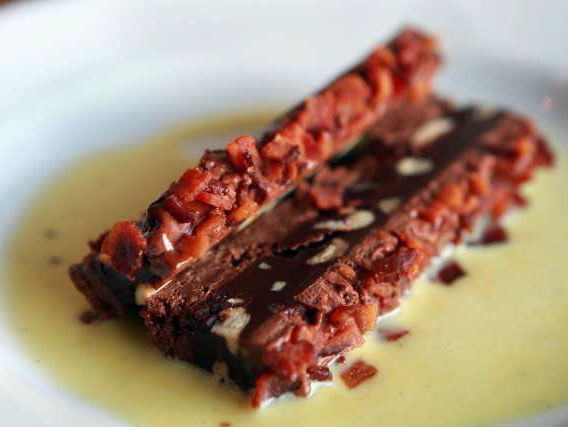 This bacon-chocolate crunch bar was the end to a very porky dinner at
Animal
in Los Angeles. Does it surprise you to know I'm gearing up for a cleanse when I get back home? For those of you who marvel that the glutton is not obese, I want to point out that I only ate 2 small bites of this decadent dish. Still, I did share several other pork-intensive plates at this popular place opened in 2008 by chefs Jon Shook and Vinny Dotolo. Since then, they've been awarded Food & Wine Best New Chefs of 2009 and received a James Beard nomination for Best New Restaurant. They also starred in a reality show on the Food Network called "Two Dudes Catering"and came out with a cookbook, "Two Dudes, One Pan." If you're interested in reading a more in-depth profile than this one, they were featured in the
New Yorker
in an April 2010 article by Dana Goodyear called "
Killer Food
."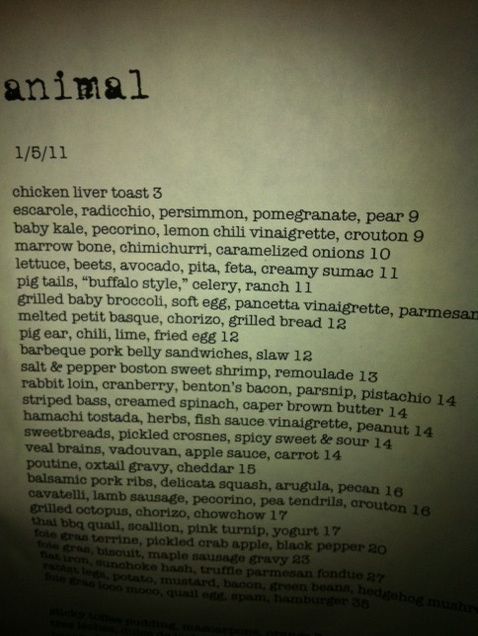 The restaurant is small, dark, noisy and stark, not unlike my beloved Momofuku Ssam, and the comparisons don't stop there. The menu changes daily, though they seem to keep their most popular pig dishes always available. Three of us shared about 8 plates, including a mini hamachi tostada; the "buffalo style" crunchy fried pig's tail; an indifferent escarole and persimmon salad; a wonderfully juicy rabbit loin wrapped in bacon; a nice hunk of seared beef with a slick of truffle cream; and pig's ear sliced thin, served with a spicy-tangy sauce and topped with a fried egg.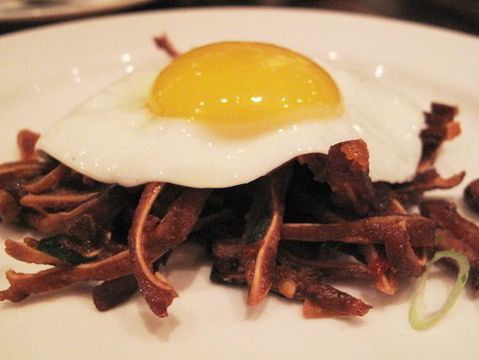 Virtually all of it was well executed and interesting enough, but I've definitely become spoiled by Momofuku. At Animal, the flavors were simply not as compelling, not as differentiated. They lacked the brightness and sheer imagination that makes a meal at Ssam Bar such a stellar experience. That said, the fried pig's tail with its slick of blue cheese and Tabasco was a great snack. The chocolate-bacon crunch bar? Don't think I'll be doing that again any time soon. We left most of it on the plate and headed back out into the chilly LA night, bellies full and dreaming of home.