12.3.10
Big City of Dreams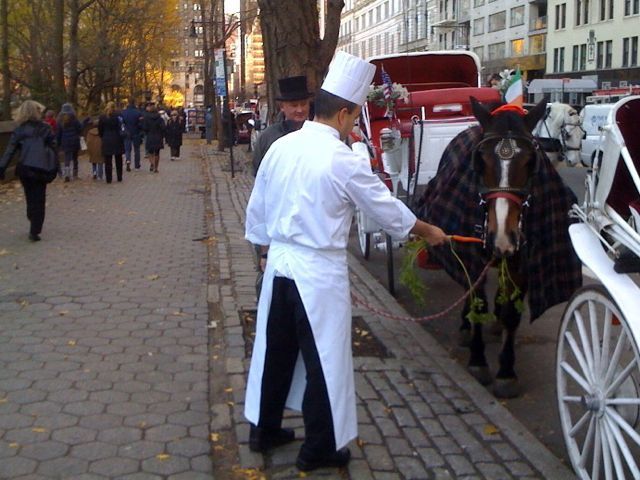 Today was one of those days when I was filled with a great love for New York City. The energy is always particularly high around the holidays, the streets filled with tourists, the shops crowded and a bracing chill in the air. I was walking up Central Park South, watching dogs chasing squirrels in the park, enjoying the lovely vistas, when I came upon the sweetest sight: a couple of chefs from the Ritz-Carlton feeding the carriage horses fresh carrots (greens and all) from a big market basket. So delightful, especially since I always get a pang of sadness when I see those horses gussied up in that cheesy frippery they really don't deserve. (I think I read
Black Beauty
just a few too many times as a girl.) Anyway, it was an especially New York-y moment—unexpected, extravagant, poignant. And it was the perfect set-up for an exceptional day that included lunch at
A Voce
, a facial from the incomparable
Claudia Colombo
, dinner at
Nougatine
, 
A Free Man of Color
at Lincoln Center, and a night at
The Jane
.
I'd never been to the uptown A Voce, and it did not disappoint. Although I find eating in the Time Warner Center a rather bizarre, un-New York experience, more akin to the LA mini-mall restaurant phenomenon, the fact that you get a nice view of the park is a big perk. Knowing that I would also be dining out, I kept it simple: a few thick slices of panfried mushroom served atop a thin slick of cheesy
fonduta
and an order of broccoli rabe doused with an astringent anchovy dressing. For dessert,
my friend
and I split a small portion of perfectly airy honey
semifreddo
, topped with a divinely salty crust of honeyed sesame seeds. I had a glass of Sicilian red and not a single regret.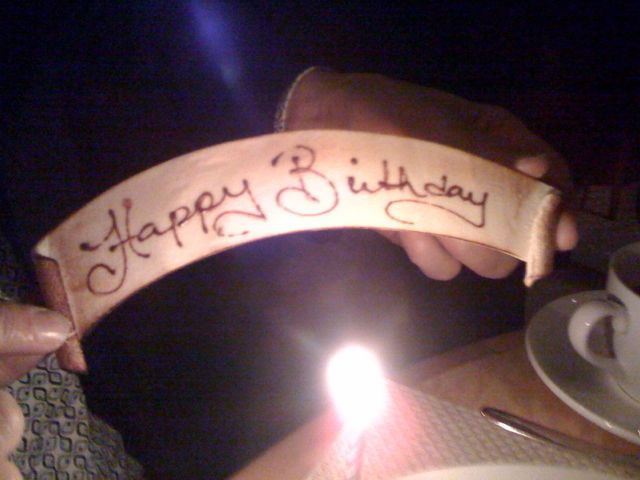 Dinner at Nougatine ended with this lovely marzipan scroll on Philip's birthday dessert. The Jean-Georges "brand" is truly above reproach. Every one of his restaurants offers a lovely environment, impeccable service and reliably delicious food. Our fish and lobster were prepared beautifully with inventive flavor combinations and not overly larded with butter and salt, a drawback of much restaurant food. And we had the added pleasure of seeing the chef himself, all slicked-back hair, crisp whites and smooth professionalism. What is the opposite of the saying "The fish stinks from the head"?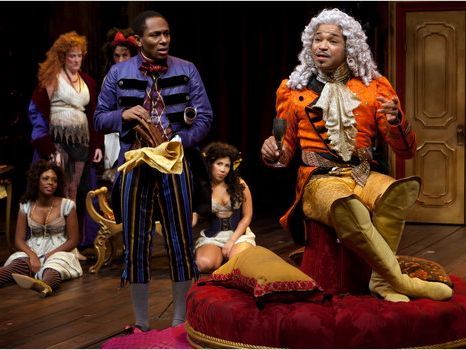 As for the play, well...we deemed it a folly. The performances were all wonderful, with many hilarious characterizations, and the costumes were great, but I totally lost the plot. I mean I had no idea what was going on, and I swear Stephanie's eyes were closed for the entire second act! Can't say I recommend it even though I am a fan of the very talented Geoffrey Wright. A bit of a non sequitur, I know, but with Hanukkah in full swing, I wanted to give you at least one recipe for latkes. Here's a fun one from Floyd Cardoz at the soon-to-be-defunct Tabla restaurant. It's an Indian twist on the classic potato pancake—with apple, warming spices and a hit of blue cheese!—in case you're inspired to change things up a bit this year.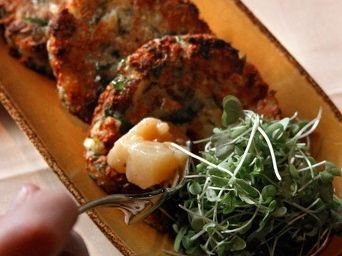 POTATO APPLE TIKKI serves six2 large Idaho potatoes1 large apple (Mutsu, Empire)1 tablespoon ginger, minced½ fresh green chili pepper, sliced¼ cup cilantro leaves, cut into thin strips½ tablespoon coriander seeds, toasted and ground fine½ teaspoon black pepper, toasted and ground fine¼ teaspoon chat masala¼ cup blue cheese crumbled¼ cup safflower oilRoast whole Idaho potatoes on a bed of salt until just tender (but not mushy). Remove from oven and let cool.Peel and grate potatoes on large side of box grater.Peel and grate half the apple. Place in cheesecloth and squeeze dry.Combine the potato and apple, season with salt and pepper. Add the ginger, chili pepper, cilantro, coriander, black pepper, and chat.Form rounds slightly smaller than golf balls.Using a round mold (1½-inch diameter), take one ball and form it on the base of the mold. Place a little less than 1 tbsp. of blue cheese on top and one more potato ball on top of that. Finish forming smooth tikkis, then refrigerate.Place a heavy-bottomed cast-iron skillet over moderate heat, add half the oil, and heat until it shimmers. Add half the potato tikkis to the pan and cook until golden. Turn them over; cook the other side until golden brown. Repeat.