11.24.10
Prelude to a Feast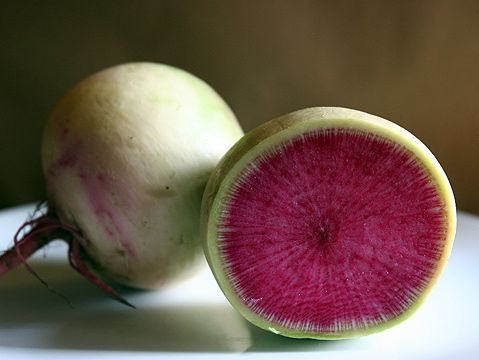 I don't want to harsh your mellow, and I do know that Thanksgiving is a special day—a time to throw caution to the wind and loosen your belt—but I just read that "more than half of Americans will have diabetes or be prediabetic by 2020, at a cost to the US health care system of $3.35 trillion, if current trends continue unabated." Staggering, no? To what trends does this refer? Too much processed food, too much sugar, too much fat. So I'd like you to reconsider the cream-laden dips and greasy chips that seem to be so popular for snacking on before the big turkey feast. All those cheese plates and fistfuls of roasted nuts that go so well with the wine and cocktails you'll inevitably be knocking back. Look, I'm no killjoy. I want you to indulge! But I also want you alive and healthy and fitting into your skinny jeans. So ponder some of these options, starting with a plate of fresh, crunchy, spicy watermelon radishes—in season now!—irresistible when sprinkled with flaky Maldon sea salt and perhaps drizzled with a little green olive oil. It's the perfect way to really wake up your palate.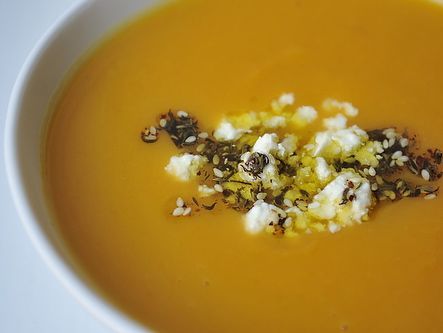 I believe I already suggested you pass mugs or little vintage tea cups of soup to all those hungry people hanging around the kitchen. Try this smoky, cheesy
celeriac soup
; or this
spicy yam soup
with a sweet hit of peanut butter; or this
butternut squash soup
(but leave out the cream and substitute a little tangy feta for the garnish). Prefer something more cool and refreshing? Let your guests help themselves to a bowl of this delicious
Brussels sprouts salad
, tangy with red onion and sharp pecorino. Feel you must offer something spreadable? How about my wildcard-winning recipe for
Chicken Liver Pate
, Tuscan-style? It was chosen during last year's Food52 competition, will be published in their first cookbook and was also included this week among their top-10 picks for holiday starters. It's not like grandma's but—dare I say it?—it may be
better
. Enriched with wine, capers, anchovy, sage and Parmesan, this is seriously addictive. (Make sure to source your chicken livers wisely, please.)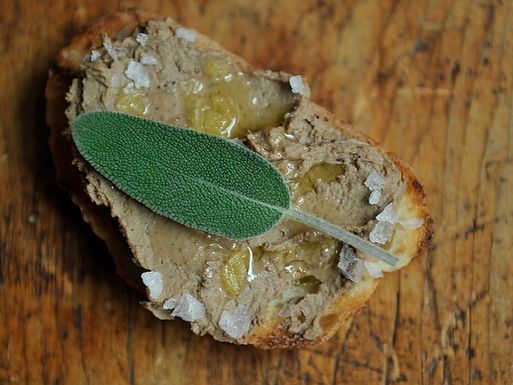 OK, OK, you say you have to offer something truly decadent? I've got a real flavor bomb for you. Just don't let anyone eat more than a couple of these babies. Even though they're far better for you than Lay's with packaged onion dip, there's a reason they're called Devils on Horseback. Sinfully delicious.
These cheese-stuffed, bacon-wrapped dates explode in your mouth with the perfect balance of sweet, salty, umami, creamy and crunchy. Some people substitute an almond for the cheese, and they're pretty good like that, too. Popular at swank cocktail parties in the '60s, these have enjoyed quite a comeback, including appearing on the menu at
AOC
, Suzanne Goin's tapas-style restaurant in Los Angeles.
Remember, it's quality over quantity. Pick a couple of healthy, satisfying options and let the chips fall where they may—by the wayside! Give your loved ones a chance to actually have an appetite left by the time they belly up to the groaning buffet.
Devils on Horseback (Bacon-Wrapped Dates w/Parmesan)
serves 10
— 20

3/4" x 1/4" (approx) sticks Parmigiano-Reggiano

— 20

pitted dates (preferably large juicyMedjool)

— 10

thin slices of bacon, cut crosswise in half

— 20

wooden toothpicks
Place oven rack in middle position and preheat oven to 400°F.* Stuff 1 piece of cheese into each date, then wrap 1 piece of bacon around each date, securing it with a toothpick. Arrange dates 1 inch apart on a rack or slotted pan set in a baking sheet.


Roast for 10-15 minutes, then turn dates over with tongs and until bacon is browned and crisp. Serve immediately, but warn guests that these are molten inside and to proceed with caution!



Download Recipe