11.23.10
The Right Stuff(ing)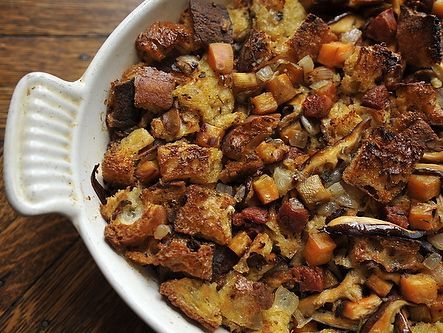 Stuffing! What can I say? If you're not still eating at your mother's table, you just want to recreate her stuffing recipe and aren't really interested in anything different. Right? Well, on the off chance that there is someone out there willing to try something new, I'll offer you a few suggestions. There are so many schools of stuffing, from cornbread and sausage to sourdough and sage to sticky rice and water chestnuts. Stuffing reflects tradition and ethnicity perhaps even more than the turkey. And of course there is always the question of to stuff or not to stuff, not to mention m***t versus crispy. Above is the winning
ciabatta and chorizo stuffing
from Food52's contest last year. It features garlicky cubes of bread with chorizo, shiitakes and sweet potato. Another interesting option is this
prune and apple stuffing
posted by Amanda Hesser.
It's a simple affair that dates back to 1924, and you can customize it according to the kind of bread and nuts you prefer. Which brings me to a good point: stuffing is perfect for ad libbing. You know the technique by heart: something starchy (bread, rice, even cous cous); something rich (butter, cream, eggs, stock); something crunchy (nuts, water chestnuts, celery); something vegetal (mushrooms, fennel); something spicy (sage, white pepper, chile); something sweet (raisins, currants, prunes). Go on, let your freak flag fly! Make up your own stuffing recipe! No? OK, here are a few more.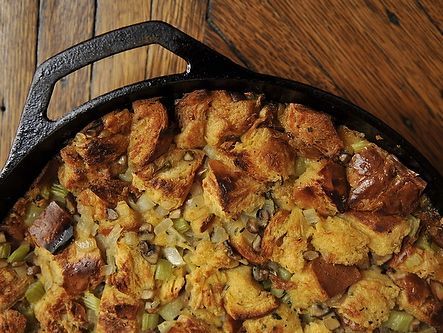 This
vegetarian version
is made with eggy challah and plenty of butter. And
here's one
from the now-defunct
Gourmet
, featuring sourdough and pancetta with the classic addition of chestnuts. Last, but not least, below is the recipe I will be making this year when, for the first time, G can tuck into his own personal pan of gluten-free stuffing! It's made with the delicious gluten-free cornbread for which I posted a recipe a while back, spicy Italian sausage and tart whole cranberries. I've also listed instructions for cooking stuffing both in and out of the bird. I personally love the rich, almost soufflé-like quality of stuffing baked in the cavity, but I know others are partial to a crunchy crust. Either way, don't skimp on the butter, milk/cream or stock as you don't want dusty, dry stuffing. Do your mother proud.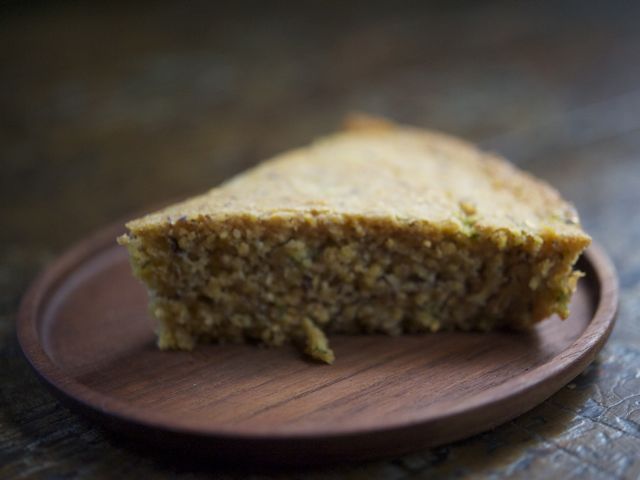 Gluten-Free Cornbread Stuffing
serves 8
— 1 loaf

gluten-free cornbread (find my recipe in the archive)

— 1 cup

pecans

— 3

leeks, about 1/2 lb, white and light green parts only

— 2

celery ribs

— 3 tablespoons

unsalted butter

— 1/3 lb

Italian sausage, sweet or spicy

— 1 cup

fresh cranberries

— 1/8 cup

organic cane or rapadura sugar

— 1/4 cup

finely chopped Italian parsley

— 1 tablespoon

minced sage

— 1 cup

chicken broth
Preheat oven to 325° F.


Cut corn bread into 1/2-inch cubes and spread on a couple of baking sheets. Bake until just dry, about 20 minutes, then transfer one sheet of cubes to a large bowl. Spread the pecans on the empty baking sheet and toast in the oven, about 15 minutes.


Halve leeks lengthwise and slice crosswise into 1/2" pieces. Dump into a colander and rinse well with cold water to remove any dirt. Chop celery.


In a large skillet, melt butter and cook leeks and celery over moderately low heat, stirring, until leeks are tender, about 25 minutes. Season with salt and pepper to taste. Remove sausage from casings and break into small pieces. Add sausage to leek mixture and cook over moderate heat, stirring occasionally until sausage is cooked through, about 5 minutes.


In a small heavy saucepan, cook cranberries with sugar over moderately high heat, stirring, until they begin to burst. Chop parsley.


To the bowl of corn bread add the remaining baking sheet of corn bread cubes, pecans, sausage mixture, cranberries, parsley, broth and more salt and pepper, as needed. Toss together. Cool stuffing completely.


Stuffing may be made up to this point 1 day ahead and chilled, covered. Bring stuffing to room temperature before proceeding.


For cooking stuffing inside poultry:


Any frozen poultry destined for stuffing should be completely thawed, and the stuffing itself brought to room temperature before it's put into the turkey. Do not stuff your bird the night before you cook it; such a seeming time-saver can have dangerous results. Instead, it is best to loosely fill the bird's neck and body cavities immediately before roasting. And always use a meat or instant-read thermometer. Stuffing baked inside the bird is done at 160°-165°F. After roasting, let your stuffed poultry stand at least 15 to 20 minutes, a double assurance that the requisite temperatures for food safety have been reached.


For cooking all or part of stuffing outside poultry:


In a shallow baking dish, bake stuffing in preheated 325° oven for 1 hour (for m***t stuffing, bake covered entire time; for less m***t stuffing with a slightly crisp top, uncover halfway through baking time).



Download Recipe