11.22.10
Big Bird (The Rest is Gravy)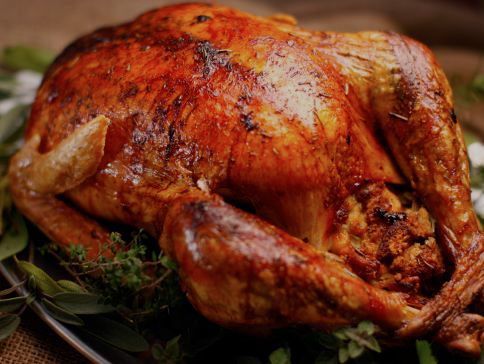 It's time to talk turkey. Even the most experienced cooks can get a little flustered when it come to roasting such a large creature. Confusion starts with what kind of bird to buy and proceeds through whether or not to brine, to stuff or not, what temp, how long to rest, etc. It's all in pursuit of that deep brown, lacquered skin and meat that is not hideously dry. Some say the sole purpose of gravy is to restore moisture to that breast. There really is no definitive technique for roasting a turkey, although most professional chefs do recommend you cook it until the breast is done, and then cut off the legs and thighs to finish roasting separately while the breast rests. In a neat twist on that, this
recipe
has you brine the bird whole, then break it down and roast the legs and wings on top of the stuffing. Food for thought.
But most people simply can't abandon the Norman Rockwell image of that intact turkey perched on the carving board in all its golden glory. And for those of you who wish to hew to tradition (my dining companions included), I've gathered a few recipes for success. I've rarely actually been in charge of a turkey, depending as I do on the kindness of others for my Thanksgiving dinner. But some years ago I did make Martha's version with the breast draped in wine-&-butter-soaked cheesecloth, and I recall it being quite delicious. I didn't brine it first—I'm actually not sure that I've ever eaten a Thanksgiving turkey that's been brined! Not everyone is prepared to take that extra step, but I understand it makes an enormous difference. I love to eat the dark meat—and to gob mayonnaise and cranberry sauce on a leftover turkey sandwich—so dryness is not my particular bugaboo, but it looks like we're going the brining route this year.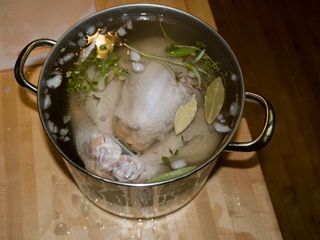 Consider this recipe for juniper-brined roast turkey,
here
. Use
this recipe
for the brine. As an alternative, there's the notion of a dry brine, which means simply massaging the bird with citrus-infused salt as in
this recipe
, from sausage king Bruce Aidells. The Martha Stewart
recipe
that requires the cheesecloth calls for the turkey to rest overnight in
this
spice-infused Riesling brine. I think you'd have good results with any of these.
As for the question of what sort of turkey to buy: you know the answer, and it ain't an artificially plumped up, corn-fed Butterball that's jacked up on hormones and probably been frozen for the better part of a year. PLEASE splurge on an organic bird, if not one of the harder-to-find heritage breeds that require you to pre-order months in advance. I found
this site
which I thought looks pretty interesting. This year, our bird is from
Dickson's
, where you may still be lucky enough to find one by showing up right when they open on Wednesday.
Now, for the gravy. Most people like to make stock from the neck and giblets (no liver, please, it's too strongly flavored) while the turkey roasts. Then use that with some pan drippings and flour to make a rather thick sauce.
This recipe
from Cooking with Drew looks like it improves upon that and makes a rich, deeply flavorful gravy. Please make your own
stock
! And here's my recipe again for the
sherry-spiked gravy
that I posted last week. Instead of the bacon, you can substitute pan drippings from your roast turkey. For another option, here's the winning recipe from
Food52's gravy
contest. It's actually a vegetarian gravy that nevertheless promises lots of flavor and none of the hassle of wrestling with the turkey drippings at the last minute. The runner-up was this
cider-sage gravy
, lightly perfumed with the sweetness of apples.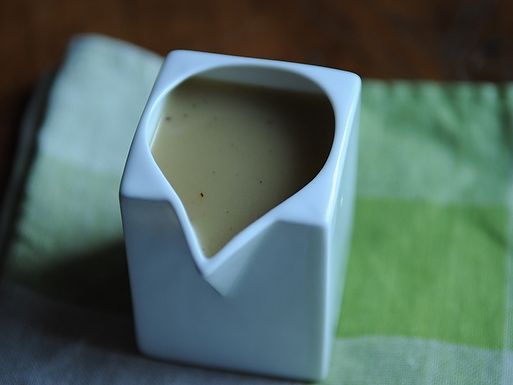 My personal favorite, however, is a gravy recipe taught to me many, many moons ago by my friend Angel. You line the bottom of your roasting pan with a thick layer of raw garlic, onions and shallots and set your turkey on that instead of a rack. When the turkey is done and you've removed it to a carving board to rest, you simply puree the whole lot of it in a food processor—fat, brown bits and all. The vegetables absorb every bit of the gooey goodness of the drippings, making an unbelievably thick, sweet, oniony sauce that I find totally irresistible. It usually needs a bit of stock to thin it out, a little sherry to balance the flavors, and lots of black pepper and sage. Depending on how much you have salted your turkey, you may not need to add any to this gravy. It's so easy, uses no flour, and you wind up with tons of it. One caveat: I understand that when you brine the turkey, the drippings are extremely salty. This may mean that this gravy recipe won't work. We're planning to take the additional precaution of quickly blanching our turkey after brining but before roasting, which is supposed to leach out much of the salt. Fingers crossed. And we're making another gravy recipe as well. Because it just wouldn't be Thanksgiving without excess, now would it?

Extreme Pan Gravy
makes about 4 cups
— 8

yellow onions, peeled and quartered

— 18 shallots

peeled and halved

— 3

heads garlic, separated into cloves and peeled

— 1-2 cups

homemade turkey stock, chicken is also fine

— 1/4 cup

dry sherry, or to taste

— 10

fresh sage leaves, finely minced

— 1/4-1/2 cup

light or heavy cream, optional

—

freshly ground black pepper
Mix together the onions, shallots and garlic and spread them on the bottom of your roasting pan. Place turkey on top and roast according to your recipe.

When turkey is done, remove pan from oven and place turkey, lightly covered with foil, on a platter or cutting board to rest. Using a slotted spoon, remove cooked vegetables and puree in batches in food processor, adding stock as needed to move the puree.

Place puree in heavy-bottomed saucepan over medium-low heat and thin with additional warm stock to desired consistency. Stir in sherry, sage and cream, if using. Season to taste with freshly ground black pepper and sea salt, as needed.

Download Recipe