10.25.10
Good Morning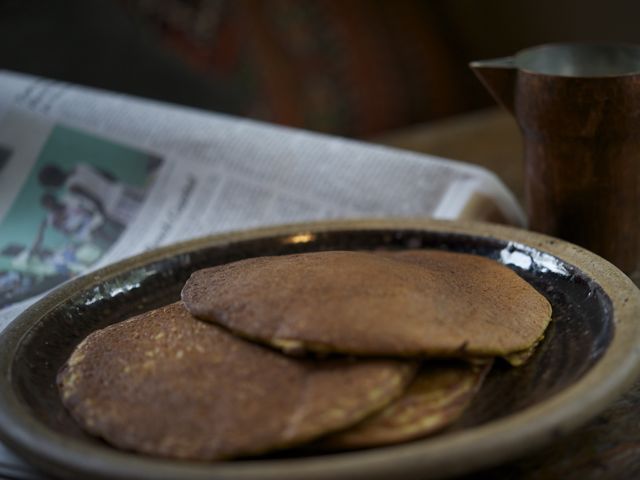 I love pancakes on a Sunday morning. To me they mean long, lazy breakfasts with the paper in hand (maybe
The Star)
and many cups of tea (chai?), some great tunes playing in the background (Van Morrison). It's nice to improvise with what's around: bananas with walnuts; fresh blueberries; buckwheat and buttermilk. But always, always, warm maple syrup. It used to be I had to have melted butter, but now I often substitute virgin coconut oil. I love the subtle taste, and I'm always hoping that the lauric acid will be beneficial for G's digestive tract. (To read more about how coconut oil supports good health, go
here
.) Right now I have many different types of squash and pumpkin on hand, and I had cut up a big Cinderella pumpkin into quarters and roasted it so I could stock up on puree. I've now got a huge jar of the stuff in my fridge, and I see gnocchi and maybe soup and even a pumpkin cake in my future. But today it was pumpkin pancakes, light and fluffy, fragrant with ginger, cinnamon and nutmeg. The pumpkin adds a sweet richness and guarantees these will never be dry. With a crumble of buttery pecans mixed in and a drizzle of warm maple syrup, this is a breakfast of champions.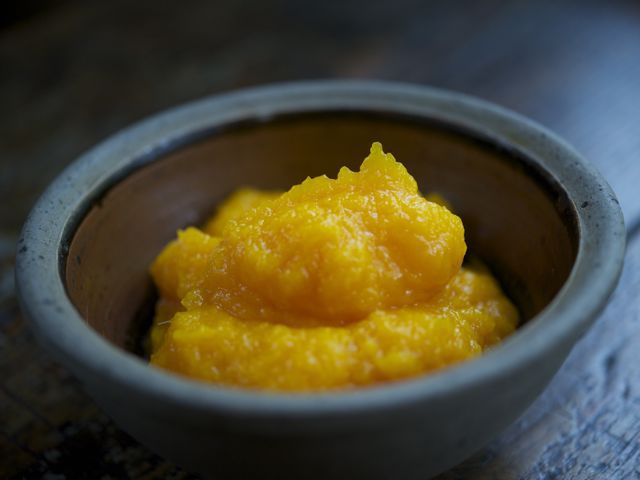 That big pumpkin gave off so much water as it roasted! After scooping out the soft cooked flesh—such a brilliant orange color—I set it into a colander lined with cheesecloth to drain. Several hours later, it was still exuding water. I actually tied it up in the cheesecloth and hung it to drain some more. I guess this is why everyone is always saying that canned pumpkin is fine. Which it is.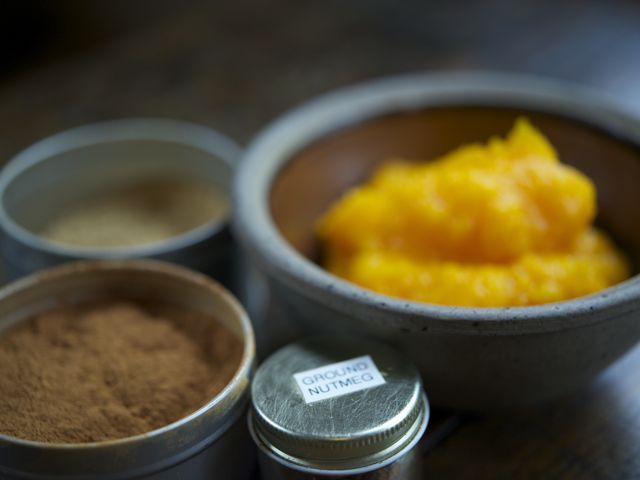 I keep whole nutmeg on hand, in part for the sheer pleasure of its fresh-ground fragrance. I halved a couple and tossed them into my spice grinder. It reminded me to incorporate this sweet-spicy note in more dishes; it's great with cheese and with potatoes, and it's also divine shaved over the top of a gin and tonic with lots of lime.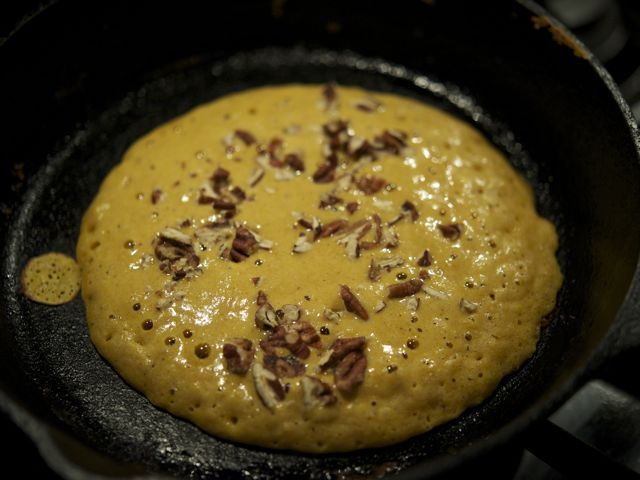 A well-seasoned cast-iron skillet makes perfect pancakes. (I shun toxic non-sticks.) I tend to like mine a bit underdone so they don't get too bready, but these remained tender even when they were cooked through. OK, yes, I'm still on a diet but that doesn't mean I didn't eat a couple of these this morning. How could I not?
Pumpkin Pancakes
makes 8 large pancakes
— 1 1/4 cups

unbleached all purpose flour (gluten-free mix works well, or trying substituting with some whole wheat and/or buckwheat flour)

— 3 tablespoons

rapadura sugar

— 2 teaspoons

baking powder

— 1/2 teaspoon

ground cinnamon

— 1/2 teaspoon

ground ginger

— 1/2 teaspoon

ground nutmeg

— 3/4 teaspoon

sea salt

— 1 1/3 cups

whole milk (hemp milk or buttermilk also work)

— 1 cup

pumpkin puree (canned or drained fresh)

— 4

large eggs, separated

— 1/4 cup

unsalted butter, melted (or virgin coconut oil)

— 1 teaspoon

vanilla extract

— 1/2 cup

chopped pecans
Whisk first 5 ingredients together in a large bowl. Combine milk, pumpkin, egg yolks, melted butter and vanilla in medium bowl to blend well. Add pumpkin mixture to dry ingredients; whisk just until smooth.


Using electric mixer, beat egg whites in another medium bowl until stiff but not dry. Fold whites into batter in 2 additions.


Brush large nonstick skillet with oil or butter; heat over medium heat. Working in batches, pour batter into skillet to make whatever size pancakes you prefer. Sprinkle a teaspoon or so of chopped pecans onto the first side. Cook until bubbles form on surface of pancake and bottom is brown, about 2 minutes per, then flip and cook the other side. Repeat with remaining batter, brushing skillet with oil or butter between batches. Serve with warm maple syrup.


These freeze well. Stack them with parchment in between and slip into a ziploc bag.



Download Recipe