10.19.10
A Little Bit Country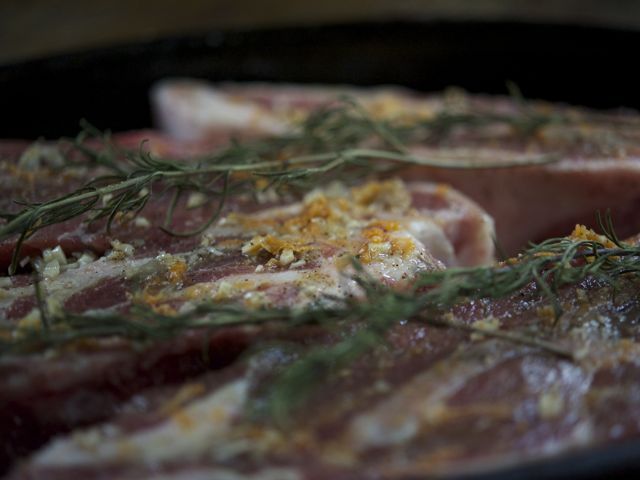 A surfeit of green tomatoes had me racking my brain—and scanning the web—for recipes that called for neither frying nor pickling. I came across one that looked pretty easy and interesting on
Melissa Clark
's blog. You've probably read her column in the
Times
, but may not know that she has collaborated with all the best chefs on a zillion cookbooks, including Daniel Boulud's
Braise
, a particular favorite of mine around this time of year. (It features fantastic recipes for short ribs; grouper with fennel and cashews; and carbonnade with Belgian beer and gingerbread, among many others.) So she knew what she was doing when she threw together this dish of country-style pork ribs slow-braised with green tomatoes, citrus and vermouth. And, if I do say so myself, I knew what I was doing by serving it with fresh, warm cornbread.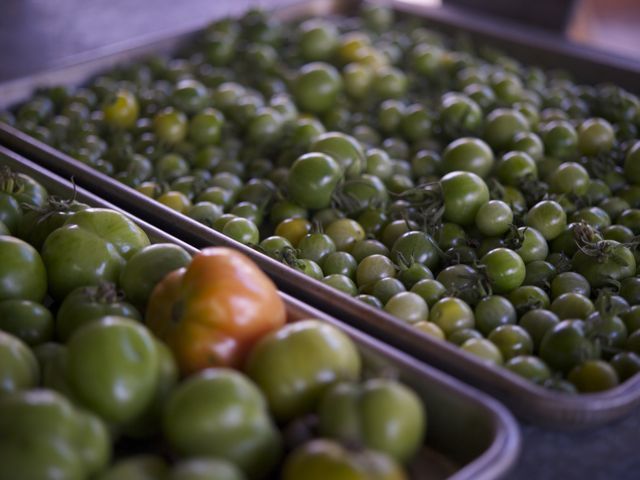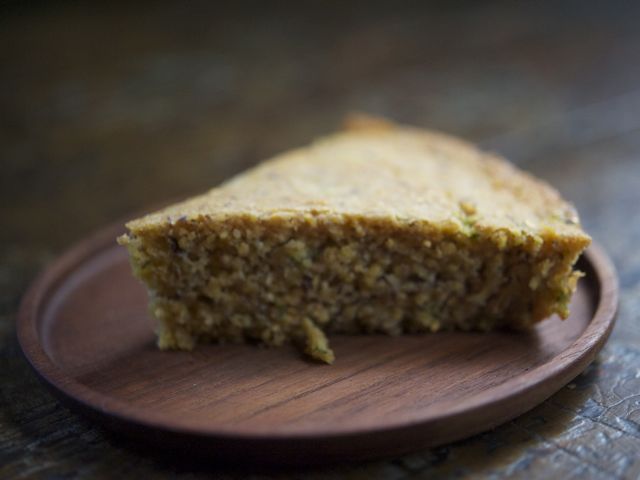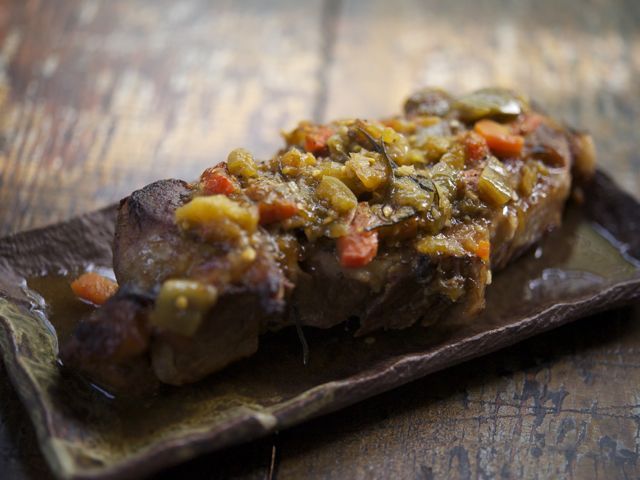 As with many braises, the flavors in this dish are almost better the next day. Plus, making it ahead allows the fat to solidify so you can easily remove it before reheating the dish. That said, you can also skim off much of the fat and enjoy it straight from the oven.The original recipe (which you can check out
here
) calls for orange, which I substituted with the grapefruit I had on hand. I also used only rosemary (being fresh out of thyme) and added the step of browning the ribs before braising them in an additional cup of stock. Melissa recommends you serve these with polenta, but I made a batch of gluten-free cornbread, adapted from a recipe by 11-year-old Dana Sly, which won a blue ribbon at the Iowa State Fair. The ingredients come together in a flash, then I like to scrape the mixture into a cast-iron skillet and pop it in the oven for 25 minutes. It comes out dense but crumbly, with a hint of sweetness. The ground flax meal gives it a lofty, chewy texture that is very faux-glutenous. I make it all the time, sometimes adding cheese or fresh jalapeños or a swirl of chipotle salsa. The leftovers are wonderful split and toasted in a greased skillet, then smeared with my
tomato jam
, or as the basis for a divine savory bread pudding, but that's another story.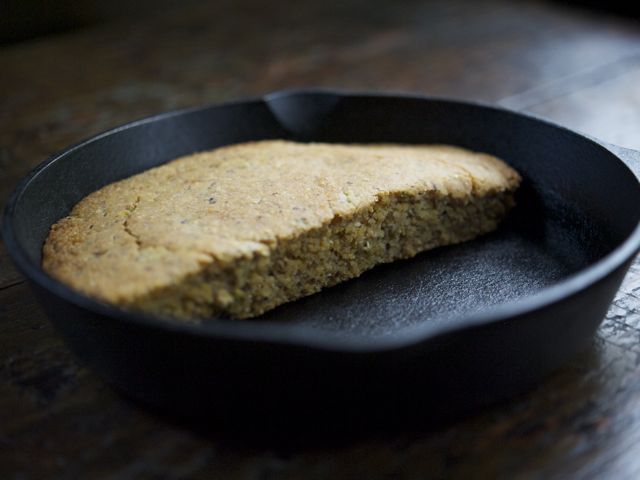 Braised Pork Ribs with Green Tomatoes
lightly adapted from Melissa Clark
serves 4
— 4

country style pork ribs (about 2 pounds)

— 1 tablespoon

extra-virgin olive oil

— 2 tablespoons

minced garlic, divided

—

grated zest of 1 pink grapefruit

— 4

sprigs rosemary

— 1

leek, white & light green parts thinly sliced

— 2

carrots, peeled and diced

— 1/4 cup

white vermouth

—

juice of 1 pink grapefruit

— 4 cups

diced green tomato

— 2 tablespoons

honey

— 1 cup

vegetable, pork or chicken stock, or water
Smear the ribs all over with the olive oil, 1 tablespoon garlic, grapefruit zest, and lots of salt and pepper. Top with rosemary sprigs, cover and marinate in fridge for 4 hours, or as long as overnight.


Preheat oven to 300 degrees. Scrape marinade off ribs and reserve. In a heavy pot or dutch oven, heat a little olive oil until very hot and sear pork ribs until nicely browned on both sides. (You may need to do this in batches as you don't want to crowd them.) Remove ribs to a plate and pour off all but a tablespoon or so of the fat. Return pot to stove and, over medium-high heat, sautee the remaining tablespoon garlic, leek and carrot until soft. Add vermouth, grapefruit juice and honey and bring to a boil. Stir in tomatoes, then position ribs on top, sprinkling over reserved garlic and zest from marinade. Tuck in rosemary sprigs and top off with the cup of stock. Return to the boil, then cover pot tightly with foil or a lid and place in oven.


Bake, turning the ribs over halfway through, until the meat is falling-off-the-bone tender, about 3 hours. Remove from oven, cool slightly and move ribs to a plate; cover with foil to keep warm. Skim fat from the sauce and season with salt and pepper to taste. Serve ribs smothered in sauce and accompanied by cornbread, polenta or mashed potatoes.



Download Recipe
Gluten-Free Cornbread
yields 8-10 slices
— 2 tablespoons

ground flax seed

— 6 tablespoons

water

— 1 cup

gluten-free flour mix

— 1 cup

stoneground cornmeal

— 1/4 cup

rapadura sugar

— 1/2 teaspoon

ground cumin, optional

— 4 teaspoons

baking powder

— 3/4 teaspoon

sea salt

— 1 cup

buttermilk (or hemp milk)

— 1/4 cup

raw sesame or olive oil

— 1-2

jalapeños, stemmed, seeded & minced

— 1 cup

grated sharp cheddar, optional

— 1 cup

corn kernels, optional
Preheat oven to 425 degrees. Lightly grease an 8" cast iron skillet.


Bring the water to a boil in a small saucepan. Add the ground flax seed, reduce the heat to medium-low, and simmer for 3 minutes or until thickened, stirring occasionally. Set aside.


In a medium bowl, whisk together the flour, cornmeal, sugar, cumin (if using), baking powder and salt.


Add the ground flax seed mixture, milk and oil to the flour mixture. Beat just until smooth and stir in jalapeño, cheese and corn, if using. Turn into prepared skillet. Bake for 25 minutes, or until a toothpick inserted in the middle comes out clean. Cool before serving.



Download Recipe