10.20.10
Shiso Creative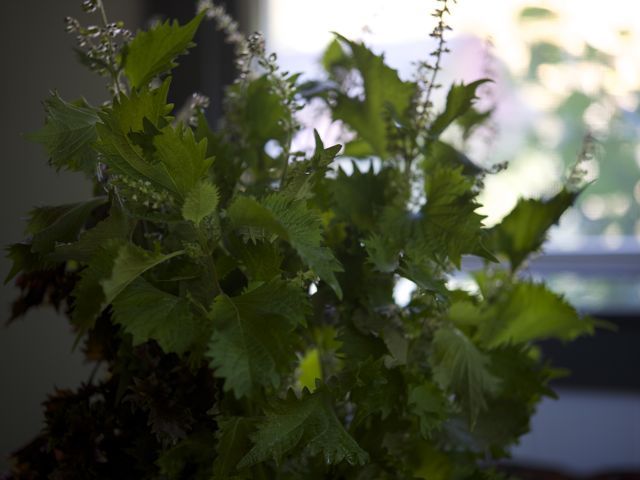 I'm crazy about shiso and was thrilled that we were able to grow several plants in our garden this summer. Turns out they like a spot that is a bit shadier, neither wet nor dry. We had to rescue armloads of the stuff before the first frost as it immediately and tragically goes black and limp. But then there I was with tons of shiso and only a few ideas as to how to use it. I've always enjoyed the crystallized shiso leaves, coated in a brittle crust of sugar, that are part of the dessert plate at Matsuri, but I couldn't really see making them at home. And I do like the pickled umeboshi-plum-and-shiso roll that is on every classic sushi menu, but that would use up just a few leaves at most. I did go ahead and make a simple syrup infused with the smaller quantity of red shiso I had—great for cocktails and to mix with soda water—but that still left me with vast quantities of the green. A quick scan of the web revealed virtually no inspiration, aside from an edamame salad enlivened with chopped shiso. So I put on my special Glutton's Thinking Cap (looks something like
this
, or perhaps
this
), gazed deep into the vast recesses of the fridge, and came up with a rather inventive way to use large handfuls of deliciously pungent, minty shiso.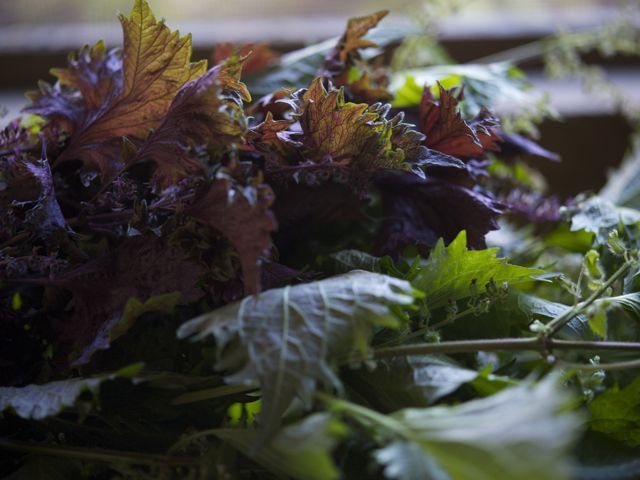 I knew that lurking in the back of my "noodle cupboard" (wherein reside various types of rice, pasta, polenta and assorted grains) were a couple of packages of pure buckwheat soba noodles. If you ever read the ingredients on the package, you will notice that these are hard to come by as most contain some wheat flour as well. Anyway, I was thinking that these rich, nutty noodles would be the perfect match for what was about to become SHISO PESTO!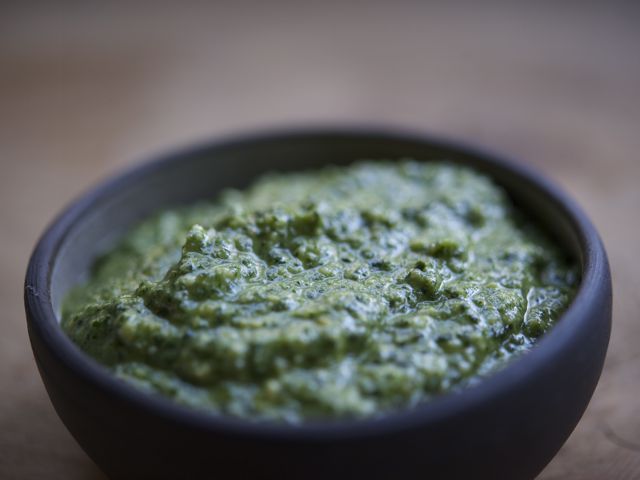 What better way to preserve the flavor and color of a fresh herb? With a classic basil pesto as my model, I assembled some ingredients that I thought would play up its subtle yet distinctive tang: blanched almonds, lemon juice and, my secret weapon, yuzu kosho. This condiment, which I've seen referred to as Japanese crack, is a textured paste made from a brilliantly complex citrus fruit—yuzu—chile and salt. It comes in green or yellow, depending on the color of the fruit. Thinking that raw garlic would be too overpowering for the shiso, I came up with using this to add a bit of a kick to the pesto.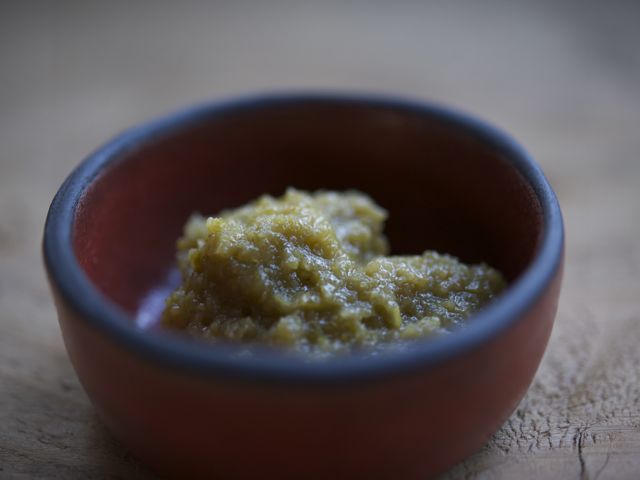 Rather than olive oil to bind the pesto, I used
organic extra-virgin sesame oil
. It's not toasted, so it has a very unobtrusive sesame flavor. (You could substitute any mild vegetable oil; remember to try and get expeller pressed.)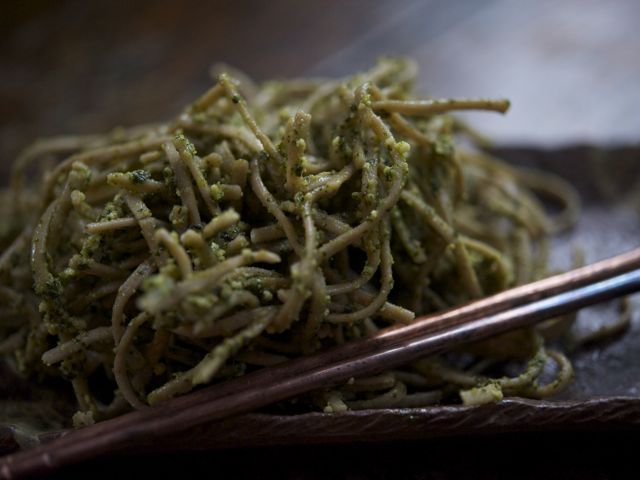 I ended up serving these to G for our anniversary dinner (3 years!) alongside some miso-marinated grilled kalbi and a light cucumber salad. Not a thing wrong with that meal. I could see adding some of this pesto to mayonnaise, or stirring it into steamed green beans (or kohlrabi, which is how I had it for lunch the next day). It's spicy and herbal and altogether divine.SHISO PESTOsomewhat less than 2 cups3/4 cup blanched almonds2 tablespoons fresh lemon juice1/2 teaspoon sea salt2 generous teaspoons yuzu kosho3 packed cups stemmed shiso leaves2/3 cup sesame oil (not toasted)In your food processor, combine all the ingredients except the oil and pulse 5 or 6 times. Then add the oil in a thin stream until it creates the texture you're looking for: not too chunky, not too smooth, thinner than peanut butter but not too loose. Taste and add more yuzo kosho or salt as needed. Store in a jar in fridge topped off with a glug of oil.