10.12.10
Squashed Ambition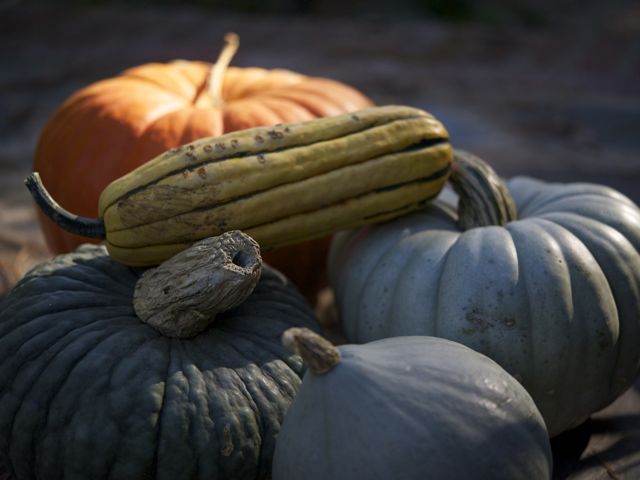 Clearly, this was a banner year for winter squash. We planted a single plant and in return reaped this one mini Blue Hubbard in the foreground, above. But at Riverbrook Farm, they've been harvesting them by the barrel. In the back is a Cinderella pumpkin, a beautiful French heirloom also known as Rouge Vif d'Etampes. It first became available in the U.S. in 1883. The bumpy one at left is called Marina di Chioggia, another heirloom, this one with roots in the Italian coastal town for which it's named. The rich sweet flesh is deep yellow-orange and especially prized for making gnocchi. (Stay tuned later this week!) The other greyish one is an Australian variety—can't remember what it's called. They had at least a dozen varieties at the farm and I was a bit overwhelmed by the choices. Resting on top is the lovely striped Delicata. I would imagine it got its name from its thinner skin, or possibly from the fine-textured golden flesh that has a sweet, nutty flavor. I roasted mine and stirred chunks of it, along with flecks of smoked ham and fresh sage, into a risotto made with brown carnaroli rice.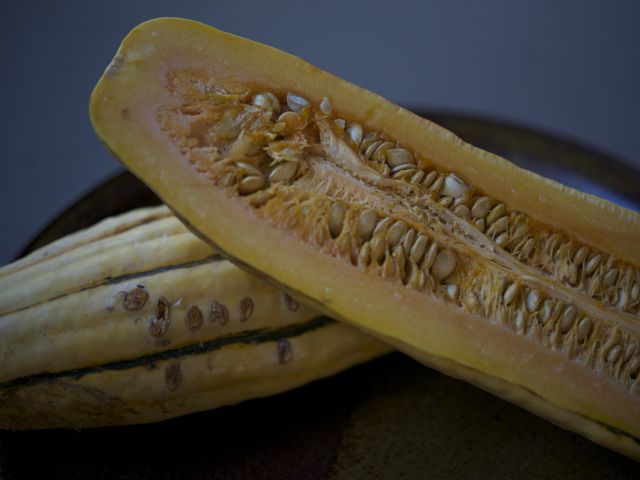 Simply slice open the squash, scrape the seeds out (reserving them if you want to roast them later,
like this
) and cut it into large chunks so you can more easily remove the skin. I'm not going to go into all the nutritional value of winter squash again; suffice it to say: fiber, beta-carotene, potassium, folate.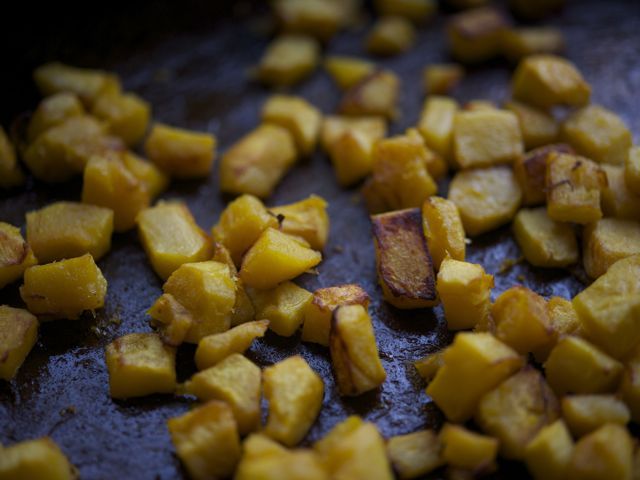 Cubed roasted squash is delicious warm from the oven, drizzled with olive oil as a simple side dish, or cooled and mixed into a salad. The old Lever House had one of my favorites: frisee tossed with cubes of roasted squash, marcona almonds and a bit of sheep's milk cheese. You can also puree roasted squash with stock for a wonderfully creamy soup, or stir it into pasta sprinkled with fried sage and fresh parmesan.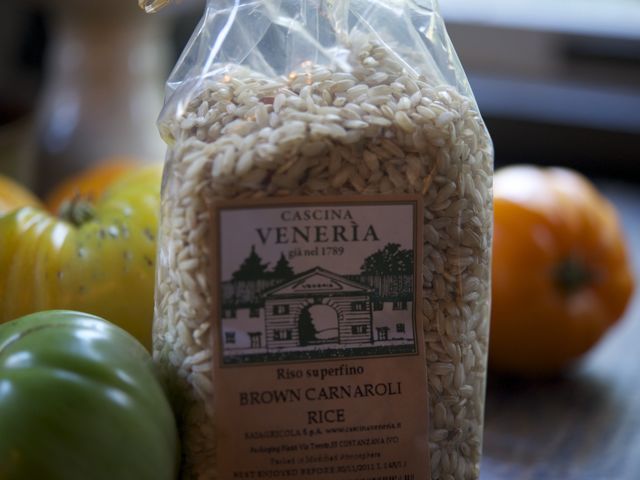 Risotto made with brown rice has all the benefits of a whole grain, but it soaks up more stock and takes quite a bit longer to cook. If you're game, the result is chewy and nutty with more B vitamins, iron and magnesium than you'll get with white rice. I was excited to find this brown version of carnaroli rice, as this starchier variety is ideal for risotto. (Learn more about rice and shop for it online at
this venerable Italian purveyor
.) This recipe is highly adaptable. You can use any type of winter squash, any stock, whatever herbs you prefer and the cheese of your choice. I am absolutely head over heels with a Sicilian pecorino I found at Eataly. It's quite strong and tangy, with a complex creamy, herbal taste. This dish goes well with a radicchio salad dressed with Dijon mustard-walnut vinaigrette.
BROWN RICE RISOTTO WITH ROASTED SQUASH
serves 2 as a main course
1 delicata squasholive oilsea saltbutter1/2 cup minced shallot1 cup risotto rice1 tablespoon finely minced fresh sage3 tablespoons diced ham, optional1/2 cup dry white wine6+ cups chicken or vegetable stock2 tablespoons blue cheese2 tablespoons grated pecorino or parmesanPreheat the oven to 350 degrees.Using a large, sharp knife, slice the delicata squash in half lengthwise. Scrape out all the seeds and stringy goop. (Set aside if you plan on toasting the seeds later.) Cut into large chunks and then pare away the layer of skin. Dice into 1/2" cubes and place in a bowl. Toss with 1 tablespoon olive oil and 1/2 teaspoon sea salt and spread in a single layer in a casserole or on a baking sheet. Bake for 30 minutes. Then, increase the heat to 425 degrees and bake for another 20 minutes or until squash begins to caramelize and turn brown at the edges. Remove from oven and set aside to cool. (You can refrigerate this at this point for up to a couple of days.)Meanwhile, put stock in a large saucepan and keep warm over low heat. Have a ladle ready.In a large, heavy sautee pan, heat 1 tablespoon olive oil and 1 tablespoon butter over medium-high heat. Sautee the shallot until translucent and soft, then add the rice, stirring to coat. Cook for a couple of minutes then add the sage and ham, if using, and stir together for a minute or so. Pour in the white wine and cook until nearly dissolved.At this point, you begin adding the warm stock, one ladle at a time. Stir frequently, allowing the stock to be absorbed each time before adding more. Once you've added about 5 cups, taste a few grains to gauge doneness. You are seeking that critical
al dente
point, where the rice is soft and plump yet retains a toothy quality. With white rice this usually takes between 20 and 30 minutes; with brown, it takes at least an hour. The risotto should also be creamy and a little loose, not totally dry. Once you've hit nirvana, remove the rice from the heat and stir in the squash, and then the two cheeses. Check for salt, and add a little freshly ground black pepper if you like.