9.27.10
The Ask: Jake Dickson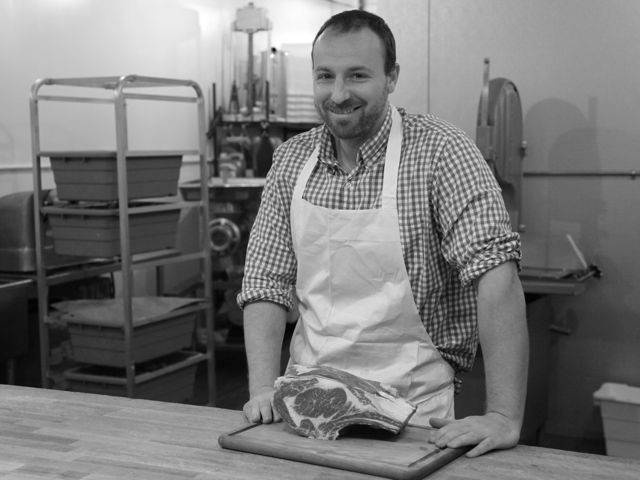 Time
and
again
(and
again
and
again
), you've heard me refer to
Dickson's Farmstand
, a purveyor of locally sourced, humanely raised animals. Their shop in Chelsea Market is the only place, other than the farm upstate, where I feel comfortable buying meat or poultry. One visit, and you will know why. They also have amazing smoked meats, beef jerky seasoned with an addictive mix of star anise and red chile, wonderful terrines and rillettes, and a lunch menu that changes daily, featuring delectable sandwiches and hot dishes as well. The owner, Jake Dickson, has made real strides not only in the way he sources his animals, but in the way they're presented and in the service he offers customers. One of Dickson's purveyors, Bob Comis of
Stony Brook Farm
in Schoharie, referred to Jake as "a forerunner in the creation of the BSA model." Business-Supported Agriculture is a new farm-to-business model, firmly rooted in the tenets of Community-Supported Agriculture, in which both sides are open and honest about their financial positions and take responsibility for the success of the other, simultaneously cultivating and supporting the farm and the business to build profitable enterprises in real partnership. When you think about the way that industrial agriculture has undermined small farms, the quality of the food we eat and thus, ultimately, our health, this is no small achievement. Jake was kind enough to share with me how and why he started his business, along with some other meaty tidbits.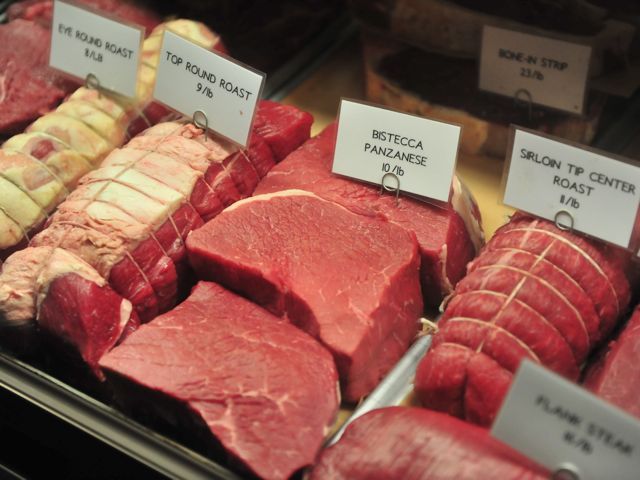 What prompted your move from marketing to meat?I worked in direct mail for American Express for years, in New York and London, but I come from an entrepreneurial family, and in the back of my mind I always knew I wanted to have my own company. I ran into an old friend in Europe who was working at La Varenne, Anne Willan's renowned cooking school, then based in Burgundy. (GFL note: It's now in Southern California.) She basically needed someone to be her kitchen bitch, and I volunteered, finding a way to juggle that with my corporate gig in exchange for free room and board. I'd worked in kitchens here and there growing up, but that experience really convinced me that somehow I wanted to be in the food business. Once I decided to pursue a career in food, the voracious carnivore in me steered me toward meat.How did you make the transition?I did everything I could to learn as much as possible. Among the many jobs and internships I took on was working for Craig Haney, the livestock coordinator at the Stone Barns Center in Westchester. I also lived in a bunker with 700 dairy cows at Cornell, worked in a slaughterhouse, and then spent time building relationships with farmers.What were your most valuable lessons?I learned that it's not enough to read books. You have to really be with the animals at every phase to develop your own personal belief system, your own set of ethics and practices. It's about doing right by yourself, by the people you are feeding, and by the animals for whose life and death you are responsible. I try never to forget that this is a serious business.How did you decide to go with meat from within a 400-mile radius?It's actually a 400-mile maximum supply chain (farm-to-slaughterhouse-to-NYC) rather than a radius. I chose 400 miles because it's a reasonable day's drive if I ever need to—or my customers ever want to—follow the path that an animal took from the farm to their dinner plate. We always provide the farm name to customers as a way to help tell the story of our meat and where it comes from.How many pounds of meat do you sell a week?We sell about 5,000 pounds of meat a week. That usually averages out to 3 ½ steer, 7-10 pigs and 5-10 lambs or goats.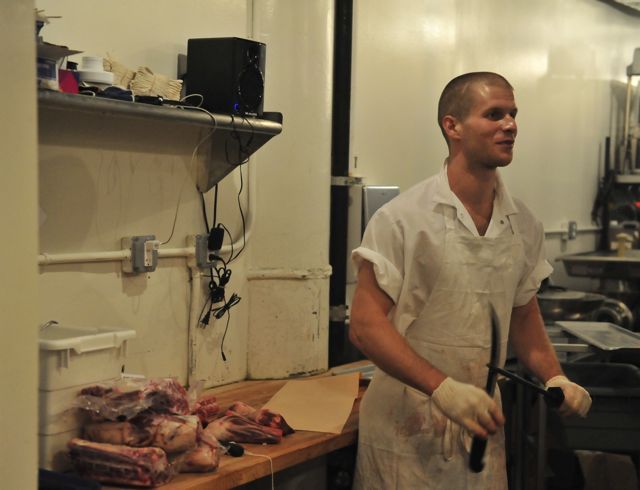 Your butchers seem young. Is there a renewed interest in this career? Where do they learn the trade?
Butchering is a very technical skill and it requires a lot of training. And it's a segmented industry—what happens in the slaughterhouse is very different from building a retail case.
Adam Tiberio
, who works with me, trained for 7 years and is quite accomplished, but I don't think he feels comfortable calling himself a butcher even now. There definitely seems to be a renewed interest in using and appreciating the whole animal, and in understanding where the cuts come from.
You're an advocate for eating less meat. What would you say is an optimal amount to incorporate into one's diet on a weekly basis?
I think it's a good idea to eat less meat, but to eat meat of a higher quality. Twice a week seems about right.
Does this include beef jerky?
(Dickson's wife claims she can hear him chewing the stuff every time she calls him at the shop.)
No comment.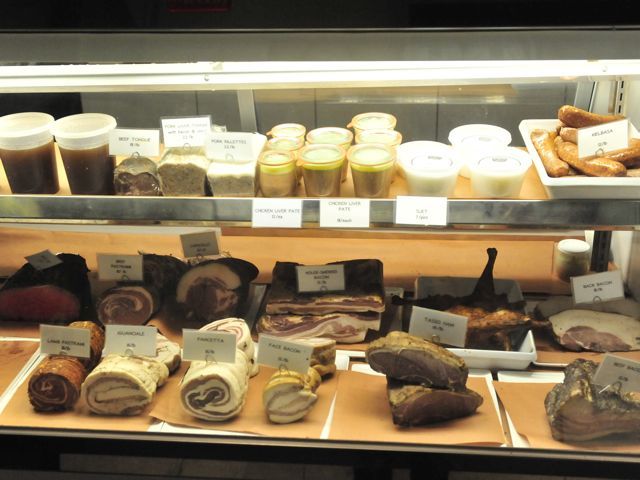 Tell us a bit about your kitchen. Who is back there making all the stocks, rendering the fats and coming up with those terrines, jerkies and delicious lunch specials?That's Gabe Ross. He's cooked at Gramercy Tavern, Savoy and La Caravelle among other places, and he had his own charcuterie business, Gabriel's Homemade. He does a great job with all the prepared foods which are a significant part of the business, especially now that we're doing lunch.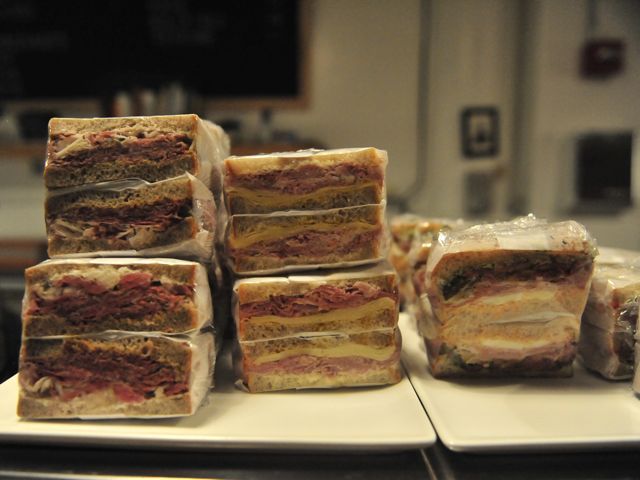 Where do you find your knowledgeable staff ?
Many of them came from the cheese world, actually. Some of them have gone through the
Slow Food masters program
in Italy. They speak multiple languages and really understand how to sell a complex specialty product.
Do you have a lot of foreign customers?
We do. About 30% are Europeans. I think it's because they have a stronger tradition of stand-along butcher shops, and less of a connection to supermarkets. People who come to Dickson's are looking for a convergence of the best quality, the best taste, the best ethics and the best service.
Where were you born and raised?
Princeton, New Jersey.
Did you grow up eating Oscar Meyer and Slim Jims?
We didn't really have too much highly processed food around. Hebrew National, for sure.
Where do like to eat out? Are you concerned about the provenance of your restaurant meat
?I like Zac Pelaccio's empire, especially Fatty 'Cue. I got married at The Breslin last year. I tend to patronize places that at least pay lip service to the idea of locally sourced foods.
Do you read many blogs? Which are your favorites?
Not too many. I'll keep up with Grub Street, sometimes Eating in Translation.
What, if any, do you think is their current contribution to the food world?
It really depends on the blog. Research and motive definitely count. It's a fun part of the industry that can veer into self-righteousness and total fabrication.
Lastly, please share with us one of your favorite meat-based recipes.SLOPPY JOE
from Chef Gabriel Ross at
Dickson's Farmstand
serves 4
1lb of boneless beef shin2 tablespoons vegetable oil1/2 cup homemade beef stock1/2 large onion, minced1 generous tablespoon minced garlic5 oz crushed tomatoes, strained, liquid reserved1½ teaspoons tomato paste1½ teaspoons ground cumin3 teaspoons ancho chili powder2 teaspoons chipotle powder3 teaspoons freshly ground black pepper1½ teaspoons ground allspice3 teaspoons ground coriander3 teaspoons sweet paprika1½ teaspoons dried thyme3 teaspoons mustard powdersugar, to tastesalt, to taste
Chile Paste:
You can prepare this up to 1 week in advance.
Combine spices (cumin through mustard powder). Fry garlic in vegetable oil until it begins to turn golden brown, then add onions and cook until soft. Add spice mixture, cooking until fragrant and onions are coated. Add tomato paste. Cook, stirring frequently until mixture begins to dry out. Add tomato solids and cook until liquid evaporates. Transfer to a container and refrigerate until ready to use.
Braise:
Preheat oven to 350 degrees.Cut meat into 1-2" chunks. Heat oil in a large pan and brown meat. In a large oven-safe casserole, combine meat with liquid from tomatoes, stock and chile paste. Liquid should cover 2/3 to 3/4 of the meat. Lay a piece of parchment paper on top of meat and cover with lid or foil to help retain moisture and prevent the surface from drying out. Reduce heat to 250 degrees and braise for 6-8 hours.To test for doneness, remove one piece of meat and crush it with the back of a spoon. It should shred effortlessly. Cool slightly and strain cooking liquid into a pot. Bring to a gentle simmer, adding sugar and salt to taste.Shred meat with a potato masher or two forks, removing any bits of tendon and sinew that have not fully broken down during the cooking process. Combine shredded meat and seasoned liquid. Taste again and adjust seasoning.To serve, mix in ketchup or hot sauce of your choice. We use a sweet and spicy Malaysian sauce called Ligham's.The traditional way to eat a Sloppy Joe is piled onto a soft bun, but it's also great over rice or mashed potatoes.Culinary lore suggests that the original Sloppy Joe was invented at Sloppy Joe's Bar in Key West, Florida, but some say it was invented by a cook named Joe at a café in Sioux City, Iowa.