9.14.10
Adult Jello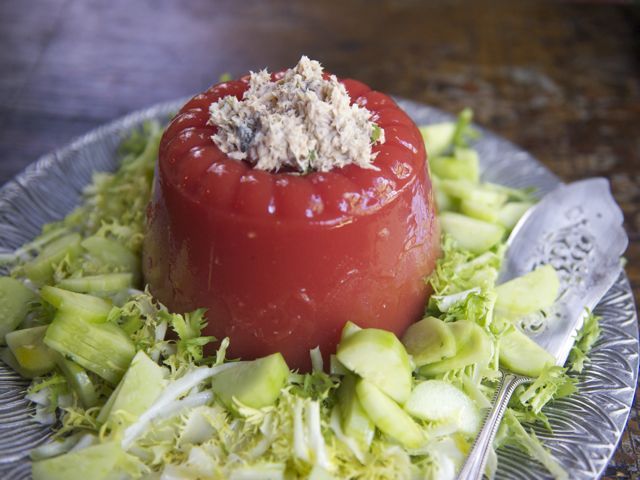 I finally made the tomato aspic! I found the perfect mold the other day at a local antiques shop that sells lots of great kitchen paraphernalia. (They also had some wonderful lidded earthenware crocks that will be perfect for pickles.) And with our many heirloom tomatoes crying out to be used the time was—dare I say?—ripe. The whole process could not have been easier, and I am already fantasizing about delicious desserts that will not hover forever about my waistline. Concord grape jello? Hello? I'll be playing around with honey and agave nectar as sweeteners, and seeing what happens when I substitute agar agar for the gelatin. Savory aspics are divine in their own right. A slice of cucumber aspic with tiny poached shrimp, perhaps. Beet aspic with creamy goat cheese and walnuts? Gorgeous! But let me tell you about the tomato aspic and how it plopped out perfectly, with a gentle wiggle and a color like the blush in a virgin's cheek.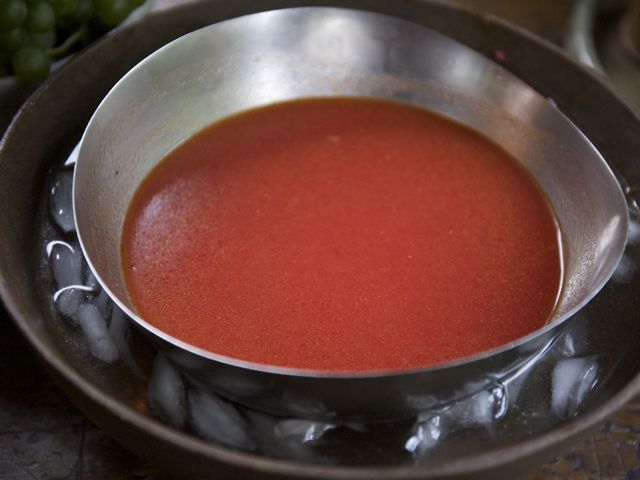 Perhaps the only irritating part of making aspic is that first you have to stir it until all the gelatin is dissolved, and then you have to stir it again while it sits cooling in an ice bath. But all this stirring provides ample time for one to stare off into the middle distance thinking about shearling jackets and motorcycle boots and leopard print scarves and other harbingers of fall. Then you simply pour your mixture into a mold, or into individual ramekins, and leave it to chill overnight.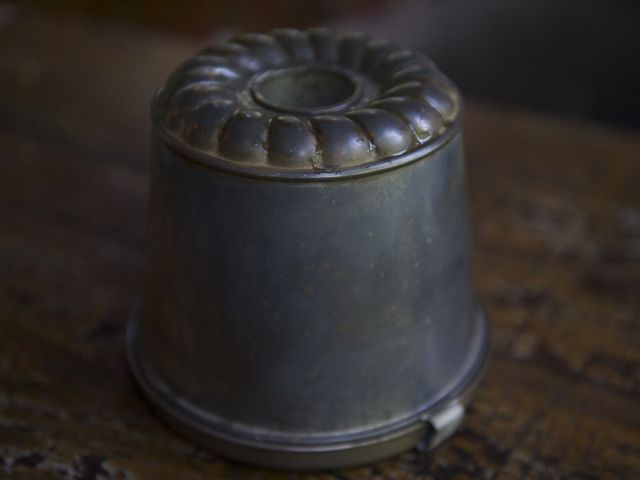 This is the great mold I found. I think it's made of tin, possibly aluminum, and it's like a bundt pan so the finished product has a hole in the middle. (I have a couple more of these molds in storage from when I was obsessed with the idea of making steamed puddings with hard sauce. I think l may actually get to that this year, too.) In the end, the best thing about this tomato aspic was not the clear, sweet taste of tomato; not even the gentle hints of celery and basil; not the tangy bite of Tabasco and horseradish. The ultimate delight, for me, was the texture: silky, slippery, pleasingly rubbery, utterly sensual. It's not to be missed. I served mine filled with salmon salad and ringed with a simple toss of endive and cucumber. It would also go well with a fresh tomato or spinach salad or some cold ratatouille, or filled with egg salad or chopped shrimp, or served with a dollop of pesto or horseradish-spiked creme or alongside roast beef or...I could go on, but you get the idea.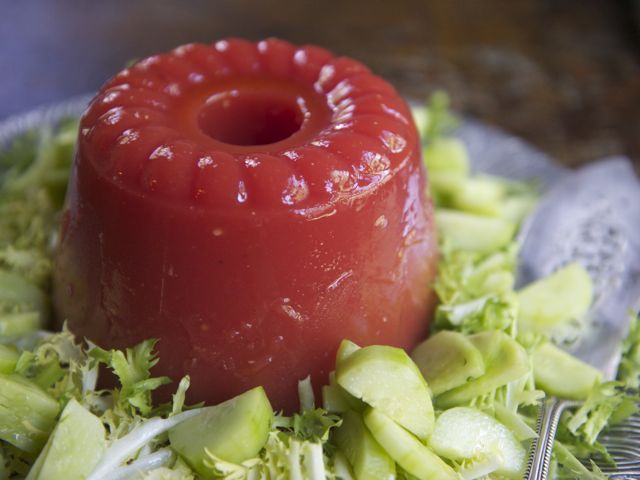 VIRGIN MARY ASPIC adapted from Gourmet, August 1998serves 6-82-3 pounds vine-ripened tomatoes2 celery ribs1 1/2 cups loosely packed fresh basil leaves1 teaspoon sea salt1 teaspoon agave nectar3 1/4 teaspoons powdered gelatin, or 14 gelatin sheets1/4 cup plus 2 tablespoons water1 tablespoon juice from bottled horseradish1 tablespoon Tabasco sauce1 teaspoon celery bitters1 tablespoon red-wine vinegarextra-virgin olive oilQuarter tomatoes and chop celery. In a food processor, purée tomatoes until smooth and transfer to a heavy saucepan. Add celery, basil and salt, and simmer, stirring occasionally, 5 minutes. Force mixture through a fine sieve into a bowl, pressing hard on solids (which you will then throw into the compost).Have ready a large bowl of ice and cold water. In a small bowl sprinkle gelatin over water and let soften for a couple of minutes. Add gelatin mixture to hot tomato mixture, stirring until gelatin is dissolved. Stir in agave nectar, horseradish juice, Tabasco, vinegar and bitters. Taste and adjust seasoning. Set bowl in bowl of ice water and stir until cool. Pour tomato mixture into a mold, or into 4-6 ramekins. Chill, loosely covered, until firm, at least 4 hours, and up to 2 days.To unmold, dip bottom of 1 mold (or ramekin) into a bowl of hot water for just 3 seconds. Then CAREFULLY run a thin knife around the edge. Invert a plate over mold and, in one quick move, invert aspic onto the plate. Surround aspic with beautiful greens or herbs and, if yours has a hole in the middle, considering filling it with something appropriately delicious: horseradish cream, salmon or tuna salad, whipped cheese mousse, etc. Drizzle aspic with extra virgin olive oil and serve.