9.15.10
Condimental: Nose-to-Tail Chutney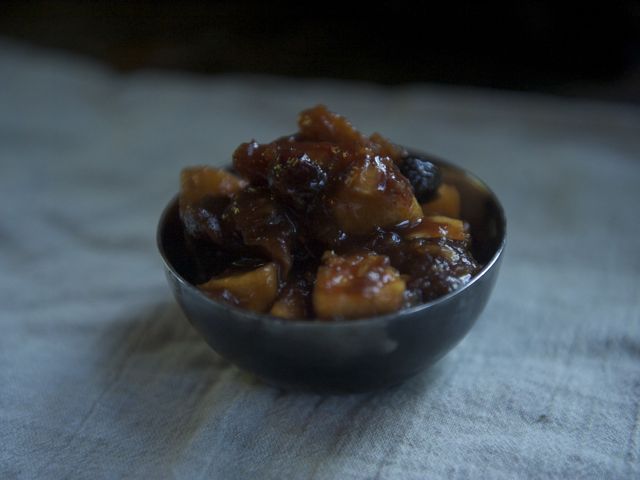 Scared you, didn't I? You thought this was going to be about some weird condiment made with offal. This chutney is definitely assertive in its own right, but it is strictly vegetarian. It is, however, from the original nose-to-tail chef, Fergus Henderson of
St. John
in London. I've never met Fergus, nor have I eaten in any of his restaurants, but I love the man. His seminal cookbook,
Nose to Tail Eating: A Kind of British Cooking
, is a window into his wonderfully warm, witty and ultimately quite sensible approach to food and life. (Did I mention he has Parkinsons?) You've never seen a less fussy cookbook. He doesn't get all bothered about quantities or times, but rather helps you to be an intuitive cook. Some choice phrases: "Do not be afraid of cooking, as your ingredients will know and misbehave." (As though an onion was a young horse feeling its oats!) Eating aoli "should be an emotional experience." And, with regard to this chutney, "There is nothing finer, after having a good stock up your sleeve, than having a reserve of chutney." I believe we've conquered the
stock
thing, and so are ready to proceed to this very British, quite rustic and highly addictive chutney.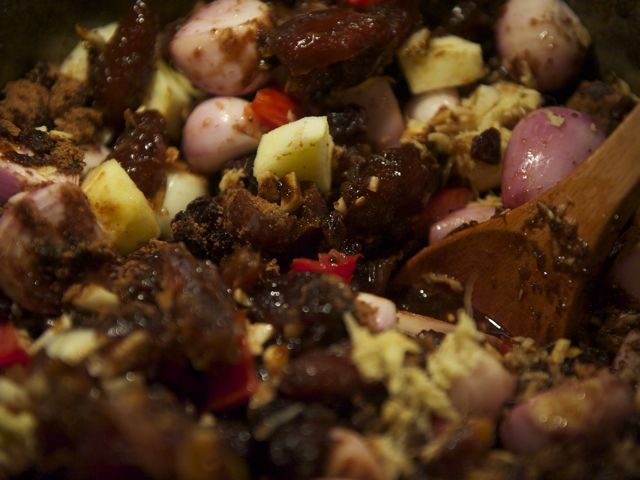 Although I worship Fergus, after making this chutney I might advise you to break down its component parts a bit more, or plan to cook it quite a bit longer. I wound up roughly chopping the shallots and garlic cloves (Does he mean for us to leave them whole? Even the huge ones?); pitting the dates (he doesn't mention that); and ended up with very stringy ginger from all that grating (I think you should finely chop yours). I also added salt, which my palate missed here. You should play it by ear, so don't try to make this when you're on a tight schedule. It's more the type of recipe to attempt on a lazy Sunday when you're reading the paper and sipping a large, steaming mug of spiked cider. The chutney will bubble gently in the background and you can get up occasionally and poke around in the pot, sample a raisin or a chunk of apple, and head back to the couch. I used
these jars
which I discovered online, and I really like the shape. Wondering what you'll do with all this chutney? Eat it with cheese, spread on toast, swirled into yoghurt, with roast chicken or grilled or braised meats of any sort, especially sausages! A jar of St. John chutney would also make a lovely gift to a special, deserving friend.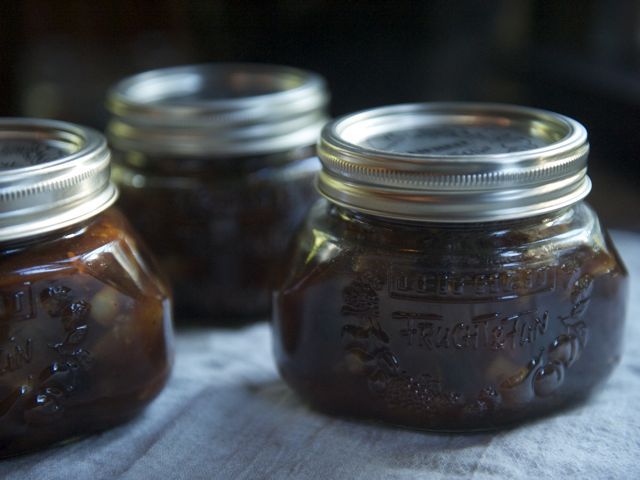 Apple Chutney
adapted slightly from Fergus Henderson
makes enough to fill a dozen half-pint jars
—

spice bag (recipe follows)

— 1.5 kilos

apples, peeled, cored and chopped

— 1 kilo

shallots, peeled

— 10 cloves

garlic, peeled

— 1.5 kilos

tomatoes, chopped

— 1 kilo

dates, pitted

— 1 kilo

raisins

— 200 grams

fresh ginger, peeled and coarsely grated

— 1 kilo

dark brown muscovado sugar, or to taste (I used it all)

— 600 ml

malt vinegar, or to taste (ditto)

— 5 teaspoons

sea salt
Combine all the ingredients in a very large, heavy-bottomed non-reactive pot. Cook on a gentle heat, stirring occasionally to avoid sticking at the bottom, for approximately 1 hour.


What you want is a brown chutney look and consistency—this may take some more cooking but be careful not to go too far: you do not want to end up with a brown, jammy consistency. (GFL note: You might need to be British to actually grasp what he is talking about, but I think it has to do with retaining a chunkier quality and not letting it get all gloppy and broken down.)


When satisfied, remove the spice bag and bottle in clean, sterilized jars. Keep in the fridge for at least two weeks before eating. (Me again: I also processed my jars in a hot water bath for 10 minutes.)



Download Recipe
Spice Bag (for Apple Chtuney)
from Fergus Henderson
—

whole black peppercorns

—

whole coriander seeds

—

whole white peppercorns

—

whole chiles

—

allspice

—

mace (whole, not powdered)

—

bay leaf

—

celery seeds

—

cloves

—

fennel seed

—

mustard seed
To avoid crunching on an emotional peppercorn or cautiously extracting a collation of sturdy seeds from your mouth, tie ingredients together in a stockinet bag.


(GFL note: Isn't Fergus adorable? Don't you love the total disregard for quantities or even proportions? And what the hell is a stockinet bag? I just poured a tablespoon or so of each of this stuff into a double layer of cheesecloth and tied it up. Btw, I was out of bay leaves, and that seemed fine.)



Download Recipe