9.13.10
Outstanding Evening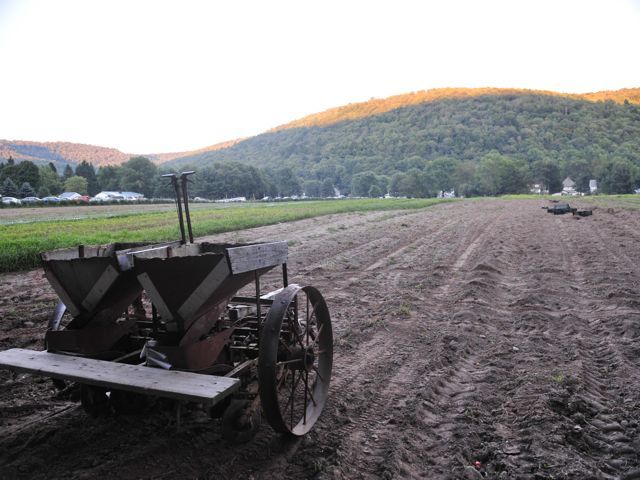 Outstanding in the Field
is a very unique organization whose mission is "to re-connect diners to the land and the origins of their food, and to honor the local farmers and food artisans who cultivate it." Every year they organize big farm-centric dinners, and then about 8 people board a bus and drive around the country making them happen. The dinners average about 150 people and take place on farms, on mountaintops and sometimes indoors in museums or barns. The one we attended was at Mountain Sweet Berry Farm in Roscoe, New York, and the guest chef for the evening was Jim Lahey of New York City's
Sullivan Street Bakery
(and the fantastic pizza restaurant,
Co.
, also mentioned
here
.) He did an impressive job of putting fresh, delicious food on the table for 150 eager diners seated at one long table along a riverbank. It was a gorgeous setting and a lot of fun to break bread with strangers. The atmosphere was informal and highly convivial.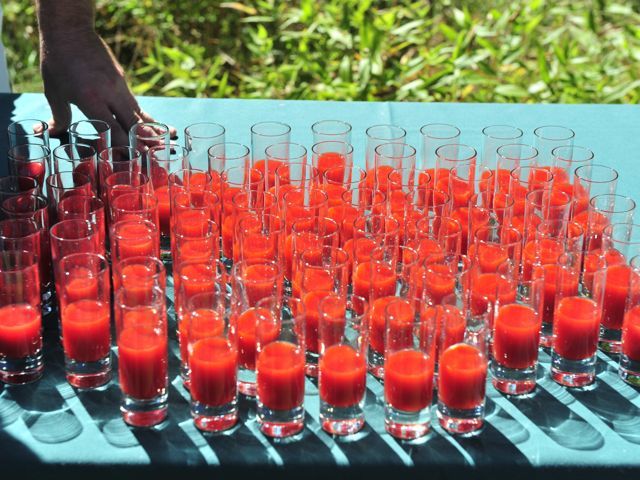 As we waited in line to check in, servers brought us bits of duck terrine with pickled vegetables and fresh radishes with mustard butter on Jim's incredible bread (Sullivan Street Bakery's pane pugliese is an all-time glutton favorite). Once through the line, there was wine, water and these strawberry-prosecco shooters, the taste of summer in a glass.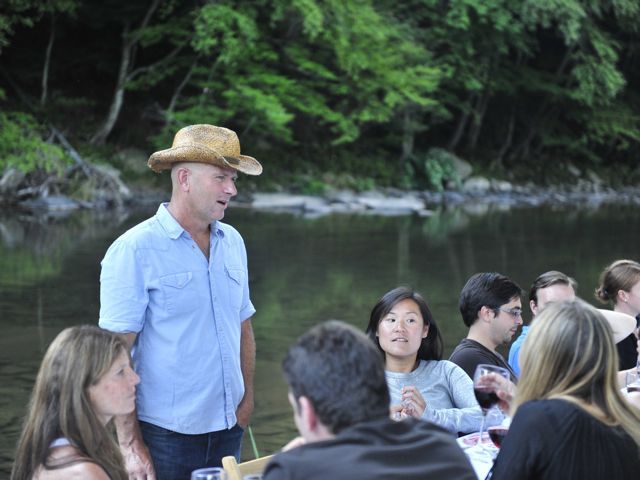 Jim Denevan is the founder of Outstanding in the Field. An affable guy, it turns out he is a hardcore surfer who grew up in my hometown of Santa Cruz, California. He's also an artist who makes super-largescale ephemeral drawings on the earth's surface. He just got the Guinness Book of World Records' award for "world's largest ice art." (The project was sponsored by Anthropologie.) For more on Jim, see
here
,
here
and
here
.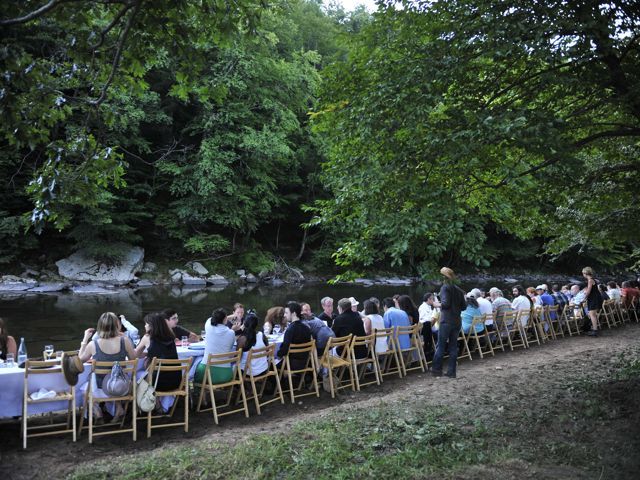 It was a warm evening and blissful to sit alongside the lovely little river that runs along one edge of the farm.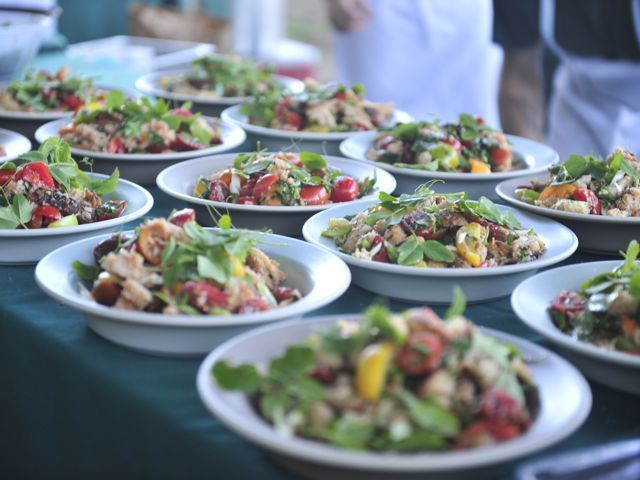 Although the official first course was a salad made with greens and vegetables from nearby Windfall Farms, Jim also sent out this panzanella, a bread-&-tomato salad with microgreens and herbs.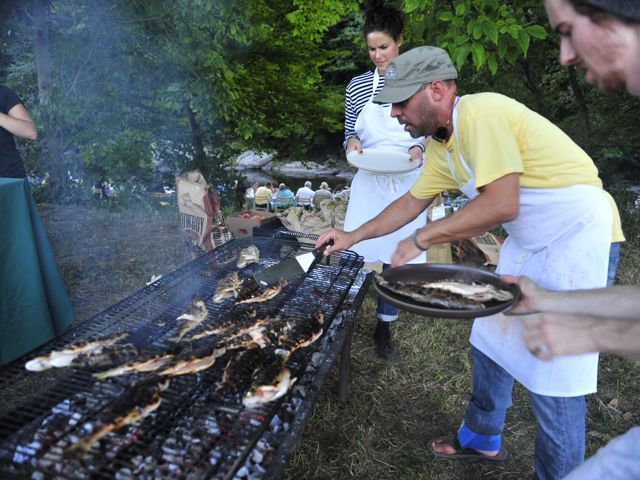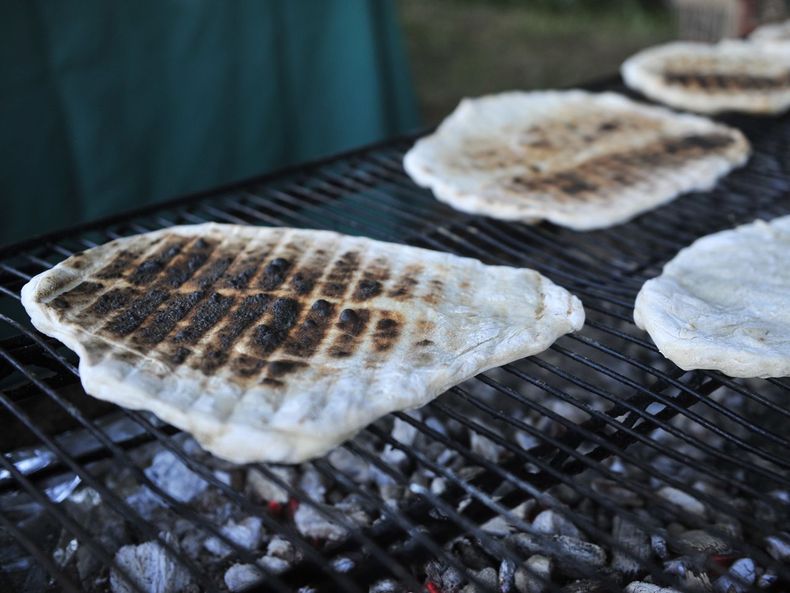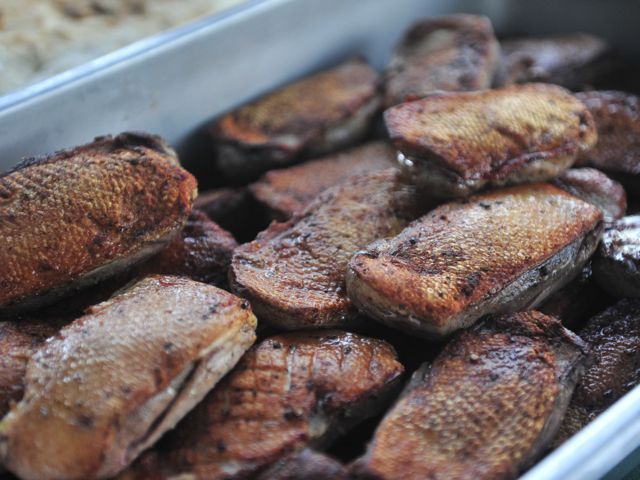 Besides the trout, the meal also included crispy duck breast and confit legs with lemon marmalade and turnips; a selection of cheeses from
Calkins Creamery
, and finally the most divine peaches with local honey, crumble topping and fresh blueberry ice cream made by our tablemate, Amy Miller of
Early Bird Cookery
. Did I mention the wine? There was a different one with every course, all from
Dr. Konstantin Frank
, a Fingerlakes winery. My favorite was  the Riesling. It was an evening to be remembered, and one whose spirit we will try to keep alive at our own table.