6.1.10
The Good Angel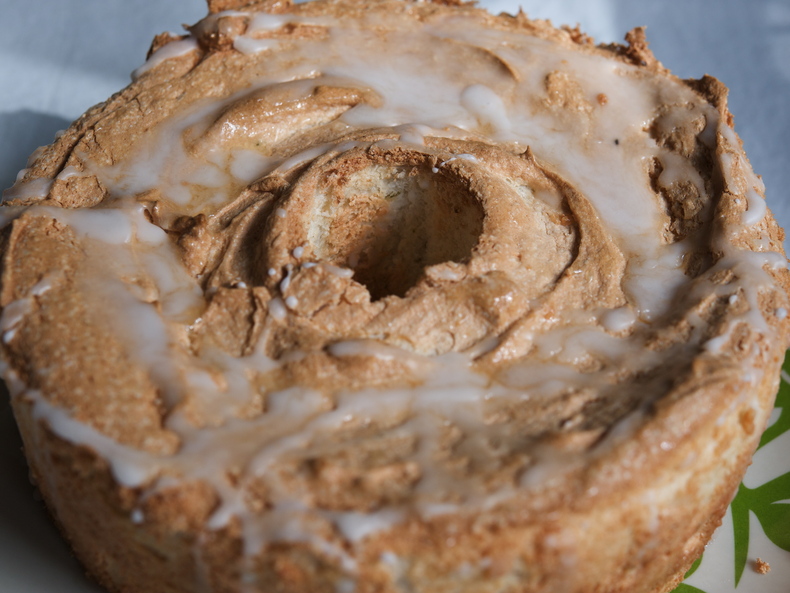 Memorial Day weekend always marks the start of summer for me. I think back to halcyon days spent at The Shack on the North Fork, an era that has retained its halo for more than a decade now. I love that I'm still celebrating the new season with some of the same friends, but now we're doing it with a view of the woods instead of the water. Sunday's gathering at Stephanie's in Stone Ridge (our first visit there since
New Year's Eve
) featured an elaborate Mexican-themed buffet with the fixings for fish, beef or pork tacos. We sipped watermelon margaritas and thirst-quenching
tamarind coolers
, and afterward I trotted out this light, lime-glazed angel food cake with two drizzling sauces: Mexican chocolate (with the same chocolate I used for
this ice cream
) and fresh raspberry.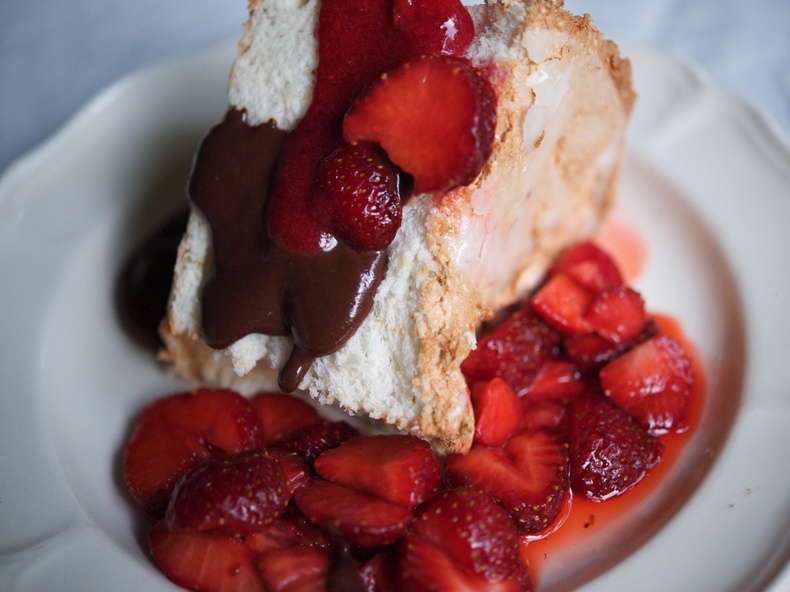 There was also homemade frozen yogurt, as well as various ice creams and sorbets (the new Haagen Dazs 5 milk chocolate was a hit), and people really seemed to enjoy customizing their dessert. What's not to like? I was actually pleasantly shocked to see a few going back for seconds and, yes, thirds! (It is light, after all...)I'm going to give you the recipe for the cake because I know by now you're anxious to bake one of your own. I actually made two for this gathering without much trouble at all. But first, I want to tell you how easy it is to make your own chips to go with the guacamole you'll be serving all summer.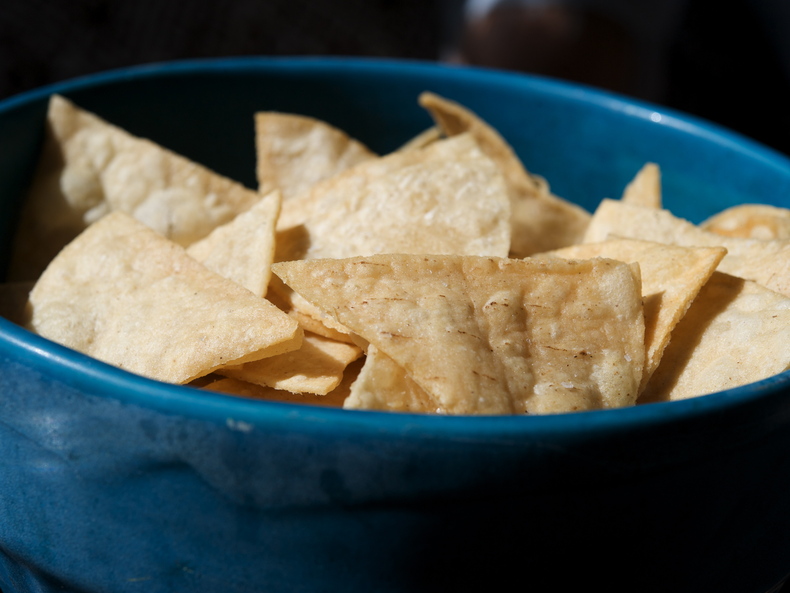 You simply cut small corn tortillas into triangles (I use my kitchen scissors), heat up a couple of inches of oil (preferably expeller-pressed peanut oil) in a large, deep skillet and fry about a dozen chips at a time, turning them once or twice with your tongs. Lay them on paper towels on a baking sheet and, when they're cool, transfer them to a bowl and sprinkle with salt. Repeat this process with a pound or two of tortillas and you've got a huge bowlful.Here's a special trick for knowing when the oil is hot enough (this works for any deep frying): stick the end of a wooden chopstick into the oil; when a quickly moving stream of bubbles radiates from it, it's ready.Now, for the cake.LIME ANGEL FOOD CAKE WITH LIME GLAZESserves 8-10 (maybe)1 cup cake flour1 1/2 cups superfine sugar, divided1/4 teaspoon salt10 large egg whites, at room temperature2 teaspoons zested lime peel1 teaspoon vanilla extract1 teaspoon cream of tartarLime Syrup1/2 cup sugar3 tablespoons fresh lime juiceLime Glaze1/2 cup powdered sugar1 tablespoon lime juicePosition rack in center of oven and preheat to 350°F.Sift flour, 1/2 cup superfine sugar, and salt into medium bowl; sift 2 more times.In your electric mixer, beat egg whites, lime peel and vanilla on medium speed in large bowl until frothy. Add cream of tartar and increase speed to high. Beat until soft peaks form. Gradually add remaining 1 cup sugar, 2 tablespoons at a time, beating until stiff peaks form.Sprinkle 1/3 of flour mixture over whites and gently fold in just until incorporated. Fold in remaining flour mixture in 2 more additions. Transfer to ungreased 10-inch angel food cake pan (not a nonstick pan). Smooth top with spatula.Bake cake until pale golden and tester inserted near center comes out clean, about 38 minutes. Immediately invert cake onto work surface if pan has feet, or invert center tube onto neck of bottle to cool cake completely.Using a long thin knife, loosen cake around sides and center. Lift out center tube with cake still attached; run knife between cake and bottom of pan to loosen. Invert cake onto rack, then turn it over with the rounded side up. Set rack with cake atop rimmed baking sheet.For lime syrup: Combine sugar and 3 tablespoons lime juice in small saucepan; stir over medium heat until sugar dissolves. Brush syrup all over top and sides of cake.For lime glaze:Whisk powdered sugar with remaining tablespoon of lime juice in small bowl until smooth. Drizzle glaze over top of cake. Let stand until glaze sets, about 10 minutes.MEXICAN CHOCOLATE SAUCEmakes about 1 ¼ cups8 ounces Mexican chocolate, chopped1/2 cup water1/4 cup heavy cream1 tablespoon Kahlúa, optionalIn a metal bowl set over a saucepan of barely simmering water combine chocolate and water and stir until chocolate is melted and sauce is somewhat smooth, about 20 minutes. (Most of the water will have evaporated and mixture will have thickened slightly.)Remove bowl from heat and stir in cream and liqueur if using until combined well. Cool sauce completely and transfer to a jar with a tight-fitting lid. Sauce keeps, covered and chilled, 1 month. Not that it will last that long.