5.26.10
Cold Comfort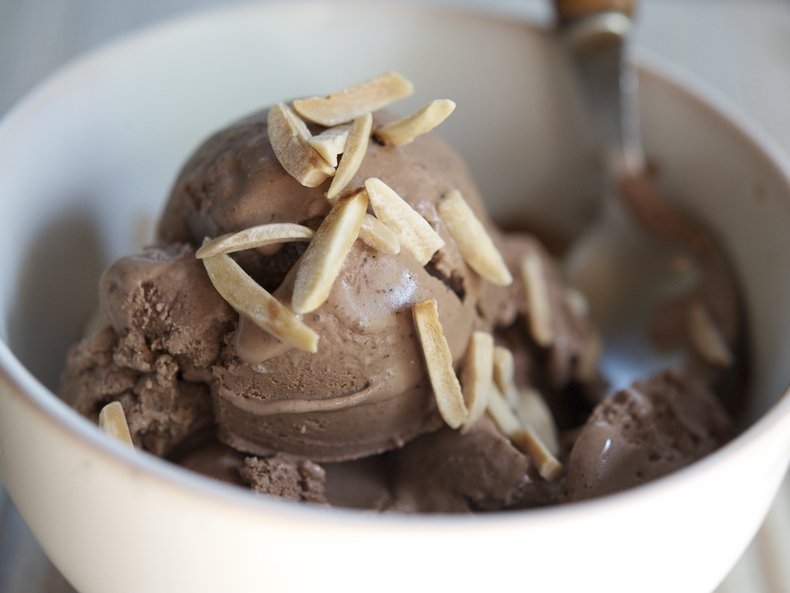 I accidentally bought a dozen avocados last week thinking that it was Memorial Day this Monday instead of next, so I wound up making an impromptu cold avocado soup as a prelude to a Mexican dinner on Sunday. It came out more like a thick puree  and I decided to serve it that way, sprinkled with just a bit of aromatic piment d'Espelette. It was VERY creamy and smooth. This paved the way for goat birria, a dish typical of blue-collar restaurants in Guadalajara. You basically slow-roast or braise a goat leg (we got one at the farm), then shred it and top it with a chile-tomato sauce spiced with cumin, cloves and a little cinnamon. Wrapped in a warm corn tortilla with a squeeze of lime, some chopped onion and cilantro, it's quite delicious. I'll post the recipe, from Rick Bayless, below; if you can't get goat, you could try this with lamb or pork. Speaking of smooth and creamy, you've undoubtedly noticed the chocolate ice cream, above, and are probably wondering when I'm going to get to that.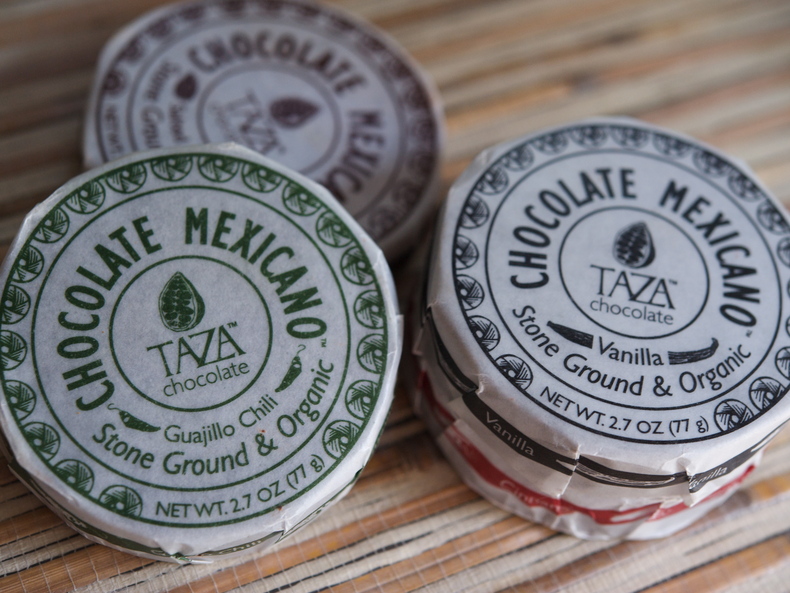 In keeping with the meal's theme, I used Mexican chocolate for this super easy ice cream. I had on hand a few discs of organic, stoneground 
Taza
chocolate in 4 of their 6 flavors: quajillo chile, salted almond, vanilla and cinnamon. None of them was too highly flavored, though they did have a bit of the classic grittiness that comes from the almonds, so I recommend straining the custard before freezing it. It had a rich, pudding-like quality and was a nice end to this rather simple meal. I made a few cinnamon-crunchy almonds as a garnish and they were almost my favorite part!
BIRRIA JOCOTEPECserves 6adapted from Rick Bayless' recipe in Saveur (adapted from Birriería El Tartamudo in Jocotepec)4 cloves garlic, crushed and peeled1 medium white onion, peeled and minced1  5-pound piece of young goat (preferably the leg, bone in is best, but boneless is OK but ask your butcher to tie it)kosher saltBirria (sauce):1 pasilla or New Mexico chile, seeded and halved lengthwise1/2 teaspoon ground cumin2 teaspoon dried Mexican oreganoFreshly ground black pepper1/2 teaspoon ground ginger2 teaspoon sesame seeds4 whole cloves4 teaspoons sugar or agave nectar6 tablespoons cider vinegar15 small tomatoes, (fresh or canned) peeled, seeded, and chopped2 bay leaves1 small cinnamon stickGarnish:1 small red onion, peeled and minced½ cup finely chopped fresh cilantro leaves2 limes, quarteredPreheat oven to 325 degrees.Place garlic, chopped white onion and 4 cups water in a large ovenproof pot fitted with a steaming rack (it should sit just above water). Rub meat generously all over with salt and place on rack. Cover pot with lid and crinkle aluminum foil around edge to form a tight seal (or cover and tightly seal with 2 layers of foil). Place pot in oven and cook undisturbed for 4 hours or until meat is fork-tender and falling off the bone (if there is one).Place a small skillet over medium heat. Flatten chile halves on hot skillet and toast, turning once, 10-15 seconds in all. Place in a small bowl and add 1 cup hot water. Cover and set aside until soft and pliable, about 30 minutes. Drain chiles, reserving soaking liquid, and place in a blender or food processor. Add cumin, marjoram, pepper, ginger, sesame seeds, cloves, sugar, vinegar, and 3 tablespoons soaking water and blend until smooth. Add enough soaking liquid to make 1 cup of sauce. Set aside.When meat is done, remove from oven and strain, reserving steaming liquid. Allow meat to cool slightly, then carefully remove and discard bones, gristle, and any fat, leaving meat in large pieces.Place meat in a roasting pan and brush all over with 3/4 cup of the chile sauce. Increase oven temperature to 350°. Return meat to oven and bake until chile sauce glazes meat, about 20 minutes. In the roasting pan, shred meat with 2 forks. Cover with aluminum foil to keep warm.For the birria sauce, cook tomatoes in a large pan over medium heat, stirring occasionally, until soft, about 15 minutes. Transfer tomatoes to a blender or food processor and blend until smooth. Return tomatoes to pan, add remaining chile sauce (about 1/4 cup), bay leaves, cinnamon stick and reserved goat steaming liquid. Simmer, uncovered, over medium-low heat until liquid reduces by about one-third, approximately 45 minutes. Remove and discard bay leaves and cinnamon stick.To serve, place about 1 cup meat in each of 6 large bowls. Pour about 1 cup birria sauce over each. Garnish with remaining chopped onions, cilantro, and a squeeze of lime juice. Serve with a hot sauce, such as Tabasco, and fresh corn tortillas.MEXICAN CHOCOLATE ICE CREAMmakes about 1 1/2 quarts½ vanilla bean11 ounces Mexican chocolate, coarsely chopped3 ¾ cups half-and-half3 large eggs¼ teaspoon saltHalve vanilla bean lengthwise and scrape seeds into a 3-quart heavy saucepan. Add chocolate and half-and-half and bring to a boil over moderate heat while whisking. Remove from heat.Lightly beat eggs with salt in a bowl, then add hot chocolate mixture in a slow, steady stream, whisking continually. Transfer custard to clean saucepan and cook over moderately low heat, stirring all the time with a wooden spoon, until custard registers 175°F on thermometer, 1 to 5 minutes.Immediately pour through a fine-mesh sieve into a metal bowl. Put bowl in a larger bowl of ice and cold water and cool, stirring occasionally. (Or just put it in a container and stick it in the fridge.)Freeze custard in ice cream maker. Transfer ice cream to an airtight container and freeze until hardened, about 1 hour. If you leave it in longer, you'll want to take it out to soften a bit before serving. Garnish with Cinnamon Almond Slivers (recipe follows).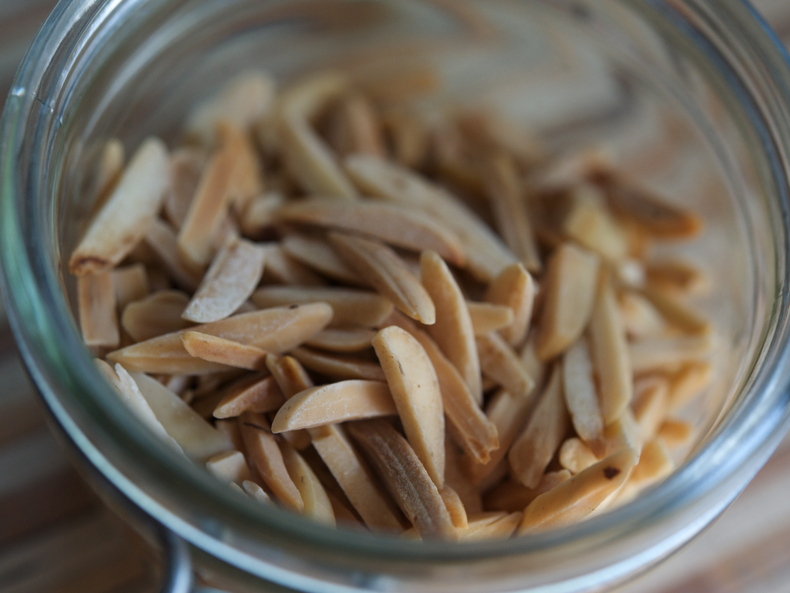 CINNAMON ALMOND SLIVERSmakes ½ cupYou could also add a couple of pinches of cayenne to these if you want to add a little heat.½ cup blanched, slivered almonds2 teaspoons salted butter½ teaspoon ground cinnamon2 teaspoons sugar2 teaspoons honeyPreheat oven to 325 degrees. Toast almonds until golden brown, about 10 minutes. Watch them like a hawk!In a small, heavy saucepan over medium-high heat, melt the butter and stir in the almonds. Sprinkle over the cinnamon and sugar and stir to coat well. Once it's all melded and dissolved, remove from heat and stir in the honey, quickly spreading the almonds and any sauce into a single layer on a plate. Let cool and use as garnish or eat as a snack.