5.13.10
It Stoned Me
Last night I dined at Blue Hill at Stone Barns, the much lauded restaurant that is at the heart of the Stone Barns Center for Food and Agriculture. The restaurant sources pristine ingredients from the surrounding fields and pasture, as well as other local farms, and some farther afield--including the Barber's own family farm in Great Barrington, MA, also called Blue Hill, where it all began with their grandmother. There are just two tasting menus available—5 courses or 8—and the menu lists only a long series of ingredients (more than 100), so that diners can see the palette with which the chef Dan Barber is working that day. He is deeply invested in building flavor literally from the ground up. I once saw him speak about his attempt to grow carrots flavored with almond. (It didn't work.) This is seasonal, farm-to-table eating in locavore heaven.
Their website
is very deep and rich, and you can lose yourself for ages there reading fascinating stories and watching wonderful little videos about their eclectic providers (the mushroom farmer, the berry guy, etc.). I recommend a visit—to the website and the restaurant, and to the farm, for that matter.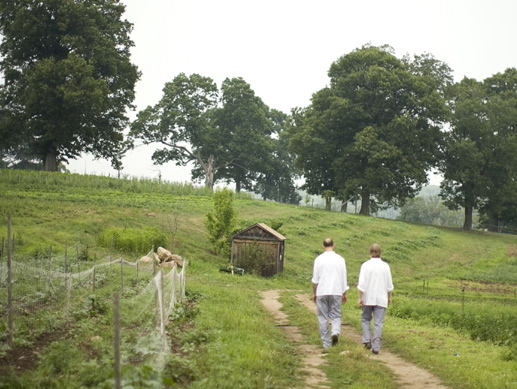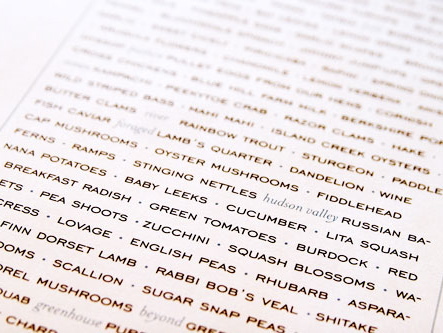 Before I get to the food, I just want to say a word about the entire operation, from the flowers to the sommelier: perfection. Not overly fussy or formal, not chilly and forbidding—relaxing to the eye and mind; a sensual delight; a warm, pleasing, utterly satisfying place. It's not cheap, but it's worth every cent.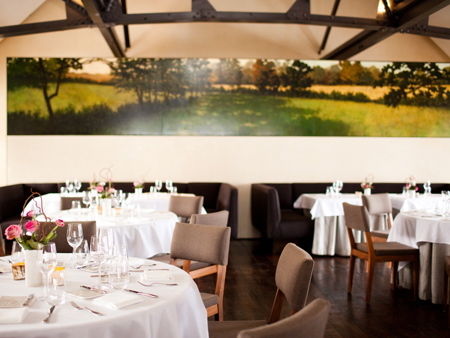 Now, about the food. Of course we had to try the 8-course menu. It's about the same amount of food as the 5-course, evidently, and we couldn't resist trying as many things as possible. The brother-in-law also ordered the wine pairing, and was generous enough to share, so I sampled most of those as well. Upon taking the order, the waiter inquires if you have any dietary restrictions. He did not blink an eye when G and I requested our meal with no starch or sugar (we're on a month-long regimen, a bit of an experiment on the long journey to heal G's gut). What ensued was close to nirvana. Before the tasting menu began, they were already lavishing amuse-bouche after amuse-bouche upon us. Although the sister-in-law wrote down every morsel, I'm just going to give you the highlights:
To start, a "Sicilian spritzer," a short glass full of icy lemony goodness with a hint of bitter, a not-too-sweet aperitivo that set the tongue tingling
A slab of wood with a row of nails sticking out of it, upon which were impaled tiny baby carrots, radishes, and bok choy, just plucked from the garden and barely kissed with salt
Fat asparagus tips wrapped in prosciutto, dunked in sesame seeds and fried
Fried spearing fish (like anchovies but milder), impaled on sticks as though captured in mid-swim, to be eaten whole in one delicious crunch
Big shards of buckwheat crisp, as thin as paper, served with roasted baby turnips, smoked butter and fresh honey
A salad of wild watercress and fresh herbs and a few tendrils of pickled rhubarb, with a smear of thick yogurt on the plate, delivered by a waiter who told us he harvests the watercress from a stream on his property
A poached pullet egg topped with a white yogurt "cloud", resting in a green sauce with tender asparagus, fiddleheads and the surprise of a few currants
A little glass bowl of Maine seafood (clams, lobster, shrimp) topped with potato foam and swimming in a spinach-tarragon sauce
Local black bass on silky melted ramp greens with American sturgeon caviar
Braised pork belly, soft as butter, with a couple of chewier pieces of jowl, in an addictive horseradish broth
Tender pink loin of lamb and slow-cooked, impossibly rich lamb neck on a little pool of buttery orange glaze with a tiny dice of the sweetest carrots imaginable
Fresh strawberries with honey gelée, and then just a simple little square of honeycomb, straight from the farm's own bees, plated on a thin slab of local bluestone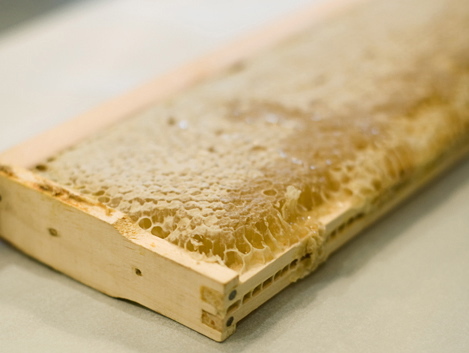 I was just going to give you the highlights, but I think that was almost everything. Because everything was a highlight. How about the delicious madeira that was served with the pork? Or the local eiswein (I LOVE eiswein) that came with the in-laws' chocolate brioche pudding? Hardly an afterthought. I also tasted the best Chardonnay I have ever experienced (I HATE Chardonnay), grassy and sunny and outrageously good with the Maine seafood. I hope this hasn't been too much information. The fact is, I'm in a rapture just remembering it, and wanted to share every bite with you.