5.11.10
Going Green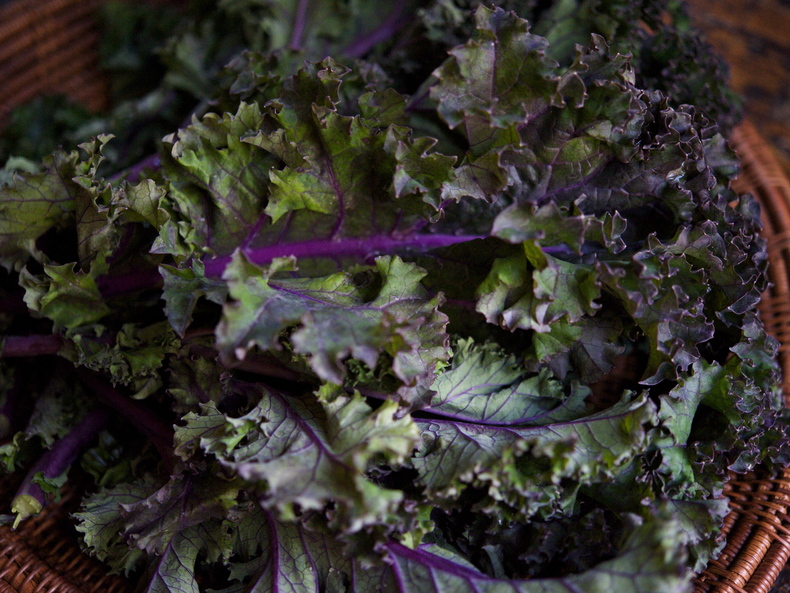 Someone recently accused me of eating a lot of kale. They said it as though it were an accusation, like I needed to justify myself. I hereby declare myself a lover of kale. I freely admit that. (Proof positive is
this post
. And
this one
. And
this one
.  And
this one
.) The stuff is good. Tastes delicious, is very versatile and packs a wallop of nutrition. Do you read Goop? Gwyneth Paltrow's blog sort of irritates me. I can't really pinpoint why but I think it just might have something to do with her total and unmitigated sense of entitlement. Just because you can spend two hours a day working out with Tracy Anderson in your custom-built blonde wood yoga studio in back of your lovely house in East Hampton, Gwynnie, doesn't mean
we
can. Grrrr. Yet we
can
make her I-need-to-lose-5-pounds-quick-for-this-movie-premiere kale juice cocktail (with lemon juice and agave nectar). Or even better, we can use kale to whip up deliciously salty-crunchy chips that we can munch on to our heart's content without even missing those salt-&-vinegar kettle chips one iota. Perfect for getting into fighting shape. Beach weather is coming, hard as it may seem to believe when we're currently at 28 degrees upstate!! (All those new little green leaves? Drooping in the cold, poor darlings!) So you gotta eat your kale, bay-bee!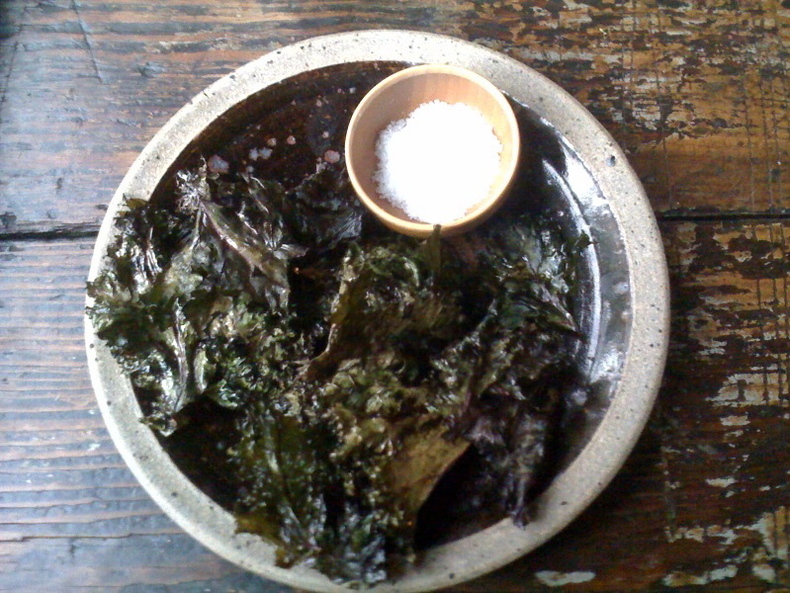 Kale is high in beta carotene and vitamin A, and also contains lutein and zeaxathin, other important carotenoids. These help keep UV rays from damaging the eyes and causing cataracts. Kale is also an excellent source of well-absorbed calcium, which is one of the many factors that may help prevent osteoporosis. It also provides decent amounts of vitamin C, folic acid, vitamin B6, potassium and manganese. This last helps  your body's own antioxidant defense system, protecting you from damaging free radicals. With its combination of vitamins, minerals and phytonutrients, kale is just an all-around great vegetable.Flash sauteed in olive oil with a little garlic and red pepper; stirred into soups and stews; whizzed into juice—don't tell me you can't figure out how to eat some of the green goddess! Short on time and craving a healthy snack? Toss some kale with olive oil, sprinkle it with salt and/or herbs and bang it in a low oven for half an hour. On the other side, you've got crispy, finger-licking good chips that are actually good for you. Give them a try! One note: I've found that these don't really keep well, so I recommend you eat them all the same day you make them.
Kale Chips
serves 4
— 1

bunch kale, any kind will do

— 2 tablespoons

olive oil

— 2 tablespoons

cider or balsamic vinegar, or substitute lemon juice

—

sea salt & pepper, to taste and/or spice mix
Preheat oven to 250º.


Remove ribs from kale and discard. Tear leaves into 2" pieces.*


Whisk oil and vinegar together. Toss kale in the dressing until thoroughly coated.


Line a baking sheet with parchment paper. Place kale in a single layer and sprinkle with salt and whatever spices you like. (Pimentón adds a little heat, vadouvan works nicely, toasted and ground fennel seeds are delicious, etc.)


Bake until crispy, about 30 minutes, watching towards the end so they don't get too done.

*Or, as Dan Barber of Blue Hill recommends, you can slice the leaves of lacinato/dinosaur kale in half lengthwise, remove the rib and make long chips instead of the smaller bite-sized ones.



Download Recipe