4.24.10
Take the Cure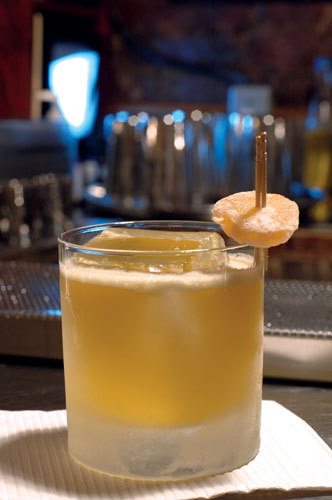 Fresh off another stellar dinner at Momofuku Ssam (twice in one week!), I feel compelled to re-post the recipe for one of my favorite cocktails this year: the Penicillin. Originally created by Sam Ross at
Milk & Honey
in New York City, it is beautifully executed by the stellar barkeeps at David Chang's gastro-temple. Do try this at home. You'll feel so much better...
PENICILLIN
by Sam Ross, as adapted for Momofuku Ssam, and translated by me
2 ounces Asyla Scotch (a delicate and dry blended whiskey, with a smoky vanilla taste)¾ ounce fresh lemon juice¾ ounce ginger-honey syrup (recipe follows)Combine ingredients and shake with ice. Strain into a chilled rocks glass, over a few large cubes of ice or, as at Momofuku, one enormous hand-carved cube. Optional garnish with a piece of candied ginger.
GINGER-HONEY SYRUP
Combine ½ cup honey and ½ cup water in a small saucepan over medium heat and whisk until well combined. Add a 1-2" knob of peeled, sliced fresh ginger and bring to a boil. Reduce heat and gently simmer for 10 minutes. Cover and allow to cool completely, then strain. Keep refrigerated.