4.24.10
Tragically Hip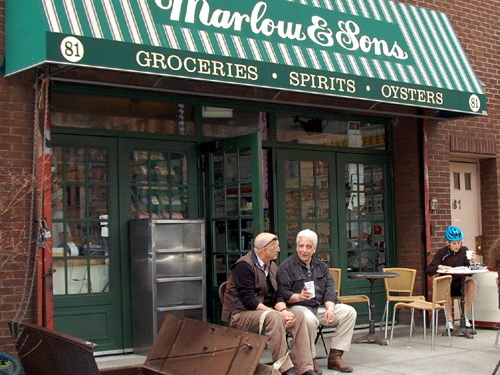 I spent the day in Brooklyn today with my friend Alberta. My, have things changed. I lived in Williamsburg from 1990-1993, back when it was still almost entirely populated by working-class Italians and Polish. Now the hipsterati have taken over, with their tattoos, ragged facial hair and allegedly unstudied fashion choices (from steampunk to 80s-redux). I lived upstairs from Georgie's Italian deli on Metropolitan Avenue, and she's still there today, 92 years old and crafting the best smoked mozzarella. We made it to the mecca trifecta that is
Diner
,
Marlow & Sons
and
Marlow & Daughters
, but having already had delicious lunch at Bedouin Tent on Atlantic Avenue (amazing labne, fabulous merguez, so cheap) just had a refreshing aperol spritz and a piece of thyme shortbread at the bar in Marlow & Sons.
Marlow & Daughters is a grocery and butcher shop offshoot just up the street. Nice fresh produce. Picked up a lovely wedge of gouda studded with fenugreek, and ogled a Boston butt with an impressive rind of fat. But I think
Dickson's
still holds the title for best meat porn.Bedford Avenue, where back in the day we went to eat
bigos
, the Polish hunter's stew of sauerkraut with copious amount of kielbasa (I used to call it
bigos fartos
), now bears a resemblance to the St. Mark's of yore. It's definitely more raw than Soho (what isn't?) but I'll bet American Apparel will be springing up on every corner any second now. Still, if you've already taken Manhattan, spend the day in Williamsburg, Boerum Hill or Fort Greene. There's lots to see, eat and buy, if you've got a hankering...