4.18.10
Share a Spread, Spread the Word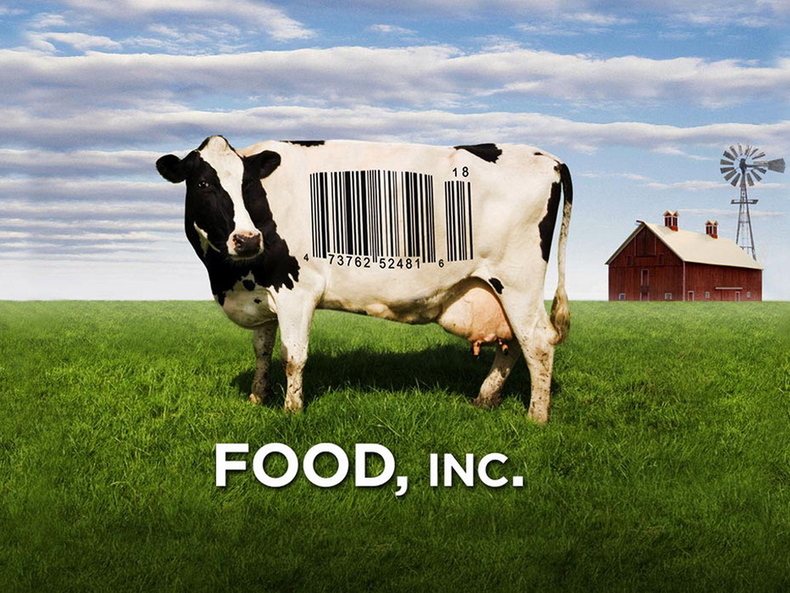 Have you see the movie
Food Inc.
yet? The film takes a good hard look at the state of industrial agriculture and factory farming in this country. Everybody really needs to see it. It is very consciousness-raising and may radically change the way you eat. (At least I hope it will.) This Wednesday, April 21st, at 9pm, PBS will be broadcasting Food, Inc. and is encouraging viewers to throw a potluck and watch the film together. You can get more information, including a huge listing of crowd-friendly recipes,  by clicking 
here
. I think it would be wise to eat before watching the film, as it won't exactly enhance your appetite. Even better, throw a vegetarian potluck! I've posted a few more recipes below.
In addition to these, I recommend the pickles at the bottom of
this post
; and
these cookies
are also great. If you want a fancier dessert, both
this pavlova
or
this one
, would do nicely. By the way, the chocolate cookie recipe below makes an absolutely delicious, rich and addictive treat to rival anything from Bouchon Bakery (imho).Even if you don't host a get-together, please make time to watch this important film. You can also order your own copy
here
. Remember, it's probably not a great idea to sit down in front of the screen with a big pork chop, unless you know exactly where that meat was raised and by whom...
Deviled Eggs1 dozen6 cage-free, organic, hard-boiled eggs (see method below)3 tablespoons mayo1 teaspoon Dijon mustard1 teaspoon anchovy paste1 teaspoon spicy pimenton2 tablespoons lemon juicefresh chives for garnishCut the eggs in half lengthwise. Remove the yolks and toss into the bowl of your food processor. Set whites aside.Add remaining ingredients, except chives, and process until the mixture is smooth and creamy, scraping down the sides as needed. Taste and adjust salt, lemon or pimentón as necessary.Scrape the yolk mixture into a small ziploc bag and snip the very corner off.  Pipe the yolk mixture into the egg white halves. Garnish with the chives and a sprinkle of pimentón.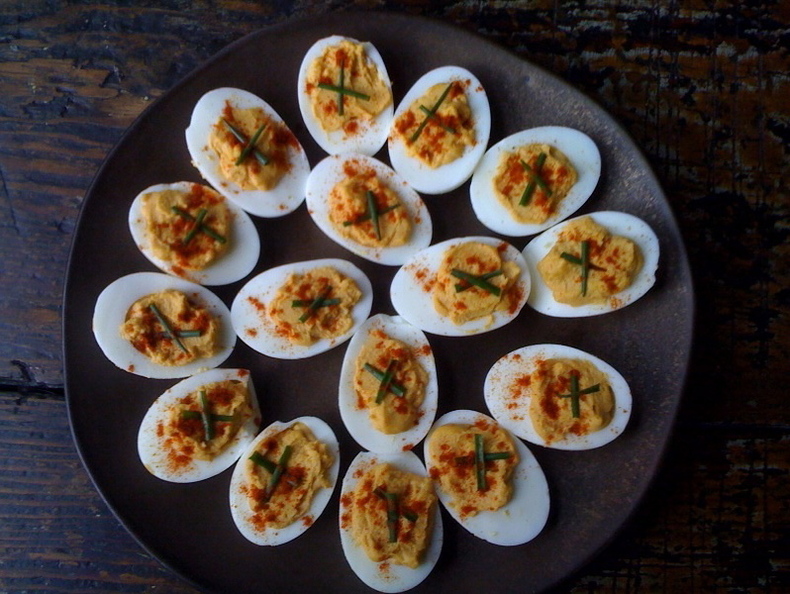 Hard-Boiling EggsPlace eggs in a pot, cover them with cold water and bring to a boil. Allow them to boil for a minute, then turn off the heat, cover them and let them sit in the hot water for 10 minutes. Drain the eggs and run cold water over them until fully cooled (or plunch into ice bath). The eggs are ready to use immediately or can be refrigerated for up to one week. To peel, roll them on a hard surface to crack all over and then remove shell under running water. *When eggs are very fresh, this does not work as well. Older eggs are better.One Pot Kale & Quinoa Pilafby deeensiebat on Food52serves 6 4 cups salted water 2 cups quinoa 2 bunches lacinato kale, washed and chopped into 1" lengths 2 meyer (or regular) lemon, zested and juiced 4 scallions, minced 2 tablespoons toasted walnut oil 6 tablespoons toasted pine nuts 1/2 cup crumbled goat cheese salt and pepper Rinse the quinoa thoroughly, until the water runs clear. Drain and place in a large pan. Heat over medium heat to dry and then lightly toast the quinoa.In a separate pot, bring water to a boil. Add the quinoa, cover, and lower the heat until it just simmers. Cook for 10 minutes, then top with the kale and re-cover. Simmer another 5 minutes, then turn off the heat and allow to steam for 5 more minutes.While the quinoa is cooking, combine half the lemon juice, all the zest, scallions, walnut oil (you can substitute olive oil if you desire), pine nuts and goat cheese in a large bowl. Check the quinoa and kale when the cooking time has completed; the water should be absorbed, the quinoa tender but firm and the kale tender and bright green. If the quinoa still feels hard, you can steam a bit longer (adding more water as needed). When the quinoa and kale are done, fluff the pilaf, and tip it into the waiting bowl with the remaining ingredients. Toss to combine, seasoning with salt and pepper and the remaining lemon juice to taste.Arugula, Mint & Apple Salad with Buttermilk Dressingfrom Suzanne Goinserves 6 Dressing2 Tbs. finely diced shallots (about 1 medium)1 Tbs. fresh lemon juice1/2 tsp. kosher salt, plus more to taste1/4 cup crème fraîche1/4 cup buttermilk1/2 cup mayonnaiseFreshly ground black pepper Salad3/4 cup walnuts1 tsp. extra-virgin olive oilKosher salt2 apples (preferably Gala, Fuji, or Pink Lady)1/2 lb. baby arugula, washed and spun dry1 medium head radicchio (about 4 oz.), washed, spun dry, and torn into bite-size pieces1 cup small fresh mint leaves (or large leaves torn into small pieces), washed and spun dryCombine the shallots, lemon juice, and 1/2 tsp. salt in a small bowl, and let sit 5 minutes. Whisk in the crème fraîche and buttermilk, then the mayonnaise. Adjust seasoning with salt and pepper to taste. Position a rack in the center of the oven and heat the oven to 375ºF. Spread the walnuts on a baking sheet and toast them, stirring once or twice, until they smell nutty and are lightly browned, 8 to 10 minutes. When the nuts have cooled slightly, toss them with the olive oil and a generous pinch of salt. Crumble half of them with your hands.Cut the apples into 1/8-inch slices and put them in a large salad bowl. Dress the apples with half of the buttermilk dressing and then very gently toss in the arugula, radicchio, and mint. The salad should be lightly dressed—add more salad dressing only if needed Toss in all the toasted walnuts. (Leftover dressing will keep for a few days in the fridge).Shaved Asparagus Saladfrom coffeefoodwritergirl on Food52serves 6 2-3 bunches asparagus, washed and tough ends removed 4 tablespoons extra virgin olive oil 4 tablespoons fresh squeezed lemon juice1 cup shaved parmesan cheese ½ teaspoon salt fresh ground pepper With your favorite peeling device, shave asparagus, turning and shaving, turning and shaving until you have shaved as much as you can.Place in bowl with olive oil, lemon juice and salt. Cover and refrigerate for at least half an hour and up to 2 hours. The lemon juice will "cook" and tenderize the asparagus.Remove from fridge. Toss in shaved parmesan. Adjust for salt and grind in a little pepper.Devilishly Double Chocolate Cookiesmakes about 2 dozen 1 pound semisweet chocolate, chopped 2 cups all-purpose flour 1/2 cup Dutch process cocoa powder 2 teaspoons baking powder 1 teaspoon salt 10 tablespoons unsalted butter 1 1/2 cups packed brown sugar 1/2 cup white sugar 4 eggs 2 teaspoons instant coffee granules 2 teaspoons vanilla extract Melt chocolate over a double boiler (or in the microwave), stirring occasionally until smooth.Sift together flour, cocoa, baking powder, and salt; set aside.In a medium bowl, cream butter with sugars until smooth. Beat in eggs one at a time, then stir in coffee crystals and vanilla until well blended. Stir in melted chocolate. Using a wooden spoon, stir in the flour mixture just until everything comes together. Cover, and let stand for 35 minutes so the chocolate can set up. Preheat the oven to 350 degrees. Line two cookie sheets with parchment paper. Roll dough into walnut sized balls, or drop by rounded tablespoonfuls onto the prepared cookie sheets, leaving 2 inches between cookies. Bake for 8 to 10 minutes in the preheated oven. Cookies will be set, but the centers will still be very soft because of the chocolate. Allow cookies to cool on the baking sheets for 10 minutes before transferring to wire racks to cool completely.