4.19.10
Singleton Supper (Va-Va-Vadouvan!)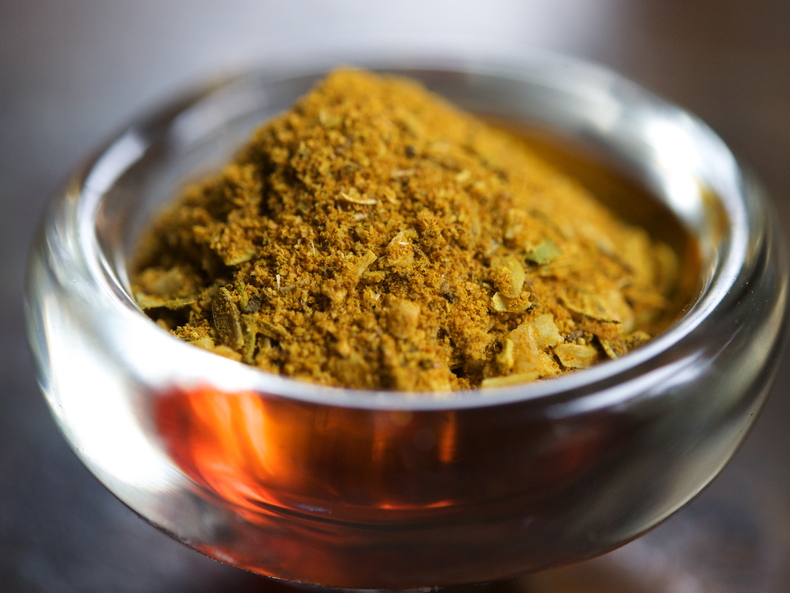 G has been away for 5 days now and some serious cooking lethargy has set in. I find it frightfully dull to cook for one. I might throw a yam in the oven. Or have some avocado on crackers. It's been mostly salads otherwise. Lots of green juice. A desperate mix of chopped crystallized ginger, chocolate chips and dried coconut—I had banished all treats from the house! (Other things I do when the cat's away: Never make the bed. Burn scented candles constantly. Watch back-to-back episodes of
The L Word
. Keep the heat up too high. Pine.) Last night I really wanted something a bit more cozy. Nothing too demanding, but more of a real meal. The larder, however, didn't provide a great deal to work with. But I had picked up some lovely fresh eggs from the farm on Saturday and suddenly inspiration struck: Shakshuka! (No, that's not a Lebanese version of
Eureka!
) Shakshuka is an Israeli dish of eggs in spicy tomato sauce that has recently reached some sort of tipping point, appearing in
Saveur
magazine and everywhere in the blogosphere (my friend Shayma posted a very similar Pakistani dish
here
). I googled a few recipes and came up with my own version using vadouvan, a spice mix that's also had a flurry of
coverage
recently.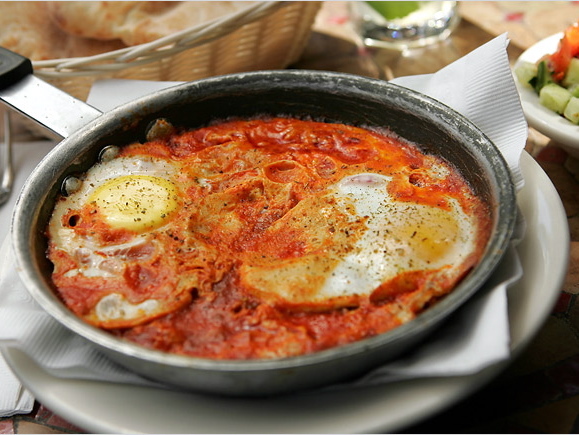 Vadouvan originated in Pondicherry and, as with most Indian spice mixes, it varies from chef to chef. Typically, it contains dried onion or shallots and garlic, fenugreek, curry leaves and warm spices. Mine, purchased at Kalustyan's, is made with onion, garlic, fenugreek, curry leaves, cumin, cardamom, mustard, fennel, turmeric, nutmeg, cayenne and cloves. It's heavenly, and I imagine it would pair wonderfully with lamb. Shakshuka usually calls for cumin and paprika, so I thought vadouvan might add an interesting twist. Also, I had only canned pickled jalapeños on hand, rather than the fresh green chiles that are the norm in this dish. The result really hit the spot—fragrant with spice, a little chile heat, perfectly cooked eggs and a rich crumble of salty feta. I may even have to make it for G if he ever decides to come home...Shakshukaserves 11 tablespoon olive oil1 pickled jalapeño, stemmed, seeded, and finely chopped2 shallots, minced2 cloves garlic, minced1 teaspoon vadouvan (or substitute a mix of cumin and paprika)1 ½ cups canned whole peeled tomatoes with juice¼ cup waterpinch sea saltpinch sugar2 cage-free organic eggs2 tablespoons crumbled fetaHeat oil in a small skillet (for which you have a lid) over medium-high heat. Add jalapeño, shallots, and garlic and sautee, stirring frequently, until soft and lightly brown. Add vadouvan and cook another couple of minutes.Crush tomatoes in their liquid and add to skillet along with 1/4 cup water, salt and sugar. Reduce heat and simmer, stirring occasionally, until thickened slightly, about 15 minutes.Crack eggs and gently deposit on surface of sauce. Cover skillet and cook for a minute, until whites are just set, then baste the whites with the tomato sauce, being careful not to disturb the yolk. Cover and cook again, until yolks are to your liking, probably about 3 minutes unless you want them either very runny or very firm. Sprinkle shakshuka with feta. Can be eaten as is or with warm pita bread.