3.25.10
Craft Services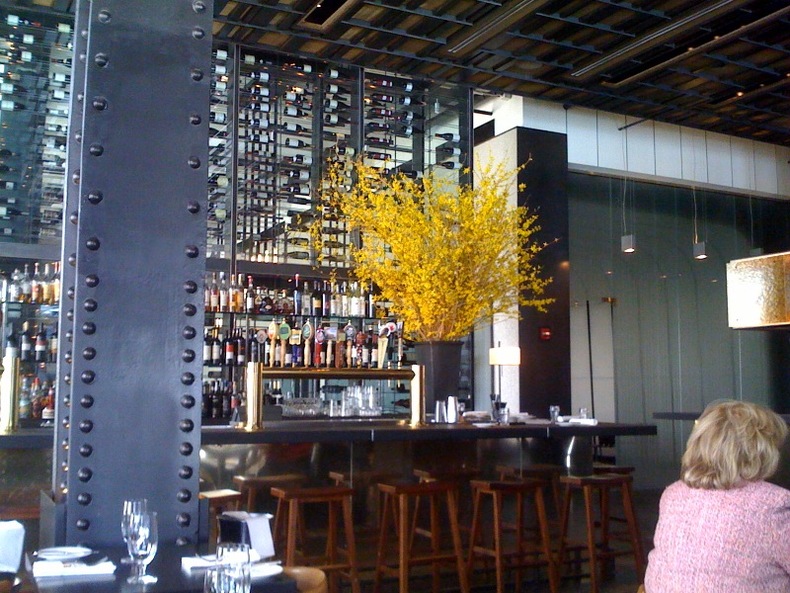 I've never gotten into reality TV, never seen Top Chef, so I can only judge Tom Colicchio on the basis of his food which I think is pretty damn good. It was over a luxurious dinner at Craft in 2005 that G requested permission to officially court me. I still remember coyly nodding my head as I stuffed in a mouthful of roasted chanterelles. This was a man who knew the way to my heart. (
Which one?
you're asking...) I've also been a loyal fan of Craftbar over the years, especially during the reign of Akhtar Nawab, when you could sip some delicious Campari cocktail at the bar while noshing on fried sage leaves stuffed with sausage. These days, in its new location on Broadway, Craftbar is still a fun spot—and a good deal—for lunch. During the abbreviated run of Craftsteak, I had one of the best steaks of my life, a flatiron. But I remember being rather appalled at the blasting air-conditioning (for all those sweaty, rib-eye-eating Wall Streeters) and the equally affronting price tag. Now this huge, wood-filled space has been reincarnated as
Colicchio and Sons
—a more modest but also more ambitious restaurant. As Sam Sifton of the
Times
said in his
3-star review
last week, "A lot of testosterone has been drained off, and a combination of flowers and a Grateful Deadish soundtrack do much to counter the boom-era feel of the restaurant's towering ceilings and soft leather seats." I took a friend there for her birthday lunch yesterday but arrived early, so decided to perch at the bar while I waited. Of course this led to a cocktail (at noon!), a wonderful combination of thyme-infused vodka with lemon and ginger ale called the Hard Thyme, accompanied by a teensy bowl of chile-roasted nuts. When my friend arrived, I was pleasantly loose and ready for anything.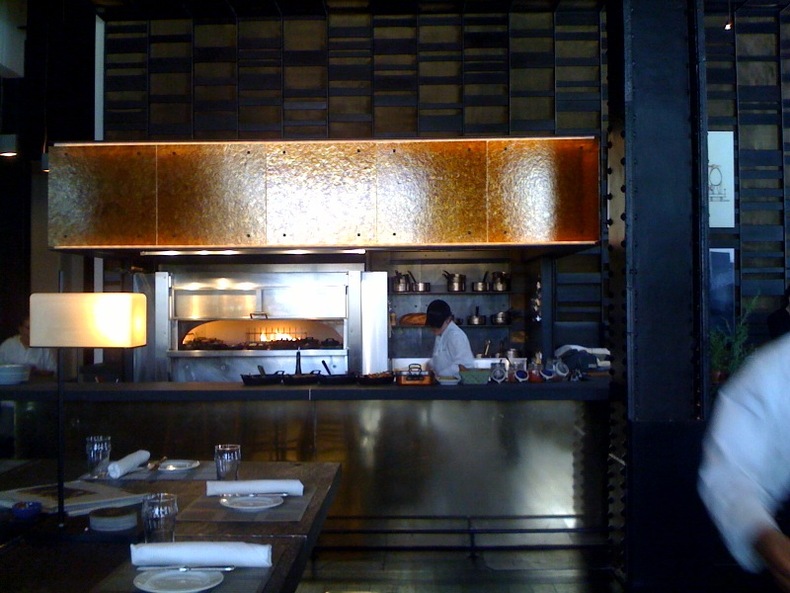 This may well explain my willingness to order the warm octopus salad, something of which I might otherwise be more wary (I can't bear chewing on anything rubbery). It was extraordinarily delicious. How on earth did they get it to be so tender?? Small coins of octopus (no tentacles) perfectly cooked, accented with a few buttery slices of potato; some juicy, salty capers; leeks that had been cooked to a melting silkiness; and a couple of drops of smoky paprika oil. Next came a salad of pear, country ham and baked endive on a tangle of baby arugula, tossed with a sharp, peppery sherry vinaigrette. And then, from the gorgeous wood-burning oven with its hammered copper hood, emerged a pizza with chanterelles, nettles, cacciatorini (thinly sliced garlicky sausage) and a few blobs of fresh ricotta. (We shared all three plates.) The balance of flavors was spot on, nothing inspid or overbearing. The combinations were neither overthought nor overwrought. Though this was only lunch in the Tap Room (the restaurant's less formal front area), I can't say I disagree with Sifton's effusive review. For Colicchio, it represents a return to the kitchen that we haven't seen since perhaps his hands-on days at Gramercy Tavern.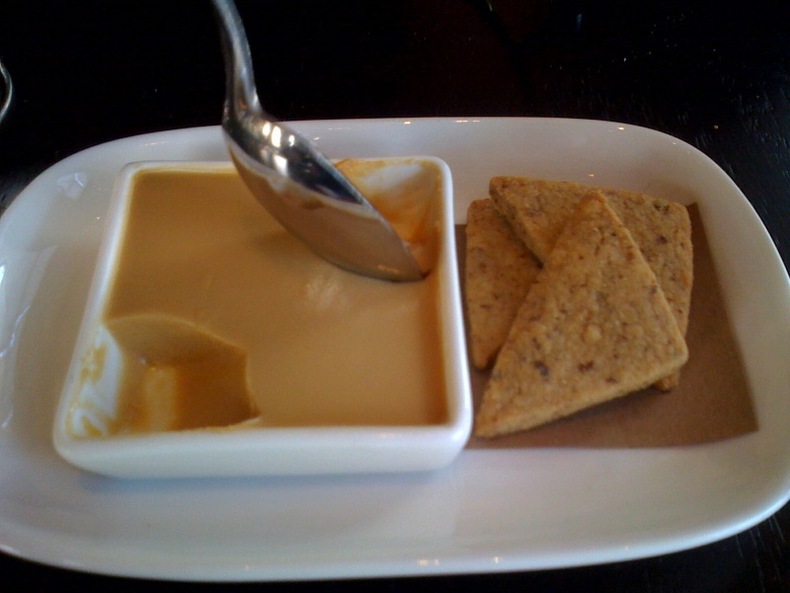 For dessert, Stephen Collucci, the pastry chef, did himself proud with an irresistibly smooth and creamy butterscotch pudding served alongside three buttery triangles of  hazelnut-fennel shortbread. I was sated and inspired, without feeling overly full or disgusted with myself. (Sharing the portions definitely helps.) Can I recommend the restaurant? Mos def. Especially since it was incredibly affordable! Will I be back? With my courtly gentleman in tow, no doubt.