3.26.10
Fit for a King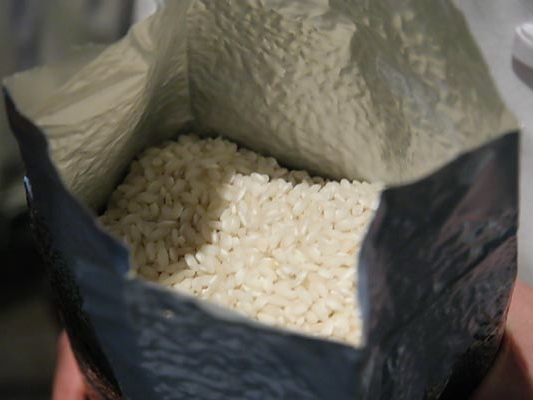 Risotto is one of those dishes that have been made to seem intimidating: all that stirring! the right rice! the stock! Newsflash: it's overrated. Not its deliciousness, that's indisputable, but its difficulty quotient. Simply assemble the right ingredients, have the patience to hang around the stove for 25 minutes or so, and you wind up with a rich, creamy bowl of goodness that works with so many different flavors. As for the right ingredients, it's really about the rice. A long-grain white rice is what you need for a classic risotto (although farro and barley make interesting variations), such as Arborio, Vialone Nano and Carnaroli, known as the "caviar of rice."
Riso Acquerello
is a kind of Carnaroli grown in Piedmont, and the one used exclusively by Le Cirque for its famous risotto. In a unique process, it's aged for at least a year to develop its structure and ensure that the grains are polished to perfection. A high starch content allows it to absorb liquid beautifully, so the rice retains a toothy "al dente" quality while acquiring a creamy consistency—the two hallmarks of the ultimate risotto.
There are so many different possibilities for risotto: with saffron for a classic Milanese; with the first peas and asparagus of spring; with pureed squash stirred in; with porcini; and on and on. The recipe, below, is inspired by the Italian master chef Nino Bergese, whose
Riso Mantecato
is decadent with butter and requires absolutely no stirring at all. I've called my version Risotto da Re (The King's Risotto), because it's fit for royalty: unctuous, luxurious and taken to new heights with a spoonful of rich meat stock ladled on top. It was selected as an Editor's Pick on Food52, an honor of which I do not tire.
You can use top-quality stock from the store—perhaps frozen? or a reconstituted demi-glace? But maybe this is your moment to make your own, and to discover what a HUGE difference there is between the watery stuff made with "beef flavoring," and this rich, intensely aromatic and deeply colored stock that starts with roasted bones.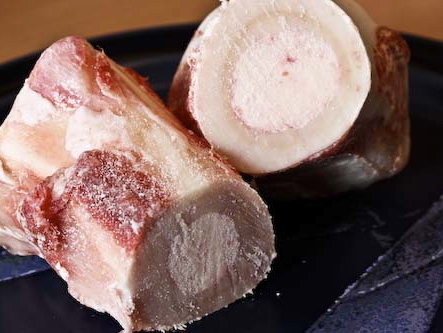 You can use top-quality stock from a specialty shop or good butcher's, or perhaps a reconstituted demi-glâce, but let this be the moment to make your own, and to discover that there's simply no comparison between the watery stuff made with "beef flavoring," and this rich, intensely aromatic and deeply colored stock. It starts with roasted bones and ends with a symphony of flavors.

Risotto da Re (The King's Risotto) with Rich Meat Stock
serves 4 as a first course
— 2 tablespoons

butter, plus 1/2 cup, plus 2 teaspoons, divided

— 2 tablespoons

olive oil

— 1

large shallot, sliced thin

— 4 cups

vegetable stock

— 1/3 cup

rich meat stock (recipe follows)

— 1 1/2 cups

Acquerello carnaroli rice (or other risotto rice)

— 3/4 cup

dry white wine

— 1/2 cup

freshly grated Parmesan
In a deep pan, melt 2 tablespoons butter with olive oil over low heat. Add the shallot and cook until golden and soft, about 20 minutes. Remove shallot with slotted spoon and puree in food processor until smooth.


Meanwhile, in two separate saucepans, heat vegetable stock and meat stock, maintaining just below a boil. Stir 2 teaspoons of butter into the meat stock.


Return shallot puree to pan, add rice and raise heat to medium. Stir rice well to coat and sauté for about 4 minutes, then add wine. When it's incorporated, begin adding hot vegetable stock in quarter-cup increments, gently stirring, and only adding more when it's been fully absorbed. The grains of rice will begin to swell.


Start tasting after you've incorporated 2-3 cups (you probably won't need more than 3). When finished, the risotto should retain an "al dente" texture with plump, individual grains. At this point, stir in the 1/2 cup butter and Parmesan.


To serve, plate risotto and create a small well in the center of each mound to hold a couple of spoonfuls of the hot meat stock.



Download Recipe
Beef Stock
from Nourishing Traditions by Sally Fallon
makes about 8 cups
— 4 pounds

pastured beef marrow bones, knuckle bones

— 1/2 cup

cider vinegar

— 1

large onion, skin on, quartered

— 2

carrots, sliced

— 1

leek, white & pale green only, cleaned and sliced

— 2

celery stalks, sliced

— 3 pounds

meaty rib or neck bones

— 2 tablespoons

tomato paste

— 5

cloves garlic

— 2

bay leaves

— 3 sprigs

thyme

— 1/2 teaspoon

green peppercorns, crushed

— 1 bunch

Italian parsley
Place the knuckle and marrow bones in a very large pot with vinegar and cover with water. Let stand for 1 hour.


Meanwhile, place the meaty bones in a roasting pan and brown at 350º in the oven. When well browned, add to the pot along with the vegetables. Pour the fat out of the roasting pan, add cold water to the pan, set over a high flame and bring to a boil, stirring with a wooden spoon to loosen coagulated juices. Add this liquid to the pot. Add additional water if necessary, to cover the bones; but the liquid should come no higher than within one inch of the rim of the pot, as the volume expands slightly during cooking. Bring to a boil. Skim scum as it rises to the surface. When scum no longer rises to the surface, reduce heat and add the thyme and crushed peppercorns.


Cook stock at a very lazy simmer for at least 12 and as long as 72 hours. Just before finishing, add the parsley and simmer another 10 minutes.


You will now have a pot of rather repulsive-looking brown liquid containing globs of gelatinous and fatty material. Don't despair! After straining, you will have a delicious and nourishing clear broth.


Remove bones with tongs or slotted spoon. Strain the stock into a large bowl. Let cool, then refrigerate and remove the congealed fat that rises to the top. Transfer stock to smaller containers and refrigerate, or freeze for long-term storage.



Download Recipe