2.18.10
Cockles (& Mussels)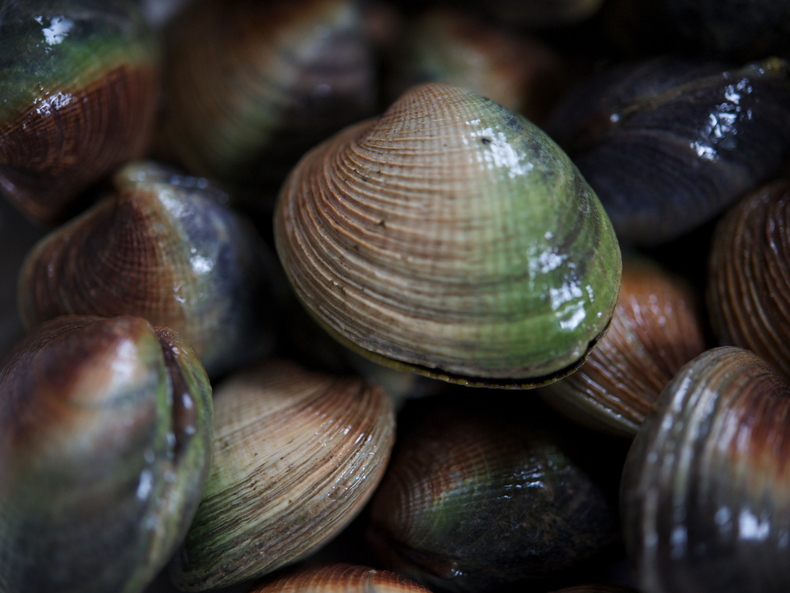 I've been in Minneapolis for work the past couple of days. Staying at a rather nice boutique hotel, The Chambers, that was recently acquired by Starwood. It's known as "the art hotel," because it's actually full of paintings and installations by "real" artists. The work in my room, however, is nothing to write home about. Had some lovely mussels here today. I once threw up out the door of a cab while driving up West Broadway, after having eaten a bad mussel at Caroline's comedy club in the seaport. This was sometime in the late 80s, but I still have a deep mistrust of these bivalves. They can be strangely murky and unpleasantly chewy. But ignoring the siren's call of the thin-crust pizza, I ordered a large bowl of the creatures. They arrived, plump and velvety soft, swimming in a creamy broth, scented with wine and garlic. WHAT'S WRONG WITH THAT? Not a thing. With these and a crisp green salad, I was happy. The meal put me in mind of another business trip, this one to Seattle, where I dined on a delicious bowl of Manila clams in a green coconut curry. And that reminded me that I've been meaning to share with you this wonderful recipe from
Casa Mono
, a Mario Batali side project where they serve delicious Spanish-influenced small plates.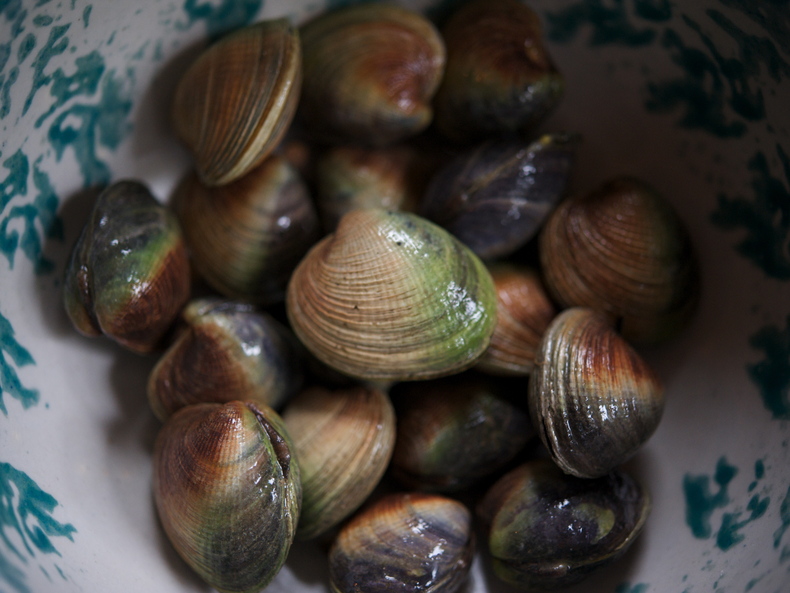 Cockles are very similar to Manila clams, and I think both are superior to the popular littleneck, which tends to suffer from that particular rubberiness I shun. At any rate, make this recipe with whatever small clam you can get your hands on. The addition of chorizo to the seafood is typically Iberian (the Portuguese like it, too) and the fideos (pasta) help you sop up all the divine broth.
FIDEOS WITH COCKLES AND CHORIZO
adapted from Casa Monoserves 4
16 ounces angel hair pasta2 tablespoons olive oil8 ounces chorizo, skin removed and chopped2 large cloves garlic, sliced1 pound cockles (or other small clams)2 cups dry white wine2 cups chicken stock1 pinch saffron1 pinch red chile flakesSalt to tastePreheat oven to 250 F.Wrap pasta in a kitchen towel and break the strands into small ½ to 1-inch pieces. Lay pasta on a baking sheet and bake for 20 minutes or until toasted. Cool and break into smaller pieces if necessary.Heat olive oil in a large sauté pan over medium-high heat. Add chorizo and garlic and cook until garlic is browned on edges, about 2 minutes. Add white wine, bring to a boil and reduce slightly.Add pasta, clams, chicken stock, saffron, chile flakes and salt, and stir to submerge pasta in the liquid. Bring to a boil again, cover and steam for 5 minutes or until pasta is cooked and clams have opened.Place clams on a plate and top with pasta. Finish with a dollop of
aioli
and a splash of extra-virgin olive oil.