2.18.10
Something Fishy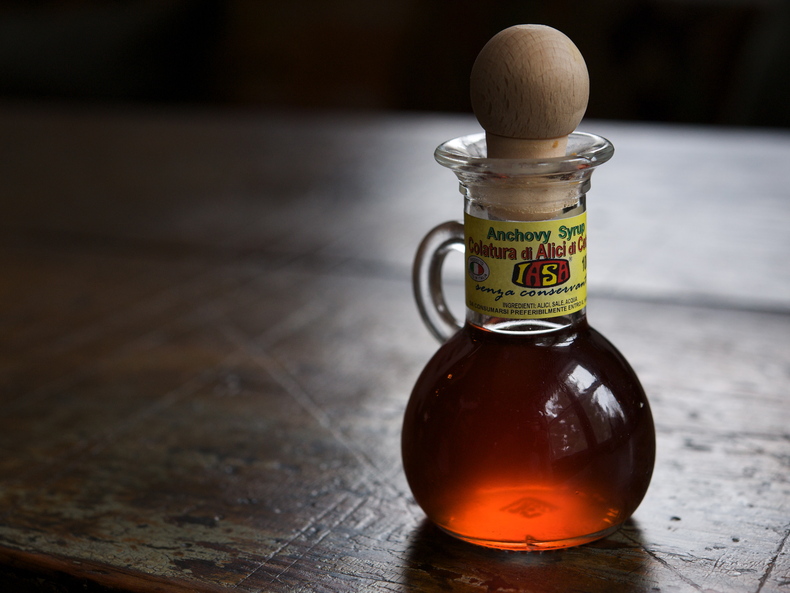 Have you discovered
colatura di alici,
an amber elixir of anchovy made around Italy's Amalfi coast for the last 2,000 years? Slow Food International has officially declared it a "protected" ingredient. (I ordered my first bottle online
here
.) When anchovies are salted for curing, they're layered in wooden barrels, then pressed and weighted down. From small holes in the barrels drips this salty, funky syrup—thus the word
colatura
, from
colare
, "to drip" in Italian. Somehow, although more concentrated, it's a bit less overtly fishy than anchovies. And it's not quite as rank or muddy (or old gym sock-y) as Asian fish sauce—an essential pantry item, by the way. It's the modern version of
garum
, a fermented fish liquid (sometimes made from just their blood and guts) that was a sort of salt substitute in ancient Rome. The process was so smelly that production was apparently limited to outside the city walls!
Like many fermented products, colatura is rich in amino acids, and of course I've droned on before about the benefits of fish oil. One of the easiest uses for colatura is as a simple sauce. Mix a couple of teaspoons of the stuff with a few tablespoons of extra-virgin olive oil and a clove or two of crushed garlic, and use this to flavor swiss chard, broccoli rabe, escarole or potatoes. Or toss it with roasted cauliflower, raisins and pinenuts; or with a few red chile flakes and some cooked pasta, as in the recipe below. Another great way to use it is in a dressing for Caesar salad. I don't think you'll ever go back to mere anchovies or anchovy paste once you try this heady brew.
Linguine with Colatura
from Melissa Clark
serves 4-6
— 1 pound

linguine or spaghetti

— 6 tablespoons

colatura

— 2 tablespoons

freshly squeezed lemon juice, or more to taste

— 1 packed tablespoon

grated lemon zest

— 2 teaspoons

minced garlic

— 1/2 teaspoon

crushed red chili pepper flakes, or more to taste

—

Freshly ground black pepper, to taste

— 6 tablespoons

extra virgin olive oil

— 1/2 cup

minced fresh parsley

—

Coarse sea salt, to taste
Cook pasta in salted boiling water until al dente. In a large bowl, combine colatura, lemon juice, zest, garlic, chile pepper and black pepper.


Drain pasta, and add it to bowl, tossing well. Drizzle in the olive oil and parsley, toss to combine and taste. Add salt if desired. Serve hot or at room temperature.



Download Recipe
Colatura Caesar Dressing
makes a generous 1 cup
— 1 clove

garlic, minced or smashed to a fine paste

— 2

egg yolks

— 2 teaspoons

Dijon mustard

— 2 teaspoons

colatura

— 2

lemons, juiced and the zest of one

— 2/3 cup

extra virgin olive oil

— 1/2 cup

finely grated Parmigiano Reggiano

—

Freshly ground black pepper, to taste
Place all the ingredients, except for the olive oil and the cheese, into a blender and process for 15-20 seconds. With the blender still running, slowly drizzle in the olive oil until the dressing is nicely emulsified. Blend in the cheese, reserving a bit to sprinkle onto the finished salad. Toss with romaine lettuce, garnish with croutons and serve.



Download Recipe