2.20.10
The Saag-a Continues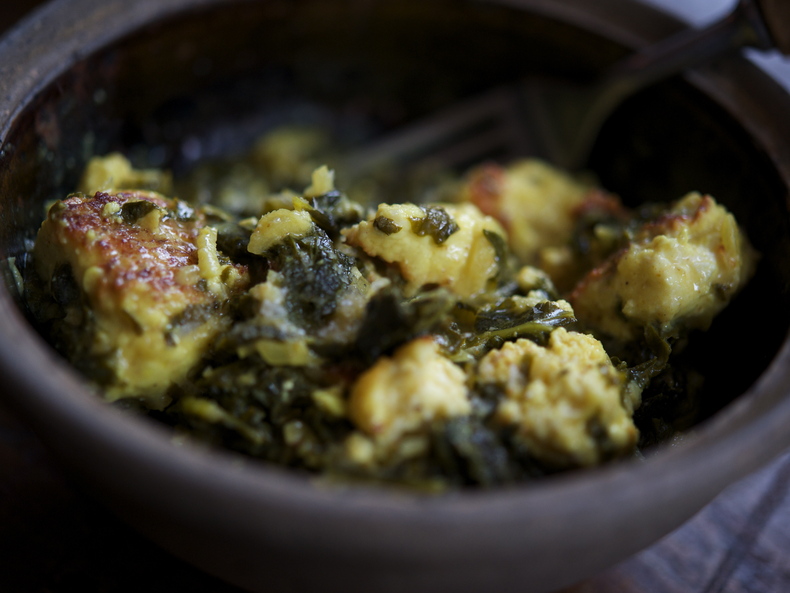 If you've come across fresh paneer at the market, or been bold and tried
making your own
, a dish of
saag
is a wonderful way to use those pillowy cubes of creamy cheese. Although we frequently see it made with spinach, s
aag
is actually any dish of spiced, stewed greens with a bit of yoghurt and cream or buttermilk stirred in. As in India, you can use any combination of greens you want, including mustard greens, chard, kale and collards. I like to leave the greens on the toothier side, so the dish is a bit less like baby food, but make it however you like. You can enrich it with cream, although I like the tangy taste you get from buttermilk and yoghurt (and they have fewer calories). I imagine you could play around with soy or hemp milk. This recipe calls for garam masala, which is a classic blend of ground spices. Almost all Indian cooks have their own version, and it can vary greatly from one region to another. True to the spirit of any curry, you can tweak the ingredients and proportions to suit yourself. If you don't have paneer, you can try using cubes of firm tofu, chunks of fried potato, or even cooked chickpeas for this dish. It won't be the same, but it will get you in the ballpark.
Saag Paneer (Greens with Fresh Cheese & Garam Masala)
serves 4
— 2 pounds

fresh greens (spinach, kale, mustard greens, chard), washed and thick stems removed

— 1/4 cup

ghee (substitute coconut oil)

— 1/2 pound

paneer, cubed

— 2

medium yellow onions, grated or finely chopped

— 3

cloves garlic, minced

— 1 tablespoon

freshly grated ginger

— 2 teaspoons

garam masala (recipe follows)

— 1/2 cup

buttermilk

— 1/2 cup

plain yogurt

—

sea salt

— 2 tablespoons

coriander seeds

— 1 tablespoon

cumin seeds

— 1 teaspoon

fennel seeds

— 1/2 teaspoon

whole cloves

— 1/2 teaspoon

mustard seeds

— 1 tablespoon

cardamom seeds

— 1 tablespoon

whole black peppercorns

— 2

dried red chiles, broken in pieces, seeds discarded

— 1 tablespoon

ground turmeric
Bring a large pot of water to the boil and blanch the greens until very tender. Dump them into a colander and press firmly with the back of a spoon to extract as much water as possible. Chop fine. Set aside.

Heat the ghee in a deep skillet over medium-high. Add the cubed paneer and fry for a couple of minutes until light brown on all sides, turning gently. Remove the paneer from the skillet and set aside.

Return the skillet to the heat, adding a bit more ghee if needed, and sauté the onions, garlic and ginger until soft, about 5 minutes. Add the spices, stir to combine, and cook another couple of minutes. Fold in the chopped greens and stir together. Shut off the heat and gradually stir in the buttermilk and yogurt, adding more or less to achieve the creamy texture you want. Gently fold in the fried paneer cubes and salt to taste.

For Garam Masala:
Toast the whole spices in a small skillet over medium-low heat, shaking the pan to prevent burning, until they begin to color and smell fragrant. In a spice grinder or mortar and pestle, grind the toasted spices together to a fine powder. Add the turmeric and stir well to combine. Store in a sealed jar.

Download Recipe