1.29.10
Stone Soup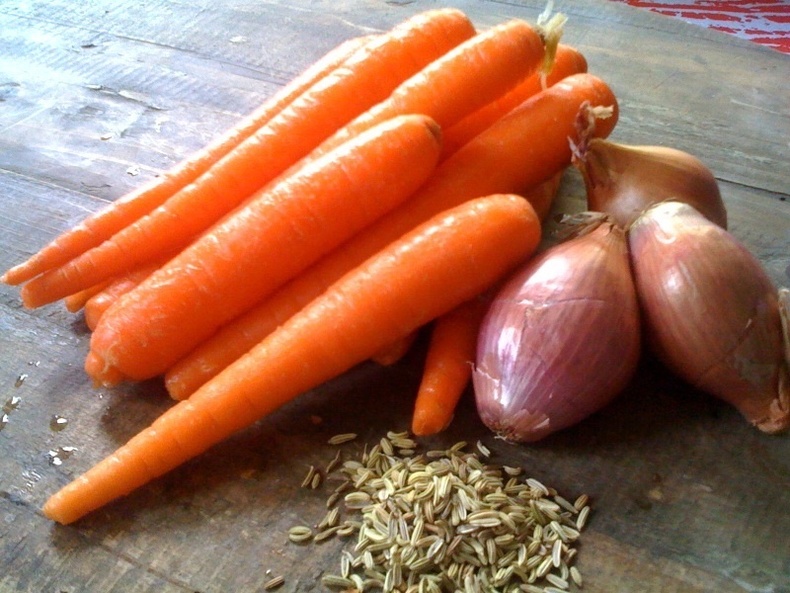 At this gastronomically obsessed point in the 21st century, few of us think of food as simply sustenance. Do you eat for pleasure? For energy? For nutrition? Hopefully, these are all factors you consider. What about food as medicine? Some of my best friend are doctors (no, really) and I can see them rolling their eyes already. Look, I afford Western medicine its due; I see my internist and gynecologist for regular check-ups. But they often don't/can't give me the sort of fine-tuning I get from my nutritionist or my cranial-sacral therapist. And, to be perfectly frank, after watching my father, my mother and my husband (before G) die slow and agonizing deaths—all three in the care of very good doctors—I'm just not much of a believer in sticking to that one path. I think what we put in our bodies can have a huge impact (positive and negative) on our health. So I was so happy when my good friend Stephanie, who has recently suffered some painful gallstone attacks, decided to try to avoid the surgery that was immediately prescribed. I was even more thrilled when she went to see
Sally Kravich
, my wonderful nutritionist, to see how she could manage this condition with diet. And I was flattered when she asked me for some soup recipes to help get her through this period without feeling too deprived.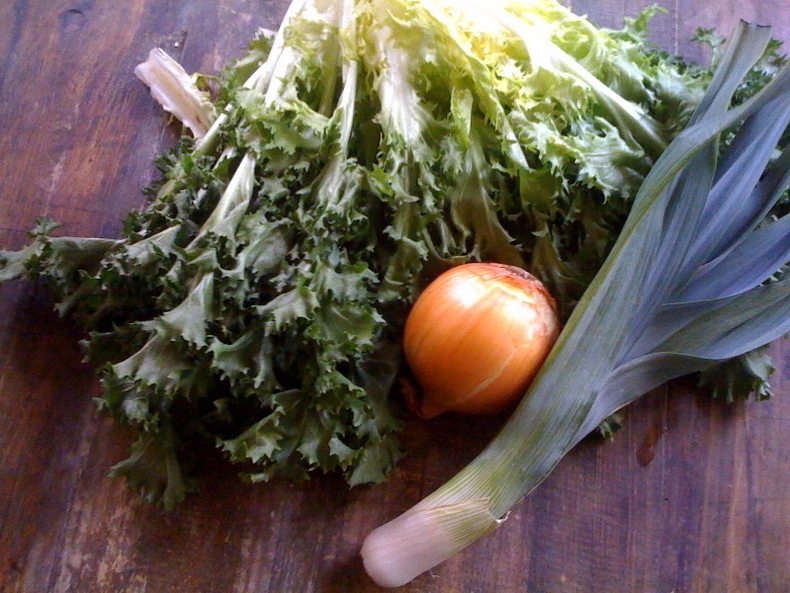 The gallbladder is considered to be a non-vital organ, even though it aids in the digestive process and stores bile produced by the liver. The gallstones that form are generally composed of cholesterol, but can also be calcium salts. They are caused by a combination of factors, including inherited body chemistry, body weight  and diet. According to Wikipedia, "No clear relationship has been proven between diet and gallstone formation. However, low-fiber, high-cholesterol diets, and diets high in starchy foods have been suggested as contributing to gallstone formation. Other nutritional factors that may increase risk of gallstones include rapid weight loss, constipation, eating fewer meals per day, eating less fish, and low intakes of the nutrients folate, magnesium, calcium, and vitamin C. On the other hand, wine and whole grain bread may decrease the risk of gallstones." I'll drink to that. Seriously, wouldn't you at least want to try modifying your diet before going under the knife? And what happens to your digestion after the gallbladder is removed? Do you have to stop eating fat—or start taking a pill? The whole take-a-pill-to-fix-it mentality really galls me. Heh.Your first line of defense against practically everything is a diet full of fruits and vegetables, with an emphasis on leafy greens and colorful, antioxidant-rich varieties. Stephanie doesn't need to go on a "bland" diet, just one that is simple, healthful and low in fat. I took the afternoon off today and worked on a couple of soups for her, listening to Maria Callas sing Tosca, and reflecting upon a book I just finished, Patti Smith's new memoir about her relationship with Robert Mapplethorpe. Friendship, art and love—that and a steaming bowl of soup will keep the wolf from the door.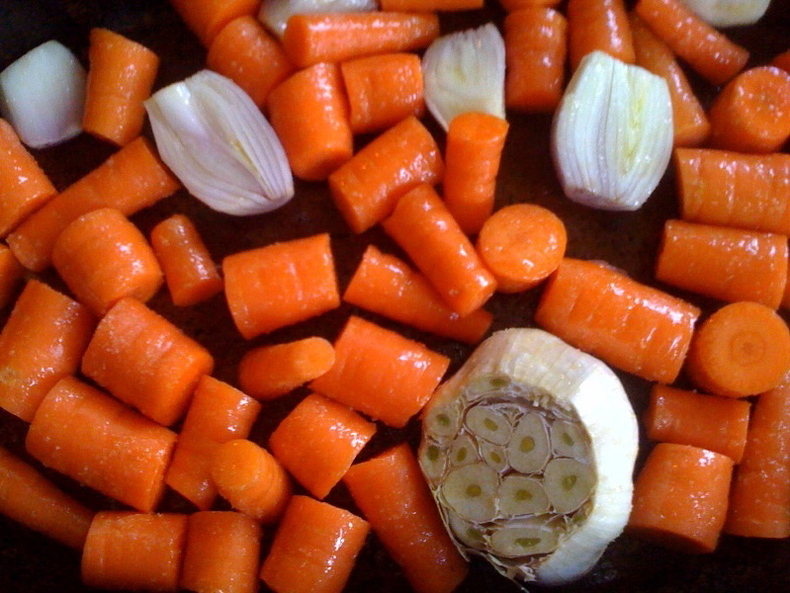 CARROT SOUP WITH GINGER & TOASTED FENNELThe warming spices and roasted garlic give this soup a nice depth of flavor, and the buttermilk adds to its creamy, rich texture.serves 4-61 lb organic carrots3 medium shallots1 head garlic2 tablespoons olive oil1 teaspoon salt1 teaspoon fennel seedsscant tablespoon freshly grated ginger3 cups vegetable stock1 cup organic lowfat buttermilkPreheat the oven to 350 degrees.Remove shabby ends from carrots, peel shallots and cut both into chunks. Slice top of garlic head off (see photo) and discard, leaving cloves exposed. Toss everything with the olive oil and salt and place in an ovenproof casserole. Roast for about an hour.Meanwhile, toast the fennel seeds in a small skillet over medium heat until fragrant and just starting to turn color. Remove from heat and grind to a powder in a spice grinder or mortar and pestle. Set aside.When carrots, shallots and garlic are done roasting (they should be tender and just starting to caramelize), remove from oven and cool slightly. Squeeze the garlic cloves from half the head, and place it in a large soup pot with the carrots, shallots, ginger, 1 teaspoon ground fennel, and vegetable stock. (Save the other garlic half for another recipe.)Bring to a boil, then simmer until the carrots are very soft, 20-30 minutes. Cool slightly, then pour into a food processor or blender and puree. Return to soup pot over medium heat and add 1-2 cups of water as needed to thin the texture. Stir in the cup of buttermilk. Taste and add more salt if required.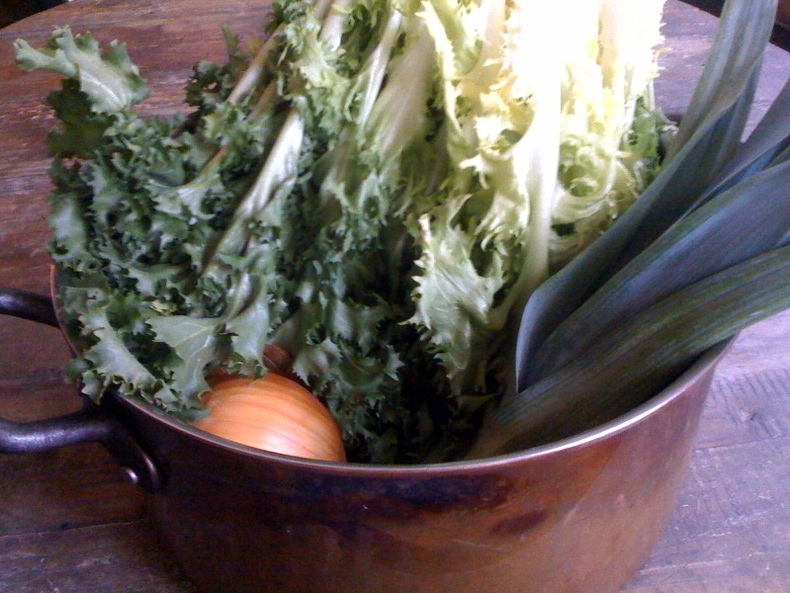 ESCAROLE SOUPserves 4-5You've seen this soup before: gussied up with meatballs or cannellini beans or Italian sausage, showered with parmesan. Those versions are good, but this one is clean and simple with the bright additions of lemon zest and bay leaves. Still hungry? Keep eating. It's good for you.1 large yellow onion1 leek, white & light green parts only1 tablespoon olive oil6 cups organic chicken stock1 teaspoon lemon zestjuice of 1 lemon2 bay leaves1 head escarole, chopped, about 6 cupssea saltDice onion and leek. Heat olive oil in a large soup pot over medium-high heat, and sautee onion and leek until just beginning to brown.Add chicken stock, lemon zest and juice and bay leaves, stirring to combine. Bring to a boil, then lower heat and simmer gently for 15 minutes. Add escarole and turn heat up, simmering rapidly for another 10-15 minutes. Taste and add salt as needed. Remove bay leaves before serving. (If you're not watching your gallstones, this is good with a generous handful of shaved parmesan.)