1.28.10
Food is Love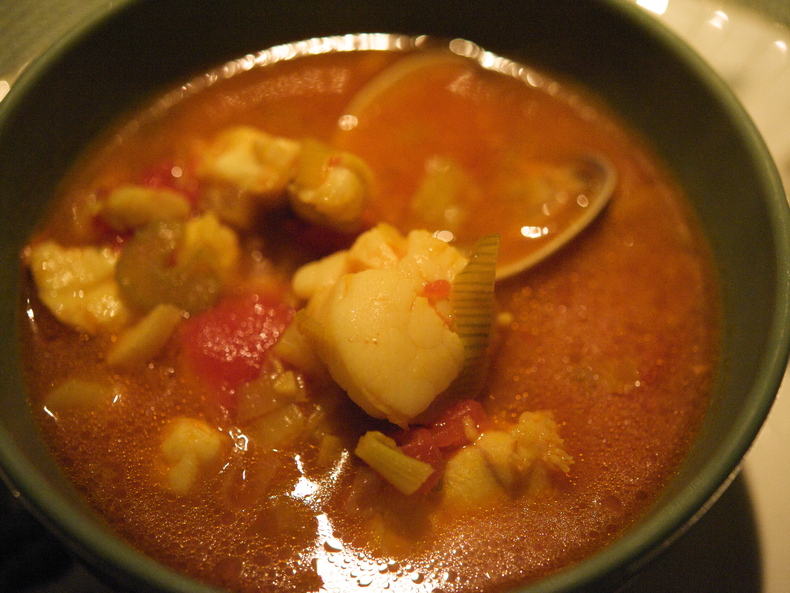 Friends often suggest I go into the catering business, but the thought makes my skin crawl. I find it hard to imagine feeding people I scarcely know (and possibly don't even like). Yet nothing gives me greater pleasure than cooking for those I love. Cooking is my gift, and sometimes it can make a nice present. My last night in LA, I was lucky enough to be able to celebrate the birthday of a good friend, someone who has known my family for nearly 40 years. She let me into her kitchen (a cook's paradise, amazingly organized and well stocked) and I did my thing. Knowing that Santa Monica Seafood was nearby, I decided to make a dish that would take advantage of all that fresh, gleaming seafood. The result was this warming but relatively light bouillabaisse, the classic French fisherman's stew. It contains a mix of ingredients typical of Provence: seafood, garlic, tomato, saffron and fennel. Although some will say it's not truly bouillabaisse without the rascasse (scorpion fish), I say hooey. Use whatever firm, white-fleshed fish you like and throw in all manner of shellfish, including scallops, clams, mussels, lobster and shrimp (in the shell, preferably). It's about what's fresh, and what you like best, of course.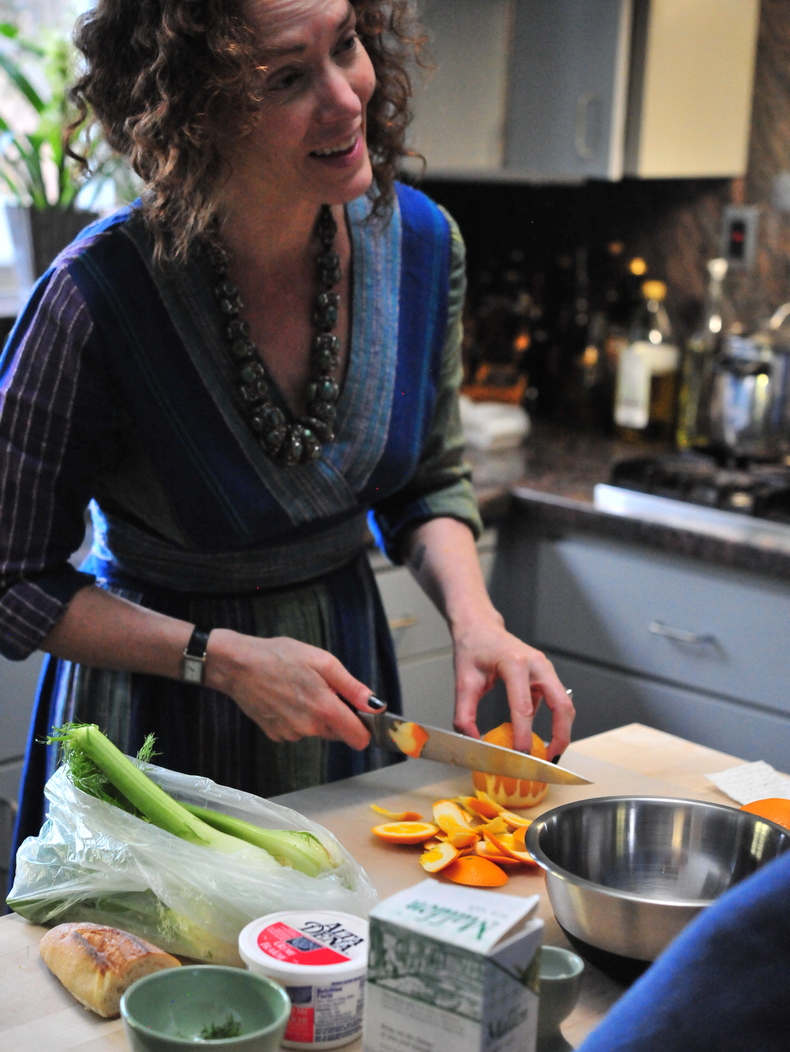 You need fish stock to make bouillabaisse, and I'm giving you a recipe here for making your own. It takes half an hour and it's so much fresher and cleaner and better than anything you'll dump out of a can or box. It can be simmering away while you prep and chop the other ingredients. Double the recipe and freeze the extra for the next time you want to make cioppino or chowder.And you'll also want to try my recipe for rouille. Not to be pretentious, but my version of this garlicky mayonnaise is a combination of the Marseille and Nice styles. The former is made with egg yolk and without bread, the latter vice versa. Mine uses both. It's rich and spicy and bright yellow and essential to mound on top of the crunchy croutons that you float in your bouillabaisse.When I lived in the East Village about a dozen years ago, there was a little French restaurant right across the street that served their version of a Marseille fish soup. It was like a bouillabaisse that had been pureed into a thick and velvety rust-colored soup, and they garnished it with croutons and a little pile of grated Gruyere. So good. I want to try that next time. After the bouillabaisse, we had a refreshing salad of thinly sliced fennel and oranges, tossed with some spicy wild arugula in a mustardy vinaigrette.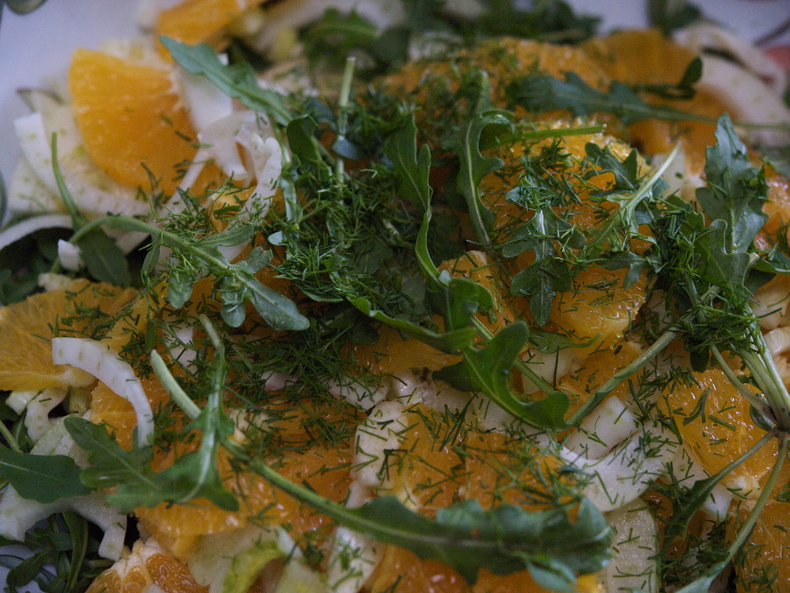 Since it was a birthday (and I wanted G to be able to indulge), I trotted out the
almond flour cake
, but this time substituting 4 Meyer lemons for the 2 oranges. I added a little extra agave but it was still slightly more bitter. Delicious though, with almost the consistency of crumbly cheesecake, and none the worse for a big spoonful of creme fraiche on the side. The dinner was a success, not so much because of the food but because of the shared experience, the good conversation, the laughs and love that turn even the simplest meal into a banquet to be remembered.*One piece of business: I just wanted to let you know that I'm having a few updates made to the site design. The one that's relevant here is a new feature that will let you print recipes easily from my posts. But it's not done yet, sorry. So for now, just cut and paste, or bring your laptop into the kitchen. (Careful! Hot broth and your keyboard spell disaster.)
Bouillabaisse
adapted from The Joy of Cooking
Serves 4-6

— 1 tablespoon

olive oil

— 1 tablespoon

unsalted butter

— 1

leek, white and some green, cleaned, halved and sliced

— 1

fennel bulb, halved, cored, and sliced thin

— 1-2

celery stalks, sliced thin

— 1

bay leaf

— 1-2

star anise

—

peel from 1/2 an orance

— 1/2 teaspoon

saffron threads

— 1/2 teaspoon

sea salt

— 3

cloves garlic, minced

— 1 tablespoon

tomato paste

— 1/2 cup

dry white wine

— 2 cups

canned whole tomatoes with juice

— 3 cups

fish stock (see below)

— 1/2 teaspoon

cayenne pepper

— 1/2 teaspoon

sea salt

— 2 tablespoons

olive oil

— 12-18

littleneck or manila clams, well scrubbed

— 12

sea scallops

— 1 pound

monkfish (or other firm-fleshed white fish such as red snapper, halibut or sea bass), cut into 1" pieces

— 2 tablespoons

Pernod
In a large pot, melt olive oil and butter over medium heat. Add the rest of the ingredients up to the garlic and cook, stirring occasionally, until the vegetables are tender but not browned, 5-10 minutes.

Now add the garlic and cook, stirring, for another couple of minutes. Do not scorch. Add the tomato paste and cook for a minute. Pour in the wine, bring to a gentle boil and cook for 3 minutes. Stir in the tomatoes with their juice and break up with a spoon. Add the fish stock, salt and pepper, and bring to a boil. Reduce heat, cover and simmer for about half an hour.

You can make this soup the day before and keep it in the fridge. When you're ready to assemble the bouillabaisse, remove the star anise and orange peel, and heat it through over medium heat.

Meanwhile, in a large soup pot, bring 2 tablespoons olive oil to the smoking point over high heat. Add the clams and cook, stirring, for 2-3 minutes. Now pour in the warmed soup. Bring to a boil, reduce heat, and simmer for 3 minutes.

Stir in the monkfish and continue to cook, covered, for 1 minute. Then add the scallops and cook just until done, another 2-3 minutes. Discard any clams that have not opened and stir in the Pernod.

Serve with thinly sliced baguette rounds you have toasted lightly in the oven, and pass a bowl of rouille. The idea is to plop a dollop of rouille onto a crouton and place it into the soup, so the rouille gets stirred in and the croutons soak up the broth.



Download Recipe
Classic Fish Stock
makes 6 cups
— 2 pounds

fish bones and heads, or a whole firm-fleshed white fish (sea bass, red snapper)

— 6 cups

water

— 1 cup

dry white wine

— 1

medium leek, sliced

— 1

medium onion, thinly sliced

— 1

small fennel bulb, sliced

— 1

celery rib, thinly sliced

— 2

cloves garlic, smashed

— 2

bay leaves

— 2

sprigs parsley

— 2

sprigs thyme

— 1

sprig tarragon

— 1 teaspoon

sea salt
In a large stockpot, combine the fish and/or bones and heads with the water, wine, sliced vegetables and aromatics and bring the fish stock to a simmer over moderately low heat. Simmer gently for 30-45 minutes. Strain the fish stock well and set aside. Can be frozen.



Download Recipe
Rouille
adapted from The New York Times
— generous pinch

saffron

— 1/4 cup

fresh bread crumbs

— 2

garlic cloves, smashed

— 1/2 teaspoon

kosher salt

— generous pinch

cayenne

— 1

large egg yolk

— 1/2 cup

extra virgin olive oil
Using a mortar and pestle, pound saffron until bruised and fragrant. Mix in a half teaspoon of boiling water and let sit for 5 minutes.

Meanwhile, combine bread crumbs with enough hot water or fish stock to make a loose paste. Add this to the saffron.

Now add garlic, salt and cayenne and pound into a fairly smooth paste. Mix in the egg yolk until thoroughly combined. Keep pounding and stirring constantly as you slowly drizzle in the olive oil (like making mayonnaise—start with just a couple of drops at a time!). Add more salt and cayenne if necessary. If you scare yourself with how garlicky it is, add a small pinch of sugar. But the strong flavor will dissipate in the soup and be delicious.



Download Recipe