12.30.09
Asian Avian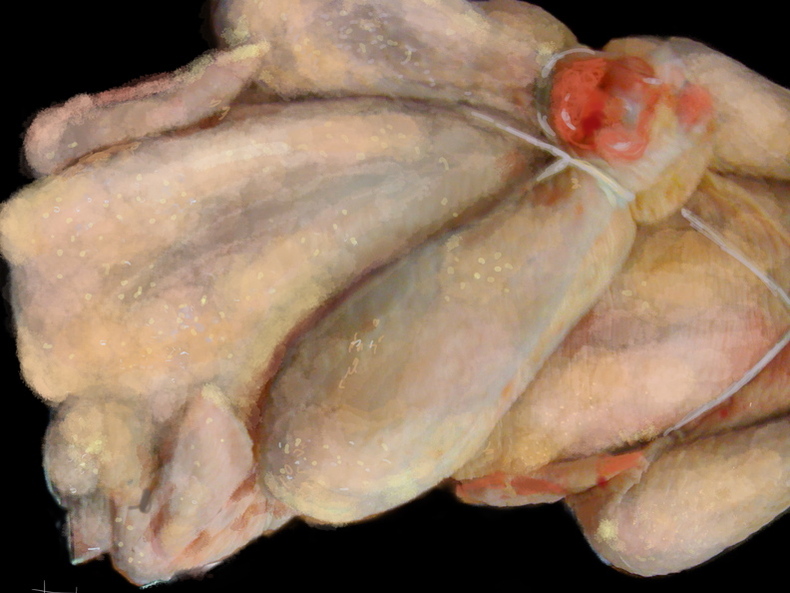 Isn't there something faintly S&M about this illustration? I just love it. Kudos to Jan Richter for her great eye and accomplished technique. (And I happen to know she makes a mean coq au vin.) This is just the sort of plump organic bird you want to find when you're setting out to make any number of cold-weather dishes. G makes the classic Jewish penicillin when I get sick (about once a year, knock wood) but I often look further east for something therapeutic. This recipe tips its hat to a classic Hispanic arroz con pollo but shifts gears with anti-inflammatory turmeric; lots of warming, healing ginger; and a hit of fish sauce. I think it's similar to the Filipino arroz caldo. You keep cooking the rice so it's somewhere between risotto and congee, that perfect comforting texture. And the bright yellow color is like a ray of sunshine.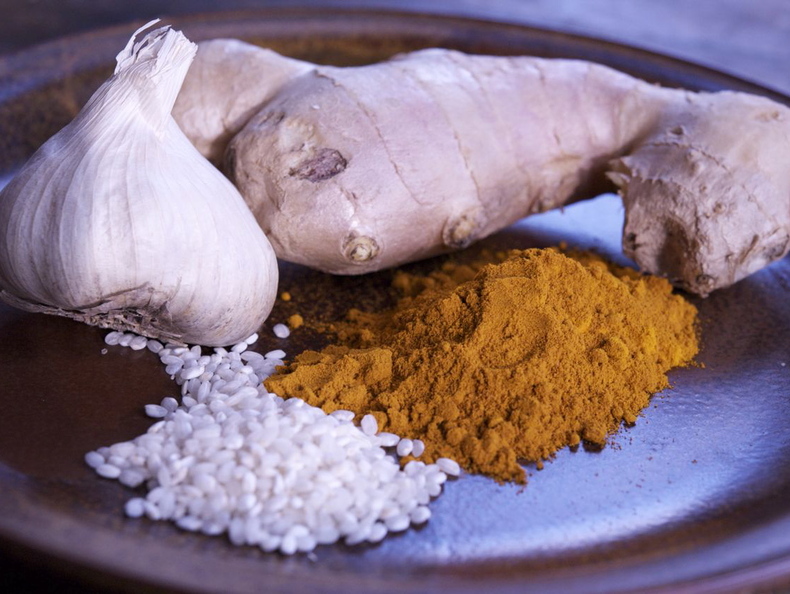 Asian Chicken & Rice
serves 2 with leftovers (which are great reheated)
— 1 tablespoon

olive oil

—

salt and pepper

— 2

chicken thighs

— 2

chicken drumsticks

— 2

chicken wings (optional)

— 1 tablespoon

minced ginger

— 1

2-inch knob of ginger, sliced into coins

— 2

shallots, minced

— 3

cloves of garlic, minced

— 1 teaspoon

tumeric

— 2 tablespoons

fish sauce

— 1 cup

short-grain rice (I use arborio or calasparra)

— about 4 cups

chicken stock, preferably homemade

— 1/2

fresh lemon
Heat olive oil in a large heavy pot over high heat. Season chicken all over with salt and pepper and place in pot, skin side down. Brown chicken well on skin side, about 6 minutes. Remove to a plate.

Lower heat to medium and, in the same pan, sauté ginger, shallots, garlic and turmeric, about 3 minutes. Add fish sauce and uncooked rice and toss to coat well, about 1 minute. Return chicken to the pan, browned side up.

Pour in 2 cups chicken stock and raise heat to bring to a boil. Lower to a simmer and cover partially, stirring occasionally to make sure rice doesn't stick. Add the rest of the stock as rice absorbs the liquid.

When chicken is cooked through and rice begins to break down a bit, after about 35 minutes, the dish is ready. Add a squeeze of lemon juice and taste for seasoning; you may want to add a bit of salt.



Download Recipe