12.16.09
I Love Shorty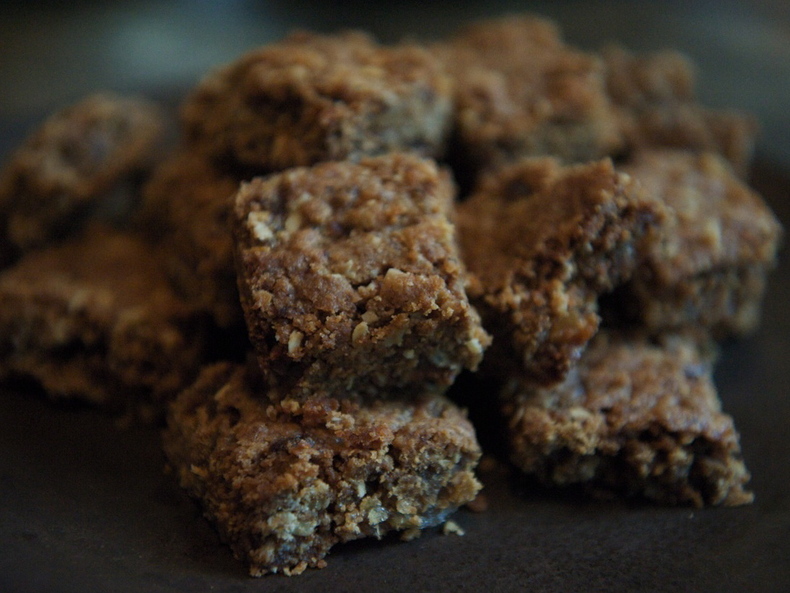 Around the holidays, a frenzy of baking takes place. Everyone is spritzing out those German butter cookies, rolling Mexican wedding cookies, dipping things in chocolate and sticking on sprinkles. And god bless them. But ever since my holistic nutritionist Sally Kravich likened eating white flour to putting elementary-school paste up my butt, I've tried to drastically reduce the amount of traditional baked goods I eat. (And after that lovely analogy you may, too, right?) The refined sugar, the refined flour, the Crisco...it's just not doing me any favors. And because G cannot eat gluten, options diminish even further. But none of this means I'm going to give up the occasional indulgence. So when I feel like eating a cookie, I make these deliciously chewy, assertively spiced, buttery little oat cookies that pack a lot of flavor.

Inspired by Deborah Madison's Ginger Oat Shorties, my version is made with whole wheat pastry flour, dark muscovado sugar and also incorporates fresh ginger, cardamom and freshly ground pepper for a wonderful kick. The oats and crystallized ginger give them a pleasingly rough texture and the butter adds a smooth richness. In truth, you can make these using almost any flour or combinations thereof, incuding white, gluten-free, buckwheat, etc. If you're going to make cookies this holiday season, try these and your friends will be eternally grateful. (As will your colon.)
Spicy Shorties
makes about 2 dozen
— 3/4 cup

rolled oats

— 1/2 pound

salted butter (2 sticks)

— 1 cup (packed)

dark brown sugar (I like Muscovado)

— 1/4 teaspoon

salt

— 1 teaspoon

freshly ground cardamom

— 1/2 teaspoon

freshly ground black pepper

— 1 1/2 cups

whole wheat pastry flour

— 1 teaspoon

fresh ginger, finely grated

— 1 cup

crystallized ginger, finely chopped
Preheat the oven to 350°F.


Process the oats briefly in a food processor, just to break them up slightly.


Beat the butter and sugar until light and fluffy, then add the salt, spices and oats. Work in all the flour well, and mix in the fresh and crystallized ginger.


Press the dough into a 9x12 pan and score the surface in squares as you would with shortbread. (You can make any shape you like but these are rich, so smaller pieces are best.) Bake until surface is lightly browned, 30-35 minutes. Baking them longer will result in a drier, crisper cookie (which is also nice).


Remove and cut through along the score lines, then set aside to cool.



Download Recipe