12.14.09
Crying Fowl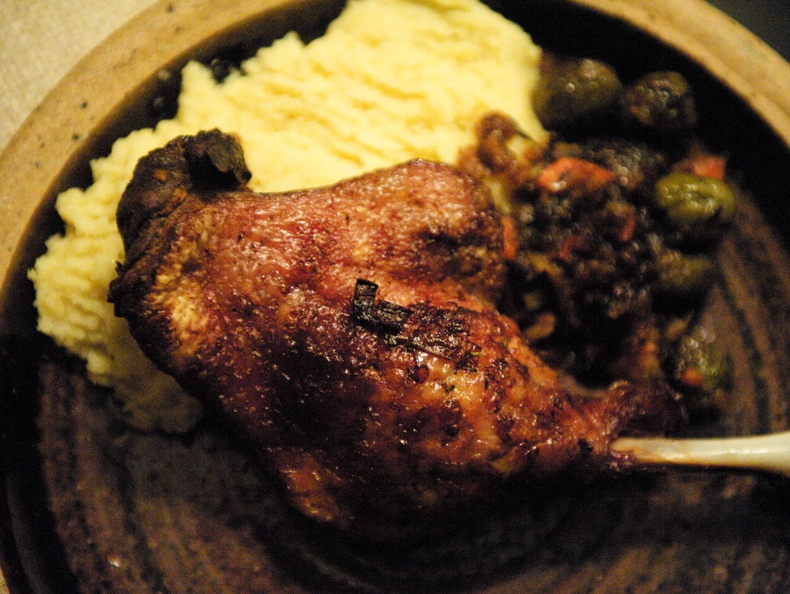 One of my favorite quick and easy dinners is to quickly sear a couple of confit duck legs (my nephew Chase used to call it "comfy duck") and plop them on top of a nice mound of sauerkraut with a few juniper berries and let the whole thing roast for a bit. Toss a salad and you're done. So I was a little thrown off my game when G unpacked a couple of fresh duck legs the other day. What the hell am I going to do with all that fat? was my first thought. But then I laid hands on Alice Waters' incredible The Art of Simple Food and there was the perfect recipe for Braised Duck Legs with Leeks and Green Olives (two other ingredients I just smugly happened to have on hand, along with the required stock, wine, carrot and bay leaf; some day I will do a post on Essential Things to Stock in Your Fridge and Pantry). I got things started, and then G stepped in and brought it on home, stirring up some delicious polenta to go with the duck. It turned out crispy and lush, not fatty at all, and the vegetables caramelized into a delicious sauce.
We ate it in front of a roaring fire and felt very pleased with ourselves. I encourage you to try this very easy and rewarding dish, or use the recipe as a template, adding different ingredients. You could make it with red wine and mushrooms, or with sage and little potatoes, or fennel and oranges...mmm...
Alice Waters' Braised Duck Legs with Leeks and Green Olives
from The Art of Simple Food
serves 4 (you can halve the recipe for 2

— 4

duck legs (drumsticks and thighs, attached)

—

salt

—

fresh-ground black pepper

— 2 tablespoons

olive oil

— 2

leeks, white and pale green parts only, washed and coarsely chopped

— 6 sprigs

thyme, leaves only

— 6 sprigs

parsely, leaves only

— 1

bay leaf

— 1 cup

green olives

— 1/2 cup

white wine
Trim the excess fat from duck legs. Several hours ahead or the night before, season with salt and pepper. Cover and refrigerate.

Preheat the oven to 425°F.

In an ovenproof skillet just large enough to hold the duck legs comfortably, heat the olive oil. Add the leeks and carrot. Cook over medium heat for 3 minutes. Stir in additional salt, thyme, parsley sprigs, bay leaf, and olives. Cook for 3 more minutes. Place the duck legs in the skillet, skin side down. Add to the skillet white wine and chicken broth with lemon zest.

The liquid should be about 1 inch deep; add more liquid if needed. Raise the heat, bring to a simmer, and immediately put the skillet in the oven. After 30 minutes, take the pan from the oven and turn the legs skin side up. If necessary, pour off and reserve some of the liquid so that all the duck skin is exposed. Turn the oven down to 325°F and continue cooking for 1 to 1 1/2 hours more. The duck is done when the skin is browned and the tip of a knife slips easily in and out of the meat.

Set the duck legs aside and pour the braising juices and vegetables into a small bowl. Allow the liquid to settle, then skim off and discard the fat. The duck legs will render a surprising amount of fat. Taste for salt and correct the seasoning if needed. If it's too thin, reduce the braising liquid to concentrate it. Pour the liquid and vegetables back into the skillet with the duck legs on top. Just before serving, return to a simmer and reheat for a few minutes.





Download Recipe