11.2.09
You Say Chickpea, I Say Garbanzo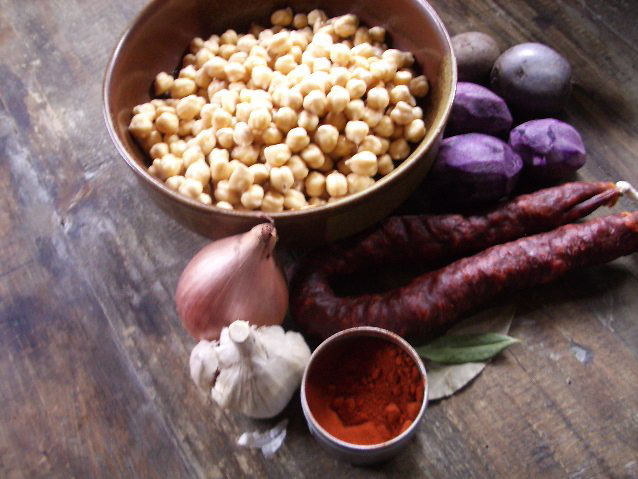 A chickpea (Cicer arietinum) by any other name—garbanzo bean, Indian pea, ceci bean, bengal gram, Kabuli chana, konda kadalai, kadale kaalu, sanaga pappu, shimbra, Kadala—still tastes as delectable. High in protein and low in fat, this legume is also a good source of zinc. Evidence has even shown it to be helpful in lowering cholesterol. These little nougat-colored beans are extremely versatile, showing up in soups, purees, flour and even as a fried snack. The rich, nutty taste is widely featured in Indian and Mediterranean cooking. I love garbanzos paired with chorizo, stewed and served with a drizzle of olive oil. Maybe a glass of nice red. To me, this is a taste of Spain.

Although this recipe can be made with canned chickpeas, perhaps you'd like to try using dried beans. It really does improve both the flavor and texture, and the only real difference is time.
Garbanzos Stewed with Chorizo
serves 4
— 1 1/2 cups

dried garbanzo beans (chickpeas)

— 1 tablespoon

olive oil

— 1

dried chorizo sausage (about 8 ounces) cut into small chunks

— 2

cloves garlic, minced

— 1

large shallot, diced

— 1

bay leaf

— 1/2 teaspoon

spicy pimentón

— 1 quart

good quality chicken or vegetable stock

— 5-6

small potatoes (I used purple Peruvians), cut into chunks

—

salt & pepper to taste
The night before, place garbanzos in a large, nonreactive bowl with water to cover. Soak overnight.

The next day, drain garbanzos and discard soaking water.

Heat oil over high heat in a large stockpot or dutch oven, and sautee garlic, shallot, bay leaf and pimentón for a few minutes. Add chorizo and sautee a few minutes more, until it begins to brown and shallot caramelizes a bit.

Pour in garbanzos, stir well to coat and sautee for a minute or two. Then add stock and potatoes and turn heat down to medium. Bring just to a boil, then reduce heat to maintain a low simmer and cook, partially covered, until beans are al dente, about 2 ½ hours. (Depending on the age of your beans, this may take more or less time.)

I like this dish on the dry side, but if you like it soupier, you can always add more stock or water as it begins to be asborbed. You can also add diced carrot, or stir in some greens, like spinach or kale. Personally, I prefer it as written.

When the beans are cooked through, serve in a bowl, drizzled with spicy olive oil and a sprinkling of crunchy sea salt.



Download Recipe