7.30.09
Jammed Up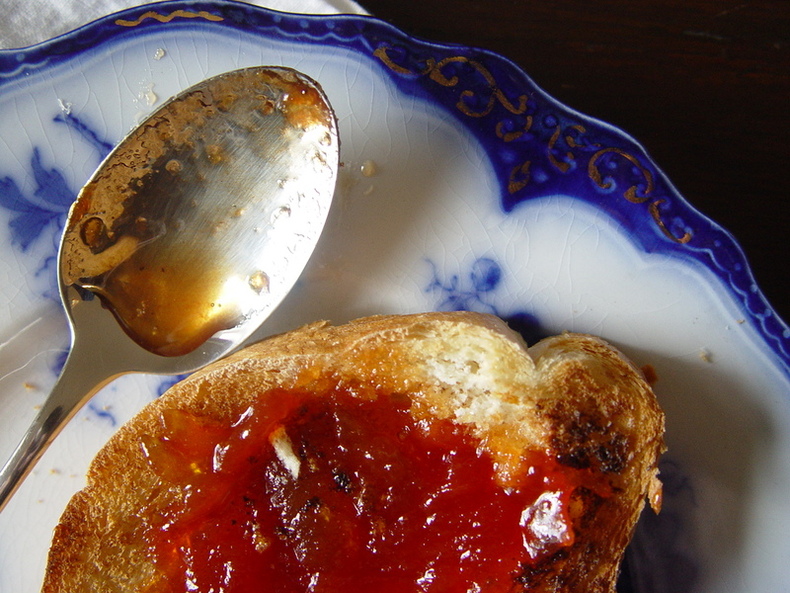 Last summer I got it together to can a bunch of beautiful produce from the farmers' market in Union Square. Among the best things I made was pickled okra and this addictively sweet-spicy tomato jam, which is unbelievably delicious. The nice thing is, if you are canning-phobic, you can make this recipe as written and just keep a pint in your fridge. It's chunky, gooey and absolutely divine slathered on a cracker with goat cheese, alongside grilled meats and roast chicken or straight from the jar on a spoon. I multiplied the quantities by 10 for canning and would do so again—in a year when I am not otherwise occupied in packing to move house.
Spicy Tomato Jam
makes about 1 pint
— 1/8 teaspoon

ground cloves

— 1/4 teaspoon

ground cardamom

— 1/4 teaspoon

ground cinnamon

— 1 teaspoon

ground cumin

— 1 tablespoon

diced crystallized ginger

— 1 tablespoon

minced fresh ginger

— 2 tablespoons

fresh lime juice

— 1 cup

sugar

— 1 1/2 pounds

good ripe tomatoes (Roma are best), cored and coarsely chopped

— 1 teaspoon

salt

— 1 generous pinch

red pepper flakes

— 1

jalapeño or other spicy pepper, stemmed, seeded and minced
Combine ingredients in a heavy saucepan and bring to a boil over medium heat, stirring often.

Reduce heat and simmer, stirring occasionally, until mixture has consistency of thick jam (about 1 hour 15 minutes).

Taste and adjust seasoning, then cool and refrigerate until ready to use. Will keep several weeks or more (but you'll eat it all before then). Or, you can process in a water bath. For canning instructions, go here.





Download Recipe