6.28.16
Low-Hanging Fruit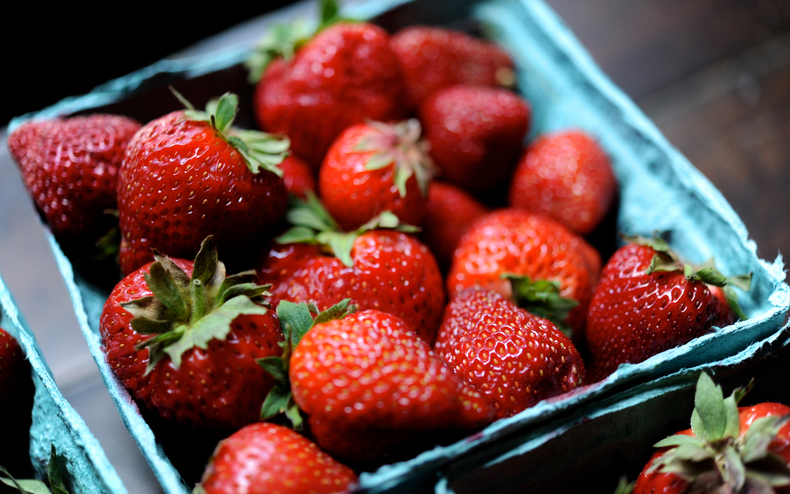 Alice Waters opened Chez Panisse in 1971. It was a place where she and her friends could cook in the classic style of the French countryside, talk politics and drink wine. Since those early days, her commitment to organic, local foods, and to the communities of farmers and artisan producers who make them possible, has never waned. She has supported a return to the traditional growing and harvesting techniques that preserve and enrich the land for future generations. Her cookbooks, so authoritative and inspiring, are always in heavy rotation in my kitchen. Chez Panisse Fruit is a go-to for selecting, storing, preparing and preserving whatever's in season. It is filled with recipes both sweet and savory, but also with some of the simplest, most perfect ideas for enjoying fruit at its peak. (Another favorite, also highly recommended is Pam Corbin's The River Cottage Preserves Handbook.) This is my idea of summer fun.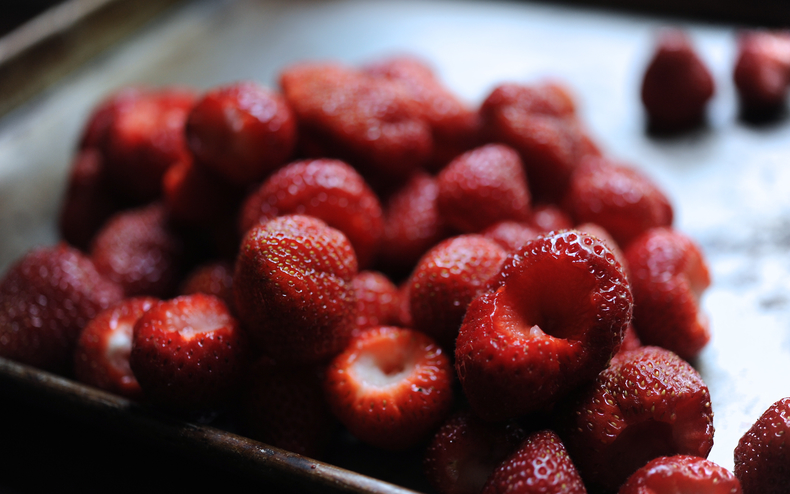 I buy all my summer fruit from Trapani Farms, a fourth-generation fruit and vegetable farm in the Hudson Valley. I'm so grateful they travel to Sullivan County where I live and take a stand every year at the Barryville Farmers Market. On any given week, I generally buy at least a flat of whatever they have. It starts with their gorgeous strawberries followed by several kinds of cherries, then gooseberries, raspberries, blueberries, legendary blackberries, red currants, nectarines, plums, peaches and, in the fall, delicious apples, prune plums and Concord grapes.
Getting to know your farmers—shaking their calloused hands and looking into their smiling, sun-baked faces week after week—really helps you understand what it means to grow good food. Just writing that list of their crops evokes how hard they work and how delicious are the fruits of their labors.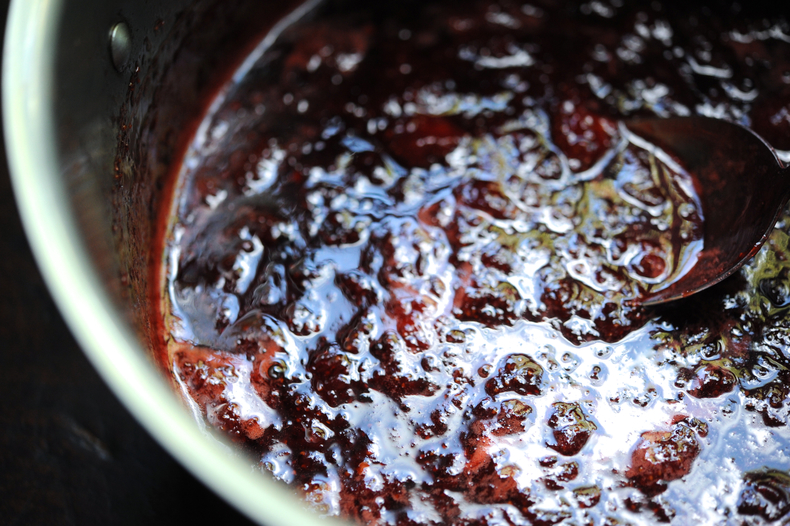 I try to honor their efforts in every way I can. One thing I do is volunteer my time at the farmers market, where I hold a monthly demo from May through October. I offer tastes of simple, fresh preparations of the ingredients available at the market in an effort to inspire people to buy more and cook more. At home, I enjoy the bounty fresh and I preserve it by canning, freezing and drying.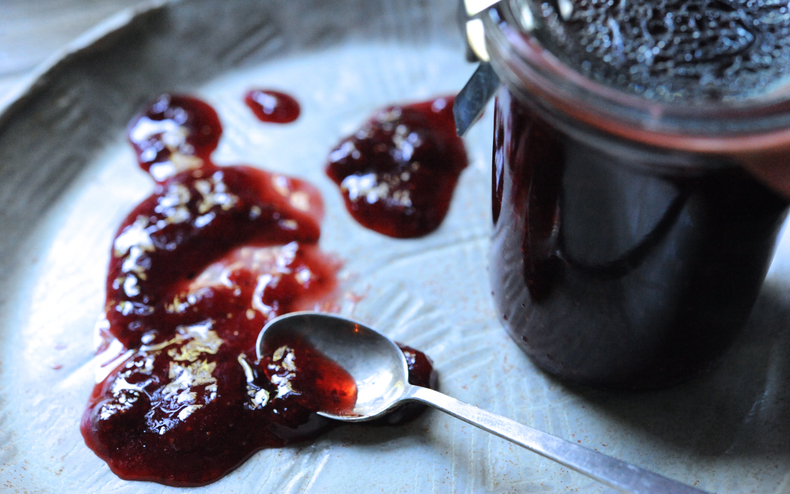 If I'm feeling pressed for time, I may just make some small batches of jam that I share with friends to eat right away. That was the case with this delectable strawberry jam, made with agave, ground coriander and red chile flakes. Since childhood, strawberry jam has been my favorite and this slightly tweaked version speaks to my grown-up palate.
If you're not going to do water-bath canning, you are much more free to improvise with your jam recipes, including reducing the amount of sugar.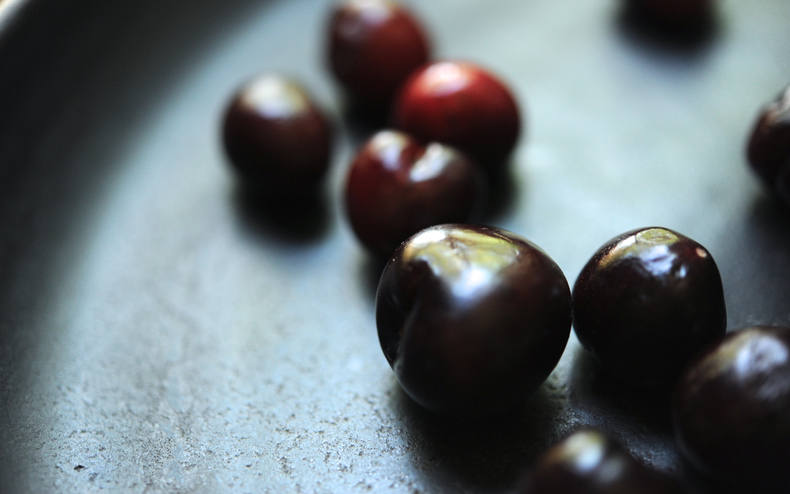 With these cherries—so firm, sweet and juicy—I made a delicious clafoutis (from an Alice Waters recipe) and then decided to pickle the rest. Yes, pickle.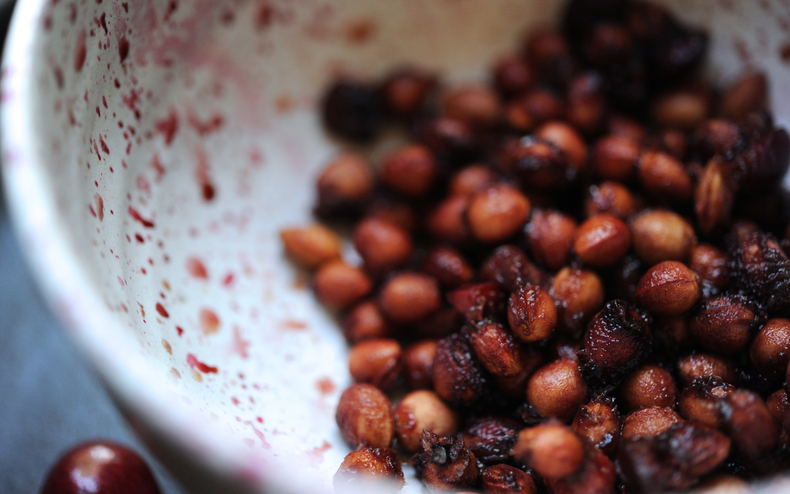 And with the pits? A liqueur, of course! Here are a few other intriguing uses for them.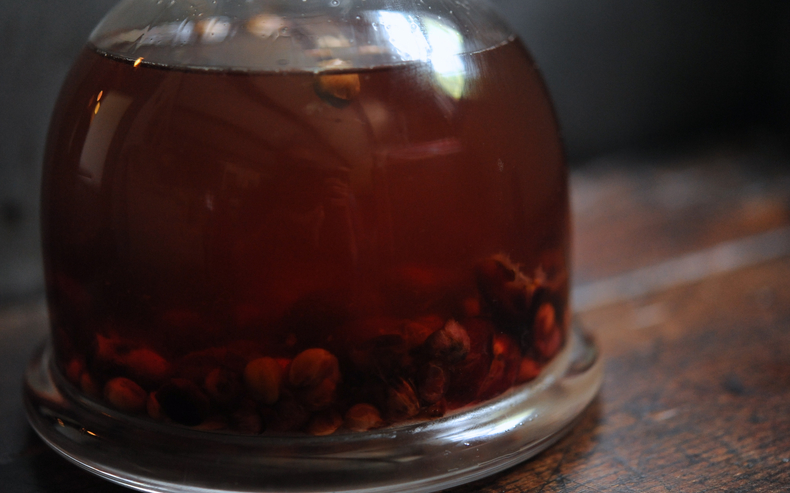 Stone fruit pits contain a soft kernel that tastes of bitter almond. A bottle of vodka—or brandy—is transformed with the addition of the pits from a quart of cherries and a little sugar. After steeping for several weeks, the alcohol takes on a lovely garnet hue and complex flavor. Try this in a cocktail with lemon juice and a little orgeat, a sweet syrup made from almonds and rosewater.
Pickled cherries make a wonderful cocktail garnish and are the perfect condiment on a charcuterie plate. These are steeped in a lightly sweetened brine of cider vinegar spiked with coriander, chile and cardamom. The recipe calls for a few steps over several days because the cherries are never subjected to heat. This preserves the texture of their crisp skin and juicy, silken flesh.
Summer fruit is excellent simply eaten out of hand, of course. Macerated with a little sugar or honey and lemon juice and dolloped with clouds of whipped cream it is sublime. Baked under a pie crust, or a crumble of oats and butter, it is truly irresistible. But preserved every which way, it grows legs and ambles into fall, even winter, when you can dive into it like a long-lost lover.
Pickled Cherries
makes 2 pints
— 4 cups

sweet cherries, stemmed and pitted

— 1 cup

apple cider vinegar

— 1/2 cup

organic cane sugar

— 1/3 cup

water

— 1 teaspoon

sea salt

— 1/2 teaspoon

coriander seeds

— 4

cracked cardamom pods

— 2

bay leaves

— 2

chiles de árbol
Day 1:
 Place the cherries in a bowl and cover with the vinegar. Cover the bowl with a towel or some cheesecloth and let the cherries soak overnight.


The cherries are not cooked or heated throughout the entire process to preserve their texture.


Day 2:
 Strain the vinegar into a nonreactive sauce pan and set the cherries aside. Add the sugar, water, salt and spices to the saucepan. Bring to a boil and then simmer for 15 minutes. Once the brine is cool, pour over the cherries and let them stand at room temperature for 3 days. Again, cover the bowl with a towel or cheesecloth.


Day 5:
Strain the pickling liquid into a nonreactive saucepan and bring to a boil. Remove from the heat and cool. Add the cherries to a warm, sterilized mason jar. Once the brine is cool, pour it over the cherries, completely covering them. Close the jar tightly with a nonreactive cap–either a plastic lid or a two-piece metal lid with a piece of parchment paper in between the jar and the lid. (That will keep it from rusting should the vinegary brine come in contact with the metal lid.)


Store in the fridge or another cool, dark place for at least 1 month before eating. Pickled cherries will keep well, even unrefrigerated, for about 1 year.



Download Recipe