10.22.15
Go and Do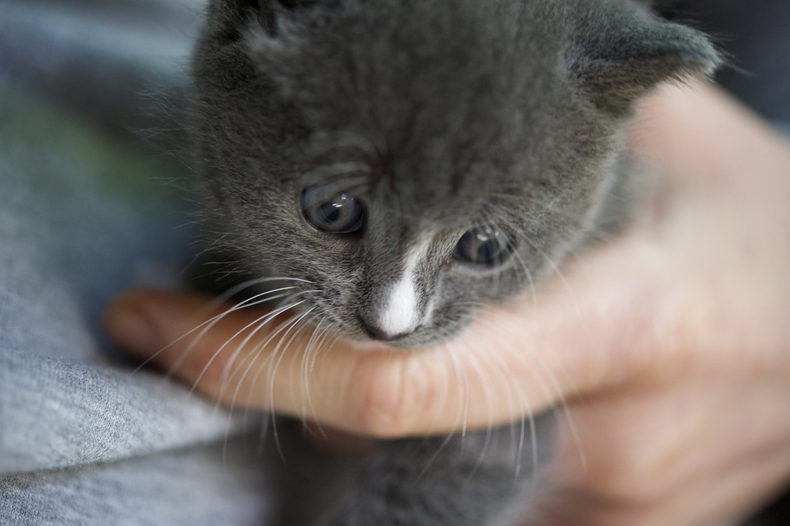 Forgive me, dear reader, it's been seven weeks since my last expression. In that time, I've fostered six cats, flown to France, cooked a feast for 20 people, held two demos at the farmers market, created custom cocktails for an event and worked my regular job as a freelance writer. For these and all the wins of my life, I am truly...oh, never mind. The point is, I'm deeply sorry to have neglected my blog the last couple of months but I've been dancing as fast as I can. The good news? I'm going to catch you up with a series of mouth-watering photos. Starting with this one of Mouse, the sweetest, fluffiest kitten that ever lived. She was the runt of a litter of five born to Janet, a gorgeous black cat who came to our door in July, turned out to be preggers and asked for shelter. What ensued was generally chaos, but all turned out well, and we eventually found loving parents for every last one of those adorable interlopers (after they were weaned, ate us out of house and home and chewed everything in sight). I miss them like hell and am so glad they're gone. Another of life's endless paradoxes.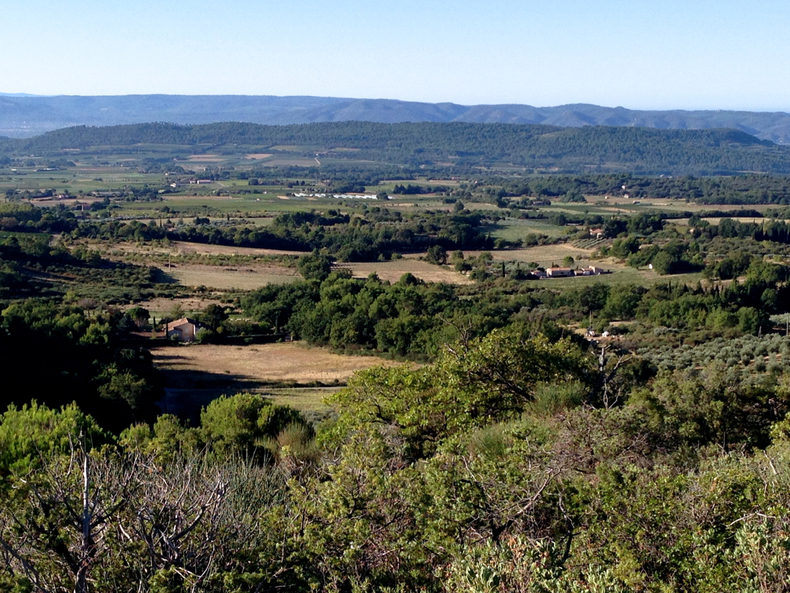 In late September, we spent 8 glorious days in Provence and the Côte d'Azur. G and I were on our own for the first half, based out of a charming stone farmhouse deep in the Luberon, a picturesque region that seems to have changed little in the last eon. Medieval hill towns, vineyards, olive groves and mountains redolent with the renowned herbes de Provence...and the markets!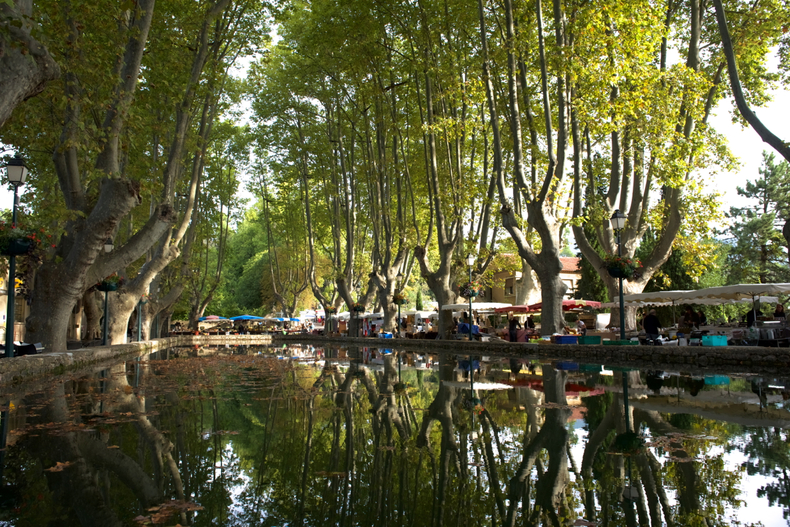 The nearest town was Cucuron, an 11th century stunner whose main square is built around this long étang surrounded by a series of the enormous plane trees (similar to sycamores) that define this region.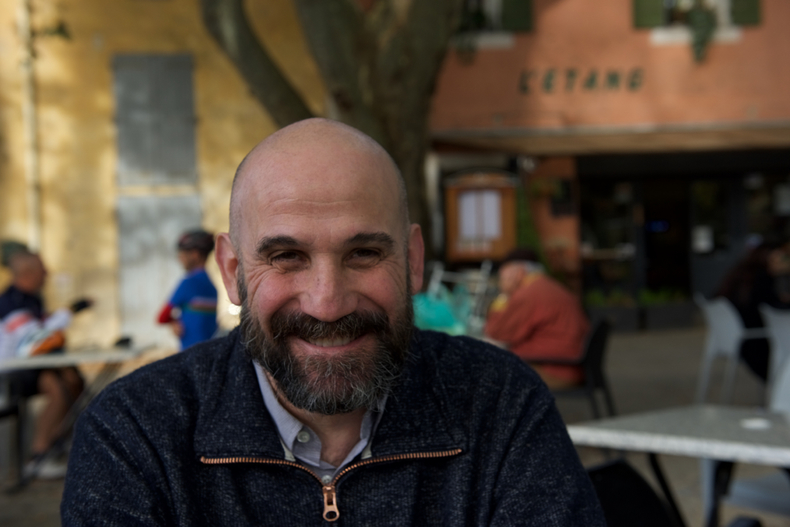 What a joy it was to sit at a little cafe overlooking this beautiful scene while breakfasting on flaky, buttery croissants and café au lait.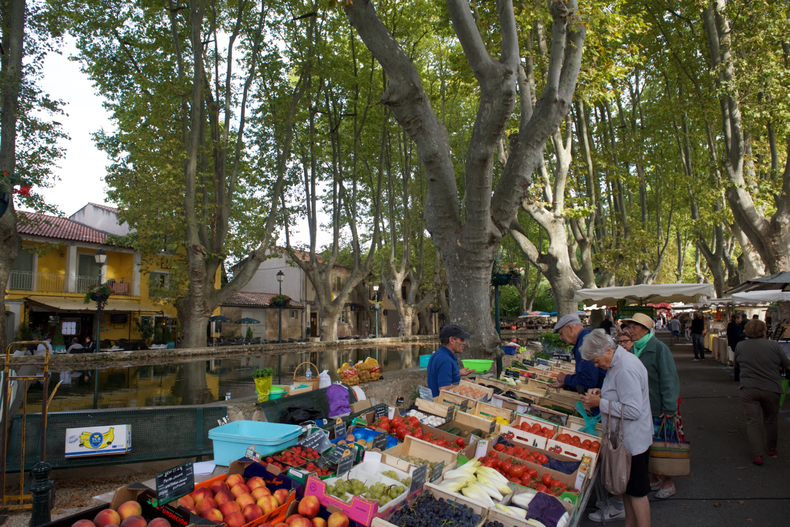 We barely went out to eat when we were in Provence because all we wanted to do was buy the incredible provisions from the markets and have picnics everywhere. We drove from town to small town, depending on which one was having its market day, and each one was more spectacular than the next.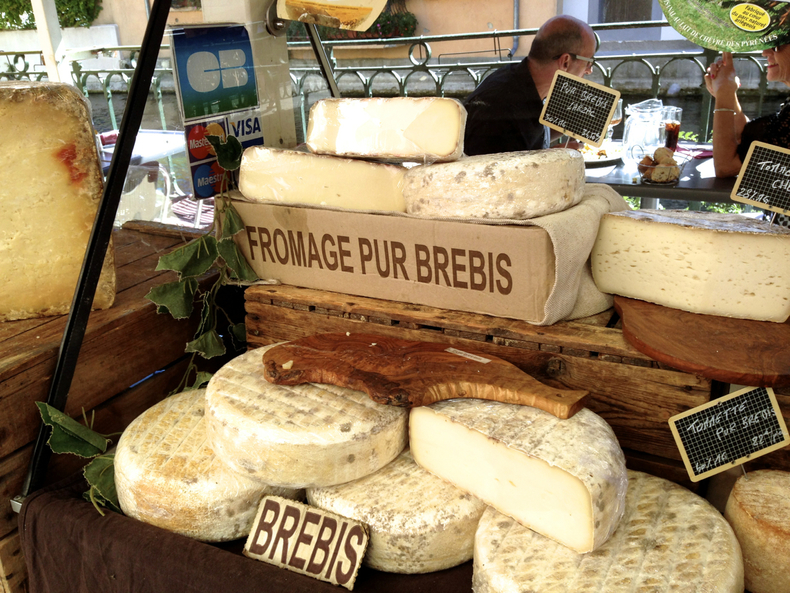 The cheeses were extraordinary, from the classic banon, raw goat's milk wrapped in chestnut leaves, to the gigantic mottled wheels of aged cow's milk cheese to these tangy rounds of sheep's milk cheese known as brebis. I could not get enough of them and, luckily, they were ubiquitous and always of unimpeachable quality.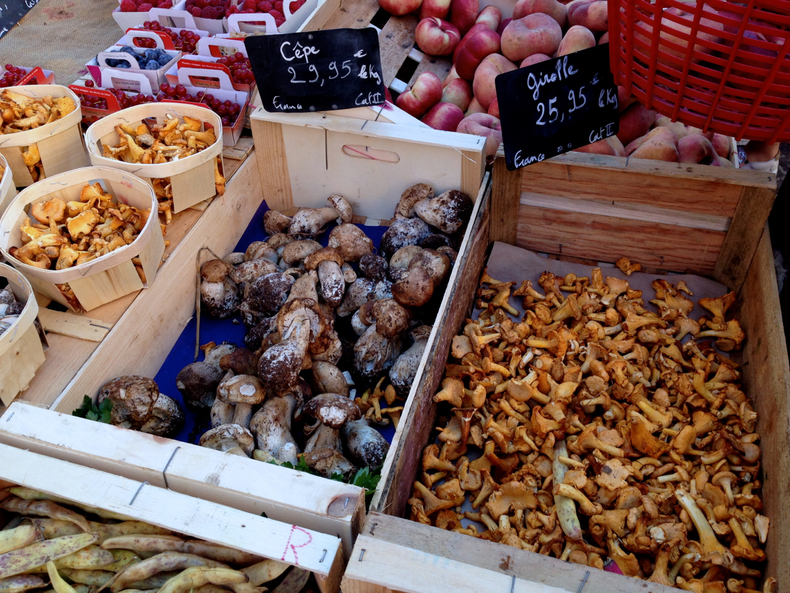 The wild mushrooms made my head spin: cèpes and chanterelles galore, plus other varieties that were new to me. In the enchanting town of l'Isle-sur-la-Sorgue, renowned for its antique markets, G bought me the most wonderful French book on wild mushrooms with incredible illustrations. I'll share it with you soon.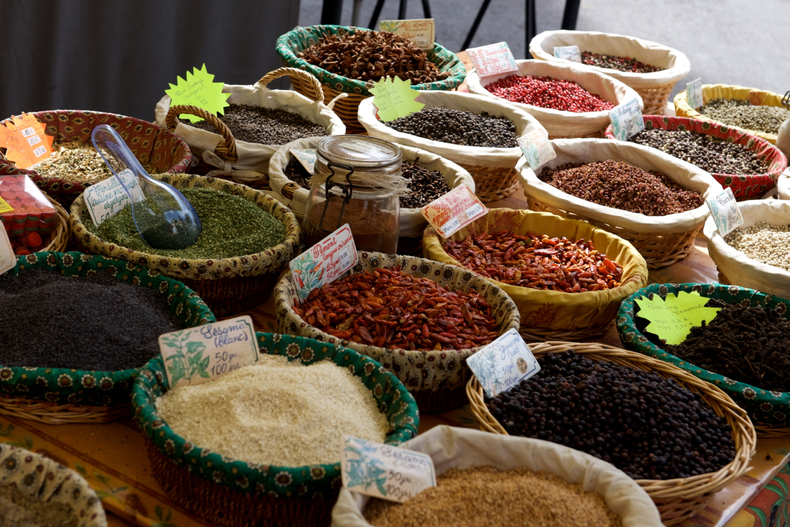 Herbs and spices of all sorts were always a main feature of the markets. I bought licorice root, lavender and the traditional Provençal blend of savory, marjoram, rosemary, thyme and oregano.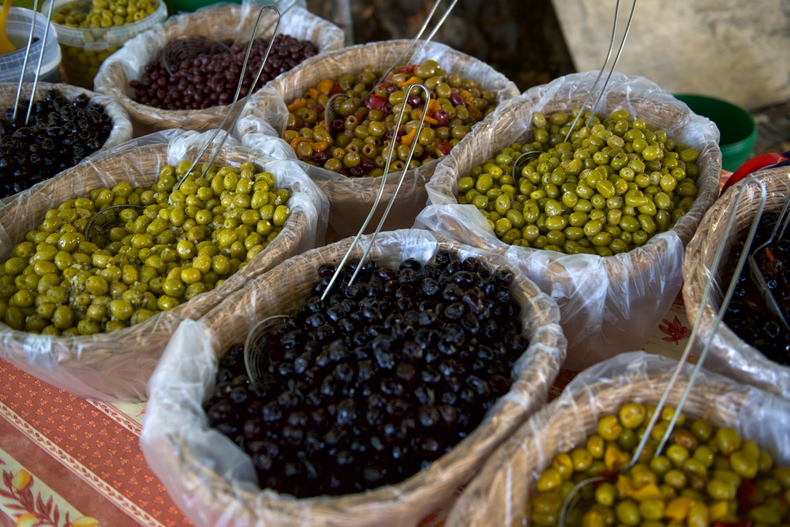 Oh, the olives! Some firm and tart, others silken and oily...something so incredible about eating them when you are surrounded by groves of the trees flashing their silvery leaves in the fall sunshine.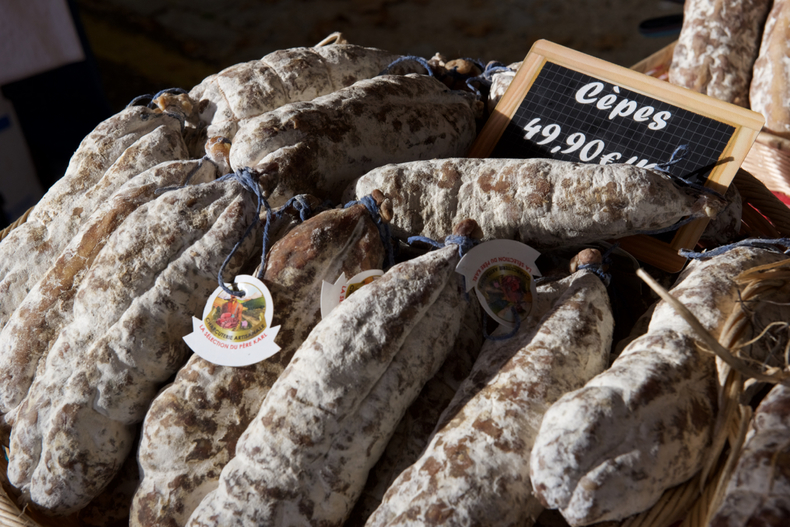 The sausages blew our minds! (Enough so that I signed up for a sausage-making workshop at Dickson's later this month.) They came in so many flavors—spiked with fig, with truffles, with fennel, with herbs, with chiles, with nuts—each one more fabulous than the next. To drive out to the middle of a vineyard, pop the trunk and lay out a feast of roast chicken, sausage, cheese, baguettes, mustard, salted butter, ripe figs and grapes was a dream come true. And don't get me started about the rosé...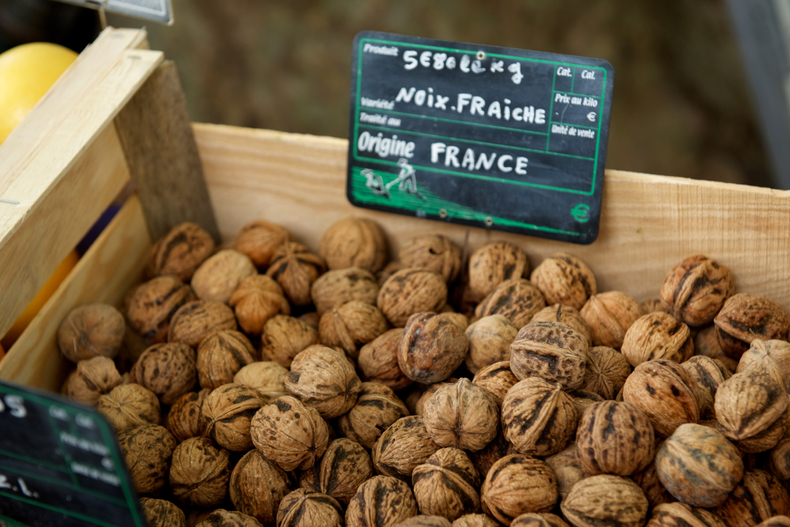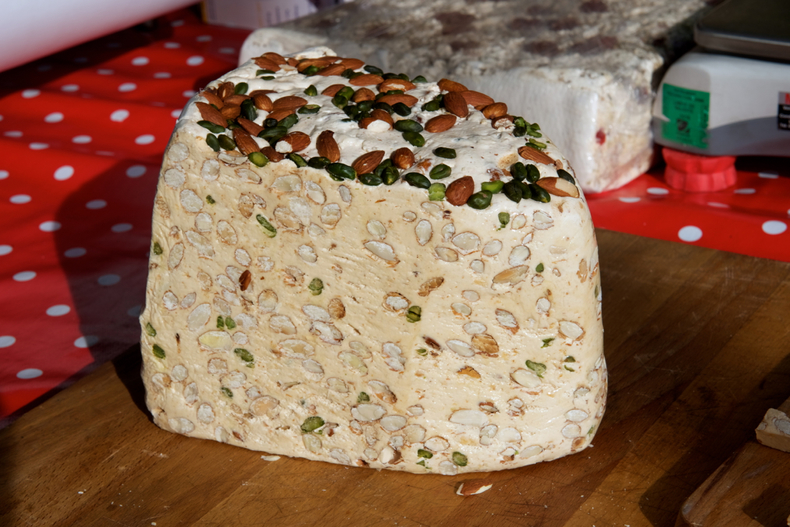 The handmade nougat, containing nothing but egg whites, sugar, local honey and nuts, is fantastic. G accidentally bought 70 euros worth! This one had the most amazing pistachios.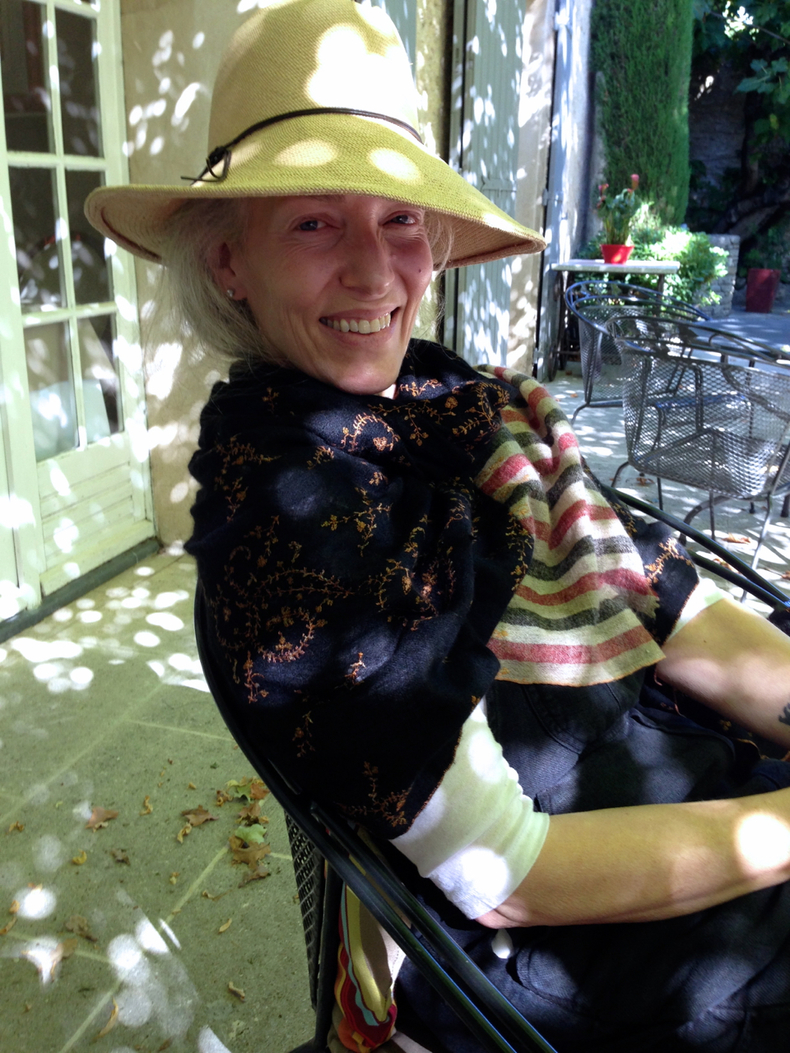 As you can see, I was in the zone. And who wouldn't be, after discovering this off-the-beaten-track, Michelin-starred restaurant where we had the garden all to ourselves? The cheese plate was heaven.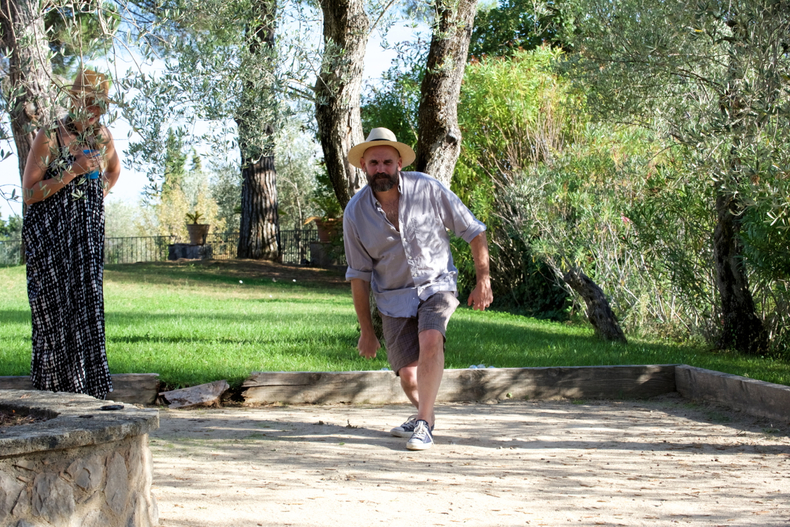 From Provence, we went to Cabris, a little town near Nice, where we rented a palatial villa with 16 friends to celebrate a milestone birthday. This place had everything from a swimming pool to a huge terrace with a view to a wood-burning grill to a pétanque court. There were boozy dinners at the house (again with the rosé) and one special night out here, field trips to the Maeght Foundation and Jean Cocteau's house, and not enough hours in the day to soak it all in.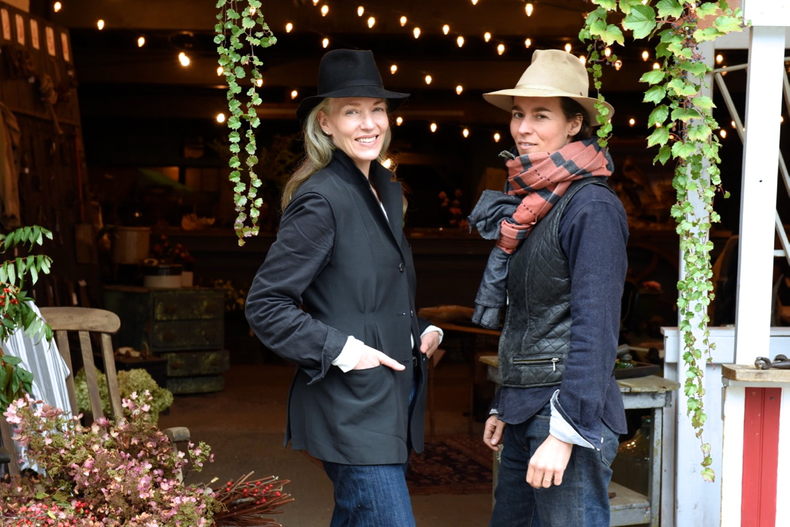 Upon my return home, I threw myself into preparing The Feast of the Senses, a dinner for 20 people I created along with my partner, Juliette Hermant, and dancer/yogini/teacher extraordinaire TaraMarie Perri, as part of the Narrowsburg Honey Bee Fest. Here I am with Juliette at the threshold of her antiques store, Maison Bergogne, future site of Fish & Bicycle, the bar/café we are planning to open next spring.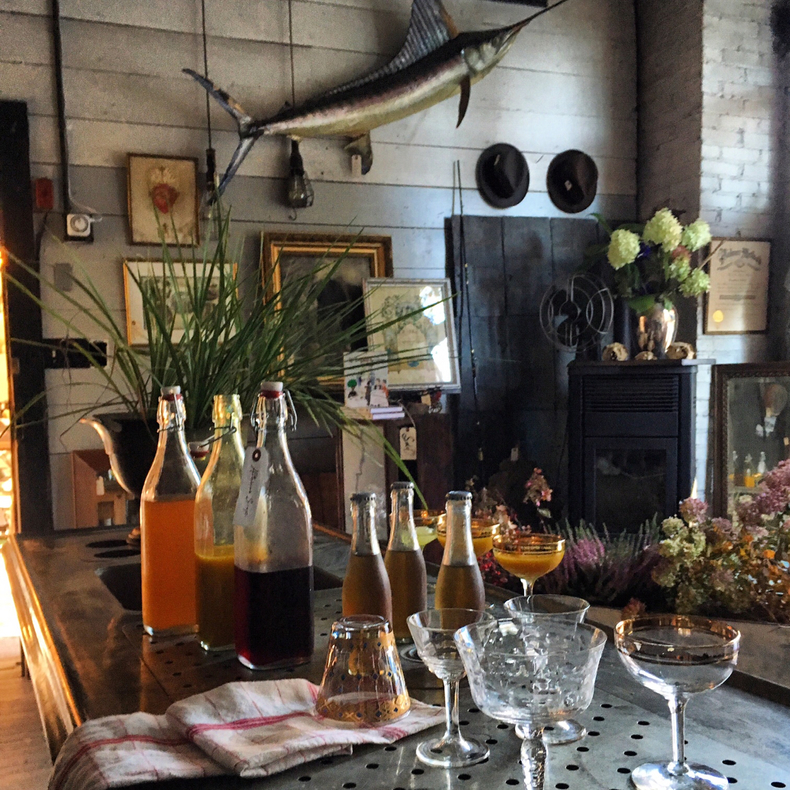 Juliette has a gifted eye and a distinctly French appreciation for the patina of age on pieces both functional and decorative. Together we make beautiful music.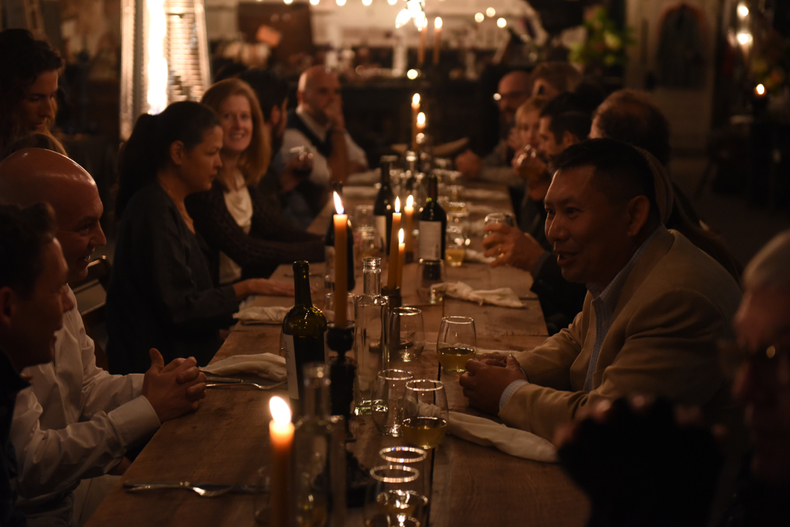 The Feast was held in this cavernous 1920s industrial building, gracefully decorated and illuminated largely by candlelight. I prepared six courses, several of which were presented away from the table, including the soup course which was held outside, where a 48-hour bouillon was ladled out of an enormous copper cauldron suspended over a bonfire.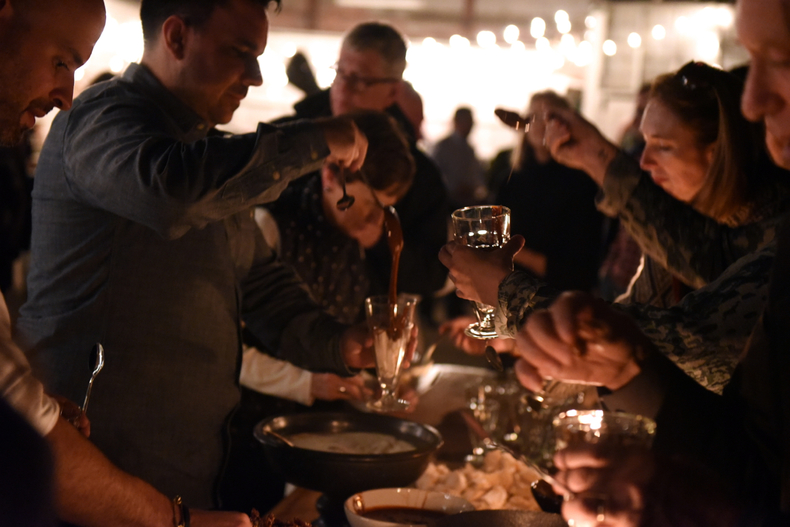 One of my favorite moments was the dessert buffet, where diners created their own parfaits out of an assembly of ingredients that included broken meringues, whipped cream, goat's milk caramel, honey-glazed pecans studded with bee pollen, whisky-soaked raisins and apple butter. The joy was truly palpable.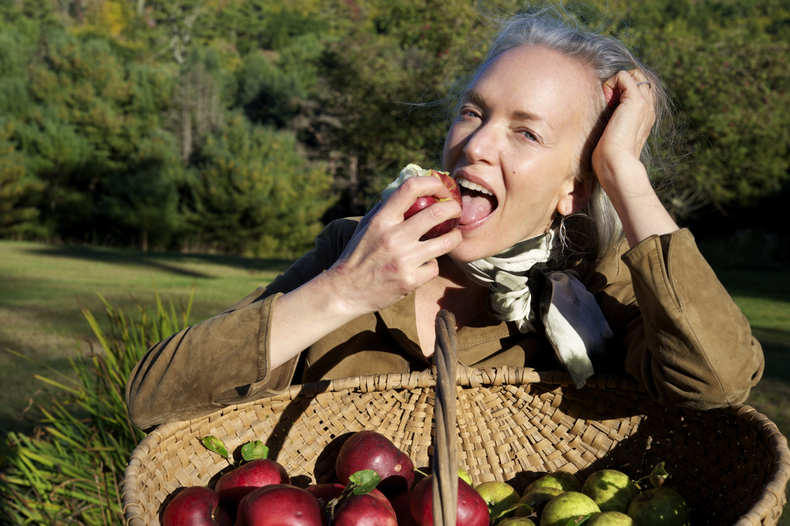 And there was still fall to experience! Apples to pick, mushrooms to find, leaves to admire, jams to make...this time of year is so full. I was watching a little red squirrel scurry across our back fence, making endless trips to ferry tidbits to its lair, and I could relate.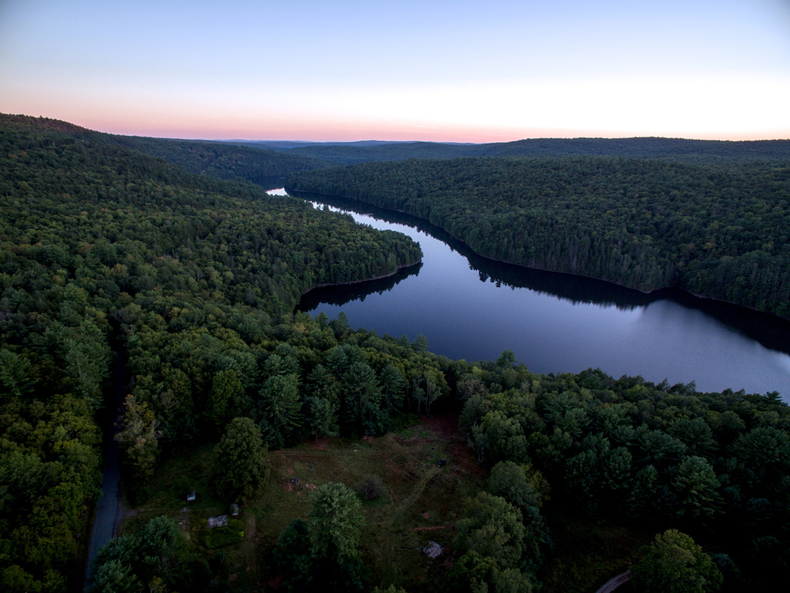 After being away, there's no better feeling than sinking back down into the comfort of home. This aerial photo of our land in Forestburgh (we own that cleared patch) really showed me how much I have to be grateful for right here. I've got a lot going on, but there's always time for that.