8.11.15
I Smell a Ratatouille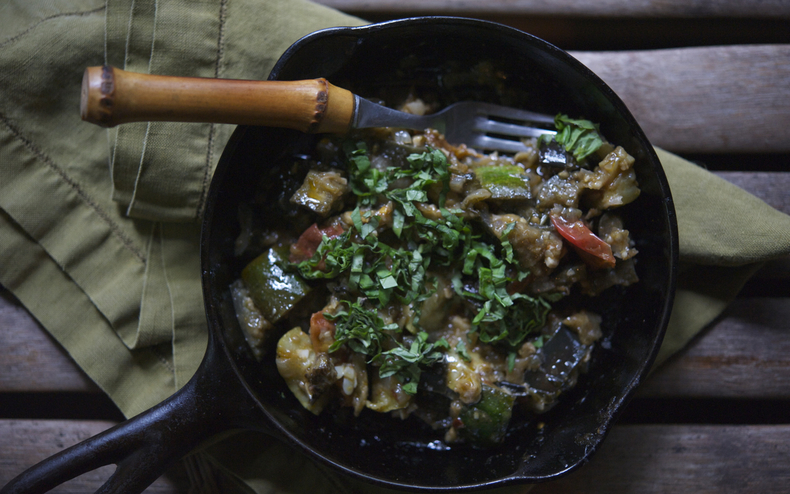 You may not know this about me (though it is mentioned here), but ratatouille is one of my very favorite words. I love to trill the r and the whole concatenation of sounds just feels so marvelous tripping off the tongue. (And the movie was pretty fabulous, as well.) The dish itself has never held quite the same appeal, mostly because I shun bell peppers. But when candy-sweet cherry tomatoes, firm zucchini, lush basil and fresh garlic are flowing from the garden, and gorgeous Japanese eggplants are piled high at the farmers market, this humble Provençal vegetable stew definitely comes to mind. Here's my twist on a beloved classic.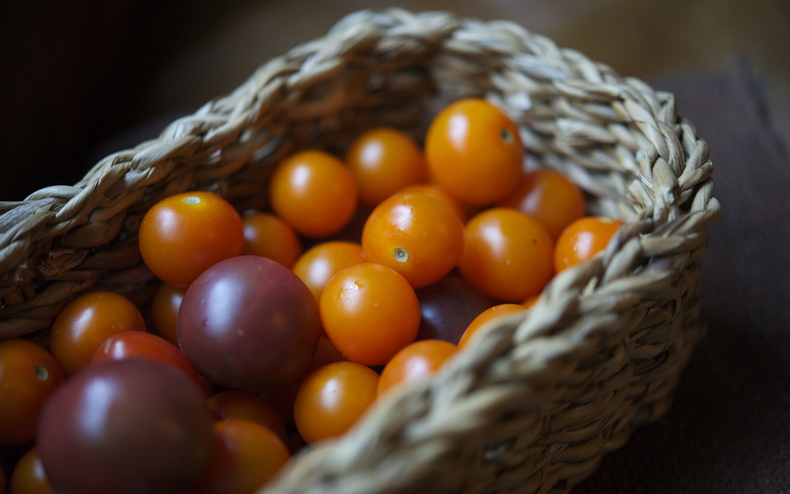 The vegetables in ratatouille are typically sautéed individually, then layered into a baking dish to roast until done. This is about keeping the flavors distinct, I think, and not overcooking any one ingredient, but I actually prefer everything stewed together so the flavors meld. I like fewer tomatoes than called for in most recipes, and find that cherry tomatoes provide little bombs of sweetness within this dish.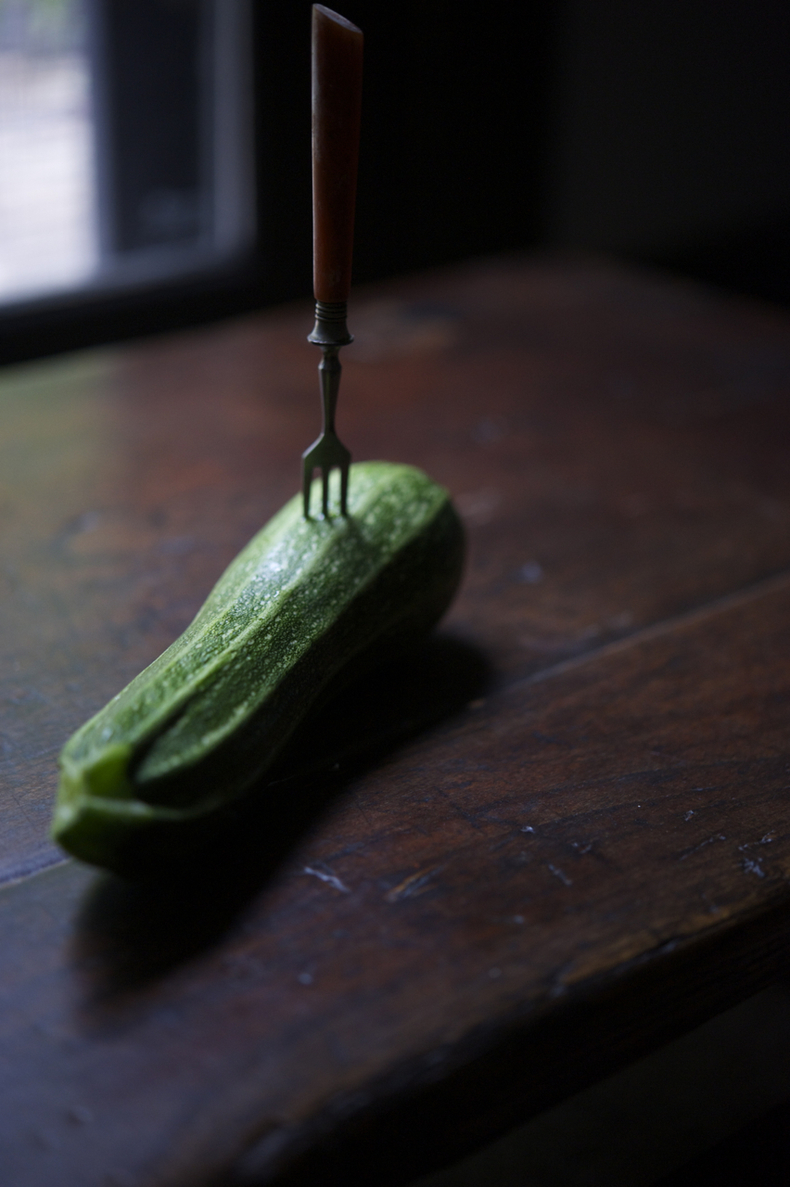 Any kind of zucchini will do. We happen to love this ribbed Romanesco variety with its beautiful mottled skin.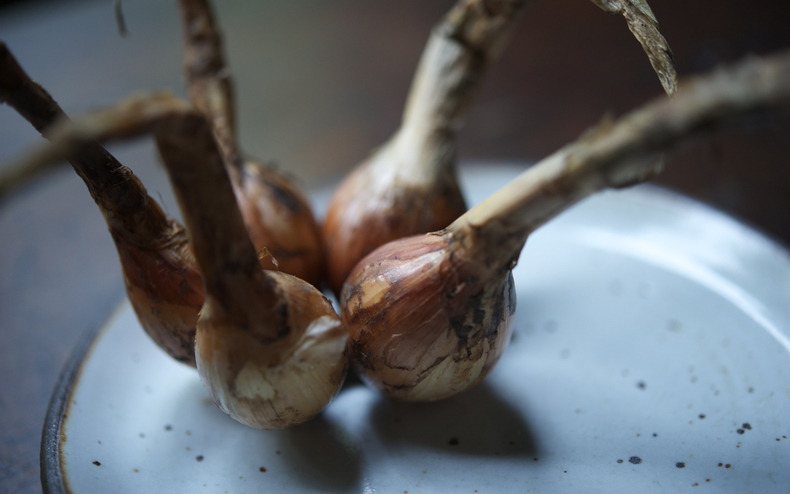 I start my ratatouille by simmering lots of shallots or sweet onions with plenty of garlic in a generous pool of good olive oil. Then come small chunks of eggplant and zucchini, halved cherry tomatoes and some fresh marjoram and basil. A little sea salt, freshly ground pepper, perhaps a bay leaf, a few maverick chile flakes and some fennel pollen add layers of interest.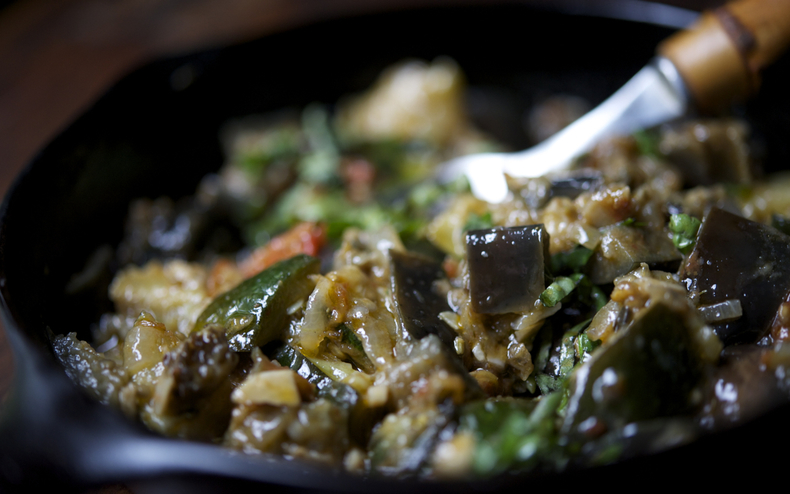 Cook this into a soft, almost jammy consistency—though the vegetables should still retain their integrity. Stir in more olive oil if you dare, and a little vinegar or lemon juice as needed for balance. Fish out the bay leaf and release a flurry of fresh basil on top.
Ratatouille is delicious hot, at room temp or cold. It is wonderful folded into an omelette or as a filling for savory crêpes. Eat it on toast or as part of a composed salad, alongside roasted fish or with grilled lamb.
Or just spoon it into your mouth, straight from the pan, and taste the essence of summer as it waxes and wanes.
Ratatouille
serves 4 as a side dish
— 6 tablespoons

extra-virgin olive oil

— 1 cup

diced sweet onion or shallot

— 4

large cloves garlic, minced

— 1/2 teaspoon

sea salt

— 2

medium Japanese eggplants, in 1" cubes

— 1 large

zucchini, in 1" cubes

— 1/2 pint

cherry tomatoes, halved

— 2 teaspoons

chopped fresh marjoram

— 2 tablespoons

chopped fresh basil, plus more for garnish

— 1

bay leaf

— 1/4 teaspoon

red chile flakes

— 1 tablespoon

fennel pollen

— 2 teaspoons

red wine vinegar or lemon juice
In a large, heavy skillet, warm olive oil over medium heat. Add onion or shallot, minced garlic and 1/2 teaspoon sea salt and sauté, stirring frequently, until very soft and golden, about 15 minutes. Add eggplant and zucchini and cook for 10 minutes before stirring in tomatoes, herbs, chile flakes and fennel pollen. Stir to coat everything well in the olive oil, lower heat and gently cook until vegetables are all quite soft, about 20 minutes more.


Cool slightly, then taste and adjust seasoning, adding more salt, freshly ground black pepper, and vinegar or lemon juice as desired.


To serve, remove and discard the bay leaf, swirl in a little more olive oil and garnish with chopped fresh basil.



Download Recipe