7.7.15
Remember Me?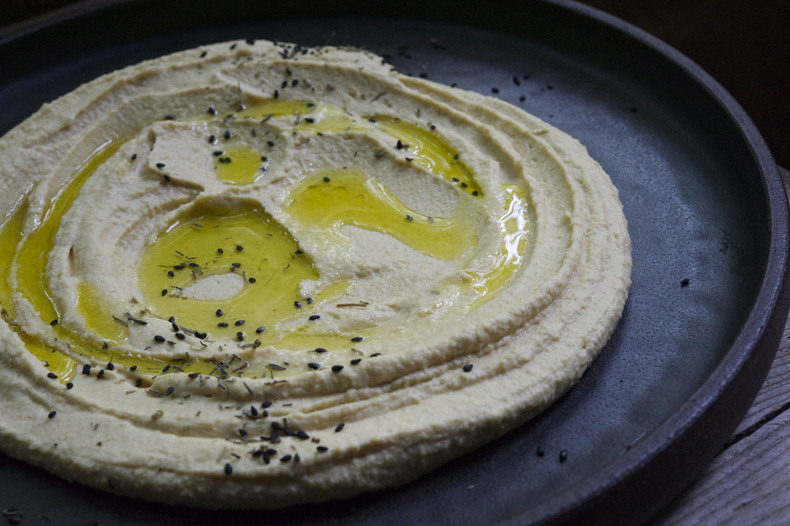 Forgive me, reader, for I have sinned. It's been more than a month since my last post. And still no pictures from my trip to Lebanon and Greece! It's not exactly mea culpa. My husband's laptop died on the way home and it's taken several weeks to recover the data, including all the photo files downloaded during our travels. (But kudos to the geeks of Tekserve for recovering everything!) So, images of the Aegean are forthcoming. And as penance for my long absence, I am considering not taking the month of August off as I usually do. To further placate you, I come bearing the definitive recipe for hummus, one that is so light, fluffy and creamy, you will feel instantly transported to the Middle East, where, wearing rustic leather sandals and a smock of gauzy linen, you will recline in the shade of an ancient olive grove and be soothed by balmy breezes.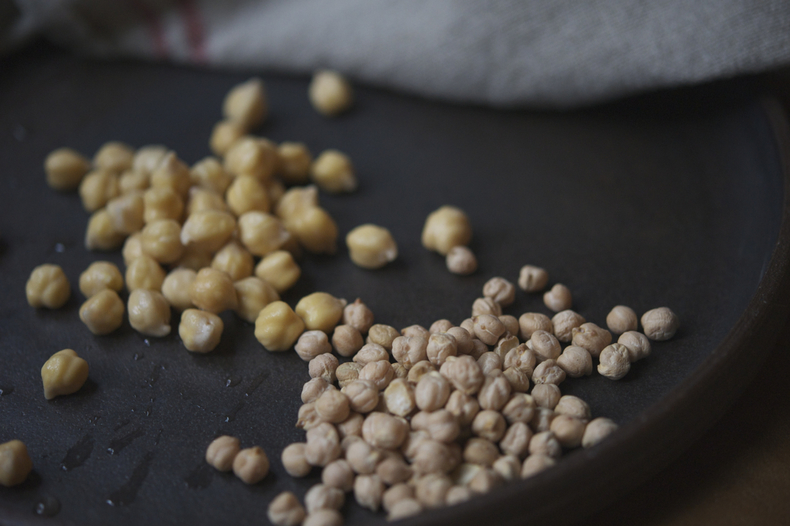 Friends in Beirut took us down to the corniche for dinner. This seaside promenade is lined with palms, a dazzling array of blinged-out yachts and many waterfront hotels and restaurants. It was a lovely meal, but all I remember clearly is the hummus. It was almost unrecognizable—so pale and ethereal I thought it was whipped cream. And, indeed, after a bit of research, I encountered a few recipes for Lebanese hummus that include a bit of strained yogurt. I don't think that's the norm, though, and I was determined to keep mine dairy-free.
Need I say that the best hummus is made from scratch? That means dried chickpeas. You are welcome to take any shortcuts you like, but I cannot guarantee the results. Soaked overnight, the legumes plump up beautifully. One Lebanese source told me her mother rubs the soaked chickpeas between two dish cloths to slough off the skins before cooking, but I found this rather difficult. I also wasn't sure how this might affect the consistency of the cooking liquid, which, as you will see, comes into play later on.
I toss a couple of cloves of garlic in with the chickpeas during the last 10 minutes of cooking to soften their strong taste. This is a trick I learned from making Daniel Boulud's Grand Aioli and it's pretty genius.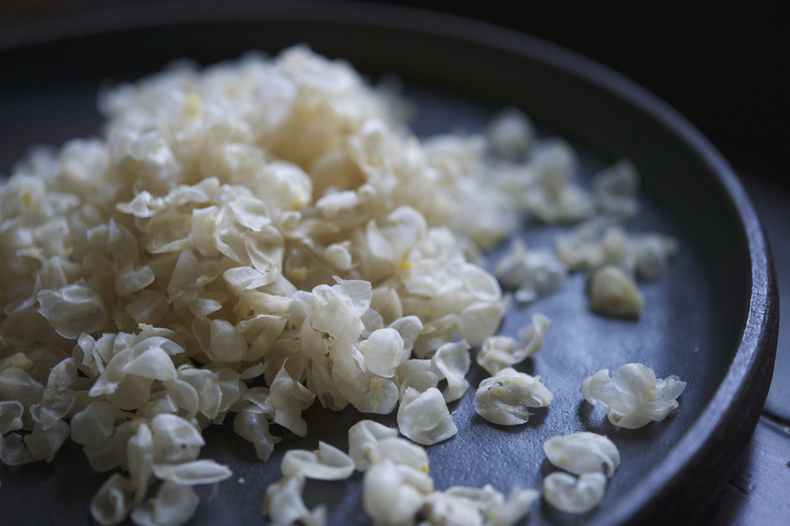 In order to achieve that smooth and silky consistency, the skins must be removed, but I do it after cooking. A teaspoon of baking soda in the water helps them slip off easily and also decreases the cooking time. Yes, it's a pain in the arse, but here are some things you can do simultaneously:
Daydream.
Talk to your child or partner. (Or have them do the skinning!)
Watch this fantastic documentary about the awesome Nina Simone.
Catch up on Splendid Table, Fresh Air or Dinner Party Download podcasts.
Listen to Pokey Lafarge's new album Something In The Water.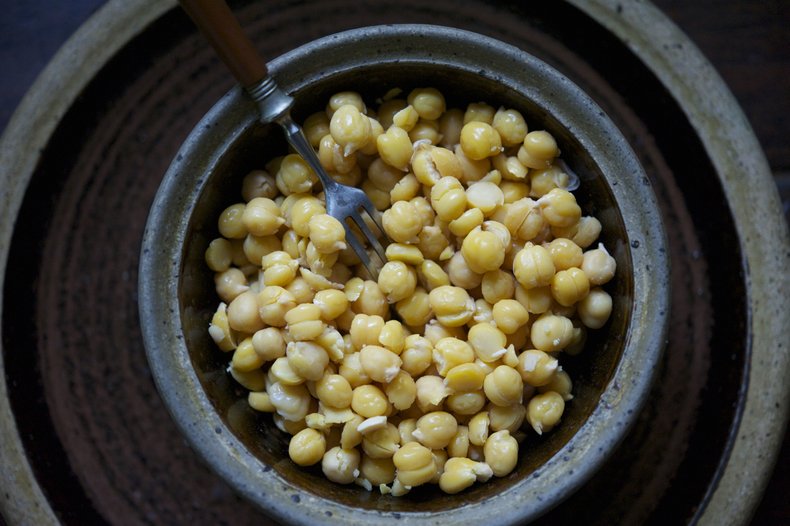 By the time you get your chickpeas denuded, the cooking liquid is probably cooled (especially if you popped it into the fridge for bit).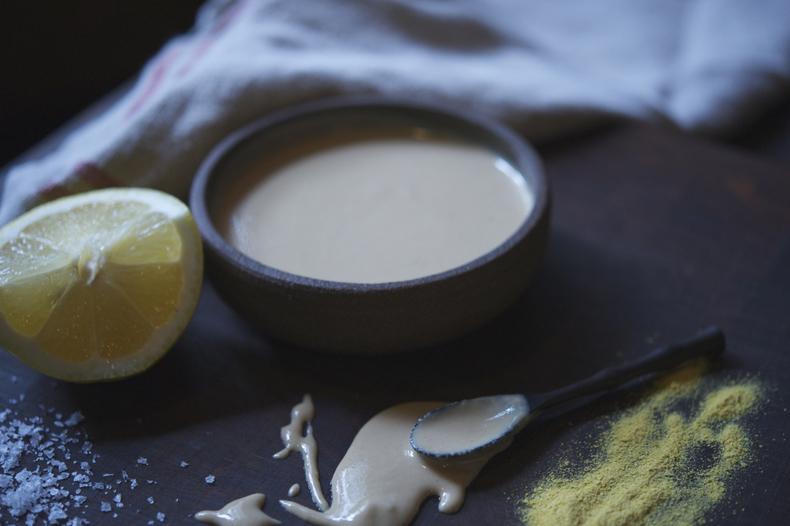 Assemble your remaining ingredients: tahini, the rich sesame paste; olive oil; fresh lemon juice; sea salt; and, my own unorthodox addition, nutritional yeast. I don't like an overpowering taste of sesame, which is why I add less tahini and incorporate some olive oil to compensate. The nutritional yeast adds a subtle boost of umami. As I mention in this previous post about hummus (worth reading for a little background and context), every cook's recipe varies according to her preferences, much like when making curry or chili—or anything, really.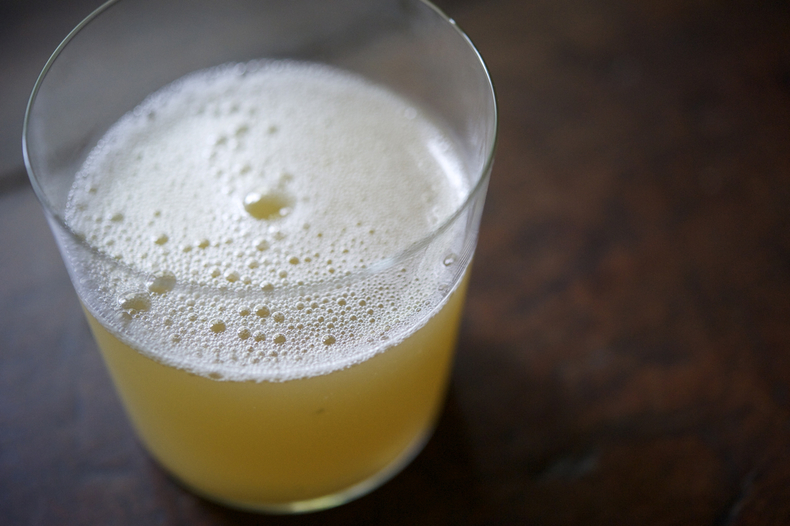 And then something truly unusual happened. Just as I was racking my brain for ingredients or techniques that could help me replicate the hummus of my dreams, I came across an internet hysteria about aquafaba. (It now has its own website; Food52 feature; and Facebook group.) Aquafaba is the invented name for the liquid from a can of beans (or chickpeas), or from cooking your own.
Once it was something you simply poured down the sink. Now, it can be whipped into VEGAN MERINGUE. It seems impossible, but this viscous liquid, this bean water, if you will, mounts up into frothy white peaks much like those made from egg whites. With the addition of sugar, these peaks become stiff enough to bake totally respectable meringues that do not taste of bean. It's also being used as an egg replacement in all kinds of baking, where it enhances the crumb and texture of cookies and cakes.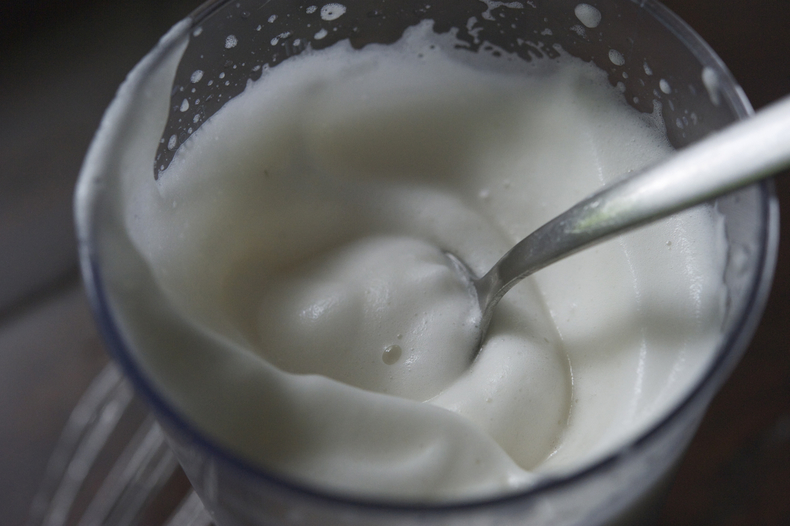 Even without sugar, my homemade aquafaba attained soft peaks with just 5 minutes or so of whipping. I folded it into my hummus and it was definitely instrumental in the light, fluffy texture. I also took one final step: passing the hummus through a fine-mesh strainer, much as you would a classic potato puree.
This hummus requires a great deal more effort than simply opening one of those plastic tubs of the stuff from your grocery store. But the two are literally worlds apart.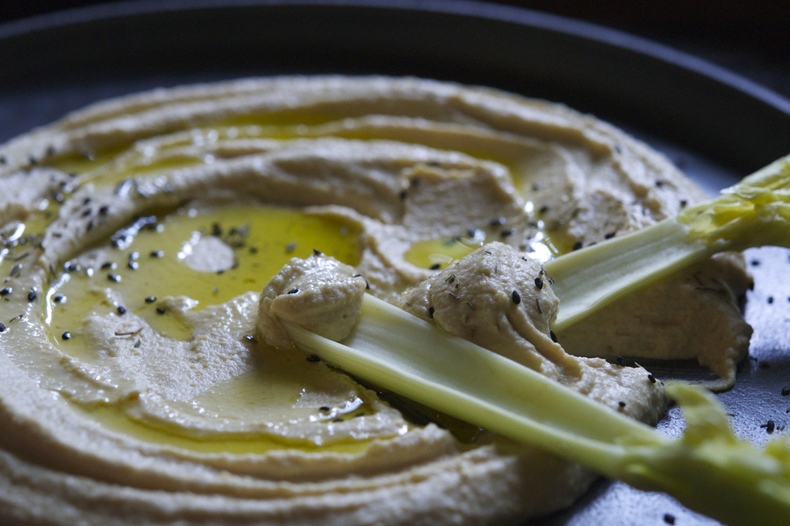 Drizzled with spicy olive oil and sprinkled with a few black sesame seeds, my hummus is fit for the gods on Olypmus. And even minor deities deserve the royal treatment sometimes.
Hummus 2.0
makes 3-4 cups
— 1 1/2 cups

dried chickpeas

— 1 teaspoon

baking soda

— 1 teaspoon

sea salt

— 2

cloves garlic, peeled

— 5 tablespoons

tahini

— 3 tablespoons

olive oil

— 4 1/2 tablespoons

fresh lemon juice

— 2 teaspoons

sea salt

— 2 teaspoons

nutritional yeast

— 3/4 cup

aquafaba (chickpea cooking liquid), whipped into soft peaks
In a large bowl, cover dried chickpeas with water and soak overnight.


The next day, drain and rinse chickpeas. Transfer to a stockpot and cover with 6-8 cups water. Bring to a boil and cook for 3 minutes. Then lower heat, add baking soda and salt, and gently simmer, partially covered, until tender, about 30-45 minutes. Cooking time can vary quite a bit depending on the chickpeas, so begin checking after 25 minutes. You want the chickpeas to be very tender, but not falling apart.


In the last 10 minutes of cooking, add the peeled garlic cloves.


When chickpeas are done, strain off and reserve cooking liquid. Set aside to cool completely. Meanwhile, pluck skins off chickpeas.


When cooking liquid, aka aquafaba, is at room temperature, place one cup of it into the bowl of a stand mixer (or whatever set-up you use for whipping). Whip until soft peaks form, about 10 minutes. Set aside.


In the bowl of a food processor, combine peeled chickpeas and blanched garlic and process into a paste. Add tahini, olive oil, lemon juice, salt and nutritional yeast, and process until smooth. Then add the whipped aquafaba, several spoonfuls at a time, and process further to achieve a light, very smooth texture.


For an even silkier texture, push the hummus through a fine-mesh strainer.


Serve at room temperature, spread on a plate and drizzled with olive oil. Optional garnishes included cooked chickpeas, ground sumac, black sesame seeds and pomegranate molasses.



Download Recipe