3.11.15
Blini Meenie Miney Mo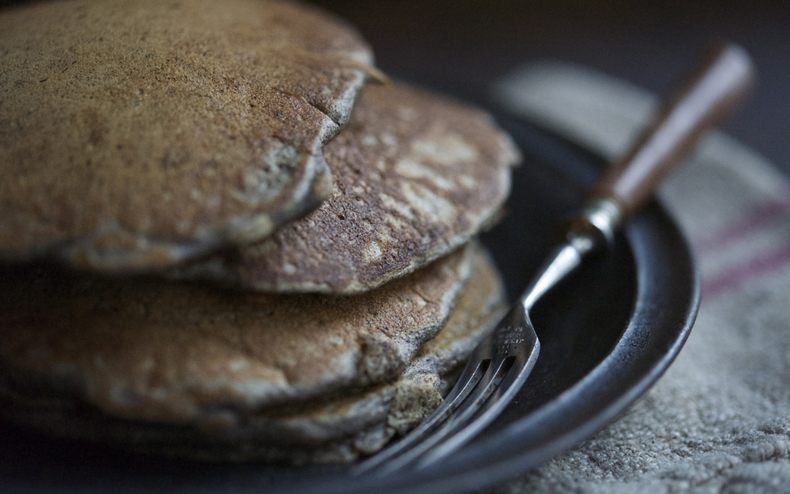 Many great Russian writers, including Chekhov, Pushkin and Gogol, have dedicated plenty of ink to blini. These sturdy yet tender pancakes—originally made from oats but now also from wheat, rye, buckwheat and barley—were made for the pagan festival Maslenitsa, a celebration of the sun that heralded the coming of spring. The blini, round and golden like little suns, were eaten by the dozen in hopes of ensuring a rich harvest. Today, they are made for occasions both celebratory and pedestrian, topped with (or rolled around) a great many fillings, from mushrooms, potatoes and fish to fruit, cheese and honey. Blini are incredibly versatile, as welcome at the breakfast table as they are at the most sophisticated cocktail party. I think it's time to add them to your repertoire.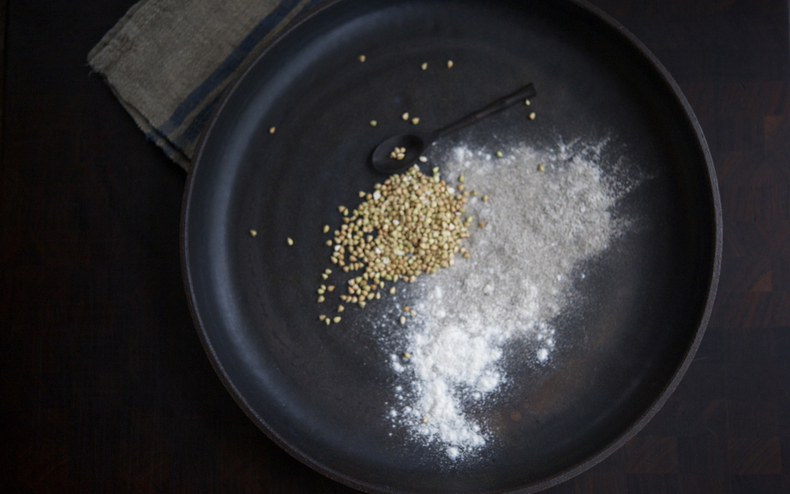 Always in pursuit of gluten-free options, I make my blini with buckwheat. It has a deep nutty flavor that pairs beautifully with everything from caviar to wild blueberries. This recipe is lightened with a bit of all-purpose flour; a gluten-free mix works fine.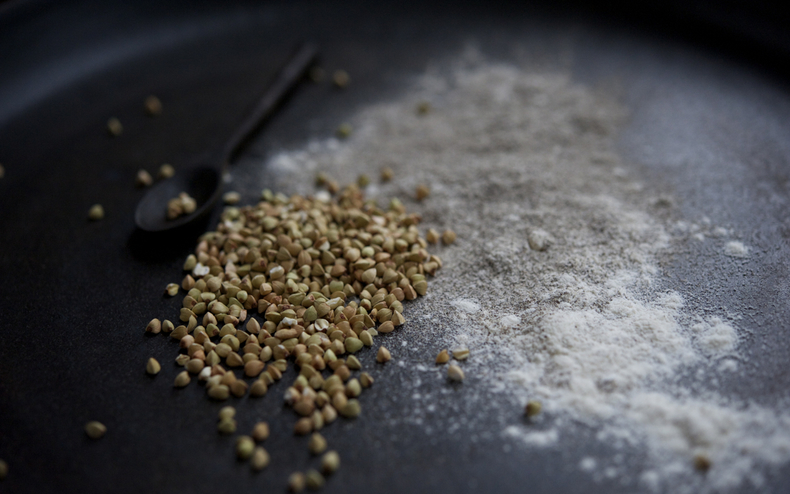 The spongey batter is made with yeast, the flours, buttermilk, egg yolks and a little melted butter, and sits, covered, in a warm spot for about an hour, until it bubbles. Then beaten egg whites are folded in and the batter rises for another half hour.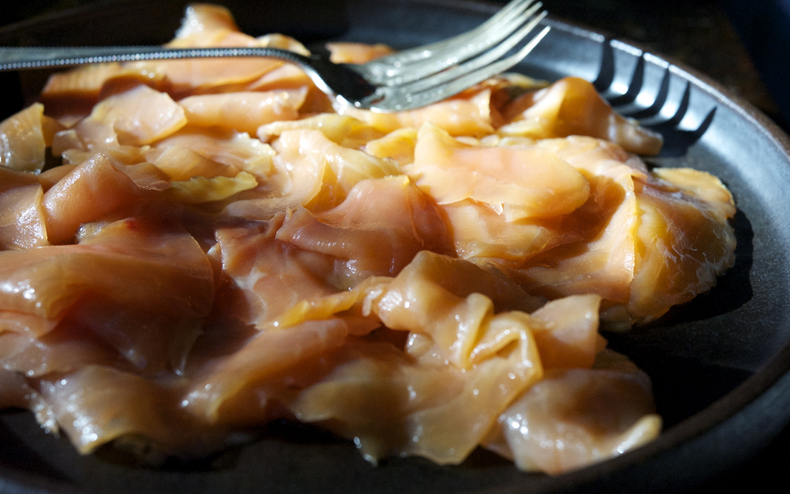 While the batter sits, you can turn to making the necessary accompaniments. This might be a warm fruit compote and some ricotta thinned with a little cream; grated egg and chopped raw onion to accompany salt fish roe; or, as for a recent brunch at my house, smoked salmon, roasted beets, horseradish cream and pickles.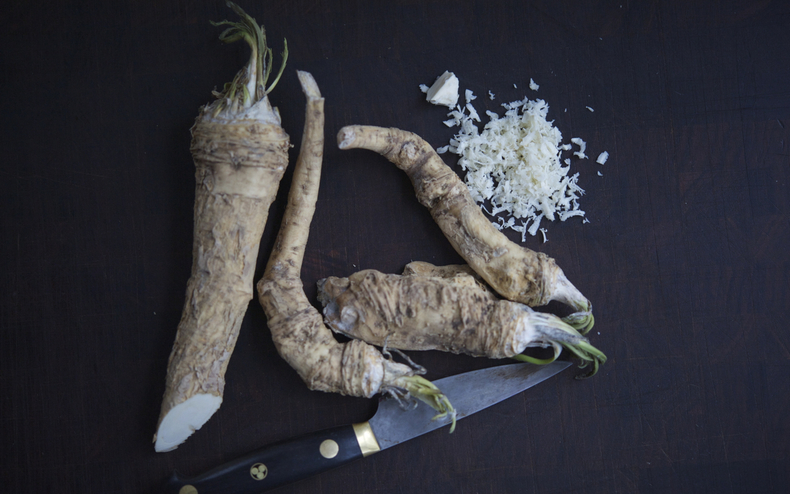 In the late fall, G pulled some horseradish roots from the tall plants that flourish in one corner of our garden. I keep them tightly wrapped in the back of the fridge and have been using them all winter long. Freshly grated, horseradish is intensely pungent and spicy, a wonderful foil for anything rich and fatty.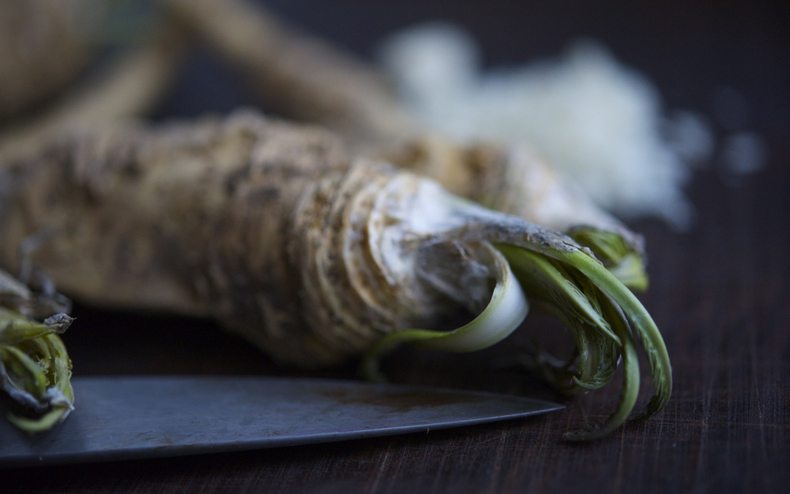 Like that garlic clove I showed you recently, these roots are yearning to go back to the soil, putting out tender green shoots that seem to know spring is on its way.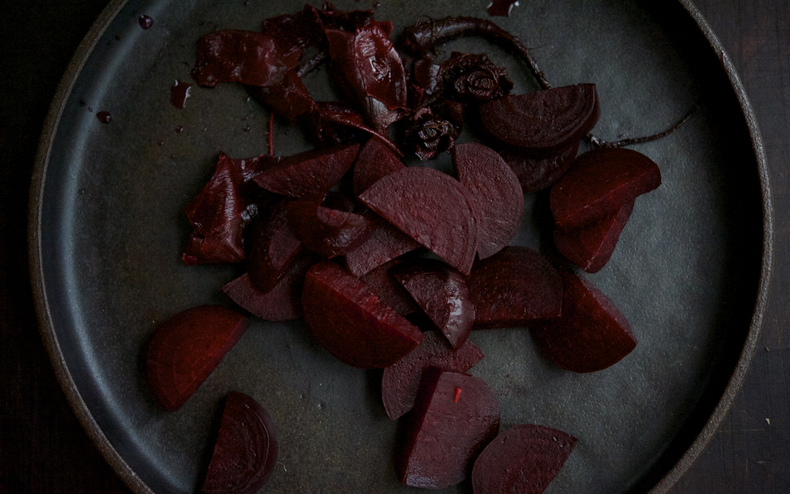 I roasted these beets in the oven, then peeled and sliced them. They got tossed with a little garlic vinegar, some buckwheat honey and a sprinkling of ground caraway.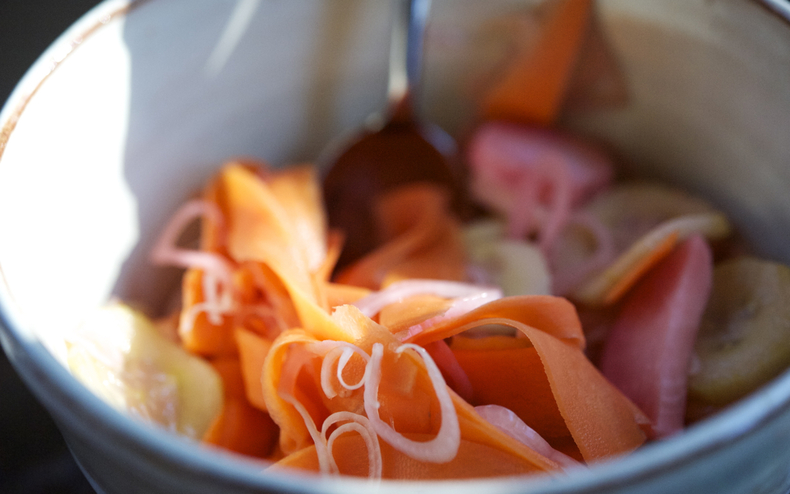 This quick pickle of cucumbers, radishes, shallots and shaved carrots was also a nice counterpoint to the oily smoked salmon.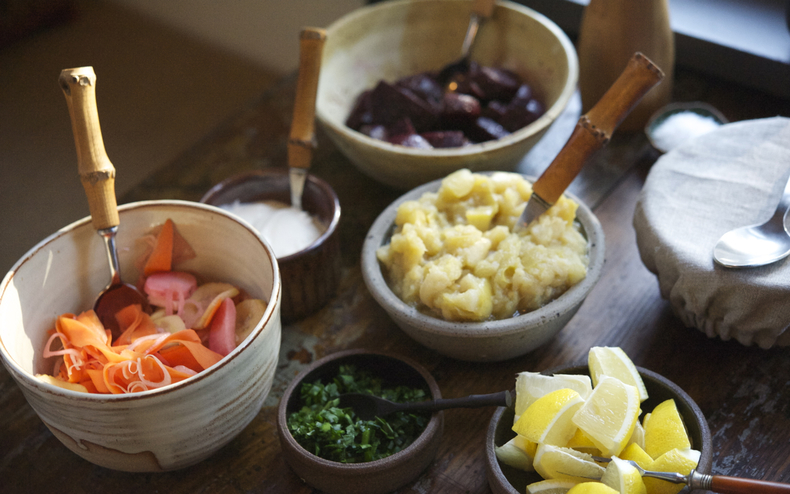 I cooked down some apples and pears for a sweet option to be plopped on a blini with a dab of sour cream.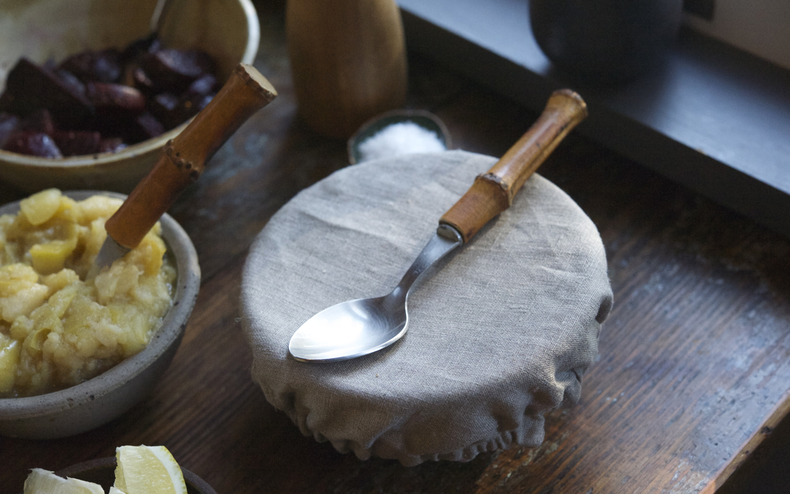 These linen dish covers came from Heidi Swanson's excellent little shop, Quitokeeto. I don't think she has them in stock any longer, but you can find them from the maker, here. (I try to avoid using plastic and foil wherever possible.)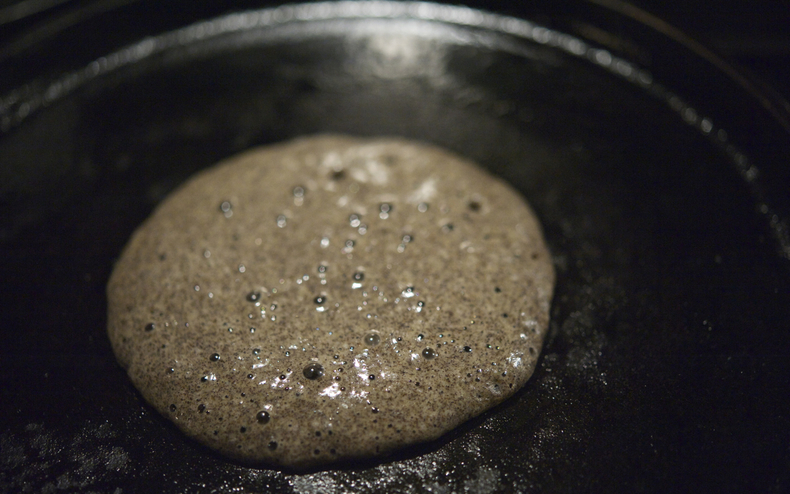 Seasoned cast iron is the best surface for making pancakes, dosas and quesadillas. If you don't have a griddle, consider this modest investment—maybe in this one from Lodge, a reputable firm in business for more than a century. Keep your eye out for vintage seasoned cast iron at flea markets and country stores.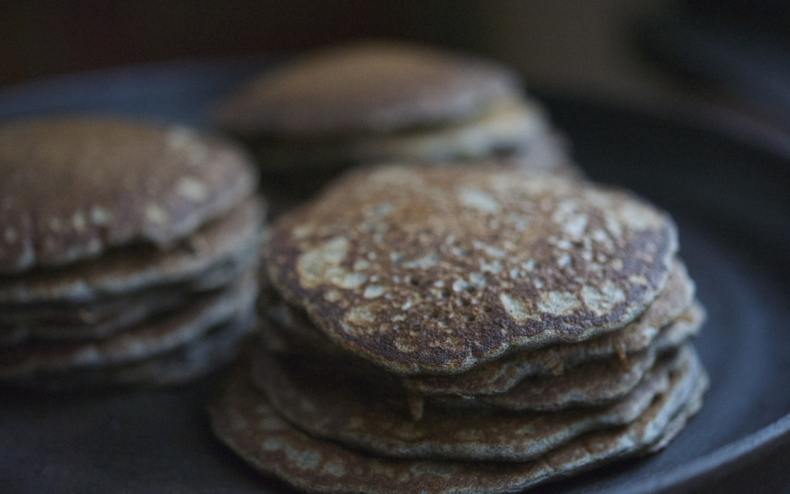 I made stacks of blini, thinking I would freeze some for later, but they all got gobbled up. They were delicious with the lightly smoky salmon, vinegary pickles and spicy horseradish cream. I enjoyed my chef's perk—eating one hot from the griddle with nothing more than a smear of salted butter.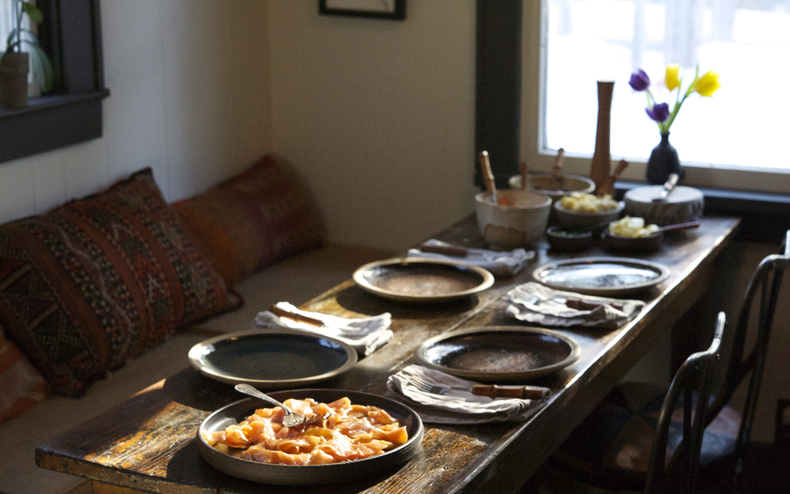 A little spring sunshine joined us for the meal, which was served on my beloved vintage stoneware plates by French ceramist and sculptor Pierre Digan and platters by Mirena Kim. Love stoneware? These, though not the same, are a nice option. Christiane Perrochon also makes gorgeous pieces...we can dream can't we? And, sometimes, we can make our own dreams come true. Just pick the one that matters most...blini meenie miney mo...xo
Blini (Buckwheat Pancakes)
lightly adapted from The New York Times
makes about 16 medium-large blini
— 1 teaspoon

active dry yeast

— 1/2 teaspoon

sugar

— 2 tablespoons

lukewarm water

— 1 cup plus 2 tablespoons

milk

— 1 cup

buckwheat flour

— 3/4 cup

all-purpose flour (gluten-free is fine)

— 1 teaspoon

sea salt

— 1/2 cup

buttermilk

— 2 tablespoons

melted butter

— 2

large eggs, separated
In a large bowl, dissolve the yeast and sugar in the water. Stir in the lukewarm milk, and let stand for five minutes.


Sift together the flours and salt into a medium bowl, then whisk into the yeast mixture. Whisk in the buttermilk, melted butter and egg yolks. Cover the bowl tightly with plastic wrap, and set aside to rise in a warm spot for an hour, or until bubbly.


Beat the egg whites to soft peaks and gently fold into the batter. Cover again, and allow to rise for another 30 minutes until bubbly.


Heat a large cast-iron skillet or griddle over medium heat and lightly grease. Ladle on a scant 1/4 cup and cook until bubbles break the surface, about a minute.


Turn and briefly brown on the other side, about 30 seconds. Remove blini to a plate or sheet pan, covering with a towel to keep warm.


They can be kept warm in a low oven, or wrapped tin foil and reheated in a 300º oven.


Blini keep well for a couple of days in the refrigerator and can be frozen for up to a month.


Separate them with parchment paper, wrap them in plastic and place them in freezer bags. Thaw them, wrapped only in foil, in a 350º oven for 30 minutes.



Download Recipe