1.12.15
Resolve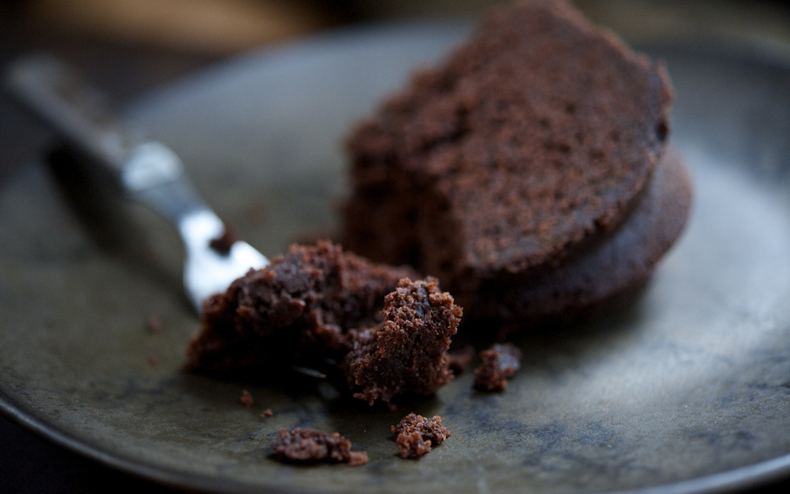 My resolve to not eat chocolate and sweets has stemmed largely from an awareness that my body seems to be showing signs of irritation and inflammation. Since I started on a protocol of Chinese herbs about 5 months ago, prescribed for my diagnosis of "damp-heat in the liver," my chronic herpes and gallbladder issues have happily been steadily resolving. But a couple of months ago, I began to get persistent outbreaks—small red pimples and a few deeper cysts—around my mouth, chin and jawline. This is extremely rare for me as I take painstaking care of my skin, so I found it puzzling and upsetting. I still do. I cannot seem to pinpoint the cause or solution, but I have begun eliminating things from my diet—chocolate, nuts, sugar, alcohol, dairy and now citrus—and I'm treating the area with my homemade calendula oil, which does seem to calm things down. I'm sipping bone broth every morning, trying to increase my water intake, getting plenty of sleep and exercising more. But what about that chocolate cake? you ask politely. Yes, well, read on...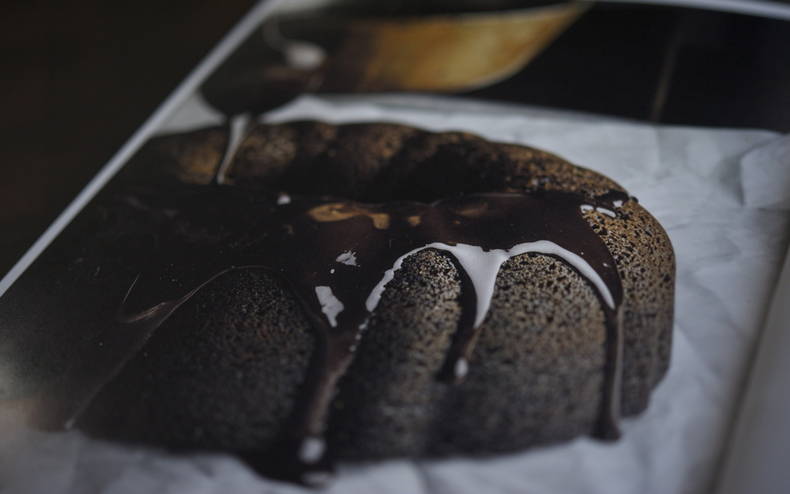 Once a year, a person's husband has a birthday. On that day, he may request whatever strikes his fancy, from a custom cocktail to chicken with crispy skin to chocolate cake. And who could deny him any of that? When I saw that Minnesota Fudge Cake cake, pictured above, in the Mast Brothers cookbook, I thought it could be the one. When I read the description, "A heartwarming cake for a cold winter's night," I knew I was right.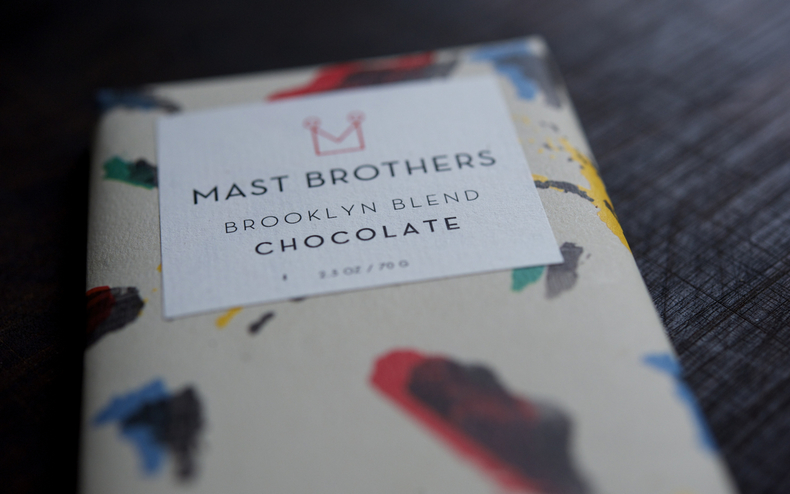 I was lucky to have lots of Mast Brothers chocolate on hand. (Remember my visit there in October?) Their Brooklyn Blend is a triumph of complex flavor—"notes of plum, tobacco and earth"—with an appealing tang. It contains nothing besides cacao and sugar, avoiding the common practice of adding cocoa butter or lecithin but still managing to achieve the requisite smoothness.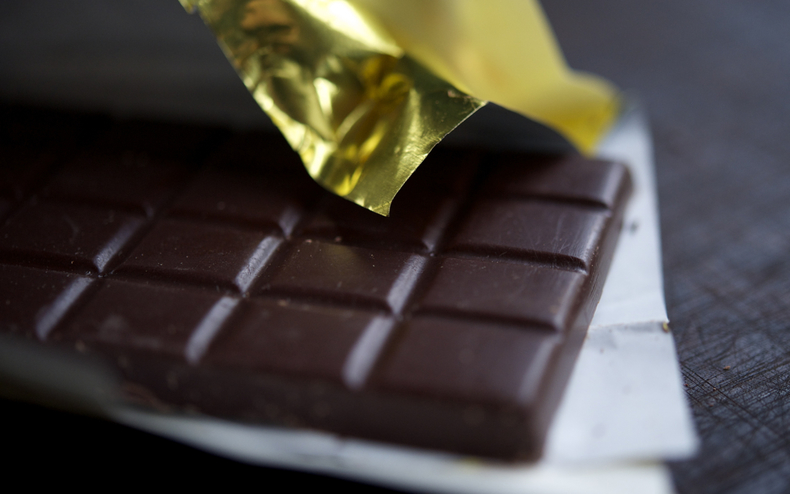 Beneath the Wonkaesque golden wrapper lies a glossy scored bar that comes in at 74% cacao. This recipe calls for "dark chocolate" but does not specify a percentage. I know from listening to a recent episode of Splendid Table, featuring baking authority Alice Medrich, that this can affect texture, but the Mast Brothers recipes tend to be a bit minimalist and open to interpretation.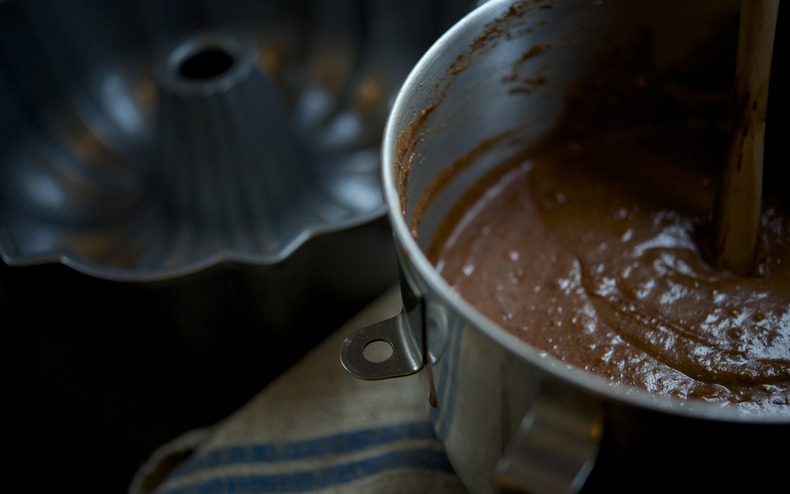 Though my baking skills are admittedly rather limited, it would seem more usual to cream together butter, sugar and eggs before adding the dry ingredients that make a cake batter. However, here you just "whisk together" everything in a large bowl. How you are supposed to "whisk together" a cup of butter—even softened to room temp, as specified—with a bunch of flour, sugar, eggs and buttermilk seemed a little confounding.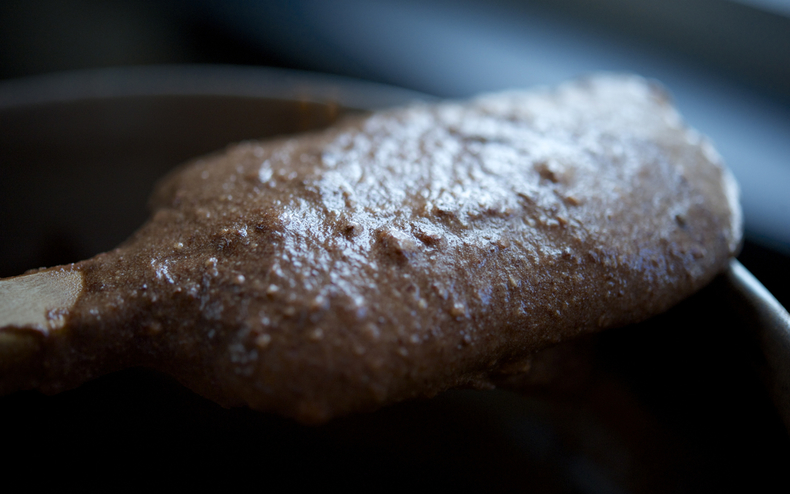 I decided to use my Mixmaster, which worked fine, though the batter was decidedly not smooth. As you can see, it came out pebbled with flecks of butter. I wasn't quite sure what this would mean for the cake but I plowed ahead, an approach I'm learning to take more often in many circumstances.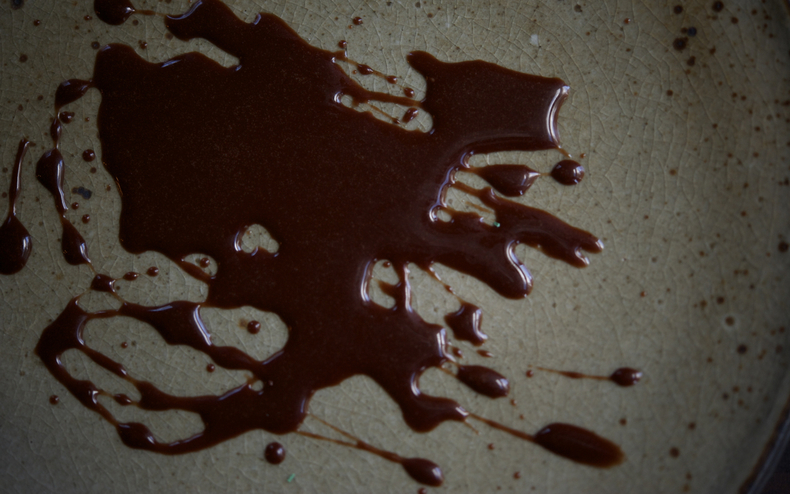 Melted dark chocolate is stirred into the batter and then you pour it all into a Bundt pan and stick it in the oven. As it bakes, you whisk up a sauce—more of a glaze, really—with additional melted chocolate, butter and confectioners' sugar.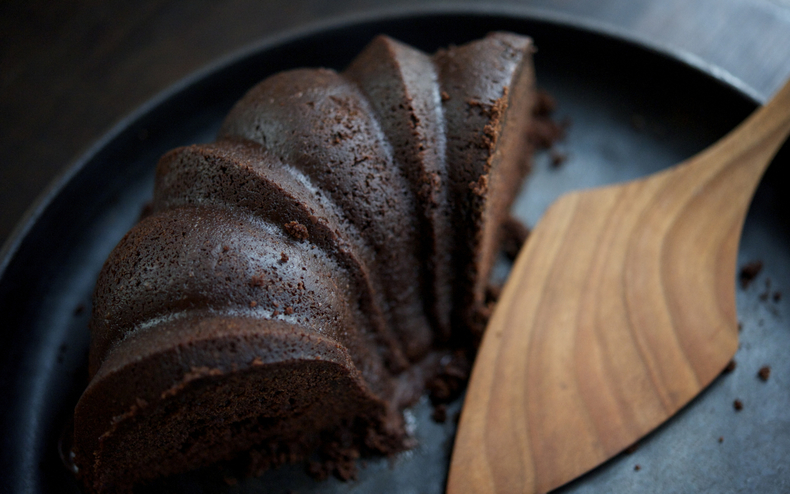 The glaze is poured over the cooled, unmolded cake, where it soaks in a bit. It was wonderfully dense and fudgy, although I think my use of gluten-free flour (King Arthur's, in this instance) created a more fragile crumb. Regardless, it hit the spot for the birthday boy and we also gave a big chunk away to friends.
As for me, dear reader, I ate just two small bites—probably the last two I will eat for a good long while. I plan to listen closely to my body and to respond accordingly. This is my resolve.
Minnesota Fudge Cake
from The Mast Brothers Cookbook
serves 10

— 2 1/2 cups

all-purpose flour (gluten-free is OK)

— 1 1/4 cups

granulated sugar

— 3/4 cup

brown sugar

— 1 cup

cocoa powder

— 2 1/4 teaspoons

baking soda

— 1 1/2 teaspoons

sea salt

— 2 1/4 cups

buttermilk

— 10 ounces

chopped dark chocolate, divided

— 2

eggs

— 10 ounces

chopped dark chocolate, divided

— 1/4 cup (1/2 stick)

unsalted butter, at room temp

— 2 cups

confectioners' sugar

— 1/2 cup

water
Preheat oven to 350º.


Mix flour, both sugars, cocoa powder, baking soda, salt, buttermilk, butter and eggs in a large bowl. Whisk until incorporated.


Melt 6 ounces chocolate in a double boiler. Add to mixture.


Pour batter into lightly greased Bundt pan. Bake for 40 minutes or until a cake tester comes out clean.


Make the fudge sauce by melting remaining 4 ounces chocolate and ½ stick butter in a double boiler.


Add confectioners' sugar and water and whisk until smooth.


Pour evenly over cooled cake.



Download Recipe