12.23.14
A Winter's Tale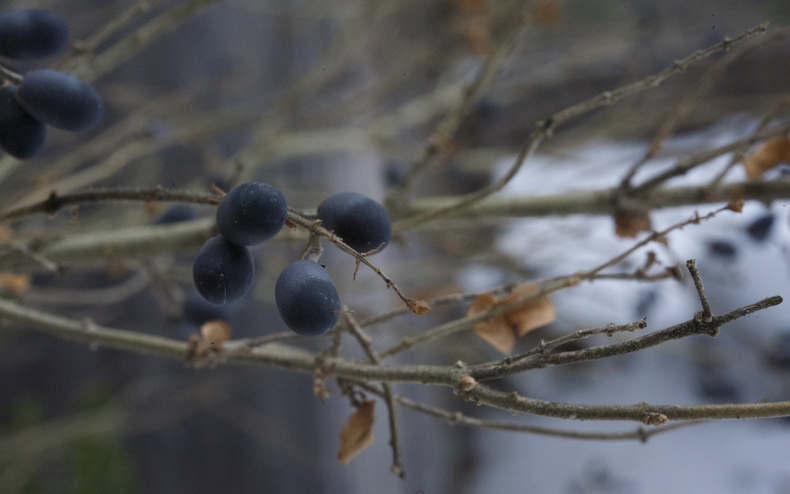 The wave of melancholy brought in on the tide of winter has somewhat receded here, though the pervasive grey and permeating damp nibble little holes in my soul. Do you ever find that the tears induced by chopping onions suddenly turn real? It's as though they lubricate the tracks for old sorrows to come pouring out. This is not always an unpleasant thing and can pass like a sudden squall on an otherwise calm sea. With the holidays upon us, memories lie close to the surface—of Christmases past, of loved ones no longer with us, of times that appear brighter from a distance. We romanticize, we idealize and then, with any luck, we return to the present moment with gratitude. For this is what we have now and it is enough in all its barren beauty, its eternal uncertainty, its yearning and celebration. Come take a little tour of the garden with me and see what charms it holds in these days of the solstice. (And find out who won those caramels!)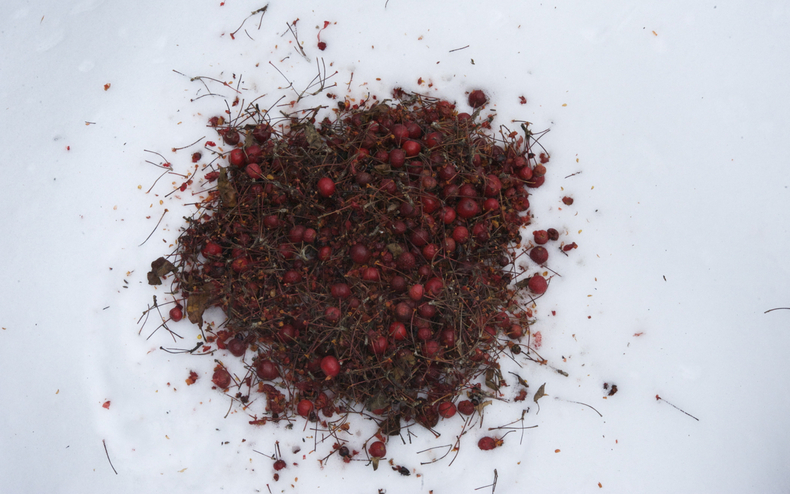 I found in a corner of the screened-in porch a forgotten bag full of hawthorn berries and crabapples we had gathered ths fall. Oops. The hawthorn berries had pretty much broken down but the crabapples were amazingly intact. I dumped the whole load out in the yard, thinking some critters would be glad for the snack. No takers so far, but I love the bloody red colors against the snow.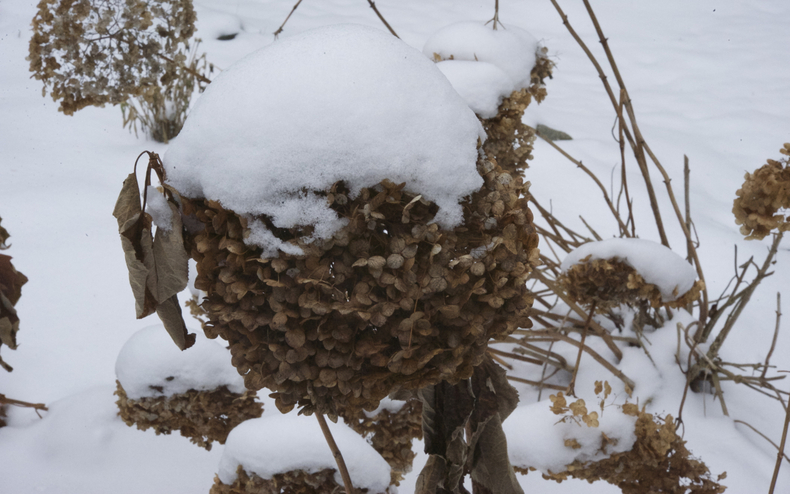 The big puffy shapes of dried hydrangea blossoms add lots of interest to the garden in winter. I love how the snow settles on them in little drifts that reminds me of those cheapie drumstick ice cream treats.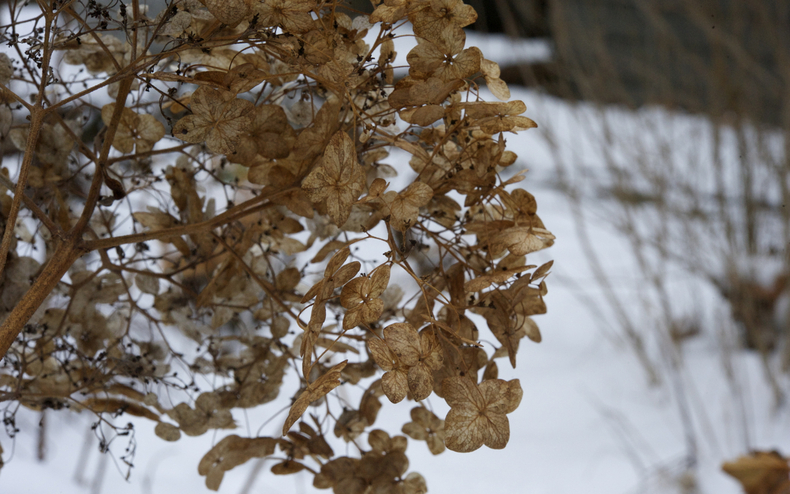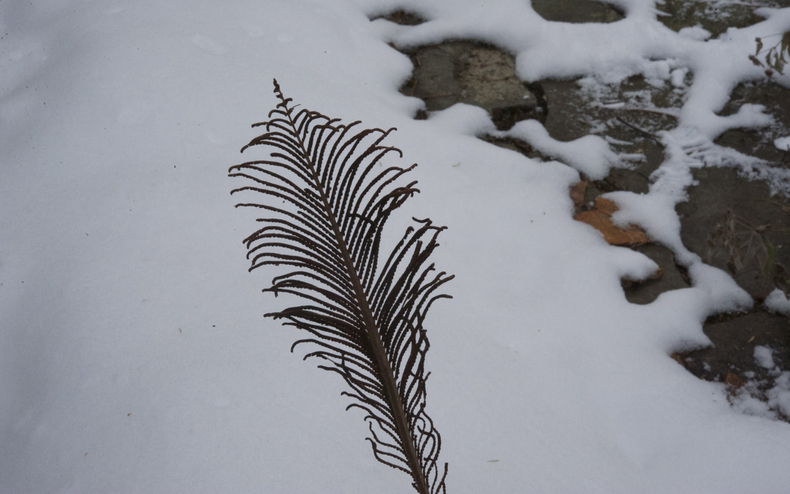 The big patch of ferns by our front door lies dormant, with just a few skeletons standing as stiff reminders of their frothy green fronds.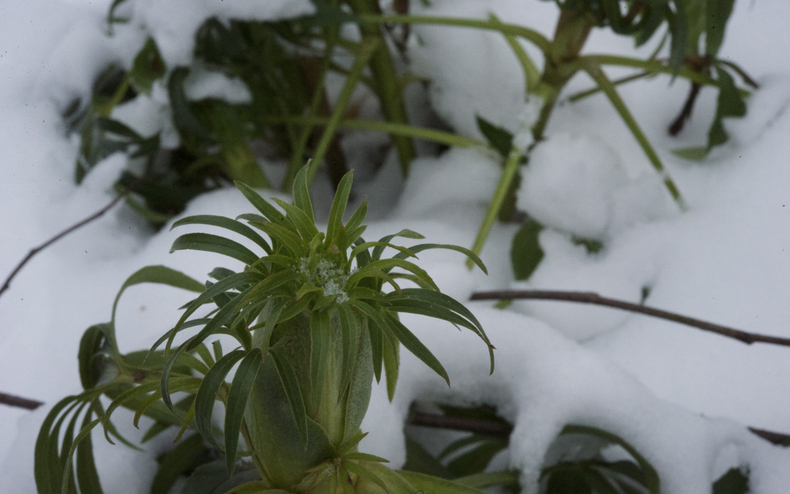 The hellebores, though, never die and some varieties will flower even in the depths of winter. There are many legends surrounding this plant, including that witches used it to summon demons.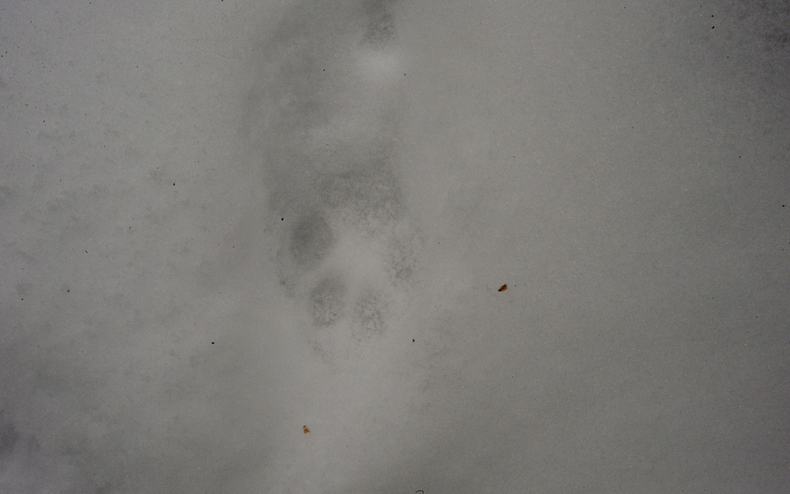 Tracking, a favorite winter pastime of mine, has not really kicked in yet as our snowfall has been paltry. I've seen much evidence of rabbits in our yard, however, and the print above seems to belong to a cat. Probably a visiting neighbor...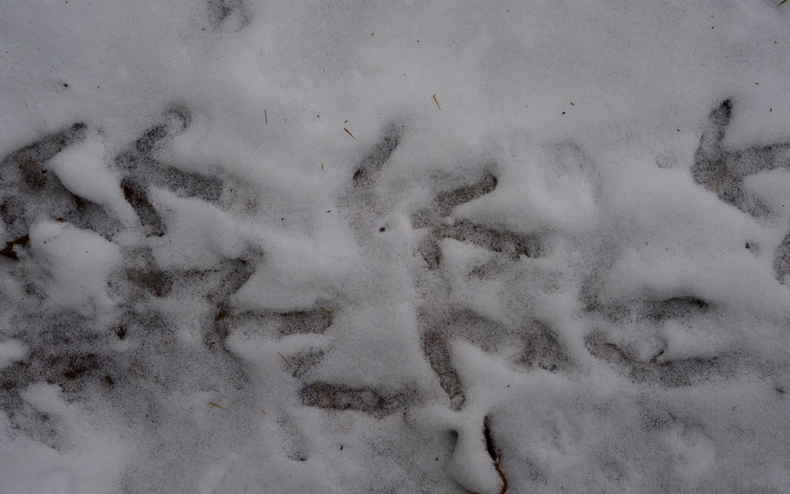 Out in the woods, though, the turkeys are congregating. They travel in big flocks at this time of year, no doubt seeking solace in companionship, just like the rest of us.
Thought you might like to know what I'm cooking for Christmas Eve. I wanted to keep it on the lighter side without too many complicated courses. Though tempted to make tamales, which are a family tradition, I went for another Mexican classic. Here's the menu:
Pickled Shrimp
(a variation with Mexican spices) with homemade Tortilla Chips &
Palomas
Posole
(made with pork) with delicious garnishes, including radishes, avocado, cilantro & chopped white onion
Black Walnut Ice Cream
with Black
Walnut Brittle
& Mexican Chocolate Sauce
And as for those caramels? They're going to PRITHA, chosen by random selection. Congrats, Pritha! Email me your mailing address to gluttonforlife@gmail.com.
Have a lovely, peaceful and relaxing holiday, dear readers! xoxo