6.3.14
Oil Slick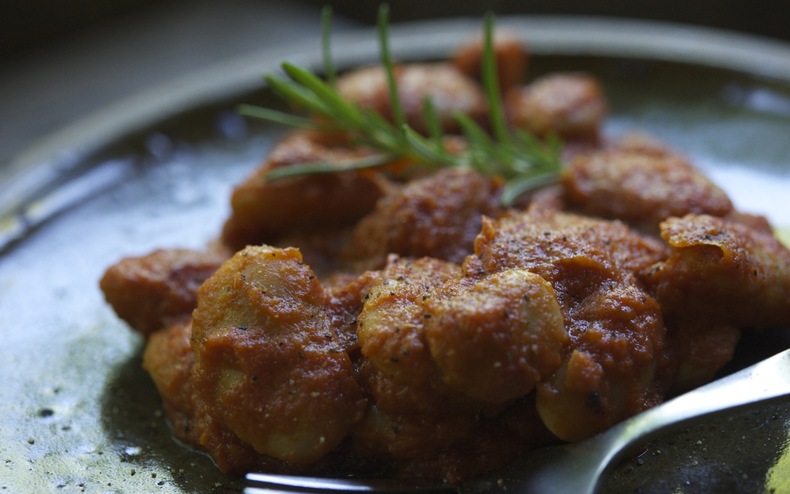 A few months ago, yet another large and important study was released with irrefutable evidence that 30 percent of heart attacks, strokes and deaths from heart disease could be prevented if high-risk individuals switched to a Mediterranean diet rich in nuts, beans, fish, fruits, vegetables and olive oil. It's been established that low-fat diets simply can't achieve these results and this is good news for those of us who love olive oil in all its diverse splendor—from mellow gold to vivid green, from rich and buttery to bracing and peppery. Quite frankly, there are few foods it doesn't improve.
Although you might not think of it this way, olive oil is essentially a fresh fruit juice and thus is fairly fragile. It needs to be extracted in a process that doesn't involve nutrient-damaging heat ("cold pressed") and it has to be properly bottled and stored to protect it from air, light and extreme temperatures. Finally, it should be consumed fairly quickly, generally within a year or two of production. Without all of these protections, olive oil (and all high quality oils, really) can quickly turn rancid, developing an off taste that some people liken to crayons or old peanuts (I swear) and a greasy mouthfeel. (For more horifying facts, see
this
.) The sad truth is that the average American has grown accustomed to consuming rancid oils because that is what is predominantly available. Intrigued? Read all about it in Tom Mueller's excellent
Extra Virginity: The Sublime and Scandalous World of Olive Oil
. If you don't have time for that, just be sure the olive oil you buy has been produced and cared for with integrity.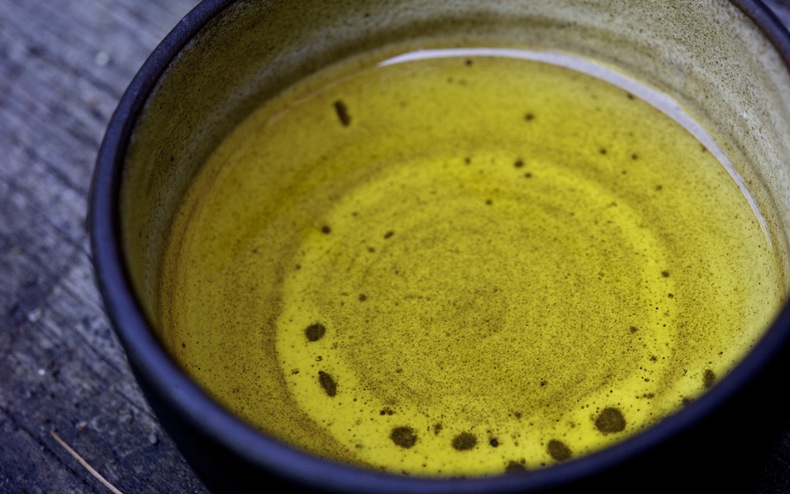 How to do that? A reputable producer is a good place to start. The kind people at
Emile Noël
recently sent me a bottle of their olive oil to try, and I was impressed not only by its flavor and quality but by the ethics of the company behind it. Huilerie Emile Noël is a fourth generation family-run French oil mill that produces a line of organic, non-GMO-certified, virgin-pressed oils, including mild and robust olive oils, raw and toasted sesame oils, sunflower oil, pumpkin seed oil and macadamia nut oil. (Look for them at select Whole Foods markets.) These are made with traditional endless-screw presses that extract oil slowly and carefully, an artisanal process that respects the fruit and its flavors.

In the early 1980s, long before fair trade had reached the mainstream, Emile Noël developed equitable commercial relationships with sesame growers in Africa and they now have award-winning fair trade programs for sesame, shea, hazelnuts and argan. They were also the first oil producer to press organically grown ingredients. Their respectful and meticulous approach shines through and results in a truly superior and very delicious product.

The 34-ounce bottle of "Robust" Olive oil I tried was cold-extracted from more than 12 pounds of several varieties of ripe olives (such as Picuda), giving it a balanced fruitiness with fresh-fruit aromas. Emile Noël recommends this more intensely flavored oil for dips and dressings and to finish vegetables, pastas and soft white cheeses. There are other instances when I like a more pronounced flavor in cooking, and a rich tomato sauce is one.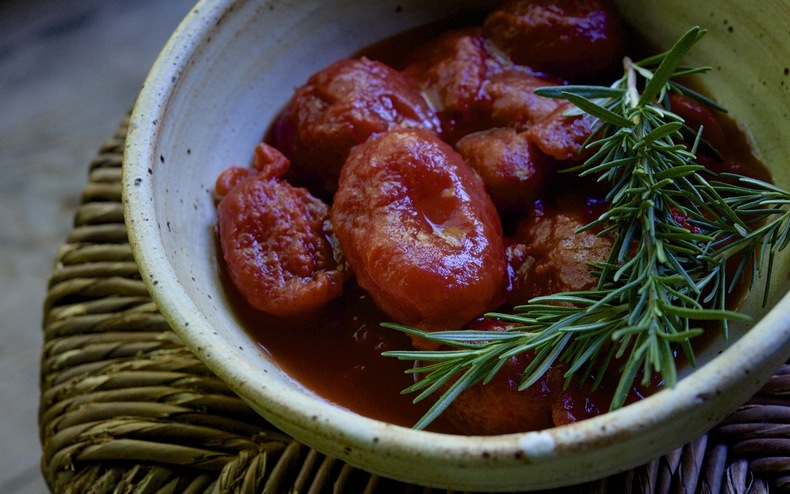 If your repertoire doesn't yet include a deliciously savory tomato sauce, this is your chance. I make a ton of this when tomatoes are at their ripest and freeze it flat in ziploc bags to enjoy all winter long. Use it for pasta, polenta, curries, meatballs—it transforms so many dishes. Add some milk and it becomes soup. Tomato sauces can really vary, from fresh to long-simmered, from chunky to smooth. The secret to this one is lots of olive oil and a rich, satiny texture. I start with good quality plum tomatoes, like San Marzano. This recipe uses canned, since that's what's available now. Do not cheat and use off-season hot house tomatoes; they're simply not going to deliver the flavor.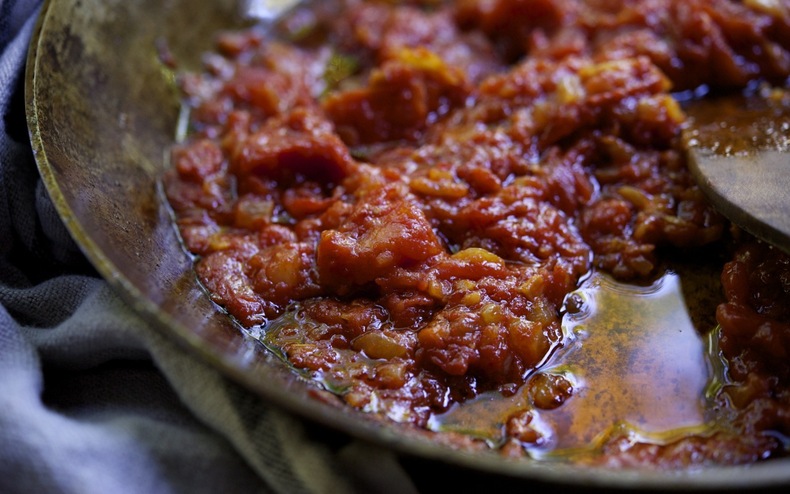 The reason using plenty of olive oil is so key is that you want to essentially fry the onion, garlic and tomatoes in it. The liquid cooks off and the sugars begin to caramelize, giving you deep flavor and a thick, fudgy texture. Then, you're going to puree everything and the oil interacts with the acid in the tomatoes to create an emulsion, which is what makes this sauce so velvety and also gives it that irresistible bright red-orange hue. I go one step further and push the sauce through a fine mesh strainer, which removes any remaining bits of skin or seeds. This isn't absolutely essential but it takes 2 minutes and I recommend it.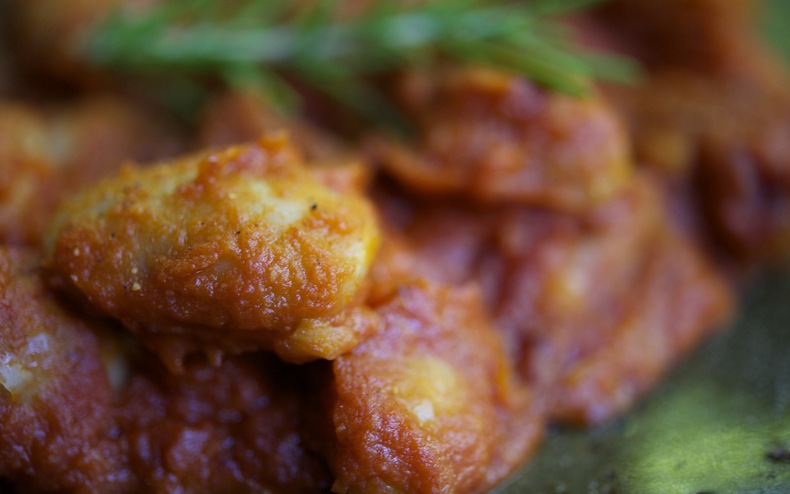 I perfumed my latest batch with a couple of sprigs of fresh rosemary from the garden and stirred in a lot of cooked gigante beans. (Not familiar with those? See my recipe
here
.) The sauce clung to the beans like they were long-lost lovers. Olive oil was the matchmaker. It was a beautiful thing.
Gigante Beans in Tomato Sauce
serves 4
— 5 tablespoons

olive oil

— 1

medium yellow onion, peeled and diced

— 1

large clove garlic, minced

— 1 teaspoon

salt

— 1/8 teaspoon

red chile flakes

— 1/2 teaspoon

ground toasted fennel seeds, optional

— One 28-oz can

whole peeled plum tomatoes

— 1 teaspoon

sugar

— 1 tablespoon

sherry vinegar

— Two 4" sprigs

fresh rosemary

— 3 cups

cooked gigante beans

—

Parmesan shavings for garnish
In a large skillet over medium-high heat, warm olive oil and add onion and garlic. Cook, stirring often, until golden, about 10 minutes, then stir in salt, red chile flakes and ground fennel, if using. Cook for another minute before adding tomatoes and their juice. Using a wooden spoon or spatula, break up tomatoes as they cook. Mixture should be bubbling vigorously; adjust heat as needed. Stir in sugar and sherry vinegar and cook until liquid has evaporated and tomatoes are completely fallen apart, about 15 minutes.


Remove from heat and cool slightly before transferring to a food processor or Vitamix. Puree until completely smooth. Taste and add salt if needed.


Press tomato sauce through a fine mesh strainer into a bowl, discarding any solids.


Transfer sauce back to skillet along with rosemary sprigs and reheat over medium heat. Stir in gigante beans and warm, about 12 minutes, stirring to coat thoroughly with sauce. Remove rosemary before serving.


Divide between shallow bowls and sprinkle with a little flaky sea salt and a few shavings of Parmesan. Enjoy!



Download Recipe