5.7.14
Wild Green Yonder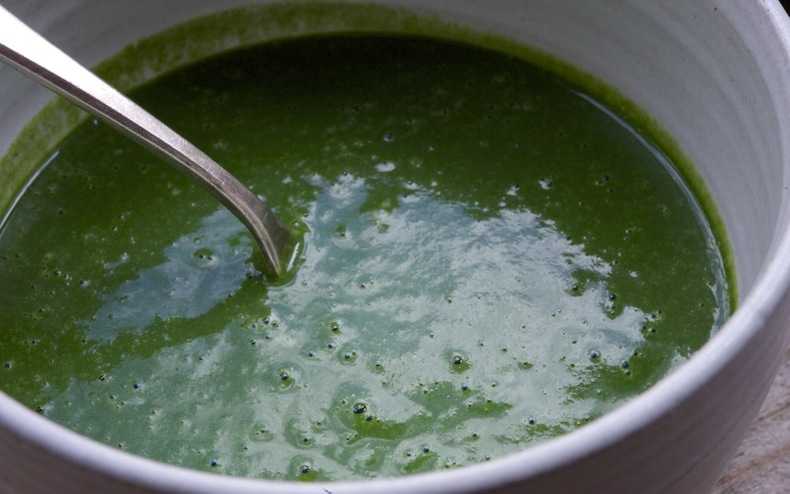 If food is fuel, don't you want to be powered by something that looks this amazingly alive and vibrant? Are you willing to go further afield to nourish yourselves in all the extraordinary ways you deserve? Foraging is one practice that brings you so much more than food. It's a wonderful way to get outside, connect to nature and discover the abundance that is available to all of us. One of the very first wild plants to emerge in spring, and one of the most commonly found in meadows, parks and fields, is the nettle. It's a little dangerous, as anyone who has ever tried to pick it without gloves on knows. But, like most prickly characters, with a little understanding and the proper care, it reveals its better qualities. Before you know it, nettles become putty in your capable hands.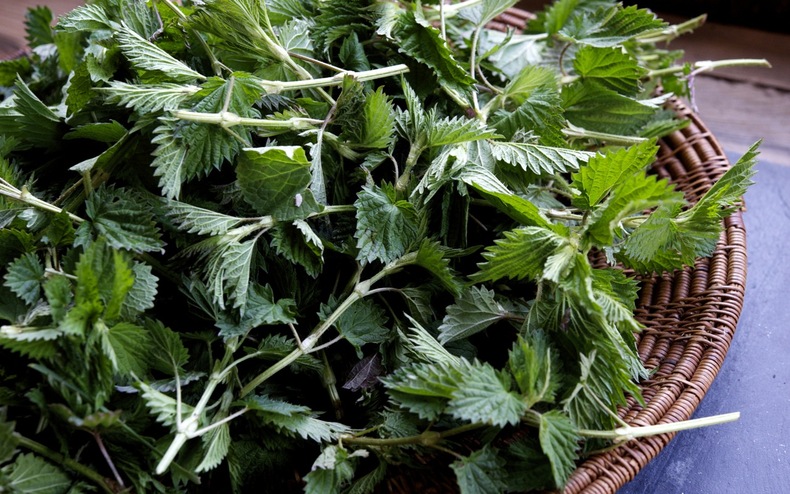 Urtica dioica pushes up from the barely warm ground in early spring and the fresh, young growth is the most desirable. Pick only the tips, the first four or six leaves on each spear. With age, nettles become coarse and hoary and, once flowers begin to form, steer clear. By that point, the leaves develop gritty particles called "cystoliths," which can irritate the urinary tract. Keep your eye out throughout the late summer and autumn, though, because young crops of freshly seeded nettles will grow wherever and whenever they get a chance.

Cooked nettles have a delicious flavor that's like spinach with a hint of cucumber and something earthier. They're a nutrition bomb, packed with potassium, iron, calcium, manganese, vitamin C, vitamin A and B complex vitamins. They also contain sulphur, which is excellent for the hair, skin and nails. Nettle's diuretic properties help relieve water weight gain, flush the body of toxins and purify the blood.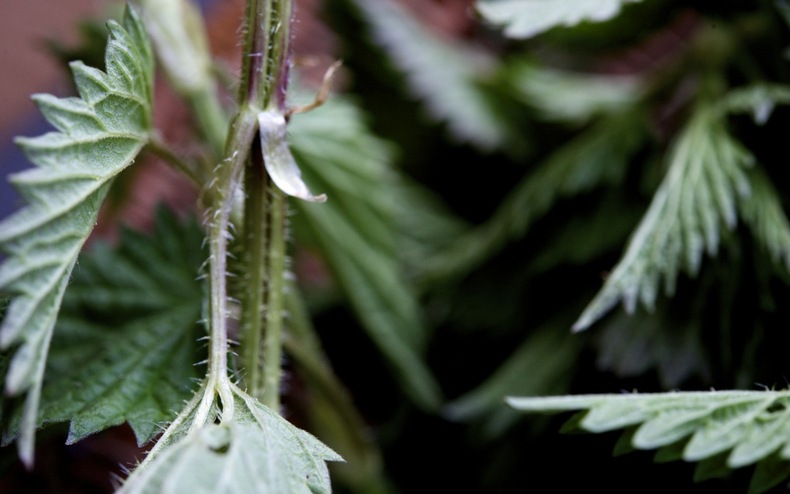 The stinging part comes from tiny fine hairs, mostly concentrated on the stems, which act like mini-syringes, injecting irritating histamine but also releasing serotonin and acetylcholine, two neurotransmitters that help to suppress appetite and settle mood. When picking or handling nettles, be sure to wear leather or rubber gloves. Roll your sleeves down and your socks up as well, since wrists and ankles are just as vulnerable.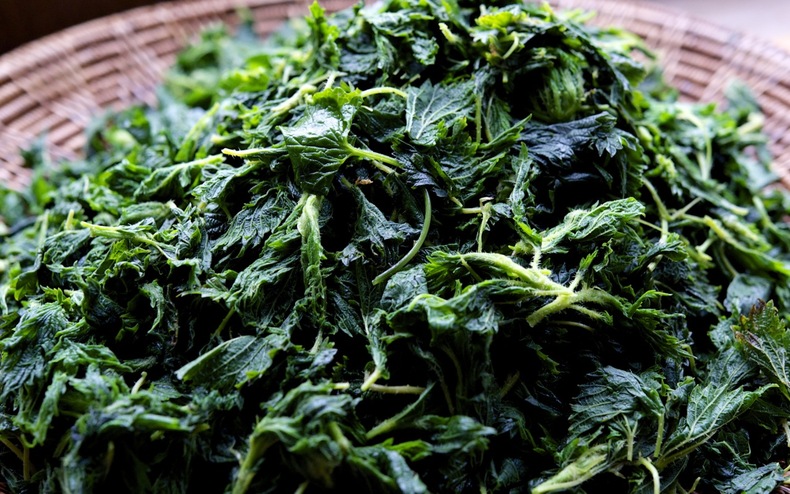 A quick blanching in boiling water is all it takes to neutralize the nettles' sting. As with spinach, they reduce down greatly. If you have a chance to pick some in the wild, or just come across them at the farmers market, bring home quite a lot; they also freeze very well, once you've blanched them. They can also be dried—in a dehydrator or on baking sheets in a low oven—and stored in an airtight container. Add these to soups and stews, or steep them for a highly nourishing and soothing tea.

Use nettles in any of the ways you might employ spinach: wilted and buttered as a simple side dish, or to make pasta, gnocchi, pesto, risotto or even in a wild version of Indian saag paneer. Nettles are actually quite abundant in Kashmir and are often cooked with the traditional Indian spices.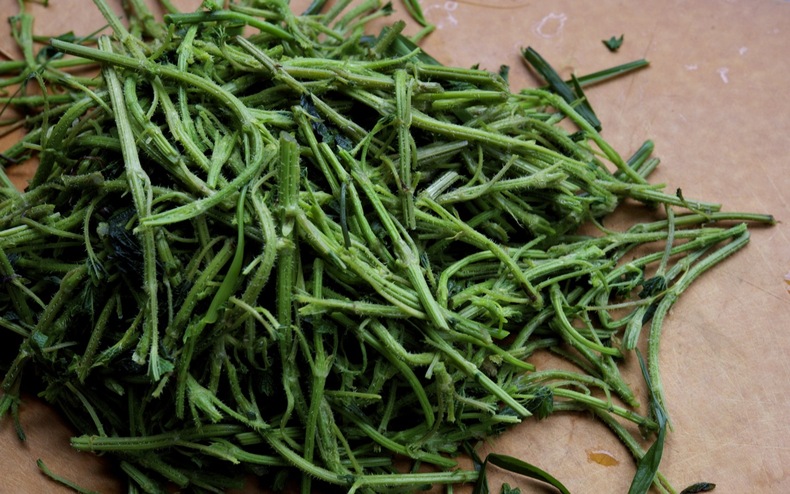 I like to wait until the nettles have been blanched and neutralized before I sort through them to remove any thick stems. I actually take the time to do this quite thoroughly, as I find it makes for a soup with a very smooth and velvety consistency. It's also meditative (unless you happen to be watching season 5 of True Blood at the time.) I add a bit of potato to the soup to enhance the texture, and a bit of cream which makes it even more luxurious but is totally optional.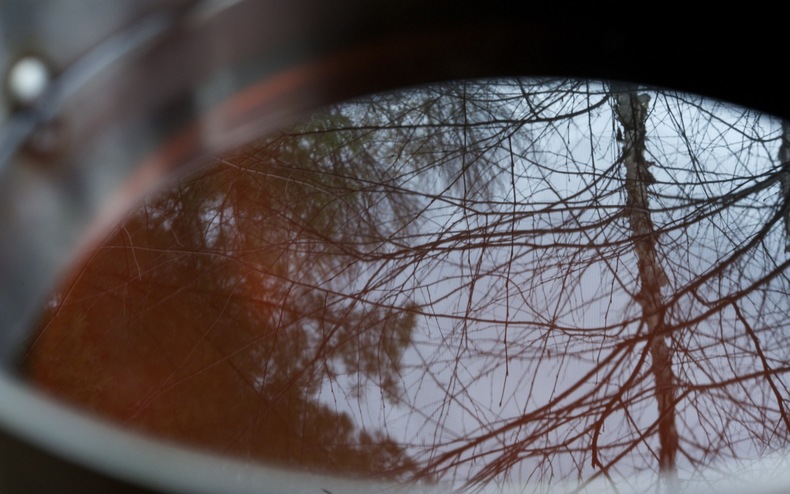 Speaking of true blood, I was amazed to see that the nettle blanching water turns a rich russet color. I did a bit of research and couldn't find anything about this, so I've developed my own theory that the color is due to the presence of anthocyanins, water-soluble pigments that occur in plant tissue and that can appear purple or red. They are actually a kind of flavonoid, compounds thought to enhance the potency of vitamin C, protect blood vessels and fight against inflammation and free radical damage. In lay terms? Nettles are a health food that promote radiant beauty.
I developed this recipe for Stinging Nettle Soup II (there is already a more
traditional one
in my archive) using the blanching water rather than the usual chicken or vegetable stock found in most recipes. Why waste all that gorgeous broth? Not only is it nutritious but it tastes fantastic. I even drank cups of it on its own. You'll notice I don't cook the nettles for long, which helps preserve their intense color. I served a bowl of the soup accompanied by a plate of
poached white asaparagus
with an
8-minute egg
and a
homemade mayonnaise
blended with loads of parsley and chives. Make this for yourself soon, lest you turn green with envy.
Stinging Nettle Soup II
serves 4-6
— 8 ounces

freshly picked stinging nettles

— 1/2 tablespoon

olive oil

— 1/2 tablespoon

butter

— 1

large yellow onion, peeled and chopped


— 1

russet potato, peeled and chopped

— 6 cups

nettle blanching water

— 1/3 cup

heavy cream

— 6 heaping tablespoons

Greek yogurt

—

Flaky sea salt, for garnish
Set a large pot of water to boil over high heat.


While wearing sturdy gloves, pick over the nettles and discard any insects or extraneous plant matter. When the water boils, drop in 2 teaspoons of fine sea salt and use tongs to add the nettles. (Do this in batches, if needed.) Blanch for 1-2 minutes. Use tongs to remove cooked nettles to a bowl, and proceed to blanch the rest of the nettles, removing them to the bowl when done. Set aside blanching liquid to cool.


Gently squeeze and discard a bit of excess water from the nettles, then sort through them, discarding any tough stalks. Use a fine-mesh strainer to strain blanching liquid into a separate bowl or a large pitcher.


Place the butter and olive oil in a large pot over medium heat, add the onion and potato and sauté for about 5 minutes. Pour in 6 cups of the blanching liquid and simmer until potato is very tender, about 15 minutes. Add the nettles, and cook gently for an additional 3-5 minutes.


Working in batches, as needed, purée the soup in a Vitamix, food processor or blender until very smooth. Return to a clean pot on the stove over very low heat and stir in cream. Add salt to taste. Serve warm, topping each portion with a large dollop of yogurt and a sprinkling of flaky sea salt.



Download Recipe