4.8.14
Energy Crunch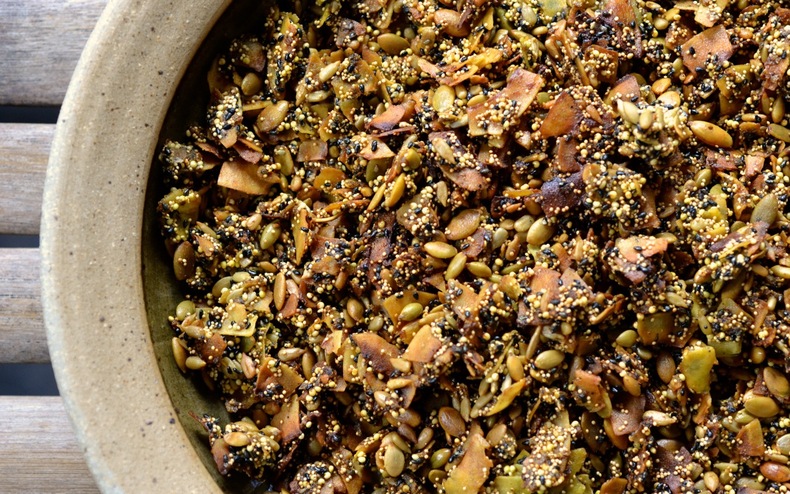 It's day five of my 21-day vegan cleanse. It's not really going to be a big deal for me, I told my health coach (discover her wisdom here). I basically eat like this all the time. Plus I'm not an emotional eater. Right.

My coach told me to use the advent of spring and the inevitable awakening and clean-up of the garden as a metaphor for my own self. And on Sunday, as I knelt on the still-frozen earth, hacking away at dried twigs and grasses, pushing aside sodden and broken-down leaves and pine needles, I saw that I, too, was badly in need of a refurbishing. It became clear that the extra pounds I have acquired over the last 5 years may well have helped buffer me against the particular pains and hardships of that time. Though I may not be the kind of emotional eater that relies on chocolate to mask a feeling of vulnerability, I am no stranger to taking comfort in food. But things have changed: my husband is healing; spring is here; I am reconnecting with a kind of movement and wholeness that I had begun to forget. Oh, and the cleanse? It's also meant a renewed commitment to daily meditation, which is good since my mind has been racing a lot. Could be that no sugar, no cheese and no alcohol really does have an impact on me. I've been falling asleep early, sleeping for 9+ hours and having vivid dreams. Tectonic shifts. I fear many things, but change is not one of them.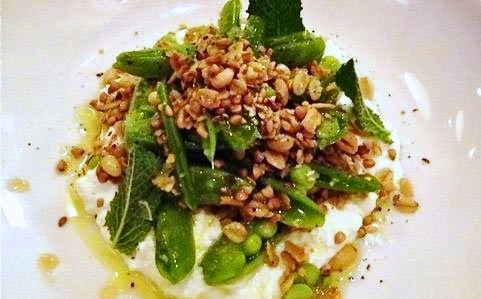 My palette of ingredients has changed and this has been a boon for my creativity. I've had a wonderful time making toasted brown rice milk, fermented daikon pickles, herb pestos and all manner of healthy treats to enhance our vegan meals. This month's Bon Appétit is all about cooking like a chef at home and there were recipes from Ignacio Mattos, whose savory granola at Estela turns an endive salad into something extraordinary. It was not a new concept to me because I have enjoyed something similar at Il Buco, where Jason Simile garnishes fresh ricotta and pea pods with his pine nut granola, but I had never tried to make my own. When you can't eat nuts (and I seem to have developed an intolerance for them - my tongue swells and I get indigestion) or croutons, it's nice to have a little something that works as a garnish on soups and salads and this savory granola is it.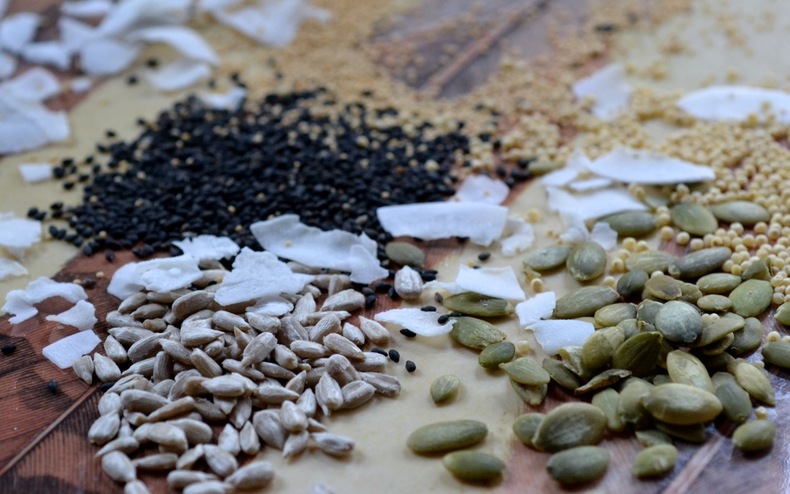 The recipe in Bon Appétit calls for oats, pistachios and walnuts, and my friend Janet just posted her version that substitutes coconut for some of this, and now I've tweaked that a bit to include amaranth, millet and sunflower, sesame and pumpkin seeds, plus lemon zest, maple syrup and spices. You bind everything together with a beaten egg white, a flax seed slurry or some bloomed chia seeds. It's definitely healthy, in that's it full of protein, fiber, minerals and good fats, so it's a good source of energy, but it's also quite delicious.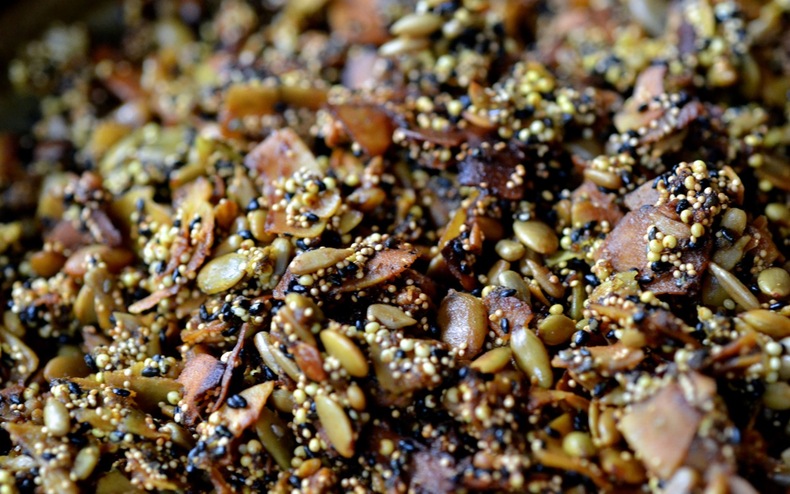 This would make a great snack to carry in your bag or to keep at the office as it's perfect to eat out of hand. I envision it adding a toasty, spiced crunch to everything from cooked grains (rice, oatmeal, etc) to yogurt (along with a drizzle of olive oil and some roasted carrots) to tartines (avocado on rice cake) and salads of every kind.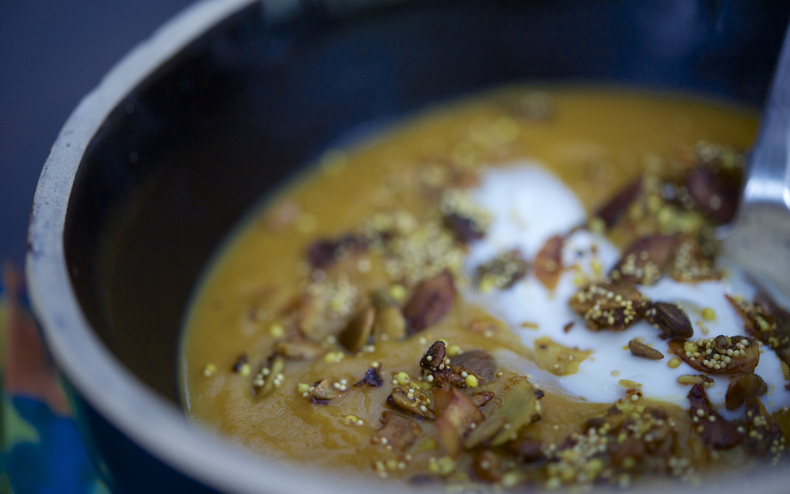 It's also the perfect garnish for soups, like this one made with roasted pumpkin, coconut milk and curry spices. Maybe this is just what you need to get out of that rut. Whenever you're ready, it's here.
Savory Granola
makes about 3 cups
— 1 cup

coconut flakes

— 1/4 cup

millet

— 1/4 cup

amaranth

— 1/2 cup

sunflower seeds

— 1/2 cup

pumpkin seeds

— 1 tablespoon

chia seeds, bloomed in 1/4 cup water for a few minutes

— 3 tablespoons

olive oil

— 1 tablespoon

maple syrup

— 1 teaspoon

fine sea salt

— 1 teaspoon

ground cumin

— 1 teaspoon

ground coriander

— 1 teaspoon

ground turmeric

— 2 teaspoons

lemon zest

— 1/2 teaspoon

smoked Maldon salt
Preheat oven to 350º. Line a rimmed baking sheet with parchment or a silicone sheet.


Combine all ingredients except smoked salt in a large bowl and toss to coat everything well.


Spread mixture on prepared sheet and sprinkle smoked salt on top. Bake, stirring once or twice and rotating the pan, until golden brown, about 30 minutes. Cool completely and store in an airtight container.



Download Recipe