4.13.14
Vegetative State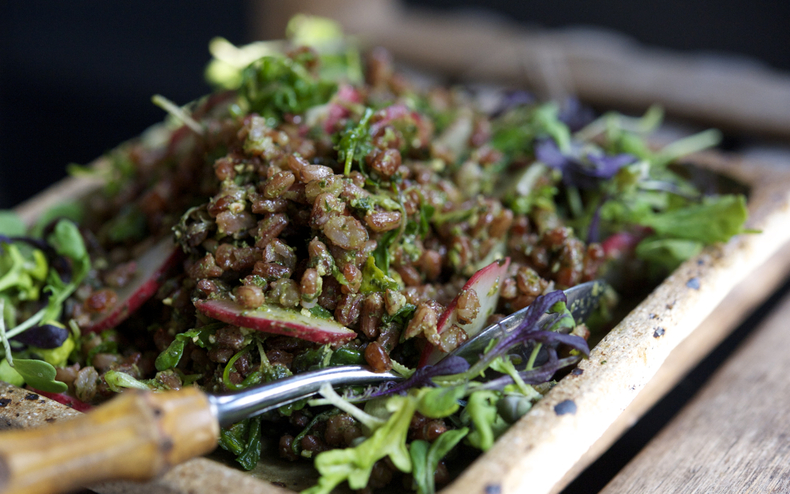 I know a true vegetative state is no joke, but I couldn't resist this as the title for my current vegan existence. On day 12 of the Spring Detox/Cleanse, I am more than halfway through and I can officially say that this has not been about feeling limited or deprived. If anything, I have noticed how comparatively little food I need to feel nourished and full, and that is without consciously trying to reduce my intake. Although the cleanse calls for three meals a day—with the last one being a simple bowl of soup—G and I have mostly been satisfied with just two. I think this is because we eat our biggest meal of the day somewhere between 3pm and 5pm, something I doubt we'll sustain as it's just not that practical given our work schedule and our desire to socialize with others. Come Friday, I tend to like a cocktail, but have been content with my latest obsession of
coconut vinegar
with seltzer. Cinnamon tea and the occasional medjool date have been enough to satisfy my sweet tooth. As for some of the vegan dishes I've been enjoying (already previewed on Instagram @LauraSilverman), please read on...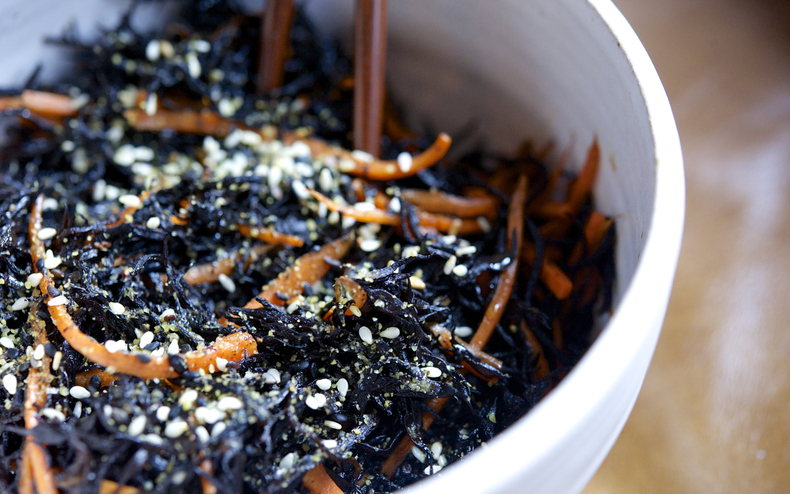 Doing the cleanse with my
health coach
has meant a lot of built-in support, not only from Sara but from the dozen or so people also participating in this group event. We have our own Facebook page where we kvetch and offer each other compassion, tips and recipes. It's been interesting to see how many of us have been experiencing similar side-effects and emotions. With all the buffering booze, sugar, cheese, French fries and steak out of the way, there's plenty to contend with. Of course I've channeled some of my pathologically perfectionist tendencies right into making "the best" vegan meals, but it's also been a positive opportunity for experimentation, curiosity and creativity. Plenty of what I've learned will be staying with me long after this cleanse is over.
Cooking with seaweed has been on my list for a long time, in no small part because of its nutritional value (high in calcium, potassium, iodine and antioxidants; read more
here
) but also for its varied flavors. Kombu, the giant kelp that imparts umami flavor, is always in my
pantry
, and I love ordering hijiki at Japanese restaurants. I had a small bag of this dried seaweed in my cupboard from the last time I went to
Mitsuwa
and from that to the finished dish were just a few simple steps—barely any cooking involved. You just rehydrate the hijiki in a little warm water and mix it with some carrot slivers tenderized in warm sesame oil. The resulting salad can be eaten warm or cold, tasting of the sea and the earth.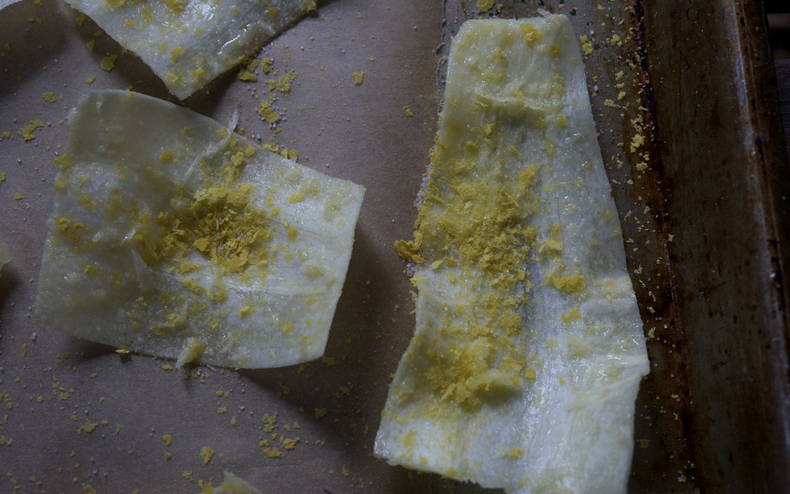 I got a new
mandoline
, which I am still trying to figure out how to use (
must
they make these things so complicated?!), but I did manage to shave thin slivers of parsnip which I tossed with freshly grated horseradish, nutritional yeast, olive oil and salt before baking in a hot oven.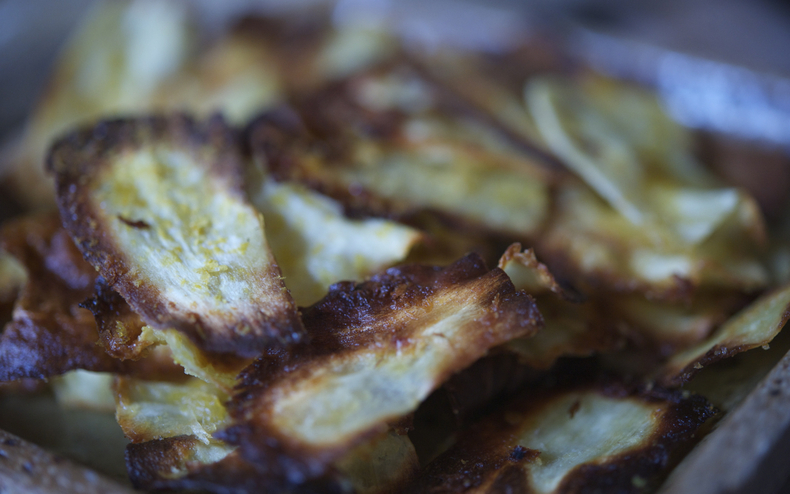 They were actually a bit too thin, as you can see by their darkened edges, and they did not retain their crunch for very long, but they were still pretty delicious. I look forward to experimenting more with vegetables chips and I have no fear of frying. Stay tuned.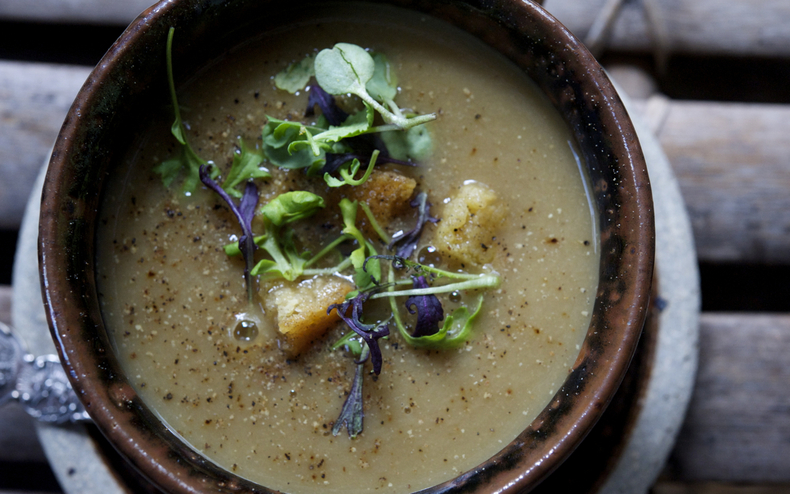 There was this delicious soup, made by caramelizing a whole mess of onions, shallots, leeks and garlic. I added vegetable stock, which I have been keeping in steady rotation (celery, carrots, onion, parsley and whatever bits and bobs are around), simmered it with a few spices (caraway, coriander, pepper), and then pureed it into a rich, creamy consistency. I served it garnished with microgreens and croutons, made with oven-dried leftover cubes of
this
steamed bread.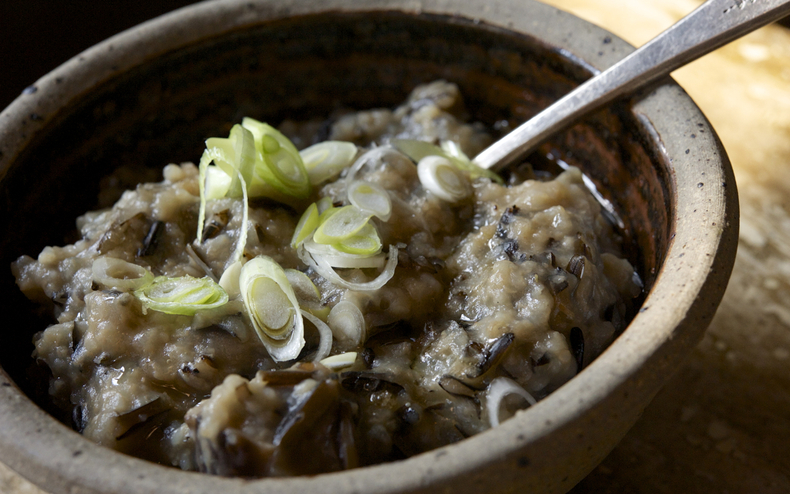 Breakfast has been smoothies for the most part, but cold mornings can call for something a bit more soothing. Congee made with wild rice, basmati rice and dried shiitake mushrooms hits the spot, especially with a garnish of scallions and toasted sesame oil. Never had congee? It's a thick, comforting porridge made by cooking rice until it falls apart and lets you have your way with it.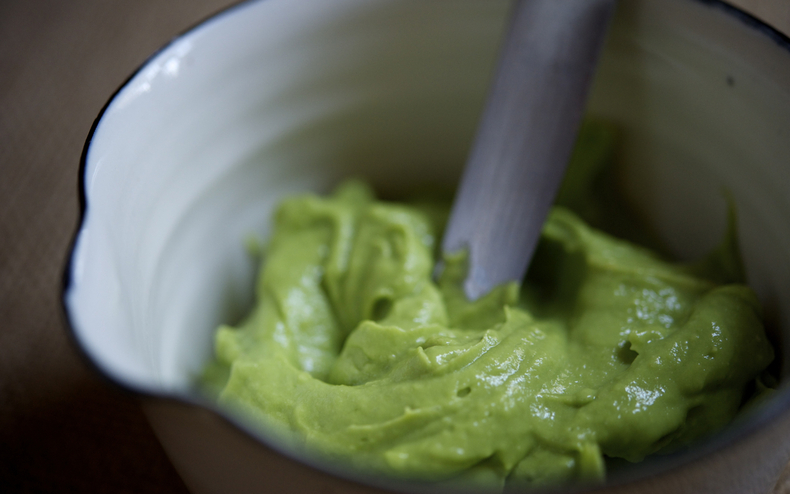 Another revelation has been this vivid green "mayo"—a quick puree of ripe avocado, fresh lemon juice, nutritional yeast, salt and a little rice milk (this gives it the right movement and texture). As much as I love mayonnaise, Kewpie may have a new rival. Not familiar with nutritional yeast, the vegetarian's friend? You'll love its savory, faintly cheesy flavor. Read more about it
here
.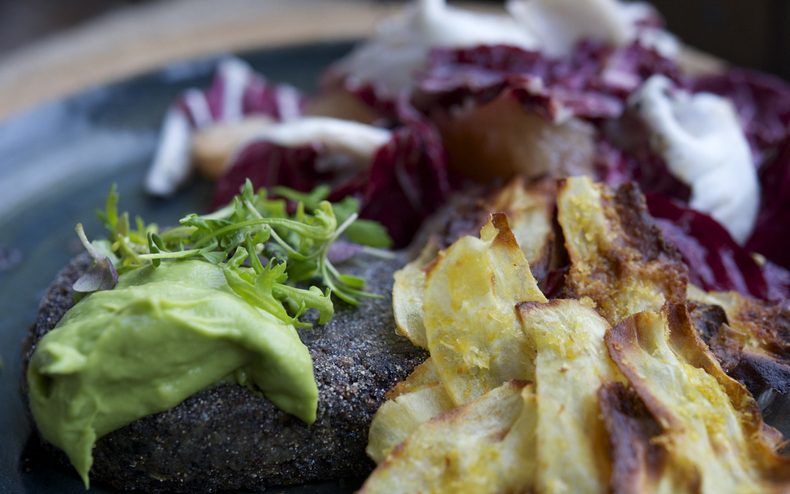 I've been trying out vegetarian patties—not exactly "burgers" because we don't eat buns—with some success. They taste good, but the texture tends to be quite soft. I refrigerate them for a couple of hours before cooking and that allows them to hold their shape in the skillet, but they're not quite as dense and chewy as I might like. I made one version with quinoa, curried squash and sweet potato; the one above is made with Bhutanese red rice and mushrooms. (The same rice that's pictured in the very top photo, eaten cold as a salad with radishes and greens.) Served with avocado mayo, parsnip chips and a salad of radicchio and fresh grapefruit, no one left the table hungry. And no one was carted away in a food coma either.
Hijiki (Seaweed Salad)
serves 2-4
— 1/2 cup

dried hijiki seaweed

— 1 teaspoon

toasted sesame oil, plus more for drizzling

— 1/2 cup

julienned carrot

— 2 teaspoons

rice vinegar

— 1/4 teaspoon

sea salt

—

pepper, to taste

— 1 tablespoon

toasted sesame seeds
Using a fine mesh strainer, rinse hijiki thoroughly, then drain and place in a bowl with 1/2 cup warm water. Soak for 15-30 minutes.


In a small skillet, heat sesame oil over medium-low heat, then sauté carrots until tender, about 10 minutes. Add hijiki, rice vinegar, salt and pepper to the carrots and heat through.


Sprinkle with sesame seeds and add another drizzle of sesame oil. Serve warm or at room temp.



Download Recipe
Avocado Mayo (vegan)
makes a generous cup
— 1

ripe avocado

— 3 tablespoons

fresh lemon juice

— 1 tablespoon

nutritional yeast

— 2 teaspoons

almond, rice or hemp milk

— 1 teaspoon

olive oil

— 1/4-1/2 teaspoon

fine sea salt
Peel, pit and dice avocado. Combine with remaining ingredients in a food processor and purée until silky smooth. Taste and adjust seasoning. Store in an airtight container in the fridge.



Download Recipe