1.28.14
Greens Keeper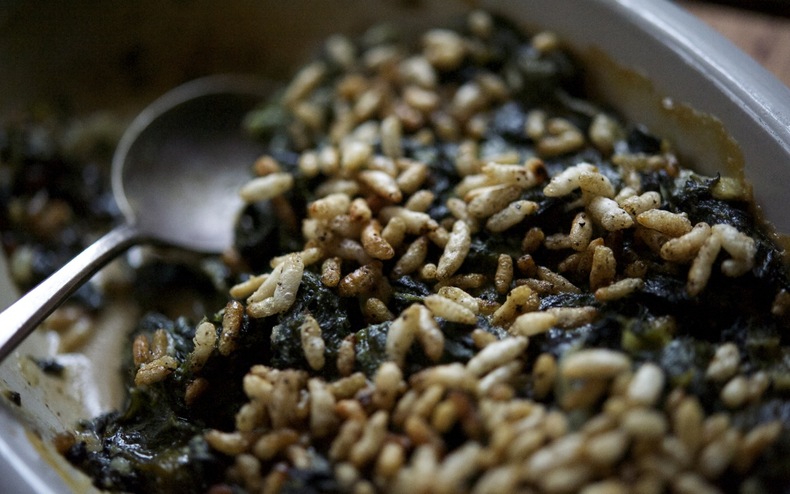 Wherever you live, if you're mired down in winter you've probably grown sick of root vegetables and chicories and begun eyeing a bunch of foreign-grown produce, am I right? Stray not from the way of locavore righteousness! Instead, follow me down the garden path to these wonderfully-comforting-yet-healthy-&-nutritious creamed winter greens. I've discovered that you can make a very respectable béchamel sauce with buttermilk (the real, filler-free stuff) and it is the perfect foil for toothsome leaves, like mustard greens and kale. In a strange twist, I found myself craving this intensely green dish for breakfast. I like to start the day blowing on a spoonful of something hot, and when it's not oatmeal, a baked sweet potato or a bowl of miso soup, this does very nicely. It's also great for lunch or dinner, obviously, can be made ahead and even freezes well. Unlike me. Enough with the sub-zero temps.

(By the way, the reason I am not yet posting more on Oaxaca is that I am pitching a number of stories to a certain magazine and I am waiting to hear back on what, if anything, they would like to publish.)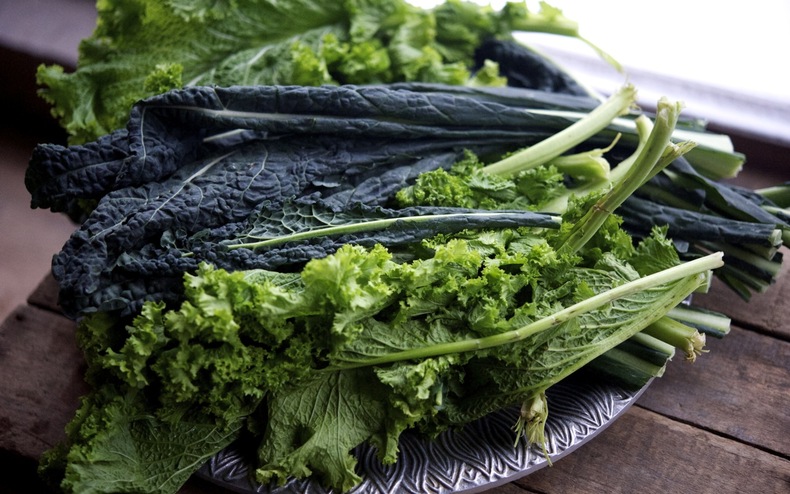 If you've seen mustard greens in the store and been uncertain what to do with them, this is a good place to start. You can cook mustard greens just like you would any other greens, like collards or kale or even chard, bearing in mind that they have a stronger, more pungent flavor. They pair well with rich meats, cream and cheese, but are also quite good pickled and used to top rice or soups.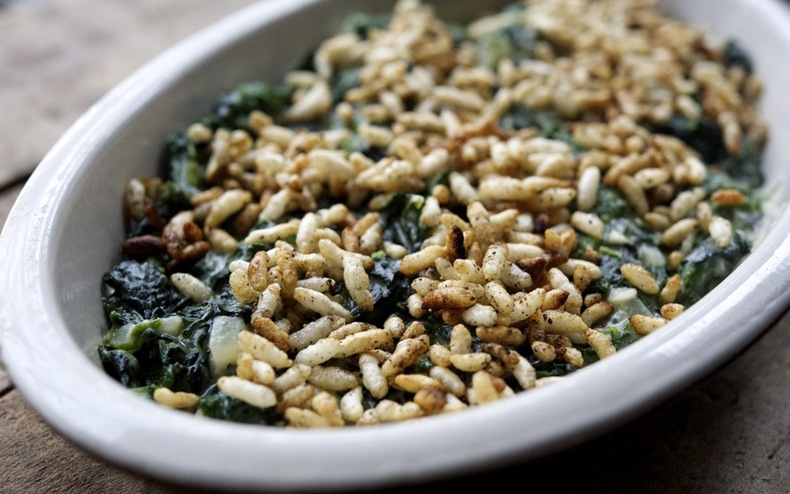 For this dish, I removed the fat stems from about a pound of kale and mustard greens and blanched the leaves in boiling water just until tender. I left these to drain in a colander while I sauteed some onion and garlic in butter, added some (gluten-free) flour and then warm buttermilk. As this thickened, I stirred in a bit of sharp Cheddar and a generous pinch of cayenne.

Then I squeezed all the water from the greens, chopped them and stirred them into the sauce. This went into a small casserole, topped with a generous sprinkling of puffed rice (my latest go-to for a crunchy topping that is both nut- and gluten-free), and baked in a hot oven until golden and bubbling.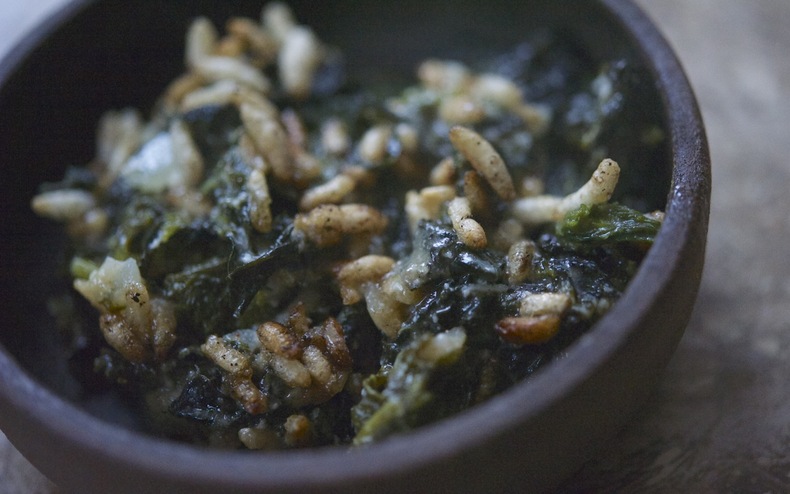 Yes, it's delicious. Yes, it's healthy. Yes, it's great on its own or as a side dish with whatever else you're eating. Yes, you can substitute breadcrumbs for the puffed rice or make it without either. Yes, it would go well with
cornbread
. Yes, it's perfect with
roast chicken
. Yes, it pairs well with beans. Yes, you could stir it into pasta. Just say yes.
Creamed Winter Greens
makes 4 servings
— 1 pound

kale and mustard greens

— 2 tablespoons

unsalted butter

— 1/2 cup

finely chopped shallots

— 1 tablespoon

minced garlic

— 2 tablespoons

flour (gluten-free is fine)

— 1 generous cup

buttermilk (the real deal)

— 1/2 cup

sharp cheese like Cheddar or pecorino

— 1/4 teaspoon

ground cayenne

— 1/2 teaspoon

sea salt

— 1 cup

puffed rice

— 1 tablespoon

olive oil
Preheat oven to 350º.


Bring a large stockpot of water to the boil over high heat.


Meanwhile, remove the thick stems from the greens. Rinse greens and drop them, along with a tablespoon of salt, into the boiling water. Cook for 3 minutes, then remove with tongs to a colander in the sink.


While the greens drain and cool, pour buttermilk into a small saucepan and gently heat.


Melt butter in a medium saucepan over medium heat. Add shallots and garlic and sauté until translucent, about 10-12 minutes. Stir in flour and cook, stirring, for about 10 minutes. Lower heat if garlic starts to brown.


Slowly add warmed buttermilk, about a quarter cup at a time, stirring to incorporate each addition. You may want to increase the heat a bit to help the sauce thicken. Stir in cheese, cayenne and salt. Remove from heat.


Now squeeze all the water out of the drained greens, either with your hands or by wringing them in a dishtowel. Roughly chop them and stir them into the sauce. Pile greens into a small casserole.


Heat olive oil in a small skillet and add puffed rice, stirring to coat. Sauté until they start to color. Season with salt and pepper.


Sprinkle puffed rice over the top of the greens and slide the casserole into the oven. Bake until everything is golden and bubbly, about 20 minutes. Serve hot or at room temperature.


This dish may be reheated, covered with foil, in a 375º oven for 15 minutes. Uncover for the last 5 minutes.



Download Recipe