10.7.13
Bloody Sunday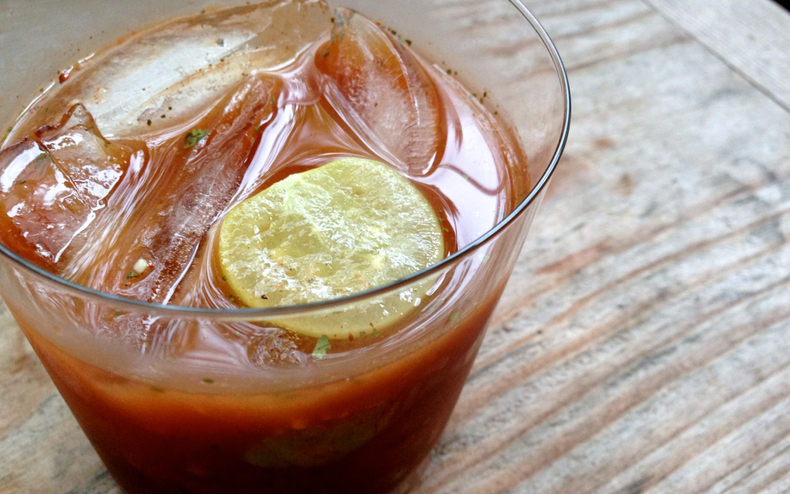 It's not cliché to serve Blood Marys at brunch when they have been elevated by the likes of
Lior Lev Sercarz
and Jim Meehan. The former is a master of all things related to spices—he recently launched a
spice-infused beer
with Brooklyn Brewery and a divinely spiced hot chocolate blend—and the latter is a highly original mixologist and owner of PDT (Please Don't Tell), a unique cocktail den in New York City. (Check out his greatest hits in
The PDTCocktail Book
.) These two put their heads together to reinvent the classic Bloody Mary with a judicious use of spices and clever combinations of fresh ingredients, spirits and aromatics. The result is 4 complex spice blends accompanied by 4 distinctive recipes for delicious tomato juice-based drinks that aren't just for brunch. Not a drinker? You can also use the spice blends to make very nice virgin versions. Try the classic B-Mary, with vodka, s
moked paprika, celery seeds and black pepper; the
B-Marion, a Scandinavian version with aquavit, caraway, anise and orange; the B-Marlene, with gin,
juniper, coriander and cardamom; and the one I made yesterday, the B-María, with tequila, green chile, cilantro and chipotle. It's spicy, piquant, highly flavored and truly addictive—perfect for entertaining, even if you're all alone.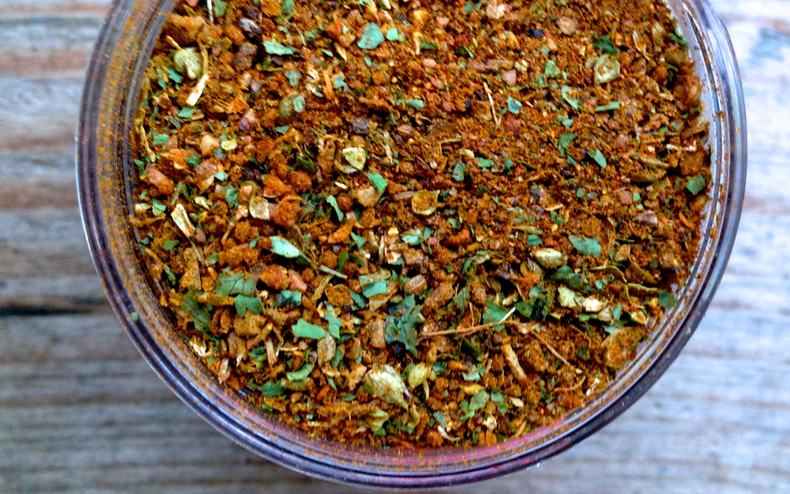 Lior is one of those people who has a unique gift. Trained as a chef, I don't doubt that he could be an artist of another sort—a musician perhaps, or a painter. He has a very refined sensibility, an educated palate and a rich imagination, and we should consider ourselves lucky that he has chosen to employ these in pursuit of spices. One whiff of that B-María mix, above, and you are transported south of the border, the joyful strains of mariachi music beckoning in the distance.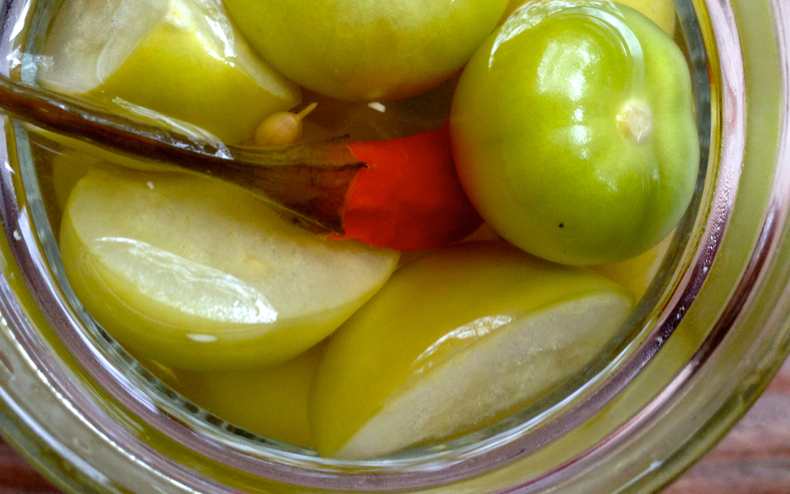 The recipe calls for a garnish of pickled tomatillos and, as if destiny were at work, I just happened to have a handful of tiny ones on hand—the paltry harvest from our garden this year. It was very satisfying to make a quick pickle with vinegar, salt, chile de árbol and whole coriander seeds.
Oh, did I mention I used fresh tomato juice? I was excited to find a use for the many ripe specimens still crowding my kitchen counter. Aside from that, fresh grapefruit juice, lime juice, blanco tequila, Worcestershire sauce and the chipotle version of Tabasco sauce round out the list of ingredients.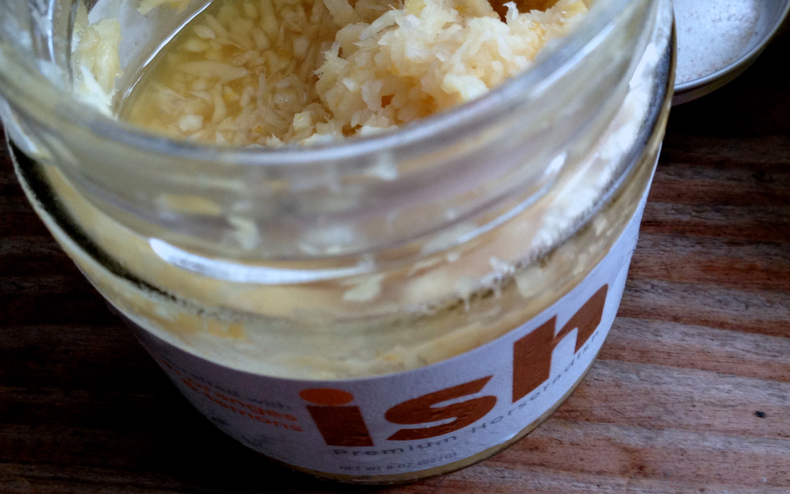 Gold's horseradish is actually specified, but I happened to have a jar on hand that I bought at Smorgasburg from a Brooklyn company called "
ish
." It's their citrus version with lemon and orange zest and I don't think it detracted from the integrity of the mix. The recipe calls for you to strain the cocktail before serving, but I actually like the texture of the horseradish and the flecks of spice, so I chose not to, and I served mine over ice. I also mixed all the ingredients together in an enormous glass jar, because I was making enough for a crowd, but Jim Meehan's technique for "rolling with ice" undoubtedly produces a superior drink.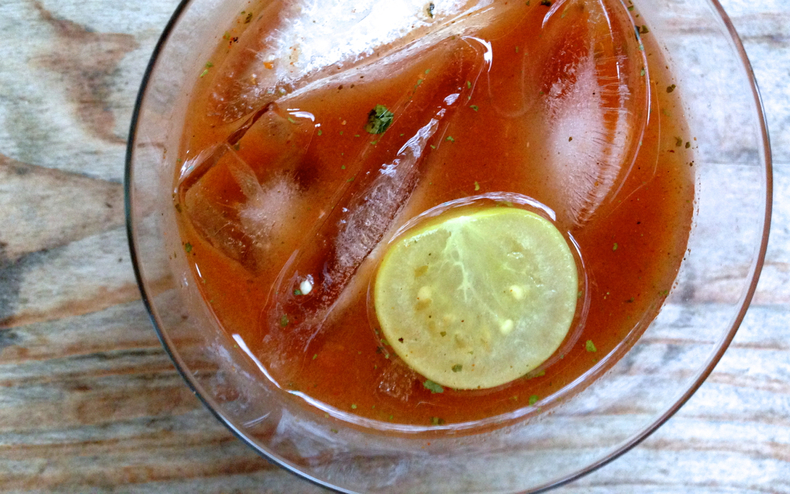 If you'd like to try any of these riffs on the Bloody Mary, you can buy the blends (recipes included), either at Lior's New York City shop
La Boîte
, or online
here
, where they're sold individually or as a set. All I know is, the one I drank was bloody good.
*And for the giveaway? Using Randomizer,
MARIA
was chosen from the list of wonderful comments I received. She wrote:
"Growing up on the east coast I loved autumn. Nothing compared to watching the trees change color, bursts of orange and fiery red, and walking in the woods with a soft cushion of decaying leaves underfoot. The smell, putrid, but wonderfully distinctive. In LA the change, is of course, subtler, but after 21 years on this coast I've become attuned to the transition. The night sky has more orange streaks, the air is cooler as it bookends warm days, and the stone fruit at the farmers market is past its prime. In my heart there's a trace of melancholy knowing another year is winding down."


Thank you all so much for sharing your warm and wistful thoughts on fall!
Maria
, come on down and send your snail mail address to gluttonforlife (at) gmail (dot) com.
Bloody María
makes 1 cocktail
from Jim Meehan & Lior Lev Sercarz
— 4 ounces

tomato juice

— 1 1/2 ounce

Blanco Tequila

— 1/4 ounce

Lea & Perrins Worcestershire Sauce

— 1/4 ounce

fresh lime juice

— 1/4 ounce

fresh grapefruit juice

— 1/2 teaspoon

B-María Spice Blend

— 1/2 teaspoon

Gold's horseradish

— 1/2 teaspoon

Tabasco Chipotle hot sauce

—

pickled tomatillos, for garnish (or sub a pickled jalapeño or squeeze of lime)
Build in a mixing glass, then fill with ice.


Roll with ice, then fine strain into a chilled Collins glass.


Garnish with a pickled tomatillo or two.



Download Recipe