10.29.13
Low-Hanging Fruit
There are few things more magical than a quince. With a little kitchen alchemy you can transform this forbiddingly astringent and fuzzy fruit into something silken and sublime. The tip-off is the fragrance. When ripe, a quince will lose any hint of green, turn golden yellow and emit the most extraordinary aroma, like a candied combination of guava, pear and vanilla. I've heard that, left to ripen on the tree until late fall, they can actually become sweet enough to eat out of hand, but I have never encountered such a specimen. So I've always cooked them, generally poaching or roasting them in sweet preparations, or braising them with savory meats. If you've never tried a quince, now is the moment to look for them at your local farmers market. You'll have to look hard, though. Even at New York City's Union Square market, I found only one vendor with quinces. I wrote about this beguiling fruit
here
, way back in the very early days of the blog, and then again
here
, where I included recipes for making quince paste and for Alice Waters' mouth-watering quince and lamb tagine. This week I found a recipe for a hot lamb and quince salad from Hugh Fearnley-Whittingstall—he of the
River Cottage
and the exceedingly long name—and it really struck my fancy. Maybe it will strike yours, too.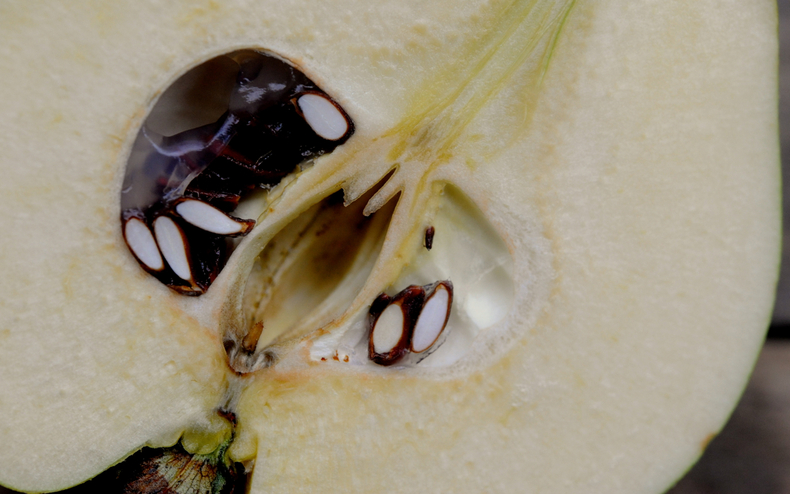 The cross-section view of the quince—whose Rubensian proportions are legendary—is something worthy of Georgia O'Keefe. Can you see that bit of film clinging to the seeds on the left? It was a clear gelatinous goo that I think might be pectin! Quinces are especially high in it, which makes them so perfect for jams and jellies. Apparently they are also delicious pickled. If that sounds good to you, try t
his
lovely recipe.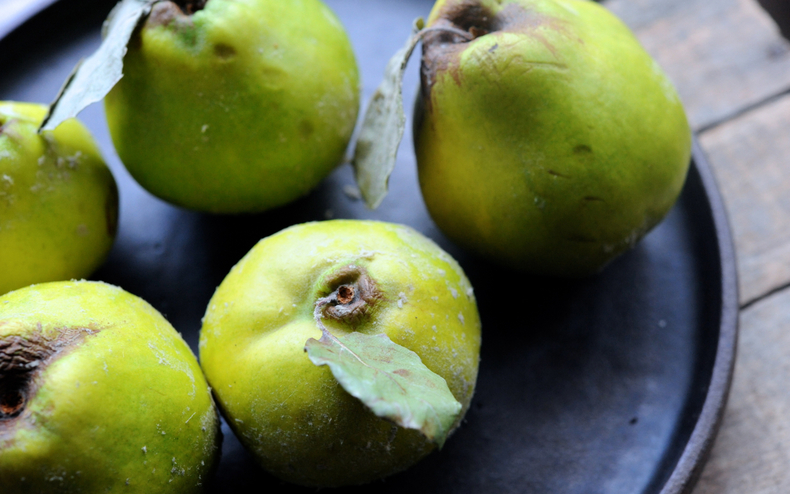 Unfortunately, I didn't get a picture of the final dish, but this hot salad—and "salad" is really a bit of a stretch here—is nothing more than slices of poached quince marinated with a lamb steak in a mixture of spices. Both are then seared, tossed with a few optional greens and served drizzled with the pan sauce. It's quick, deeply flavorful and a touch exotic. The perfect thing on a brisk fall evening.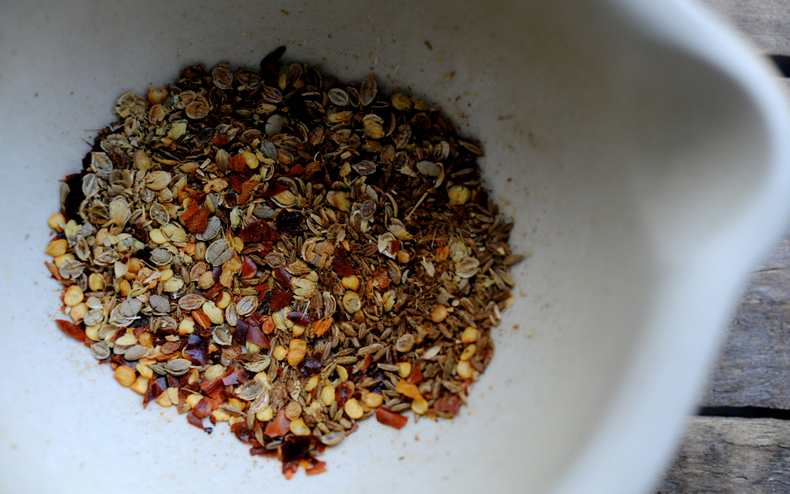 The quinces are poached with a bit of honey and some rosemary, then added to the lamb in an olive oil marinade with crushed cumin, coriander, chile and the zest of an orange. A quick turn in a hot skillet gives the lamb a nice crust and caramelizes the quince. The richness of the meat is offset by the tart fruit, and I do recommend that handful of arugula to add a refreshingly bitter crunch. It's a newfangled recipe for a fruit with an ancient legacy. The only way I can think to inspire you more is to leave you with this wonderful passage from Monique Truong's The Book of Salt:

"Quinces are ripe when they are the yellow of canary wings in midflight. They are ripe when their scent teases you with the snap of green apples and the perfumed embrace of coral roses. But even then quinces remain a fruit, hard and obstinate—useless...until they are simmered, coddled for hours above a low, steady flame. Add honey and water and watch their dry, bone-colored flesh soak up the heat, coating itself in an opulent orange, not of the sunrises that you never see but of the insides of tree-ripened papayas, a color you can taste."
Lamb & Quince Salad
from Hugh Fearnley-Whittingstall
serves 2 as a main course, 4 as a starter
— 1 teaspoon

coriander seeds

— 1 teaspoon

cumin seeds

—

zest of 1 orange

— 1/2 teaspoon

red chile flakes

— 3 tablespoons

extra-virgin olive oil

— 1 pound

lamb steak, butterflied; excess fat removed

— 1

large quince, washed but unpeeled

— 2 tablespoons

runny honey

—

juice of 1 lemon

— 1 sprig

fresh rosemary

—

flaky sea salt & freshly ground pepper

—

handful coriander leaves or arugula, optional
In a small, dry frying pan over a medium heat, toast the coriander and cumin seeds until just fragrant, about a minute. Grind roughly with a mortar and pestle, and combine in a bowl with the orange zest, chile flakes and oil. Add the lamb, rubbing the marinade well into the surface; cover and marinate for 2-4 hours, turning over once or twice.


Halve the quince lengthways, remove the core, then cut each half into four segments. Put these into a small pan with the honey, lemon juice, rosemary and enough water just to cover. Bring to a simmer, partially cover and poach gently until tender – depending on the size of the quince, about 30-45 minutes. Remove from the poaching liquid with a slotted spoon and place in the marinade with the lamb. Turn everything over with your hands so the quince slices are well coated.


Warm up a small griddle pan or frying pan over a high heat. Fry the seasoned lamb steak for a couple of minutes a side, then leave on a warmed plate to rest for five minutes while you cook the quince. Griddle or fry the quince segments on both sides until starting to caramelize.


Cut the lamb into thin slices and arrange on plates with the quince. Deglaze the pan with some of the poaching liquid, then pour the pan juices over the meat and fruit, sprinkle on some flaky sea salt and serve immediately, mixed with the coriander or arugula if you like.



Download Recipe