6.14.13
Fire Up the Grill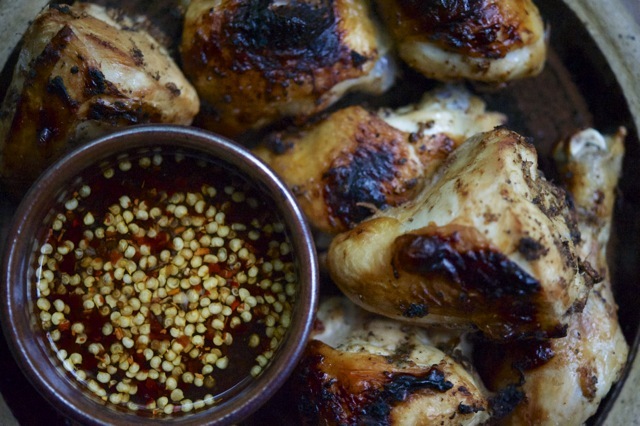 Ain't nothin' going' on but the rain. I don't know what's happening in your neck of the woods but over here it's sopping wet. I'm talking monsoon. (A taste of things to come? Climate change may ultimately convert the Northeast into something like a rain forest.) The first promise of a break in the deluge had me pining for the grill. Nothing says summer like firing up the barbecue, and this beautiful Thai-style grilled chicken from the pages of
Hot Sour Salty Sweet
is a great way to usher in the season. The flavors are bold and bright, and the dish comes together with minimal effort. If chicken's not your thing, you might try this with firm tofu. A little sticky rice, some crunchy slaw and a spicy-sweet dipping sauce take this meal over the top. And if it's still raining? I ended up making mine under the broiler and so can you.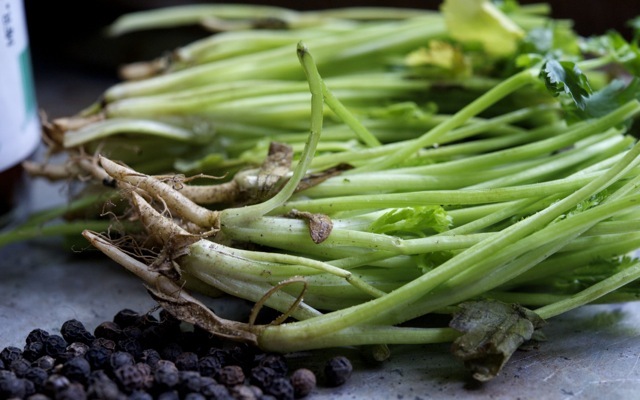 The chicken marinates briefly in a paste that you make with the stems and root ends from a bunch of cilantro. You're probably used to tossing this part out, but Thai cooks know there is some good flavor to be found at the base of the plant. (More vegetarian nose-to-tail eating!) You pound these along with some garlic, black peppercorns and fish sauce.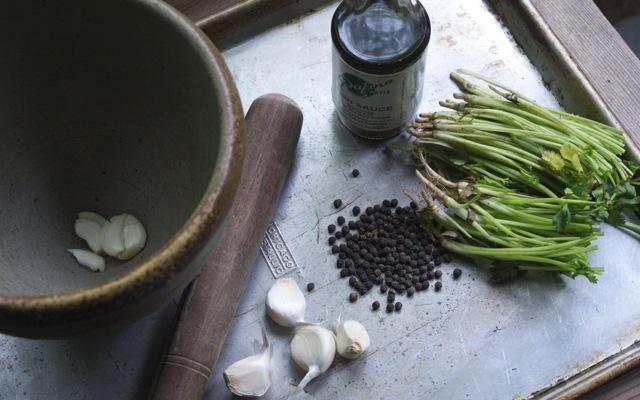 Still don't have a mortar and pestle? You can use a food processor, but now that the season of marinades and pestos is upon us—and with a delectable recipe for green papaya salad coming soon—I encourage you to get one.
Here
are some reasons why; also
here
; some tips on what kind to buy are
here
.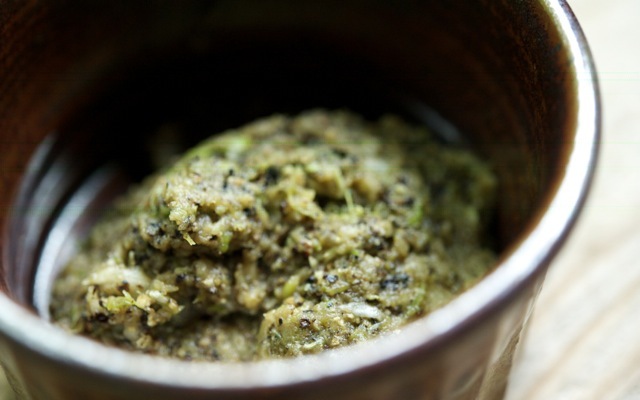 American-style barbecue is often encumbered with very sweet sauces, but this Thai version is refreshingly pungent and savory, with a wonderful funk from the fish sauce and garlic. The one change I make to this recipe is to gently poach the chicken first before slathering it in the marinade. This is my secret to flawlessly cooked chicken every time. So often when it's grilled over fire, the skin burns black by the time the meat is done. But this method really works. I recommend adding whatever aromatics inform the ultimate dish to the poaching liquid. So here I used some cilantro stems, garlic and black pepper with the water.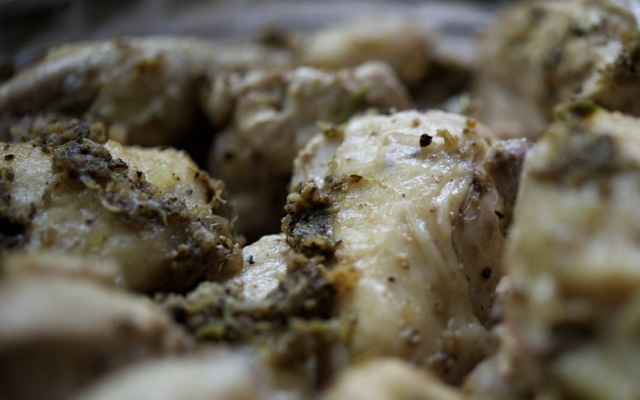 Once the poached chicken has cooled, you coat it with the marinade and let it sit for an hour at room temp, or up to three in the fridge. Meanwhile, you can attend to the rest of the meal, including making the dipping sauce.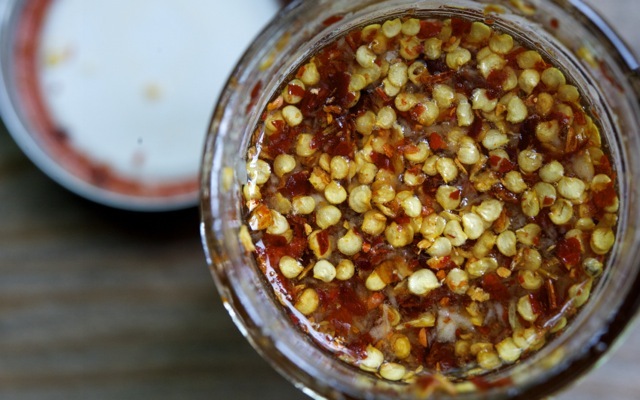 This classic of Thai cuisine is a simple combination of vinegar, sugar and red chile flakes. It would make an old shoe taste divine, so imagine what it does to this chicken and its accompanying
sticky rice
. Other things you can dip into it? Spring rolls. Summer rolls. Grilled fish. Roasted corn. French fries. Mango. You get the idea.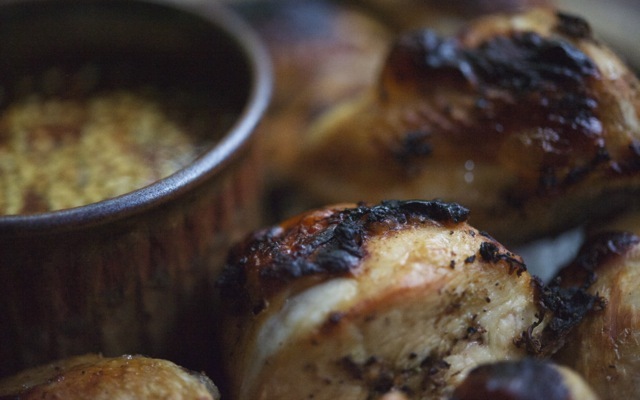 Whether you're finishing the chicken on a hot grill or under the broiler, let it get nicely caramelized with some crispy char. I've read that it's not a good idea to eat too much blackened food as it contains carcinogens, but sometimes you've just got to throw caution to the wind and get your hands dirty. The rain can always wash them clean.
Thai Grilled Chicken
adapted from Hot Sour Salty Sweet
serves 4
— 1 tablespoon +1 teaspoon

black peppercorns, divided

— 3 tablespoons

coarsely chopped garlic

— 1/2 cup

coarsely chopped coriander roots

— 1/4 teaspoon

coarse sea salt

— 2 teaspoons + 3 tablespoons

fish sauce, divided

— 1 four-pound

chicken, separated into 10 pieces

— handful

coriander roots

— 2

garlic cloves, peeled and smashed
Place the peppercorns in a mortar with the garlic and pound to a paste. Add the coriander roots and salt and pound to a paste. Stir in the fish sauce. (You may use a small blender or food processor if you prefer.) Stored in a well-sealed glass jar, this keep for 4 days.


Place the cut-up chicken in a large stockpot, add coriander roots, remaining teaspoon peppercorns and smashed garlic and cover with cold water. Bring to a gentle simmer over medium heat and cook, uncovered, for about 10 minutes. Turn off heat, cover, and allow to cool.


Once chicken has cooled completely, remove from poaching liquid with a slotted spoon and place on a large plate or half-sheet pan. Make the marinade by stirring the additional fish sauce into the coriander root paste. Coat the chicken pieces with the marinade and let stand, covered, at room temp for about an hour, or in the fridge for up to 3 hours. When ready to cook wipe most of the marinade from the chicken or it will burn.


Heat a grill or preheat the broiler. If using a grill, place the chicken pieces 4 to 5 inches from the flame, bone side down, and grill until the bottom side is starting to brown. Then turn and cook until deeply golden and lightly charred.


If using a broiler, place the chicken pieces in a lightly oiled broiling pan, bone side up, about 4 to 6 inches from the heating element, and cook until it starts to brown. Turn the pieces over and broil until deeply golden and lightly charred.


Transfer the chicken pieces to a platter and serve with Spicy-Sweet Dipping Sauce and plenty of sticky rice.



Download Recipe
Spicy-Sweet Dipping Sauce (Nam Jeem)
from Hot Sour Salty Sweet
makes about 1/2 cup

This classic Thai dipping sauce for grilled chicken is also excellent with sticky rice or grilled pork, lamb or fish. Serve it in individual condiments so each guest can dip at will.
— 1/2 cup

rice or cider vinegar

— 1/2 cup

organic cane sugar

— 1 to 2 cloves

garlic, finely minced

— 1/4 teaspoon

fine sea salt

— 1 1/2 teaspoons

dried red pepper flakes
Place the vinegar in a small nonreactive saucepan and heat to a boil. Add the sugar, stirring to dissolve, then lower the heat to medium-low and simmer for 5 minutes.


Meanwhile, using a mortar and pestle or a bowl and the back of a spoon, pound or mash the garlic and salt to a smooth paste. Stir in the pepper flakes and blend well. Remove the vinegar mixture from the heat and stir in the garlic paste. Let cool to room temperature. Store sealed in a glass jar in the refrigerator for up to 2 days.



Download Recipe