5.6.13
Lunch Lady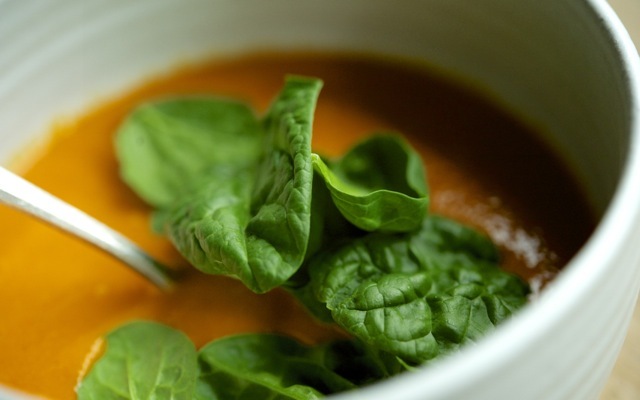 Soup, salad, sandwich. It's the holy trinity of lunch. Of course modern times have brought us wraps and personal pizzas and pad thai, but those original three standbys never get old—if you don't let them. Did your mother pack your lunch for school? Mine did, and I still vividly remember the sandwiches on whole grain bread: tuna with alfalfa sprouts, cheese and avocado, liverwurst with mustard and (wilted) lettuce. On colder days there might have been a thermos of chicken-noodle soup or some leftover bean stew. On the side there were carrot and celery sticks. Maybe a small bag of Fritos. A crisp apple. Sometimes fig newtons or animal crackers. I was never ashamed of my lunch as I've read some kids are, nor did I ever trade with anybody. It was love from my mother and I ate it up.

Now that I work from home, I can make myself whatever I like (or have time for). And yet it's still most often soup, salad or sandwich. I use what's in the fridge, generally focusing on vegetables, though not as a rule. If there are leftovers, that's always a possibility but I like to give them new life beyond a simple re-heat. Don't fall down when it comes to your lunch. Power your brain and body so you can get through that mid-afternoon slump. Take a real break and eat something meaningful, ideally something you've cooked yourself.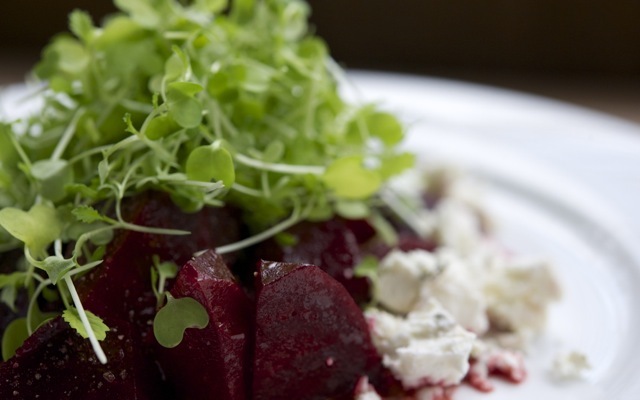 Salads can be all sorts of greens tossed with vegetables, cheese, nuts, seeds, fruit or fish. Or they can be steamed vegetables dressed with a light sauce or vinaigrette. Or they can be roasted vegetables—like these beets with crumbled goat cheese, drizzled with walnut oil and topped with a spicy tangle of horseradish sprouts.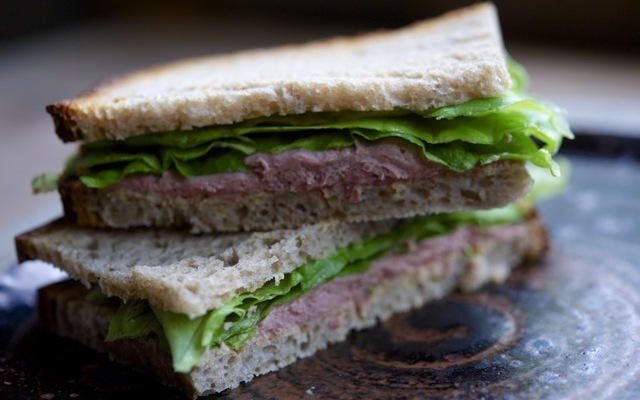 Sandwiches are pretty scarce around here because gluten-free bread is really not that great, but toasted it will suffice in a pinch. More often I will make open-faced "crostini" using rice cakes—topped with peanut butter and thinly sliced fennel; or fresh ricotta with olive oil and radishes; or piled high with garlicky sauteed greens. I saw some of that dark sour rye at a Polish bakery recently and brought home a quarter-loaf. I sliced a couple of very thin pieces, spread one with Schaller & Weber liverwurst and the other with Dijon mustard and sandwiched some Romaine leaves between. It transported me right back to Natural Bridges elementary school.

What's your favorite lunch?
Tomato Soup
serves 4
— 1

large yellow onion

— 1 clove

garlic

— 2 tablespoons

olive oil

— 1 28 oz can

whole peeled tomatoes

— 1 tablespoon

balsamic vinegar

— 1 teaspoon

spicy pimentón or toasted ground fennel seeds, optional

— 1 tablespoon

honey

— 1/3 cup

heavy cream

—

sea salt

— 4

large handfuls raw baby spinach leaves
Peel and chop onion. Peel and smash garlic clove.


In a large, heavy soup pot, heat olive oil and sautee onion and garlic with a generous pinch of salt until soft and lightly golden. Add tomatoes and their liquid, breaking up with a wooden spoon. Cook at a simmer for about 15 minutes. Stir in vinegar and pimentón or fennel, if using. Simmer for another 15 minutes, then remove from heat. Puree until smooth, either in a food processor or using an immersion blender.


Return to pot over medium-low heat and stir in honey and cream. Season to taste with salt.


To serve, divide among four bowls and top each one with a handful of spinach.



Download Recipe